Here is some recent news from the Center for Court Innovation.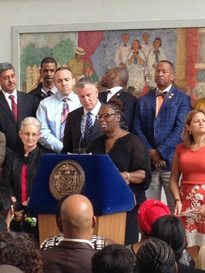 Broken Windows 2.0: A Smarter Version – In The Crime Report, Greg Berman responds to the current debate over broken windows policing in New York City.
Fighting Poverty and Reducing Jail In Real Time – A look at Brooklyn Justice Initiatives, a new program that seeks to reduce the use of jail in Brooklyn.
'Interrupters' program uses former gang members to combat street violence – Newsday covers New York City Mayor Bill de Blasio's new initiative and highlights the Center's work to reduce gun violence.
What Kind of Prison Might the Inmates Design? – The Los Angeles Times highlights new thinking about criminal justice design, including the Center's efforts to create a peacemaking center in Syracuse, New York.
Rethinking Youth Justice – On October 8th, the New York City Bar will host a panel honoring the Alfred Siegel, the Center's deputy director who passed away earlier this year. Panelists will discuss Alfred's legacy and the future of juvenile justice reform in New York.
Groundswell Art Auction – On October 14th, the Center for Court Innovation will be honored by the public arts organization Groundswell at their annual benefit.