Alfred Siegel: A Career Devoted to Justice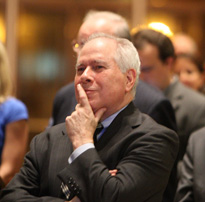 In Tribute: The Alfred Siegel Scholarship Fund
The Center for Court Innovation created the Alfred Siegel Scholarship Fund as a way to pay homage to the late Alfred Siegel's contribution to reforming the criminal justice system in New York. Developed in partnership with the John Jay College of Criminal Justice, the scholarship is designed to support students who have overcome adversity and are interested in a career in public service.
Recipients of the Alfred Siegel Scholarship share some of the qualities that were at the center of Alfred Siegel's work throughout his lifetime—kindness, personal integrity, and a love of New York.
Alfred Siegel (1951-2014)
On January 16, 2014, Alfred Siegel, deputy director of the Center for Court Innovation, passed away. Over his long career in the field of criminal justice—from his years as an assistant district attorney in the Bronx, to his tenure as deputy commissioner of New York City's Department of Probation, to his work with the Task Force on Transforming New York State's Juvenile Justice System, to his fifteen years here at the Center—Alfred worked tirelessly to make New York a better, safer, and more just place. 
The following remarks were delivered by Greg Berman, director of the Center for Court Innovation, at Alfred's funeral.
"As I shared with my friends at the Center for Court Innovation yesterday, I can pinpoint the exact moment that I fell in love with Alfred Siegel:
The year was 1999. We were out at a business lunch with half a dozen other people. Alfred had only joined the Center a few months before and we were still in the process of getting to know each other. It seems funny to say now, given that he was probably the most benign and gentle man that I have ever known, but I found Alfred slightly intimidating when I first met him. He certainly had an understanding of the justice system and an earnestness about improving the lives of the less fortunate that far exceeded my own."
Anyway, we were leaving lunch and it started to rain. The rest of us pulled out our standard-issue black umbrellas. By contrast, Alfred—a former Probation executive, inspector general, and assistant district attorney, a man of real substance and experience—unspooled a ginormous blue and red umbrella shaped like a New York Giants helmet. And I knew at that precise moment, that there was something special about this guy.
As I got to know Alfred better, this impression was confirmed again and again. In a sea of grey conformity, he stood out as a true original, a man of both high ideals and subversive wit.
Over the years, I have been fortunate to share numerous special moments with Alfred—from watching Rudy Giuliani announce the dissolution of his marriage at the Harlem Community Justice Center to breaking bread at Forno's in Newark with Adam Mansky to accepting the Peter F. Drucker Award for Nonprofit Innovation together in Los Angeles.
But the most meaningful moments, at least for me, were private moments that occurred 12 years ago at the start of the Bloomberg administration. At the time, the Center lost its founding director and several other senior staffers. Alfred could have left too—lord knows, he had multiple opportunities that were higher profile and more lucrative than the Center.
But Alfred chose to stay.  I think he stayed for a host of reasons, high among them that he totally bought into the mission of the organization and was unfailingly loyal to the people who worked for him. He was also dedicated to achieving a work-life balance that enabled him to spend quality time with the family he so adored.
In committing himself to the Center for Court Innovation, Alfred expressed a vote of confidence in me at a time when I desperately needed it. For me, he was a guide, a friend, and a partner, the older brother I never had, helping me to grow into leadership, into the best version of myself I could be. In this way, Alfred was like a smart, honorable, and courageous version of Falstaff, if such a thing is imaginable. I don't think I am exaggerating when I say that not a single day of our work lives went by without him making fun of me for some reason or another—my appalling taste in pizza, my scandalous lack of loyalty to New York's sports teams, or my pretentiousness to compare myself to Prince Hal. But somehow, as Liberty Aldrich observed at our staff meeting yesterday, he managed to be funny without ever being snarky or mean.
At the end of the day, I think it was this combination—the unique blend of humor and kindness—that attracted so many of us to him and made him such an effective leader.
The last few days have been the most difficult ones I have ever experienced at work. If there is any silver lining, it has been the incredible expressions of love and respect for Alfred that have flooded our phone lines and swamped our in-boxes at the Center for Court Innovation. We were clearly not alone in recognizing the greatness of the man.
As I read all of the tributes to Alfred, I couldn't help but think of the movie It's a Wonderful Life, which argues that the true measure of a man is the quality of the friendship he inspires. By that standard, Alfred was truly the richest man in town."
To read further coverage, see: