Marisol Rivera has been changing lives in the South Bronx for the past seven years, first as an outreach worker with the Center for Court Innovation and now as community engagement coordinator.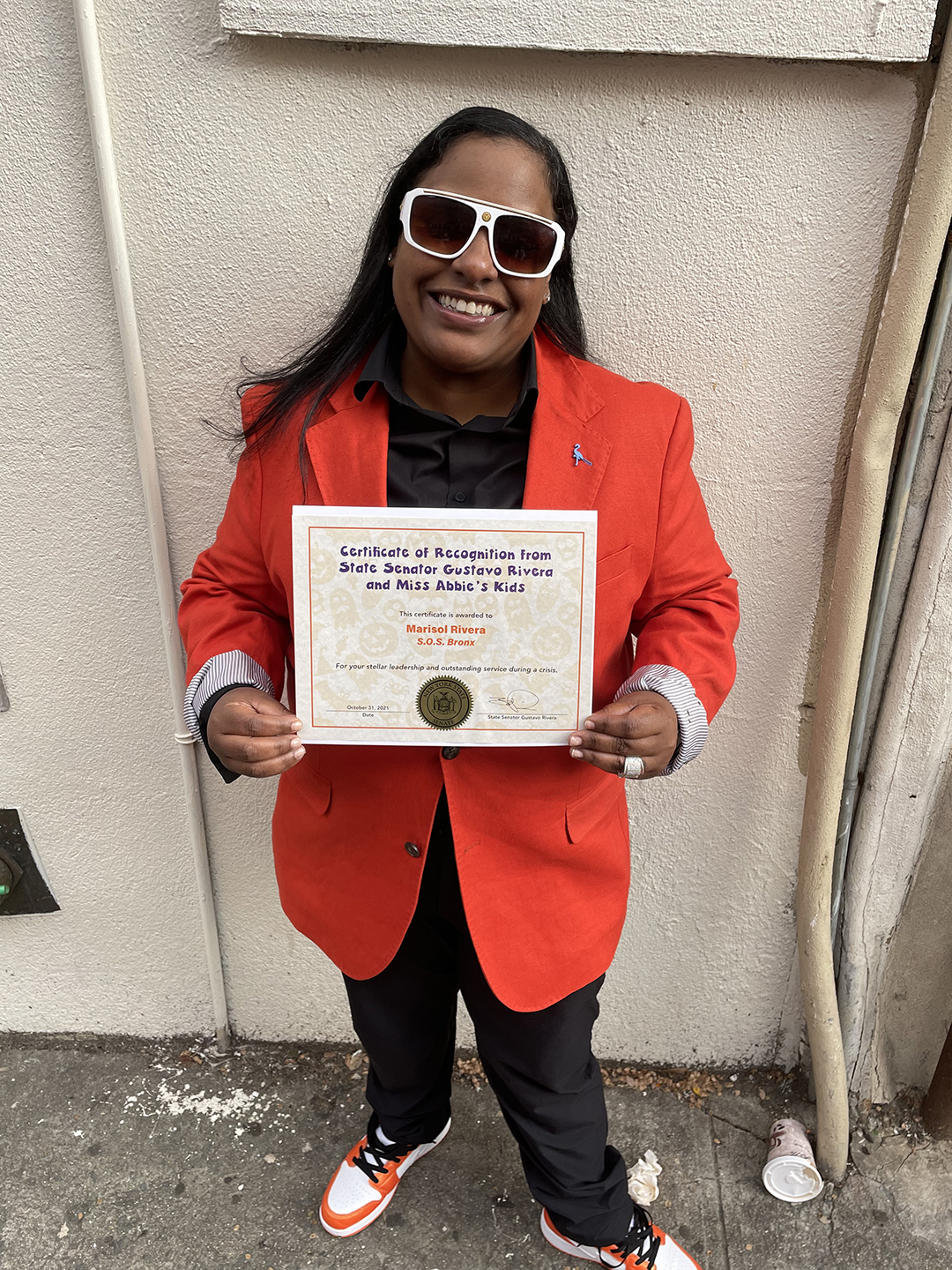 Marisol canvases the streets, but also works behind the scenes, engaging with elected officials and expanding the work done by Save Our Streets Bronx. "So many avenues have opened up for the community because of the work we do here, but our main focus is young folks. We try to help at-risk kids, ages 16 to 24, make better choices. We were all young before. We all make mistakes. These kids need our support, they need more guidance, and they need more love."
 
Marisol started her work at the Center walking the streets as part of our work addressing gun violence. Treating gun violence as a public health issue, our staff in the Bronx and Brooklyn work alongside community members to address the effects of violence and economic disinvestment. "Gun violence is like a disease," explains Marisol. "We're kind of like the antidote—the credible messengers with lived experience who can offer a different message."
Before joining the Center, Marisol worked in the mental health field, supporting clients in the same way she now supports her community. "What motivates me is when I'm in the streets and community members come up and thank me. We started out focused on gun violence but have expanded to do so much more." Marisol works to make sure that anyone coming into their office leaves with resources and feeling better than when they came in. When the pandemic hit, S.O.S. Bronx staff worked to fill service gaps, distributing masks and hand sanitizer, and expanding their community food box initiative.
Marisol also organized an LGBTQ event and a senior walk this past year—getting community members outside and engaging with one another after months of isolation. "I said, 'I don't care if you want to roll with us, you want to walk with us, if you got to your little cane, however you can get by, it's not a rush. We're going to take our time, but I want you to move your body, it's important.'" 
A large part of S.O.S.'s success in the Bronx is reflected in the respect staff have earned from the community by showing up and listening. "It's good to know everybody in the community, because if there's something going on, I can go to them and ask them to talk to the kids because they respect them and have known them their whole lives."
 
Marisol also acts as a role model for young people in the neighborhood, sharing her own stories and demonstrating a different path forward. "I tell them, 'I'm not knocking you for what you did, because when I was young, I did stuff I shouldn't have done, but that doesn't come with security and stability.'" She wants kids growing up in the South Bronx to know that they can be "whoever you want to be. I want them to see a future and know they can go out into the world and be who they want to be and travel to all these places."
Marisol says she's proud to see some of the seeds they've planted over her seven years at the Center bear fruit. "The way I've seen the youth communicate with each other and the decrease in violence and shootings has surprised me about the job. All these years I wasn't sure if they were listening, but maybe they were because instead of fighting and arguing they want to talk it out now."
 
Despite the success, this work still comes with challenges. "A big challenge is seeing that this community is not supported the way others are. There is a lack of resources, and it can make people feel helpless sometimes." That's why seeing the community happy and thriving brings so much joy to Marisol. "Seeing the community supported, seeing them with smiling faces and feeling safe when we're out, makes me happy. I tell people, 'Whatever you give the world, it's going to give it back to you. So make sure you're giving positive things to the world so that you get positive things back.'"
In the next seven years, Marisol plans to continue addressing community needs in new and innovative ways. She says one thing they really need is a live-in facility for youth. "There aren't enough places where they can go if something happens at home and they need a place to sleep at 4 a.m. Our youth need housing options, and it feels like the number one thing I want to help change."
 "Transforming justice together means supporting one another, loving one another, understanding and listening. It's about understanding where we each come from and knowing that if we work together we can bring about real change."
In her spare time, Marisol loves to go swimming and travel the world.
Every month—through May 2022—we're introducing you to more changemakers. Their stories are different, but each of them is leaving a unique mark on the world, motivated by a desire to change the status quo and transform justice.
MEET OUR CHANGEMAKERS

→