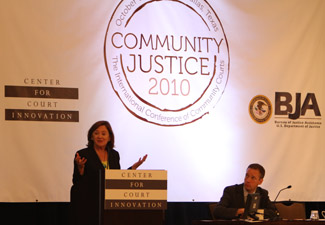 With the help of the U.S. Department of Justice, the Center for Court Innovation convened the first ever international conference of community courts in Dallas, Texas on October 19-20, 2010. In attendance were criminal justice officials from dozens of American cities as well as delegations from England, Australia, Canada, Chile and Mexico.
The conference began with videotaped remarks (see below) from U.S. Attorney General Eric Holder, who said:
Over the course of nearly two decades, since the very first community court opened its doors in Manhattan, combining punishment with assistance has proven to be a critical strategy in improving public safety... Community courts have been essential in guiding efforts to reduce crime, empower communities and create opportunities. I've seen this first hand...While the size and scope of our community courts vary, they have all proven the power of community involvement in strengthening public safety and public confidence in our justice system...I'm proud of the progress that we are making and of the investments we are directing to support our community courts [and] the Center for Court Innovation.
The conference highlighted the work of existing community courts both in the U.S. and abroad, including three community courts in Dallas that served as hosts for the event.

Principal Deputy Assistant U.S. Attorney General Mary Lou Leary, in her keynote remarks (see below), said that "evidence shows that community courts simultaneously help to reduce crime, streamline the justice process, change sentencing practices, solve individual problems, and increase public trust in the justice system." She went on to encourage participants to continue to innovate and to think of themselves as "evidence-generating" programs.

In keeping with this theme, the conference featured a number of new community justice initiatives that are breaking new ground for the field, including:
Philadelphia District Attorney Seth Williams described plans to create a network of locally-based courts in the city.
Initiated by Newark Mayor Cory Booker, Newark Community Solutions will re-engineer how the city responds to low-level crime, emphasizing community restitution and social services instead of fines and incarceration.
Chief Justice Herb Yazzie outlined his intention to create a community court for the Navajo nation that would incorporate traditional tribal practices.
Portland District Attorney Michael Schrunk described a new initiative to co-locate a community court in a supportive housing facility for formerly homeless individuals.
The Harlem Community Justice Center described how its reentry work has reduced recidivism among parolees by 19 percent over a three year study period.
For more on the conference, check out The Crime Report or Rethinking Reentry.