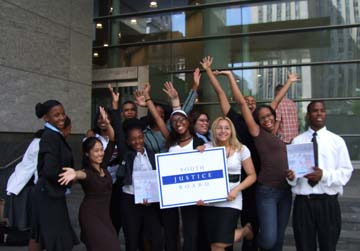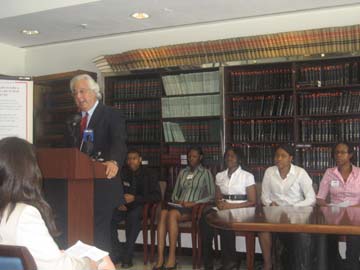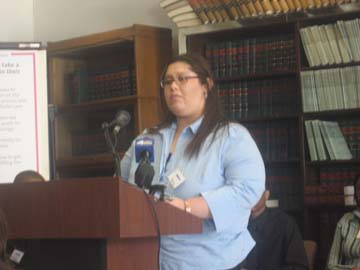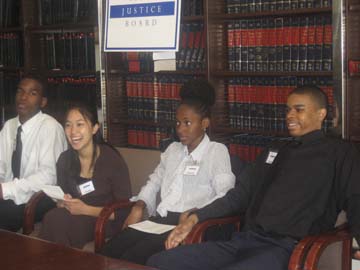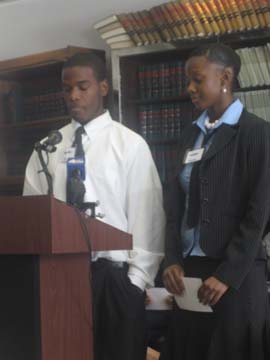 On June 21, 2007, the Center's Youth Justice Board presented the results of its year-long study of New York City's permanency planning process to an audience that included New York City Council members, academics, judges, policymakers, and members of the press. The presentation was hosted by the Administrative Judge of New York City Family Court Judge Joseph Lauria, whose office supported the Board's work throughout the year. Written by the Board's 16 teenage members—all New York City high schools students 15 to 19 years old, many of whom have been foster children themselves—the report, Stand Up Stand Out: Recommendations to Improve Youth Participation in New York City's Permanency Planning Process, proposes 14 specific recommendations to improve the court experiences and outcomes for adolescents in foster care.
The Board spent several months researching New York's permanency planning process—interviewing over 40 child welfare and court professionals, conducting two focus groups of youth in care and observing Family Court proceedings in Kings County, Bronx County and New York County Family Courts. The report focuses on concrete steps that can be taken by New York City Family Court, the Administration for Children's Services, provider agencies, law guardians, and by young people themselves to make sure that youth in foster care play an active role in the court process and in the decisions that affect their lives.
Stand Up Stand Out: Recommendations to Improve Youth Participation in New York City's Permanency Planning Process is the third report created by the Board, which was launched by the Center for Court Innovation in 2003 as an after-school program bringing together New York City teenagers to study and devise policy recommendations on issues affecting city youth. In its first year, members studied the challenges of youth returning home after confinement for juvenile delinquency; the next year's group focused on safety problems in New York City high schools.
This year's report has generated even more interest. In addition to the June presentation, the Board will be presenting the report to each of the city's county courthouses, as well as to several city agencies who have expressed interest. In addition, the New York State Judicial Institute has requested 100 copies of the report to be used at judges' seminars. Over the next year, the Youth Justice Board will continue to advocate for their ideas and work with Family Court and child protection practitioners to turn their ideas into reality.
Watch members of the Board discuss the report on WNBC.