Center for Justice Innovation Welcomes Rasmia Kirmani as Chair of Board of Directors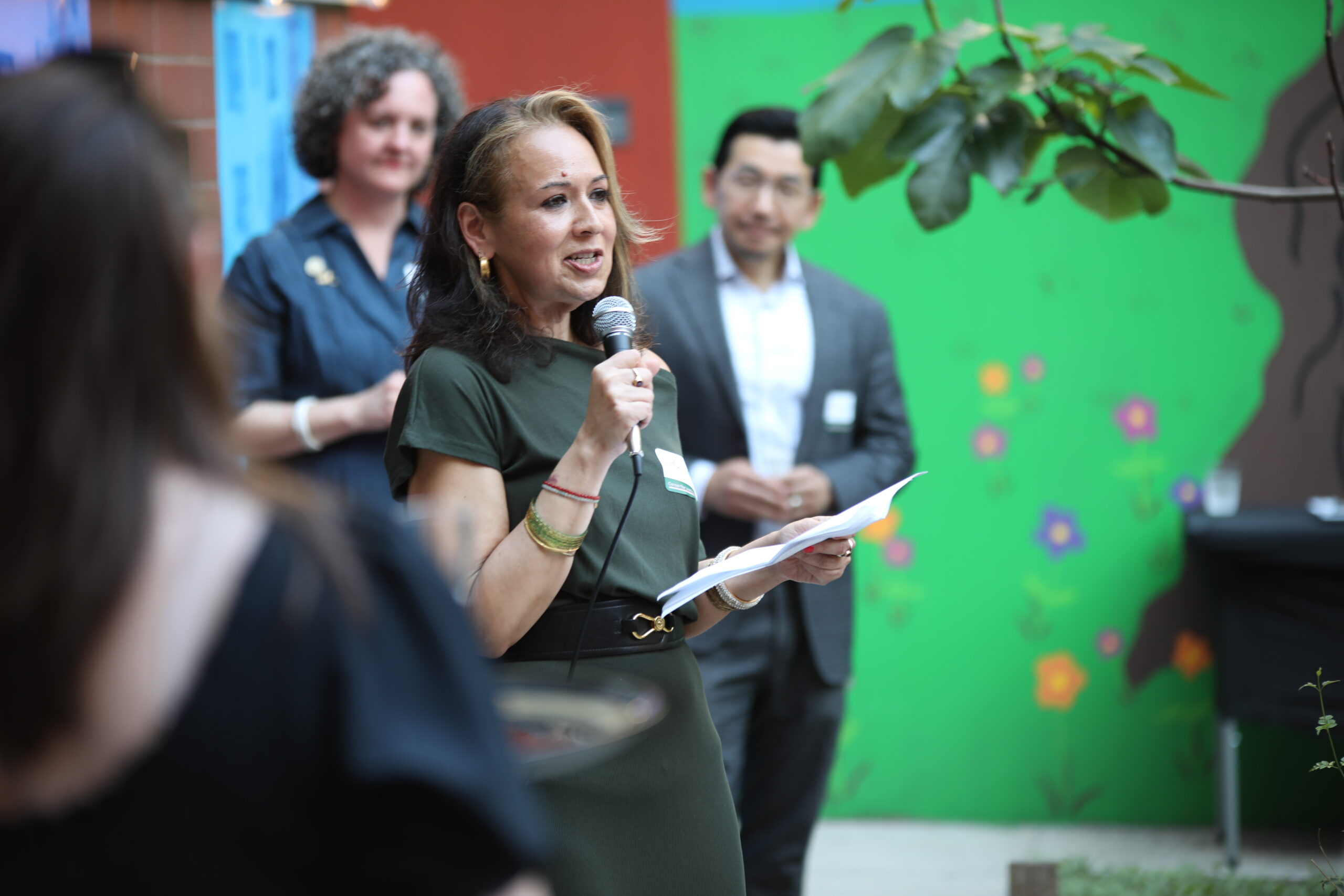 Today, the Center for Justice Innovation welcomed Rasmia Kirmani as new chair of its Board of Directors, with inaugural chair Judge Victoria Pratt remaining on the Board.
April 11, 2023
Media Contact: press@innovatingjustice.org 
NEW YORK, N.Y. – Today, the Center for Justice Innovation – a national non-profit organization that works with communities and justice systems to advance equity, increase safety, and help individuals and communities thrive – announced the election of Board Member Rasmia Kirmani as chair of its Board of Directors, replacing the Board's inaugural chair, Judge Victoria Pratt, who will remain on the Board. 
The election of Kirmani as board chair is the next step in the Center's more than 25-year history, following its renaming earlier this year from Center for Court Innovation. Kirmani is a national expert on public housing and currently serves as a Senior Fellow at Hester Street, an urban planning, design, and community development non-profit in Manhattan. She brings deep experience in the areas of urban problem solving, housing, movement building, governance design, non-profit management, narrative development, and strategic planning, having previously served as director of the Office of Public/Private Partnerships for the New York City Housing Authority, where she developed and managed NYCHA's strategic relationships with not-for-profit organizations, philanthropic investors, and private sector partners. She also founded a new 501(c)(3), The Fund for Public Housing, to invest in the well-being of public housing residents and their communities. In 2022, Kirmani was appointed to the City Planning Commission by Mayor Eric Adams.
Kirmani's career has crossed paths with the Center several times, starting with her first job in New York City as a receptionist for the Times Square BID (now Alliance), which was just then partnering with the newly founded Midtown Community Court to respond to the crime and safety challenges facing the neighborhood. She also previously led the Brownsville Partnership and helped nurture the Center's Brownsville Community Justice Center. Finally, she has partnered with the Center over the years to support and advocate on behalf of NYCHA residents. 
During her tenure as chair, Judge Pratt leveraged her experience implementing justice reforms as the presiding judge of Newark (N.J.) Community Solutions. After joining the Center's newly created Board of Advisors in 2017, she helped the Center transition from being a part of the Fund for the City of New York to its own independent non-profit. With that change, the Board of Advisors transitioned to a full-fledged Board of Directors, charged with providing oversight and accountability, as well as support with fundraising, partnership development, and strategic advice. 
The Center operates more than two dozen community- and court-based programs and over the last year, the Center published over 60 original research publications and provided hands-on assistance to practitioners in nearly all 50 states. Since its founding in 1996, the Center has partnered with stakeholders across the justice system to develop new, creative, and community-led strategies that promote safety, fairness, and equity. 
Center Executive Director Courtney Bryan said, "Rasmia Kirmani and Judge Victoria Pratt are both dynamic, compassionate leaders who know how to get things done. We've been incredibly lucky to have Judge Pratt supporting us since 2009, when she helped launch Newark Community Solutions, and are grateful she will continue her service on the Board. Kirmani has been an invaluable Center partner in her role as leader of cutting-edge community-based and civic organizations. We're thrilled to have the benefit of her experience and wisdom as our new board chair, helping us deliver the innovative responses to safety and justice challenges that lie ahead."
"It has been a privilege to serve as the inaugural Chair of the Center's Board of Directors. From the first time I learned about this organization, I found that the people here do magic. We take care to bring everyone to the table to solve the most complicated problems facing our communities today, something so important, and all too rare. I am proud of all that we have accomplished in the past few years, and thrilled at this new chapter for the Center. With Rasmia at the helm, I know that the Board will continue to help this organization scale our impact," said Judge Victoria Pratt.
Rasmia Kirmani said, "I am honored to serve as Board Chair for the Center for Justice Innovation. Throughout my career, I have worked directly with communities and across organizations to find common ground and test out potential solutions that make our institutions and our neighborhoods safer, more livable, and more equitable for all. From our extensive research and data reporting that grounds policy and practice, to our wide range of programs for people at every stage of the criminal justice system, the Center is a truly one-of-a-kind organization. I look forward to working with our Board Members, Center staff, and people in the communities we serve, to deepen and grow our power to effect change." 
About the Center for Justice Innovation:  The Center for Justice Innovation (formerly the Center for Court Innovation) is a non-profit organization that works with communities and justice systems to advance equity, increase safety, and help individuals and communities thrive. The Center's goal is to identify and resolve as early as possible the challenges that bring people into the criminal and civil legal systems. Since its founding in 1996, the Center has grown from a small group of planners to an organization with a $100 million annual budget and over 800 employees who staff dozens of initiatives in New York, New Jersey, and California, advise practitioners and policymakers across the country and around the world, and conduct research and share their expertise with those seeking to transform the justice system around the world.