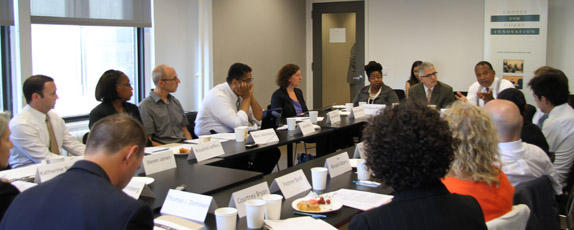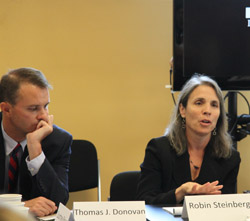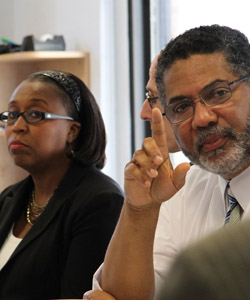 In the summer of 2011, the Center for Court Innovation, in partnership with the U.S. Department of Justice's Bureau of Justice Assistance, invited community justice practitioners from across the U.S. to share ideas about their work.
The day-long roundtable, held at the Center for Court Innovation's offices in New York City on August 10, brought together representatives of courts, prosecutors' and defenders' offices, government agencies, non-profit organizations, and community members. Participating programs included the Association of Prosecuting Attorneys, Atlanta Community Court Restorative Justice Boards, Baltimore's Community Conferencing Center, the Bronx Defenders, the Chittenden County (Vermont) – State's Attorney's Office, the Dallas City Attorney's Office Community Prosecution Program, Midtown Community Court, Newark Community Solutions, the Public Defender Service for the District of Columbia, Red Hook Community Justice Center, San Francisco Community Justice Center, San Francisco Neighborhood Courts, Vermont's Community Justice Centers, and the White House Office of National Drug Control Policy – Drug Free Communities Support Program.
Participants discussed challenges and ideas for expanding community justice approaches, among numerous topics. The goal of the roundtable was to produce a document that describes current practices and outlines some of the key challenges programs face when attempting to engage community members. To read the document, click here.

 
---
Participants:

Lauren Abramson
Executive Director
Community Conferencing Center
Baltimore, MD

Judge Ronald Albers
San Francisco Superior Court
San Francisco, CA

Lenore Anderson
Chief of the Alternative Programs Division
San Francisco District Attorney's Office
San Francisco, CA

James Berry
Chief, Community Defense Division
Public Defender Service for DC
Washington, DC

Carl Bevelhymer
West 55th Street Block Association
New York, NY

Courtney Bryan
Project Director
Midtown Community Court
New York, NY

Yvonne Byrd
Director
Montpelier Community Justice Center
Montpelier, VT

Judge Alex Calabrese
Red Hook Community Justice Center
Brooklyn, NY

Regina Cannon
Atlanta Community Court
Restorative Justice Boards
Atlanta, GA

Thomas J. Donovan
State's Attorney
Chittenden County, VT

Steven Jansen
Vice-President and Chief Operating Officer
Association of Prosecuting Attorneys
Washington, DC

Rosalind Jeffers
Executive Assistant City Attorney
City Attorney's Office
Dallas, TX

Julius Lang (moderator)
Director, Technical Assistance
Center for Court Innovation

Tomiquia Moss
Coordinator
San Francisco Community Justice Center
San Francisco, CA 

Katherine Nopper
Community Participant
Burlington Community Justice Center
Burlington, VT

Rev. Reginald Osborne
Pastor
Bethel World Outreach Ministries, Inc.
Newark, NJ

Robin Steinberg
Executive Director
The Bronx Defenders
Bronx, NY

Benjamin B. Tucker
Deputy Director of State, Local and Tribal Affairs
White House Office of National Drug Control Policy
Washington, DC

Karen Vastine
Community Justice Coordinator
Community and Economic Development Office
Burlington, Vermont

Marc Wennberg
Director
St. Albans Community Justice Center
St. Albans, VT