Challenge 25
25 Ways to Transform Justice in Your Community
Transforming justice takes big and small changes, and together, we can create a future where everyone lives in safe, healthy, and thriving communities free from violence. We are transforming justice by evaluating systems, improving how they impact individuals, and co-creating solutions with communities to ensure safety.
You can take part too. Join the campaign to transform justice right in our own communities!
To celebrate our 25th anniversary, we put together 25 ways that you can transform justice. These small actions can be part of your everyday life and each is an act of transformation—of yourself, your community, and your world. Advocate for a cause you care about, get trained to participate in peacemaking circles, invest in your community by supporting local businesses, learn how to support food security… The list goes on!
Feeling inspired? Join the challenge! As you complete a task, post on social media with the hashtag #transformingjustice. Let's work together to make a difference.
1
Read a book about justice reform or social justice.
If you need ideas, listen to author interviews on our New Thinking podcast and browse these suggestions for a book that piques your interest!
2
Ask a neighbor if they need help with shoveling snow, getting groceries, or computer literacy lessons. 
3
Invest in your community! Support local artists and businesses.
4
Get your vaccine and boosters as needed.
Racial and ethnic minority groups are facing hospitalization and death from COVID-19 at disproportionate rates, according to the CDC.

Find local infection rates, information on vaccines and boosters, and more on cdc.gov.
5
Donate new or used electronics to the Center and we'll distribute them in the communities we serve.
BONUS
Challenge two people to do these transformational tasks with you!
6
Listen to a new podcast.
7
Learn CPR, first aid, or other life-saving skills.
After calling 911, individuals can provide help when emergency situations arise and can make a difference. It is widely recommended that everyone who is physically able should learn CPR and first aid.
8
Aprenda español. 学习中文.

Learn English. 

Practice speaking another language or help non-native English speakers practice their conversational skills.
The three most common languages spoken in New York are English, Spanish, and Chinese. There are 138 languages spoken in Queens alone!
Check your local library or college/university for conversation tables.
10
Create inclusive social media feeds.
Follow Black, Brown, and BIPOC content creators. Like, share, save, engage with, and learn from their content and lived experiences.
BONUS
Create your own! I'm going to help transform my community by…
11
Our Project Reset, Red Hook Community Justice Center, and Syracuse, offer training and opportunities to participate.
12
Volunteer to do court watching. 
One goal of Court Watch NYC is to "foster a culture of accountability and transparency by bringing hundreds of New Yorkers into the courtroom to observe the behavior of public officials in court."
13
Check up on a friend or family member.
Researchers are pointing to an epidemic of loneliness, exacerbated by the pandemic. Overtime, loneliness "can be damaging not just to mental health, but also to physical health."
14
Advocate for a cause you are passionate about to improve your community! 
Resources to help you find and contact your representatives:
BONUS
Challenge two people a month to do the tasks with you.
16
Support food security. Cook a meal for a senior, volunteer at a soup kitchen, collect non-perishable food items for organizations.
Because of food insecurity caused by COVID-19, we made over 12,600 grocery and clean water deliveries in 2020. 

You can find a

food bank near you

to support.
17
Donate or support local organizations that help survivors of domestic violence.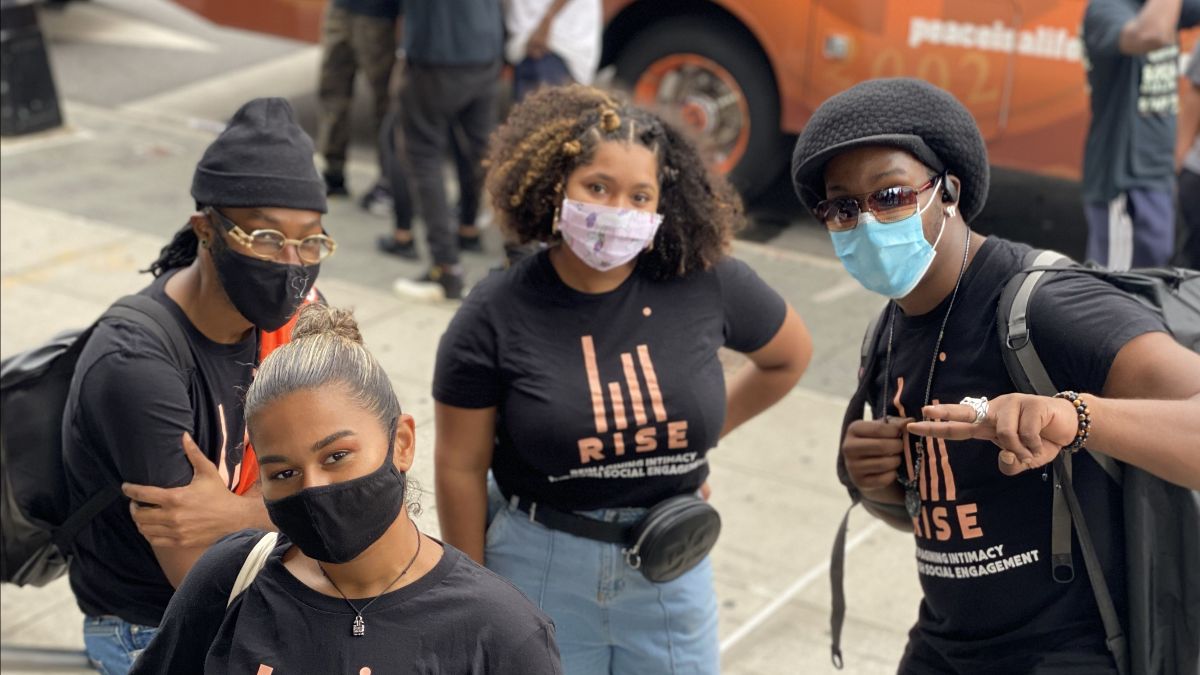 18
Learn about the history of unequal treatment of queer people in the criminal legal system.
20% of youth in the juvenile justice system are queer, compared with 9.5% of youth in the general population.




Source: Prison Policy
19
Share a post on social media about the harms of the legal system and how we can make it fair, effective, and humane.
20
Volunteer for participatory defense support

.
When facing a court case, a client's family and community can collaborate with the public defender to add insight and context that can humanize an individual in the midst of a dehumanizing court process. 
BONUS
Create your own! I'm going to help transform my community by __________.
21
Learn about the importance of de-stigmatizing mental health.  
About two in five people who are incarcerated have a history of mental illness in the U.S. This is twice the prevalence of mental illness within the overall adult population.




Source:

NAMI.org

Follow our partners

Fountain House

 

for great resources!
22
Pick up trash in your neighborhood.
23
Donate time or money to a local organization that supports youth.
Engaging young people in problem-solving, creative thinking, and their own self-expression is crucial to the healthy future of any community. 
Our work invests in

young people as leaders

within their communities and beyond and supports them to reach their self-defined goals.
24
Learn how your city government works.
25
Healthy communities require healthy individuals.
Take time for your mental health. Schedule a self-care day!
For 25 years, we have been committed to transforming justice with community-created, community-led initiatives that put people first. Learn more!