2022
Annual Report
Transitioning from Uncertainty to Hope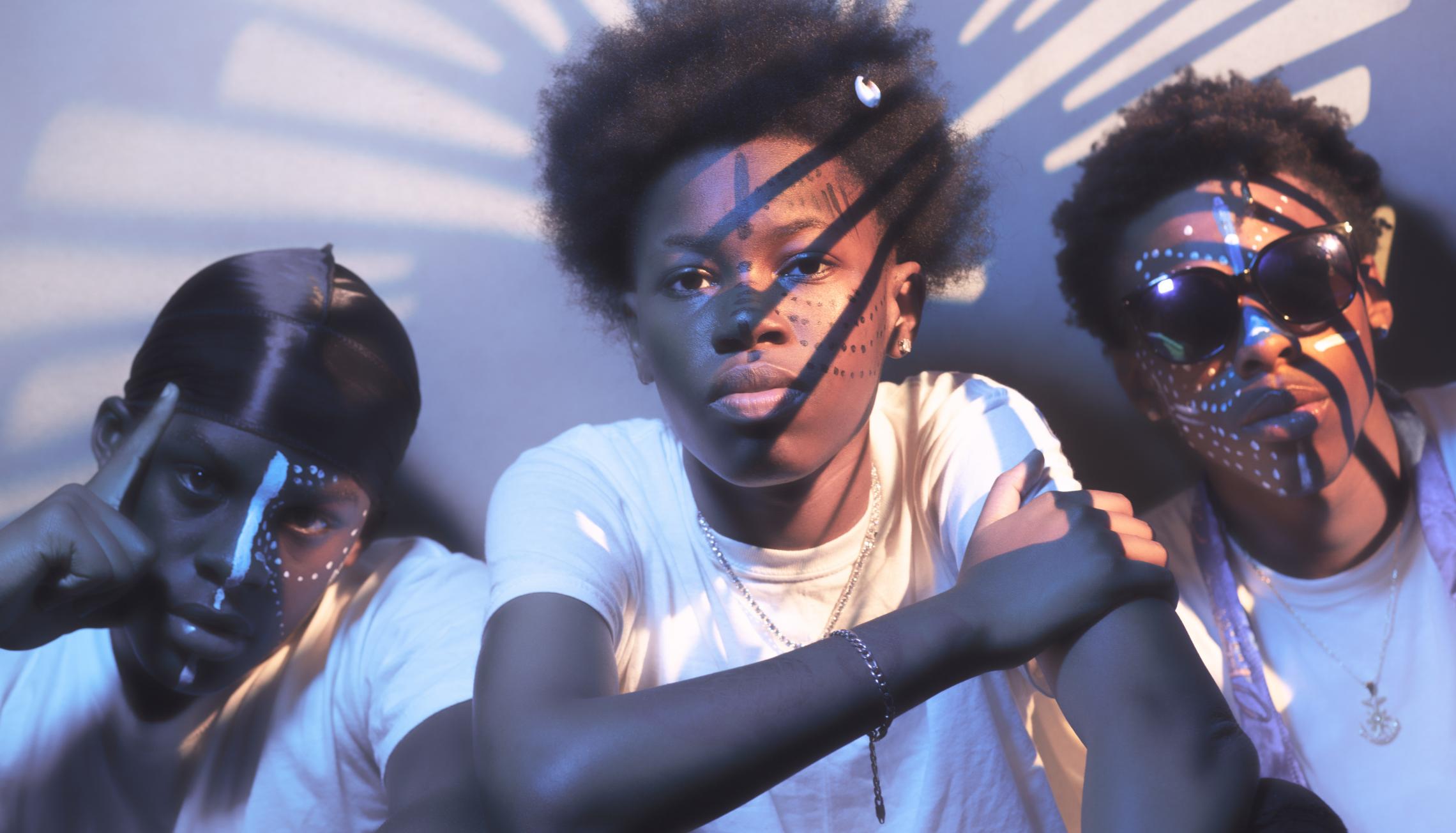 In January 2023, the Center for Court Innovation changed its name to the Center for Justice Innovation. While work done in 2022 was done as the Center for Court Innovation, and may be referenced as such in reports, videos, or press clips, we will refer to ourselves by our new name throughout this annual report, published in 2023.
At a Glance: Our Impact in 2022
For more than 25 years, the Center has partnered with stakeholders across the justice system to develop new, creative, and community-led strategies that promote safety, fairness, and equity.
Our impact includes:
Working towards justice in all its facets, from reducing crime and incarceration to fostering strong communities, supported by a $94 million budget and 730-person staff. 
25 community- and court-based programs in New York, New Jersey, and California
60 original reports, guides, and case studies published
49 states have received our expert assistance in planning and implementing new ideas
Message from Our Executive Director
2022 was a year of transition—for the Center for Justice Innovation and the world. The country was moving out of full-time pandemic-mode into a new so-called "normal," although no one knew for sure what form the new normal would take. Some people and workplaces were eager to return to in-person work; some places closed their regular offices and embraced virtual work. We are guided by a simple rule: go where we are needed, whether it be a courtroom, a community office, or a virtual hearing. 
Another transition was invisible to outsiders but nonetheless an important milestone. In May, we parted ways with the Fund for the City of New York, an umbrella organization that had provided administrative support since our founding in 1996. Since leaving the Fund, we have found new ways to support our staff, diversify our funding sources, and positively impact justice policies and the communities we serve. And for the first time, we also have our own governing board, which gives us new opportunities to grow strategically.
Also in May, we marked our 25th anniversary with a celebration, where we honored leaders of innovation in four areas—JPMorgan Chase for corporate innovation, the Tow Foundation for philanthropic innovation, artist Shaun Leonardo for community innovation, and retired New York State Chief Judge Jonathan Lippman for a lifetime of innovation. It was a chance to reflect on our impacts and achievements, which strike at the core of how justice is delivered.
Our work encompasses many systems. We work in both criminal and civil settings. We have programs in courthouses and in communities. When developing a new program or response, we bring everyone to the table to get the best ideas and best outcomes. By our nature, we thrive in the middle, bridging gaps and forging new partnerships.
At the beginning of 2023, as this annual report was being written, we announced another transition—to a new name. By replacing "court" with "justice," we are reminding the public that our work is built on people-centered values—equity, fairness, humanity, and community empowerment. Justice also reflects our holistic approach to the legal system, an approach that recognizes the system as a continuum. The more we invest at the very beginning—in community resiliency and crime prevention—the safer and healthier individuals and our communities will be. 
The name change also better reflects our work. When we were founded in 1996, our primary focus—in partnership with the New York State Court System—was introducing new ideas to the courts. But over time, we've expanded our collaborations to encompass the entire justice system and the communities most impacted by crime and disinvestment. As a result, we have as many staff today working in or with the justice system as we do building initiatives hand-in-hand with communities to empower local residents to define and achieve safety on their own terms. Our evolution as an organization requires a name that reflects our wide range of programs and research.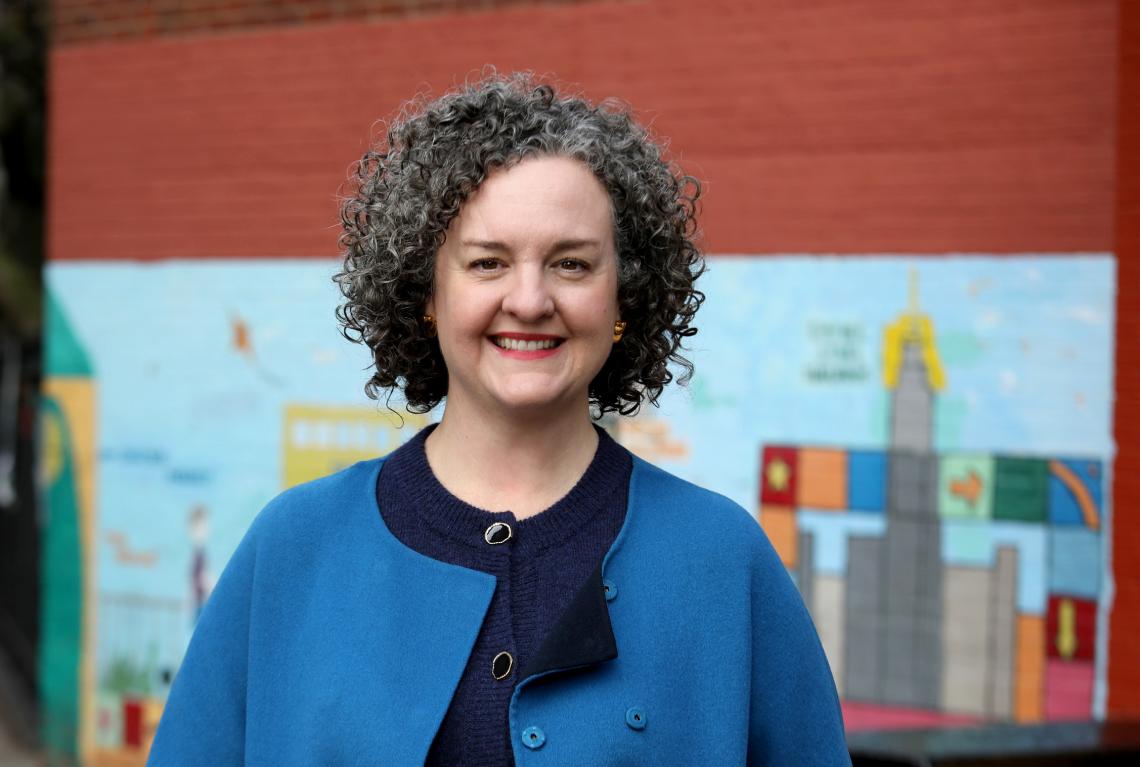 In the year ahead, we plan to increase our efforts in several key areas, including moving forward with the plan to close the jails on Rikers Island and reduce the use of unnecessary incarceration, preventing violence, fostering housing stability, and expanding investments and opportunities in under-resourced communities to increase safety. We will also continue to support and advise justice practitioners and communities in New York, around the country, and internationally with new challenges as they emerge.
Debates about crime and safety have once again become fractious, making it seem as if there were only diametrically opposed ways to address challenges. And once again, we find ourselves in the middle. We agree with those who say safety matters. Of course, it does. And we agree with those who believe the justice system causes too many harms and needs a smaller footprint.
We can do both—achieve safety and shrink the system. They are complementary goals. A justice system that is right sized, that uses confinement only when necessary, that addresses the needs of everyone—those who have been harmed, those who cause harm, those in the system, and the community at large—lays the groundwork for a truly just system: one that keeps everyone safe while being fair, effective, and humane.
– Courtney Bryan
   Executive Director
Message from the Chair of Our Board
When I started working as a judge in Newark in 2009, I encountered people every day who needed help more than they needed punishment. I recognized that with services, like substance-use treatment or skill-building, many of the people who came before me would have a genuine chance of staying out of the system once and for all.
I was fortunate to become a judge when Cory Booker was our mayor. He had visited the Red Hook Community Justice Center and wanted the people of Newark to benefit from the same innovative approaches in Red Hook that were helping reduce crime and empower the community in Brooklyn.
I learned that the people of the Center for Justice Innovation do magic. When the Center team came to Newark, they gathered ideas from everyone—those who worked in the justice system, a wide array of community members, and those who'd been through the system. They took all our ideas and brought ideas of their own and then helped launch Newark Community Solutions, which today runs programs that reduce incarceration, engage young people in leadership activities, and offer something that is too often in short supply in our justice system—hope.
I was honored to be asked in 2017 to lead an advisory board for the Center. The position allowed me to contribute my first-hand knowledge of the justice system and experience of the Center's impact to help advance reform far beyond Newark. On May 1, 2022, the Center transitioned from being a part of the Fund for the City of New York to becoming its own independent non-profit, and we went from being a Board of Advisors to a full-fledged Board of Directors, charged with providing oversight and accountability, as well as helping the Center meet fundraising needs, forge new partnerships, and provide strategic advice. Like the Center, which employs experts from a wide range of fields, our Board members are experts in diverse areas, including government, non-profit management, finance, philanthropy, urban planning, social justice advocacy, and international development.
As someone who has witnessed the power of the Center to transform the legal system—and lives and communities it touches—I am honored that my experience can help inform and guide this visionary organization.
Becoming our own 501(c)(3) is an important and necessary step for the Center, one that strengthens our ability to advance systemic change and have transformative impacts. Independence also allows us to focus fully on our mission—and control our future direction. 
The Center is all about maximizing impact to advance equity and make justice fair and humane. With the Center's new status as an independent organization—and our new name—we stand to have more positive impacts on justice in the years to come.
– Judge Victoria Pratt
   Chair of the Board
2022 was a year of transition, uncertainty, and hope. Even as many experienced a return to normalcy—by returning to the office, riding public transit again, or eating at a restaurant without a mask—many others feared for their health amidst a "tripledemic" of COVID-19, RSV, and the flu. Meanwhile, the social, economic, emotional, and medical consequences of the coronavirus pandemic—which has disproportionately affected low-income people and people of color—continued to be felt in the form of learning and developmental delays in children, high inflation, rent arrears, long COVID and more. Over the year, the Center for Justice Innovation adapted to this shifting landscape while also moving the needle on a number of priority areas, including reducing the unnecessary use of incarceration with the goal of closing the jails on Rikers Island by 2027, preventing evictions and improving housing stability for vulnerable communities, empowering under-resourced populations, and reducing violence. We also concluded our 25th anniversary celebrations, which began in 2021, with an in-person benefit that celebrated our achievements, honored four justice innovators, and invited our supporters to join us for another 25 years of reform.
Responding to Housing Needs
At the beginning of the year, New York's moratorium on evictions, which had been in effect during the height of the pandemic, came to an end. While the moratorium provided temporary relief to many tenants, we recognized the need to work towards more long-lasting solutions. In August, we organized a resource fair in Harlem that connected residents to a host of agencies and providers to help them access key services, such as rent relief, critical home repairs, and legal services to fight evictions. The resource fair was also an opportunity to begin addressing the long-neglected needs of those who were unable to have their housing concerns heard while in-person proceedings were suspended in many courts.
In Red Hook, meanwhile, we helped hundreds of residents understand their rights as tenants and learn how to navigate an often overwhelming Housing Court system. With the help of our housing resource center, 170 tenants in Red Hook were able to file cases in court in 2022 to seek repairs and assert their rights to safe, quality housing. In Brownsville, we assisted 95 residents with their housing needs, from home repair to rent relief, helping tenants secure aid for over $82,000 in rental arrears that they were unable to afford themselves. In June, we heard first-hand from our housing team in Red Hook, as well as the tenants they serve, on an episode of our New Thinking podcast.
Moving beyond COVID-19: Expanding Access to Support, Services, and Solutions
Despite resource challenges imposed by the pandemic, including limited access to some of the courthouses that serve as home base for many of our programs, we continued to provide our clients and communities with a wide range of services and resources through both in-person and virtual options.
In October, we opened a New York State-supported virtual court access project in Red Hook, Brooklyn. The initiative aims to make the justice system more accessible by enabling individuals to file court papers closer to their homes using online tools, rather than forcing them to travel long distances to file them at court in person. The three virtual access terminals we began operating in Red Hook allow community members to remotely file papers in both Family Court and Housing Court.
While many of our programs now offer virtual programming, we recognize that remote services are not always appropriate or accessible. In Manhattan, we forged a partnership with a non-profit service organization, the Stanley M. Isaacs Center, where participants with a community service mandate helped to prepare meals and distribute them to those in need, enabling them to build a deeper connection to the community. This option was especially valuable for those who may not have had access to technology or a strong enough command of the English language to take part in virtual programming.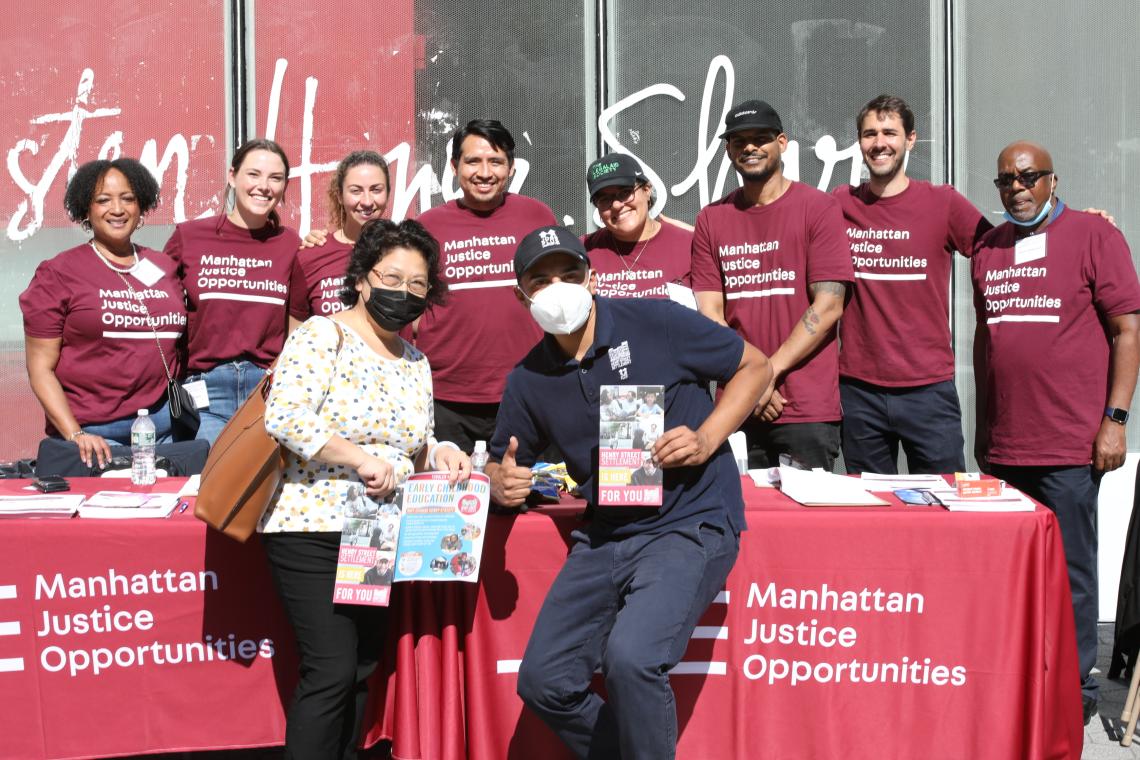 In September, we hosted a resource fair for the lower Manhattan community. Bringing together over 10 organizations working in employment and housing services, food security, mental health and substance use treatment, and more, the event offered immediate assistance in the form of food, hygiene supplies, and harm reduction materials and helped connect about 150 community members to a wide range of resources that they may have struggled to access at the height of the pandemic.
In Newark, N.J., we relied on the infrastructure and partnerships developed over 10 years of operations to expand access to legal, healthcare, and housing services for people at risk of slipping through the cracks. Throughout 2022, our team in Newark helped set up sites where people could access computers to attend remote court appearances. The project was conceived at the beginning of the pandemic as the Virtual Court Accessibility Project, a collaborative effort between our program, Newark Community Solutions, and Newark Municipal Court to combat the harms of the digital divide. The first of these "virtual hubs" was held in a local homeless shelter. Over the course of the year, we worked with partners and stakeholders to host virtual hubs at the Newark Public Library and the BetterLife Engagement Center as well. Remote court sessions gave individuals charged with low-level offenses—many of them unhoused people residing primarily in Newark's Penn Station—the opportunity to participate in diversion programs which connected them to resources to address unmet service needs. In March, we published a guide sharing lessons from these ongoing efforts to provide access to virtual services for underserved populations.
Press Highlight
Our director of Research-Practice Strategies, Lisa Vavonese, was featured on an episode of the National Criminal Justice Association podcast to discuss some of the drawbacks of virtual court proceedings for people with language impairments.
Our experts, who work with jurisdictions across New York and around the country, advised and supported practitioners as COVID-19 required them to innovate and improvise. In 2022, we studied these experiences to provide lessons and guidance for improving justice system practices and policies.
When many courts across the U.S. were shut down, our Gender and Family Justice team hosted regular office hours that allowed practitioners handling cases of domestic violence to share their experiences and brainstorm strategies for addressing the pandemic's challenges. Those sessions informed a report that the team released in August on the impact of the pandemic on survivors of domestic violence and lessons learned from courts' responses to the crisis. Consistent with our broader efforts to preserve the option of remote access to services and court appearances, the report highlights the ways in which virtual hearings can improve both trust and safety for survivors of domestic violence even outside of pandemic-imposed limitations.
There were more lessons to be found in the Opioid Reduction Teleservices Program, a multi-year project that we helped to implement in partnership with the New York State Unified Court System and the New York State Office of Addiction Services and Supports. Though conceived prior to the pandemic as a means of enabling people in residential treatment programs to attend court appearances and case management sessions remotely, the project became especially fruitful during the pandemic. Our 2022 report assessed the experiences of several sites, and offered general recommendations for utilizing new technologies to make the legal process more effective and user-friendly for those with substance use disorders.
Community safety and justice decisions are often exclusively in the hands of police, prosecutors, and other institutional players rather than in the hands of people who live and work in impacted neighborhoods. At the Center, we are trying to change that. We believe community residents themselves are the experts on their own neighborhoods, with a fundamental understanding of what needs to happen to achieve the prerequisites to community safety—e.g. education, economic mobility, quality housing, mental health supports, safe public spaces, and trust in one's neighbors.
Residents Leading the Way
In March, we released a study on the perspectives of young people in the Rockaways, Queens, on issues of crime, safety, and justice. The study not only revealed that these young people often feel unsafe, but also that they are frustrated by a lack of activities, organizations, and spaces that provide opportunities for enjoyment and development. 
Over the past year, we have also deepened our commitment to re-imagining the meaning and purpose of justice system research. Our issue brief, They Can't Quit Recidivism, explored some of the limitations of justice system data, especially when it comes to measuring public safety. The brief recommends that instead of relying exclusively on data generated by the official legal system, efforts to promote justice and safety should be informed by broader metrics, such as indicators of community connectedness and changes in norms. On Giving Tuesday, we hosted a virtual seminar to discuss new approaches to research, rethinking what counts as evidence, incorporating community voices, and how to measure success in the areas of justice and public safety.
Expanding Our Work in the Community
The Center for Justice Innovation operates justice centers in all five boroughs, as well as programs in New Jersey and Upstate New York. Some of the justice centers include community courts and all work collaboratively with their communities to address local challenges.
At the beginning of the year, we opened a new justice center in the South Bronx. Its goals include helping to transform neglected public spaces, generating investment in local Black and Brown-owned businesses, empowering younger generations to take on leadership roles in their communities, and organizing grassroots campaigns to prevent violence.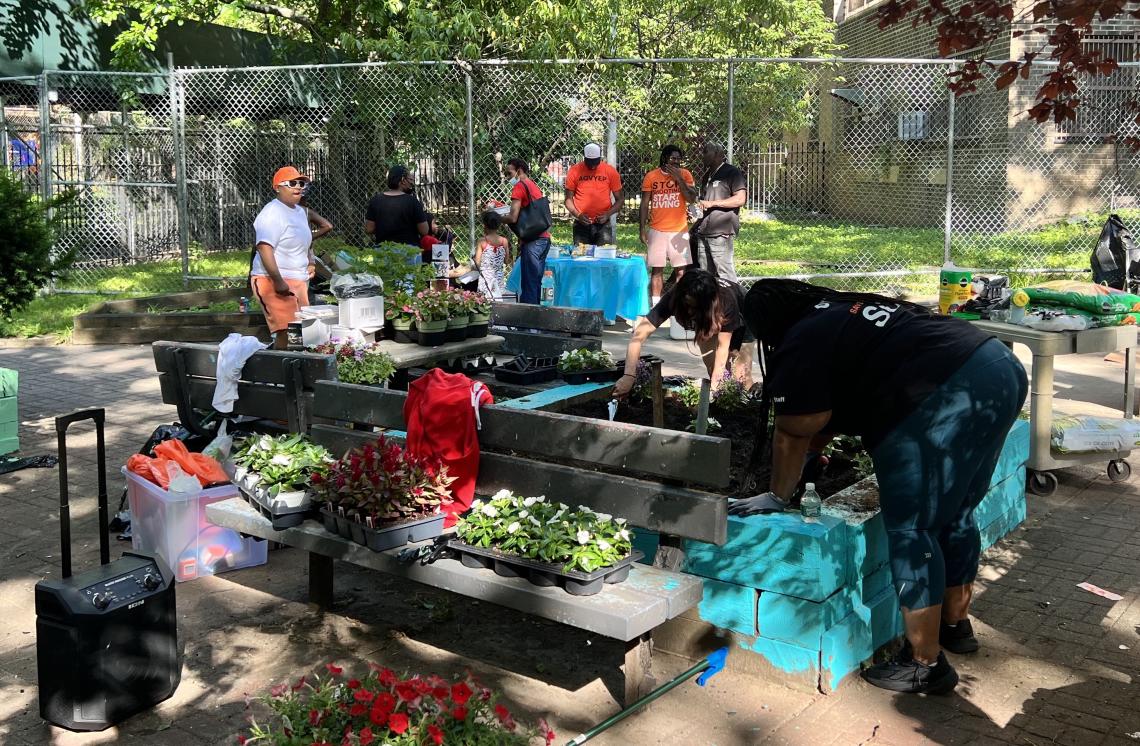 2022 marked the 15th anniversary of our justice center in Jamaica, Queens, and the launch of a new project site in the Rockaways which will be a hub for positive youth activities, alternatives to incarceration, and community discussions about questions of justice and equity. In June, our community justice center engaged residents in Jamaica and the Rockaways in their annual spirit week, with events like a health and wellness fair, a job fair, and a day of games for families and kids.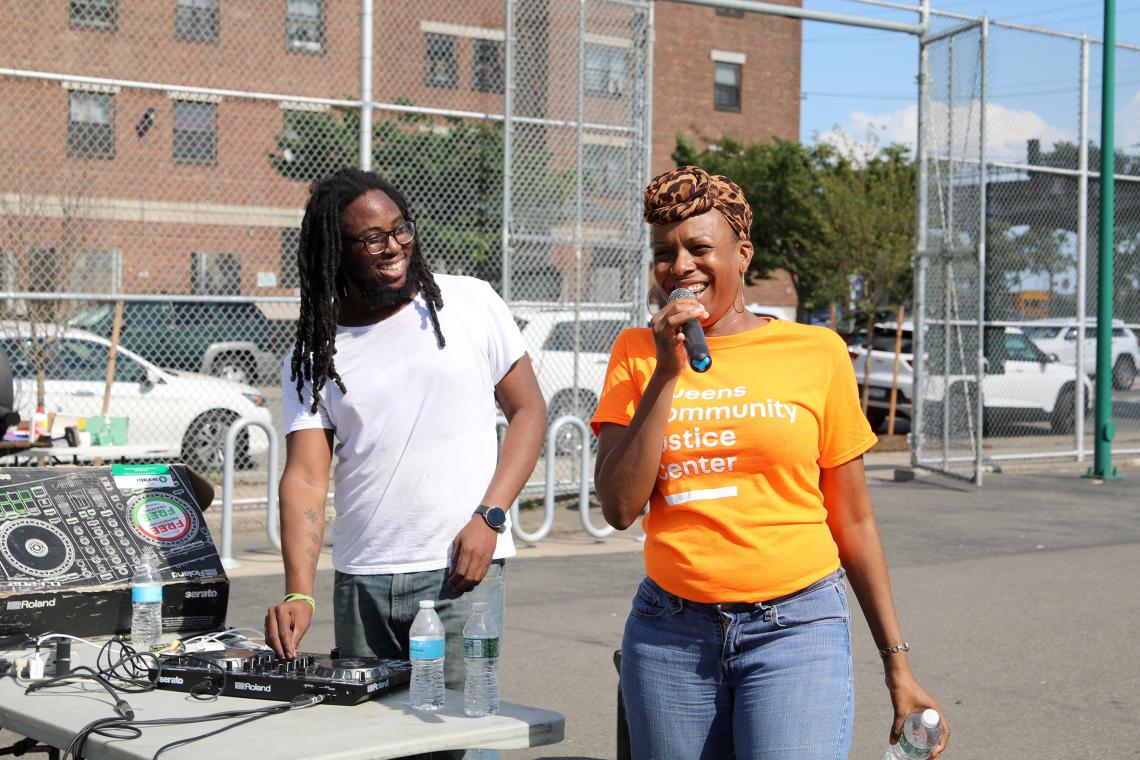 $400,000 directed to local Black-owned businesses this year through the Brownsville Community Justice Center
1,300 meals and pantry bags, and 404 hygiene kits distributed by the Queens Community Justice Center
In the Bronx, we engaged 139 young people in internship opportunities, work readiness and certification programs, and leadership training. In one initiative, we mobilized a team of 20 young people to collaboratively design a shared neighborhood space that has often been negatively impacted by violence and disinvestment, cultivating a greater sense of safety and belonging in the area. Young people were also given the opportunity to engage in internships, leadership development programs—including a leadership retreat attended by 45 youth—and entrepreneurship programs, where participants could develop and launch their own product lines. Over the course of the year, three groups of 35 young adults in the Bronx took part in our entrepreneurship programming, fostering creativity and crucial professional skills.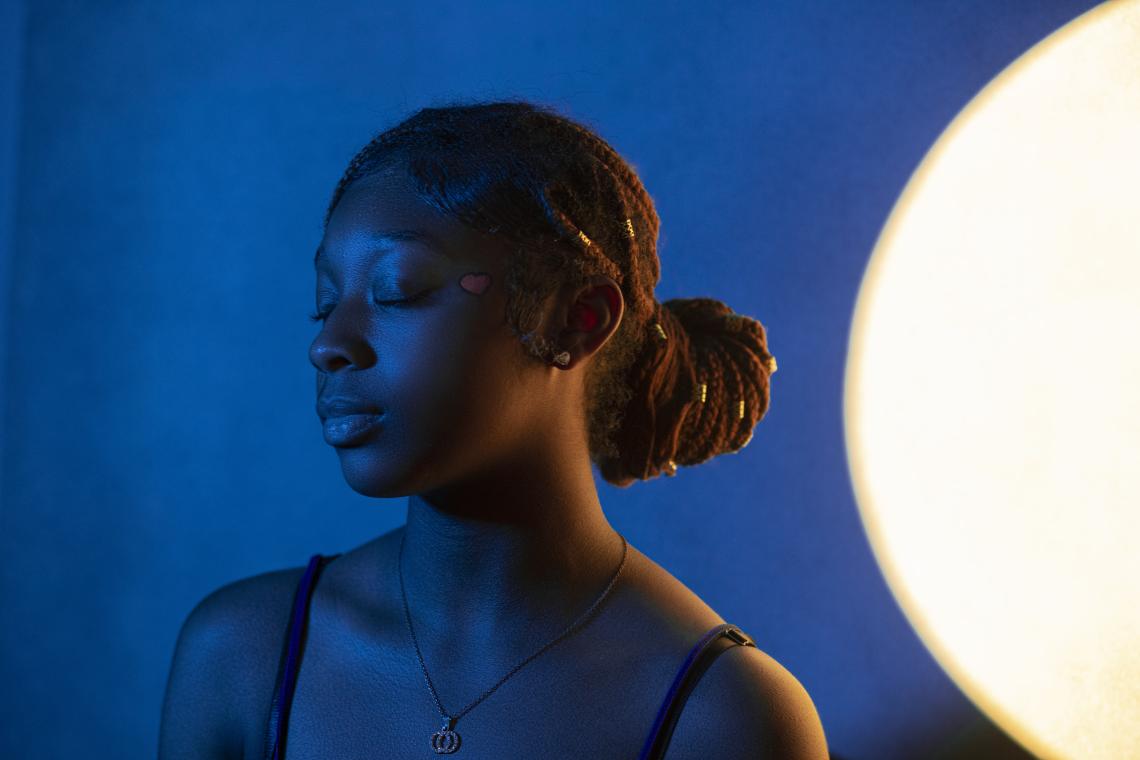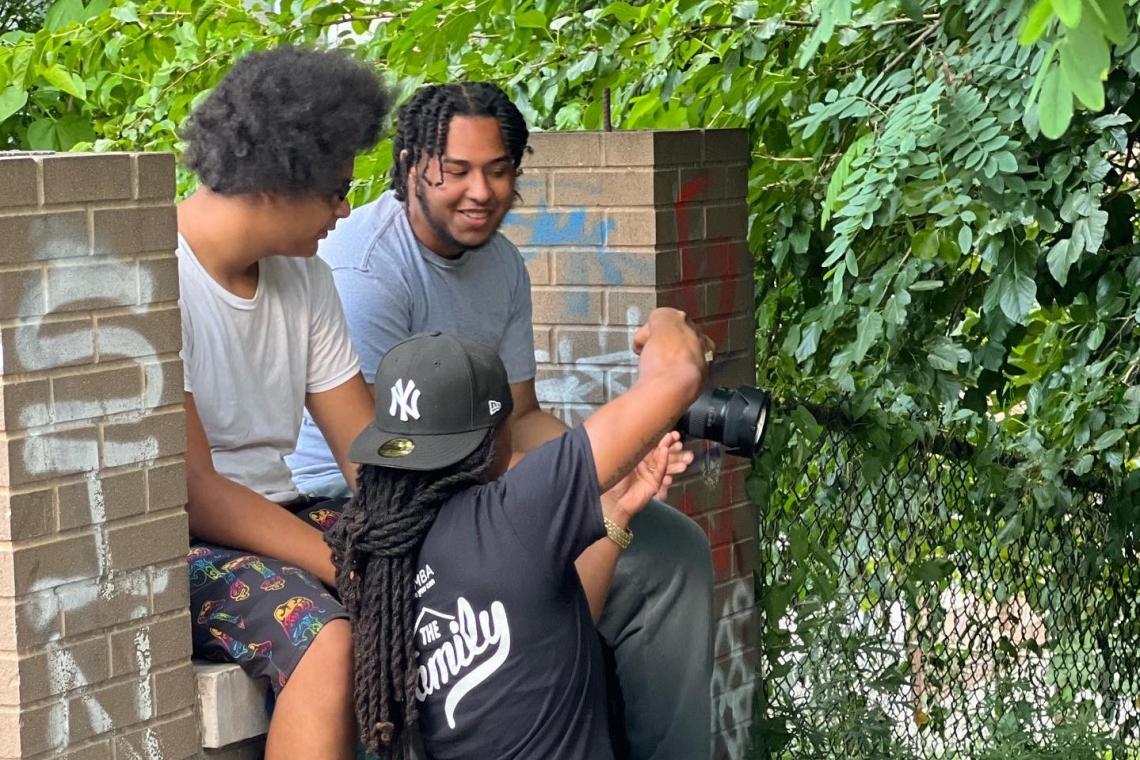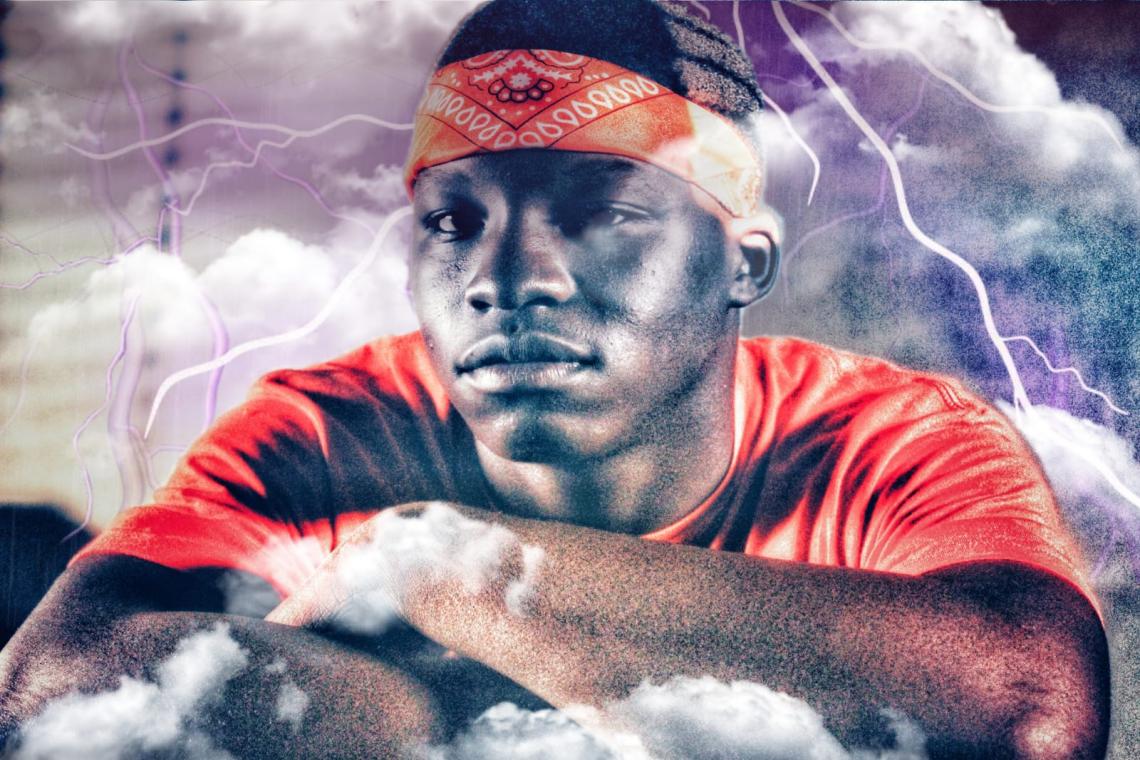 Our Neighborhood Safety Initiatives team organized a number of projects for youth participants, including a program which offered training in the arts, financial literacy, mental health awareness, and career development to a cohort of 16 young people in the Tompkins Community Center in Brooklyn. In the same vein, we helped youth residing in the Castle Hill Houses in the Bronx to access job fairs, apprenticeship programs, and career coaching services to connect them with stable, long-term employment options. We also operated a summer program in Brooklyn in which young people could participate in visual arts projects as a means of confronting, reducing, and productively documenting their experiences with interpersonal violence.
In Brownsville, our B-Live program offered young people training in creative sectors such as music production, visual technologies, and urban planning, as well as general skills such as entrepreneurship and community engagement. Alumni from the program were connected to employment, entrepreneurship, and education opportunities. Another one of our youth programs is the Brownsville Girls Collective, where we focused on empowering young women in the community—some of whom are at high risk of justice involvement—by creating a safe space to engage with each other and our facilitators to talk through the underlying needs and trauma that so often fuel interpersonal conflict, as well as develop healthier ways of relating to others. In total, we worked with 197 youth participants in our Brownsville programs over the course of the year.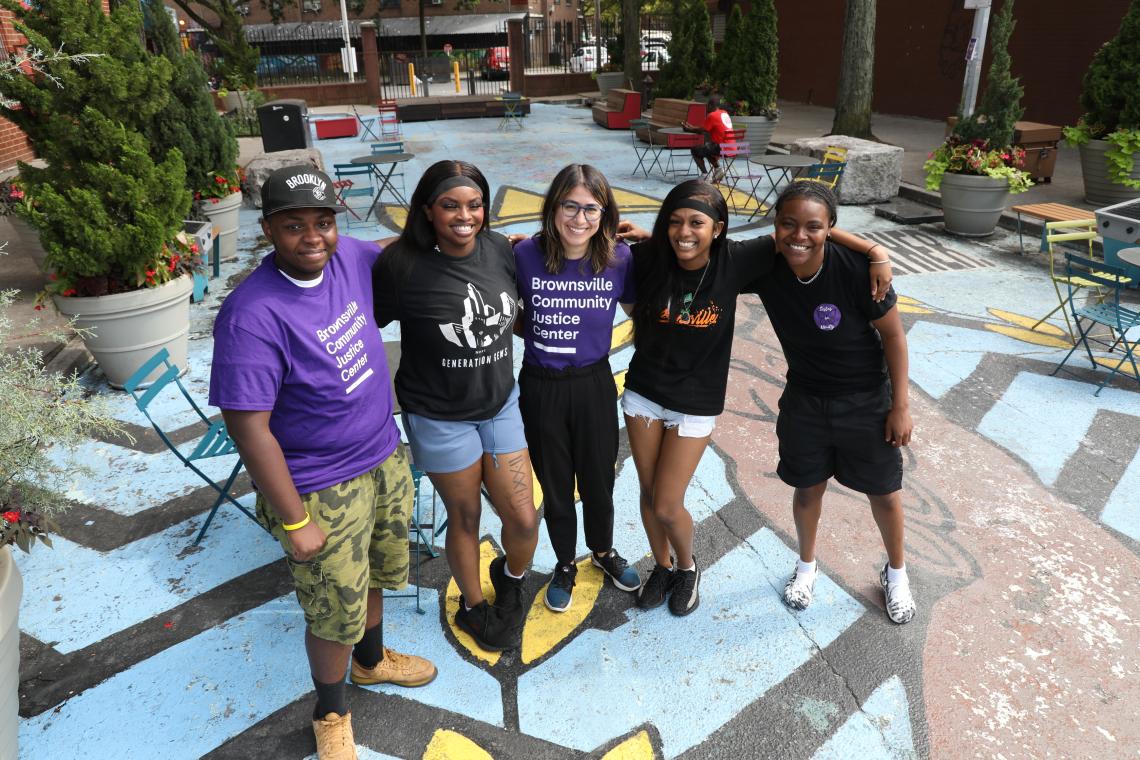 Preventing Violence, Promoting Healing
Since 2011, when we launched the first violence interruption program in New York City, the Center has been involved in addressing gun violence with community-based responses. Our gun violence prevention initiatives in the Bronx and Brooklyn make use of the Cure Violence model, a public health-informed approach to defusing conflicts that could lead to gun violence. Credible messengers—people from the community with first-hand knowledge of street and gang life—serve as violence interrupters, directly working with individuals at risk of engaging in violence. In Brooklyn, we engaged nearly 80 people in violence interruptions in 2022.
Preventing violence also means working with community members on employment readiness, job training, and reentry programs; educational and leadership opportunities for at-risk young people; and placemaking efforts that engage communities in revitalizing public spaces. In Brownsville, Brooklyn, we created three healing spaces for anyone in the community to find moments of calm and respite, release tension or negative emotions, and engage in personal healing. These spaces were featured in Streetscapes for Wellness, a collaborative report published by the NYC Public Design Commission, documenting how designing human-centered streets and public spaces can increase public health and safety.
Press Highlights
Addressing trauma is another important piece of our community-based work. In 2022, we launched Project Uplift in Queens, a new initiative that provides trauma-informed, culturally responsive programming for young men of color who have been exposed to violence. Recognizing that untreated trauma can fuel more conflict, Project Uplift provided the opportunity for participants to talk about and work through their shared experiences with violence in therapeutic support groups. Of the 15 young men who participated in the program—all of whom had previously been arrested, many for gun possession charges—none were re-arrested during their time in Project Uplift.
Preventing Youth Detention
In collaboration with the New York City Law Department, the Legal Aid Society, and the N.Y.C. Department of Probation, we operated a special diversion program in Midtown Manhattan for young people, ages 14 to 17, arrested for weapons possession. The program linked youth participants to case managers who helped them to create an individualized program plan, setting clear educational, emotional, and social goals. Relying on credible messengers from the community, peer support groups, and other resources—including family engagement sessions and career readiness coaching—the program gave young people the opportunity to avoid prosecution and all of the long-term consequences of a criminal record, while addressing the underlying needs that brought them into contact with the justice system.
2022 also marked the two-year anniversary of the Opportunity Youth Part, a special courtroom in New Rochelle for young people, ages 18 to 24, who have been charged with an offense. Since the program's launch, the Center has assisted with planning and provided guidance in its effort to place youth participants in contact with crucial community-based services and resources from which they had been disconnected, allowing them to avoid incarceration and justice system involvement while receiving support for areas of need.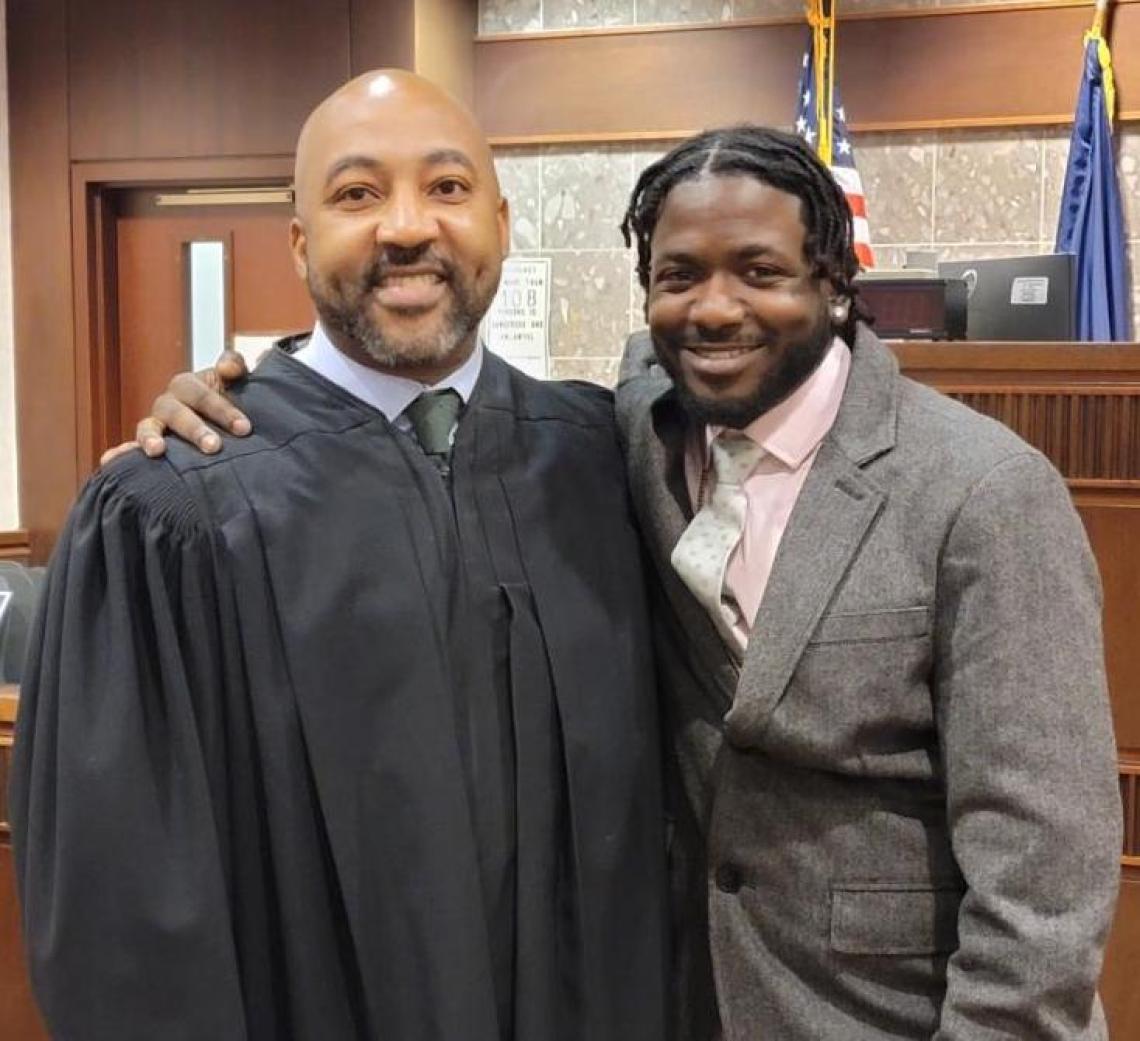 As part of our efforts to advance procedural justice and make the legal system more accessible to people experiencing it, we worked with Native authors and illustrators to design and distribute materials to support Native children living in Tribal communities who are navigating the justice system. Our Child Witness Materials project, created in partnership with the U.S. Department of Justice's Office for Victims of Crime, published developmentally appropriate, culturally sensitive, and trauma-informed graphic novels to help children who are victims of or witnesses to crime feel informed, supported, and empowered.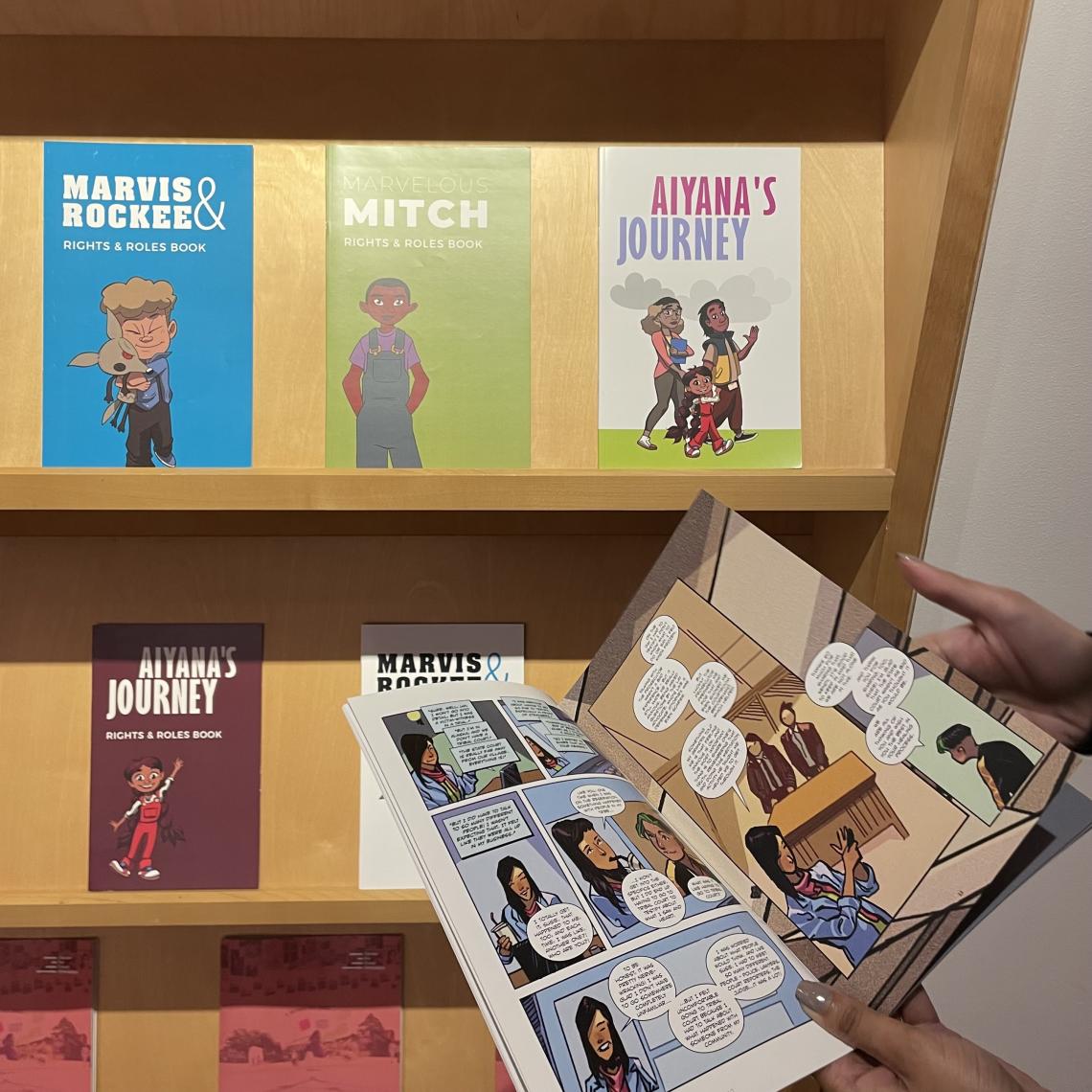 In September, we received federal funding to expand our Strong Starts Initiative to two more counties in New York, Broome and Erie, as well as expand capacity in Brooklyn. The initiative connects children and caregivers involved in abuse or neglect cases in Family Court to services and resources to prevent separations and strengthen families. After launching Strong Starts in Bronx Family Court in 2015, we brought the program to all five New York City boroughs and Westchester County. Since the program began, we have worked with 223 infants and toddlers and 215 respondent caregivers.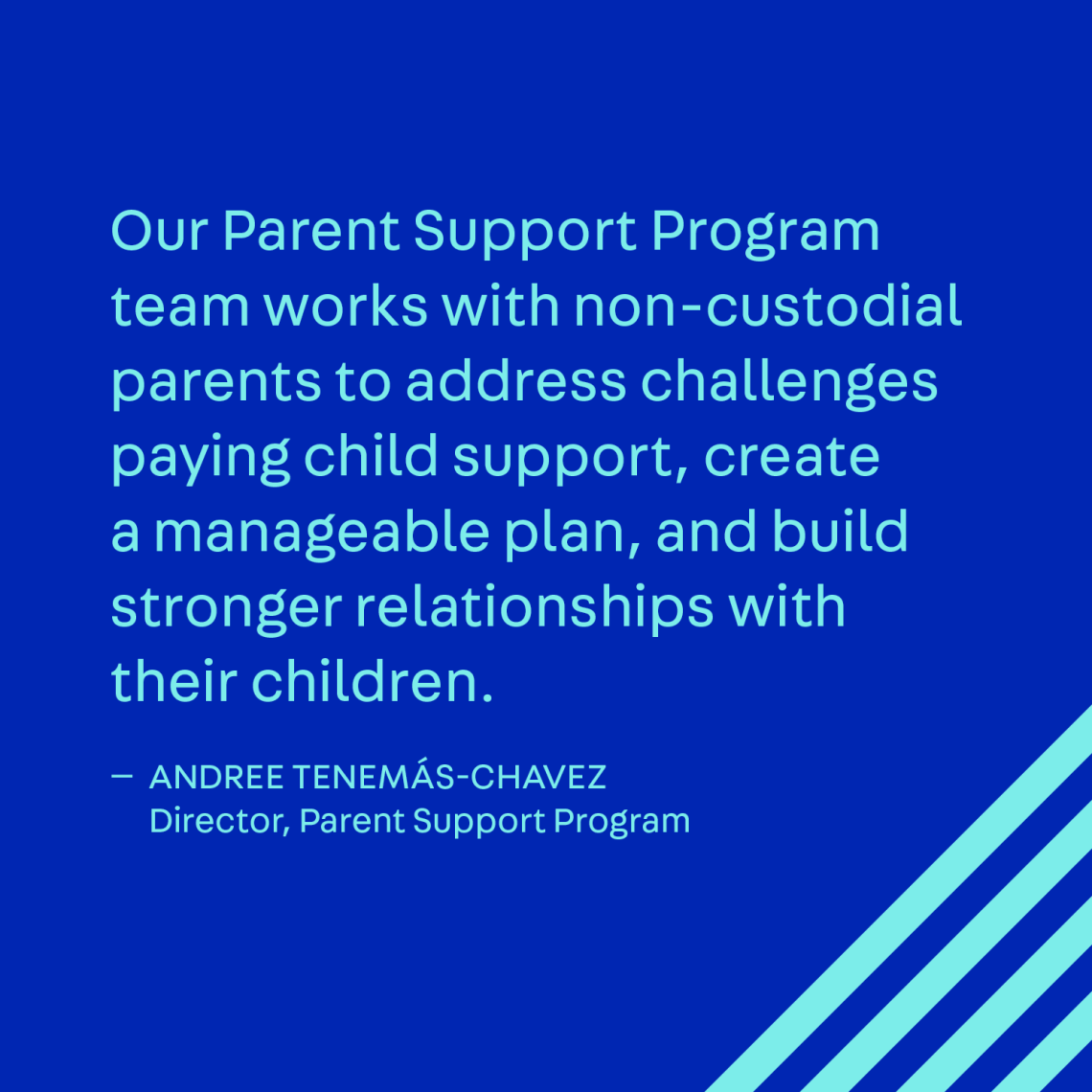 Reducing Incarceration, Minimizing Harm
In 2019, New York City adopted the recommendations of the Independent Commission on New York City Criminal Justice and Incarceration Reform—which the Center for Justice Innovation helped research and draft—committing to closing Rikers Island and replacing it with borough-based facilities by 2027. Closing Rikers depends upon reducing the city's jail population to 3,300 or lower; with the population at nearly 6,000 at the end of 2022, there is more work that needs to be done. This is especially urgent in light of the life-threatening conditions of the jails on Rikers Island. In 2022, 19 died during or shortly after their time in the jail complex; in 2021, 15 people had died. 
Our partnership with the Manhattan District Attorney's Office has been instrumental in our effort to make incarceration a last resort in New York City. This year, the Manhattan District Attorney's Office opened its Pathways to Public Safety Division to reduce the use of incarceration through alternatives such as mental health and substance use treatment, restorative justice, and housing and employment services, in collaboration with our specialized mental health and problem-solving courts. The District Attorney's Office has also expressed support for our Community First program, which takes an innovative and trust-building approach to bringing immediate assistance and long-term services to unhoused people in the Times Square area. In 2022, Community First provided over 2,000 immediate services—from physical necessities like food and clothing, to referrals to local service providers—to over 470 people in need.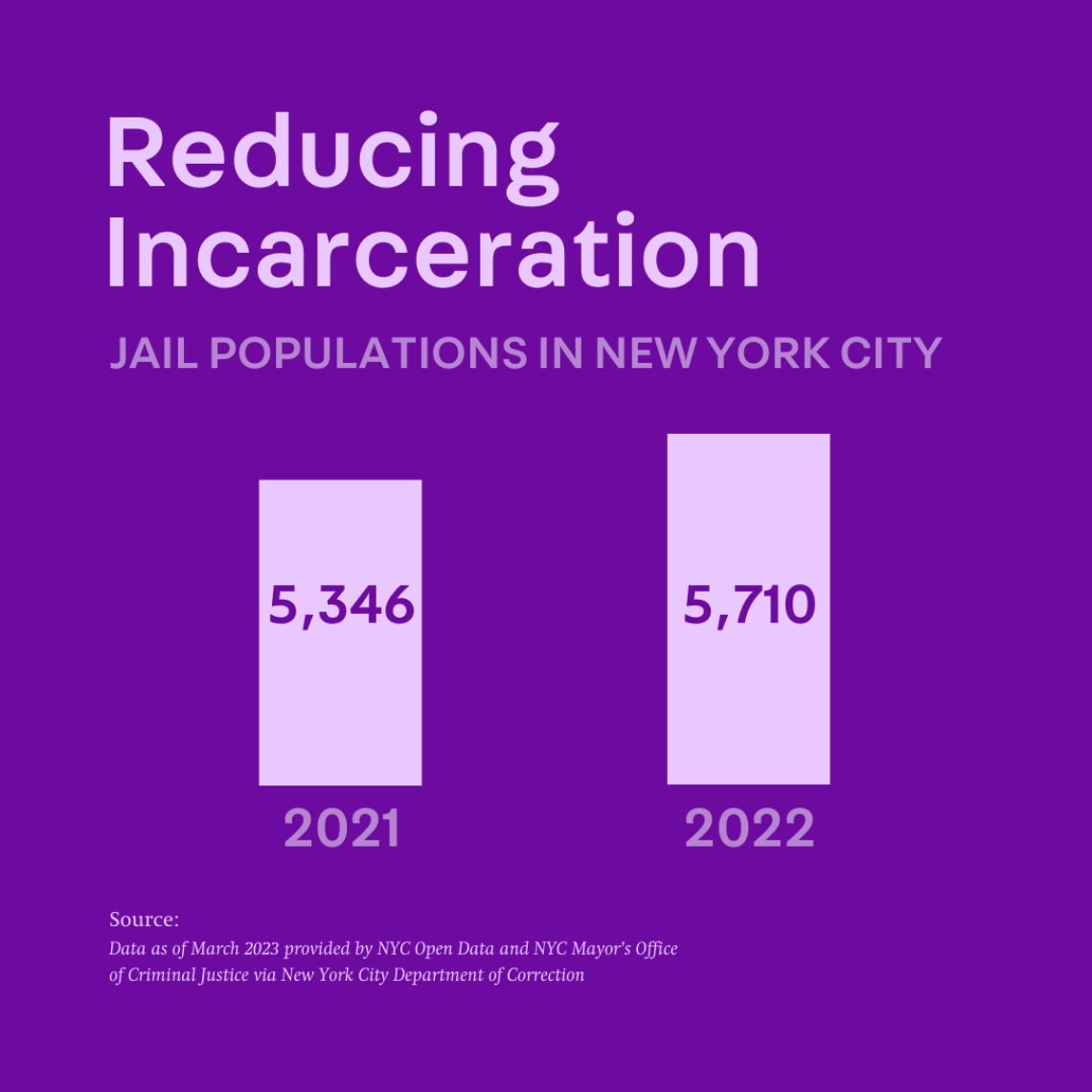 Press Highlight
Our outreach and assistance for unhoused people in and around Times Square was featured in a story by City & State New York in June.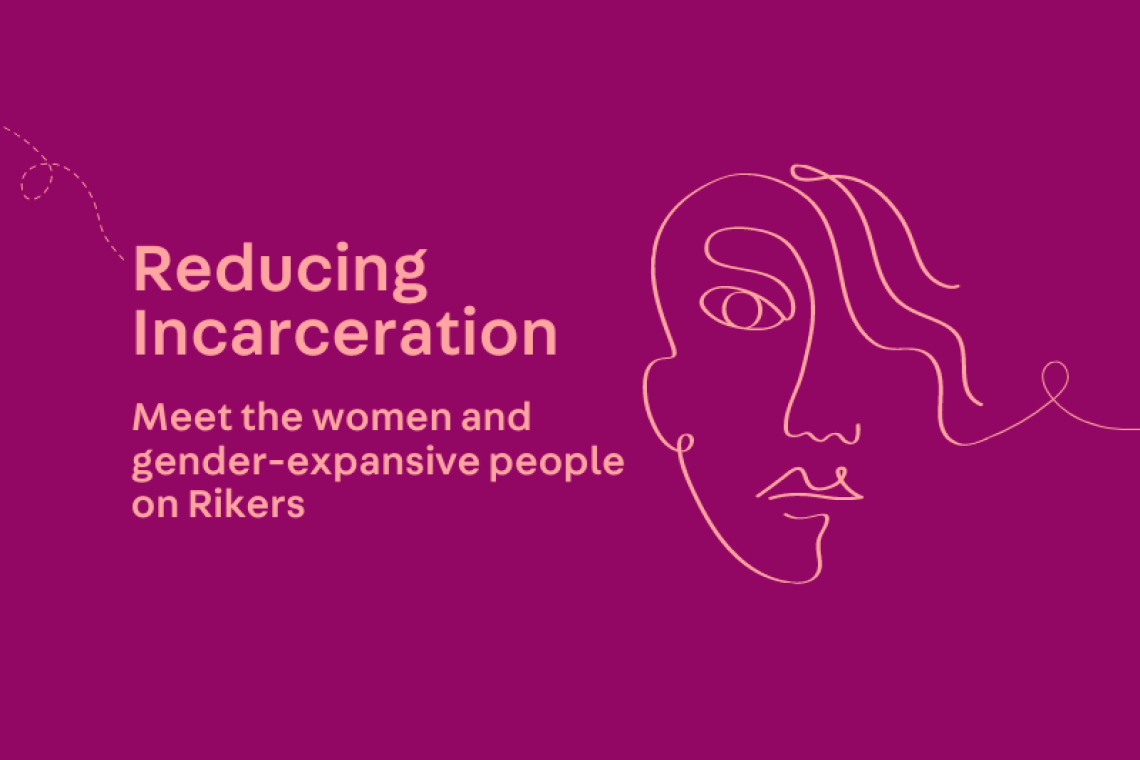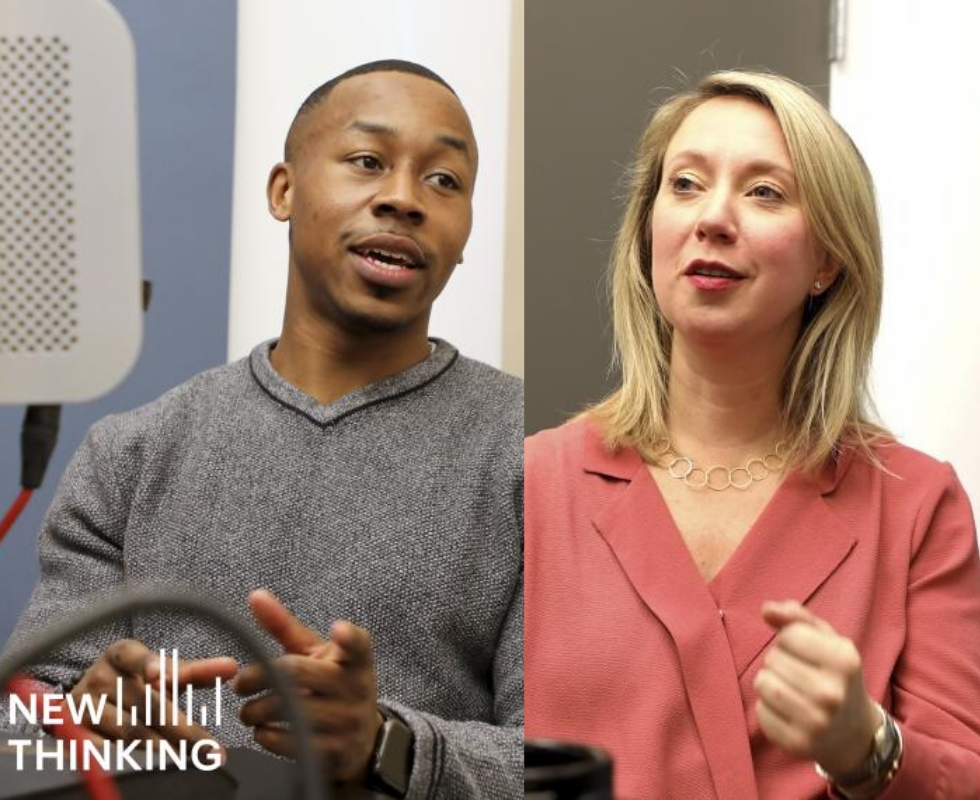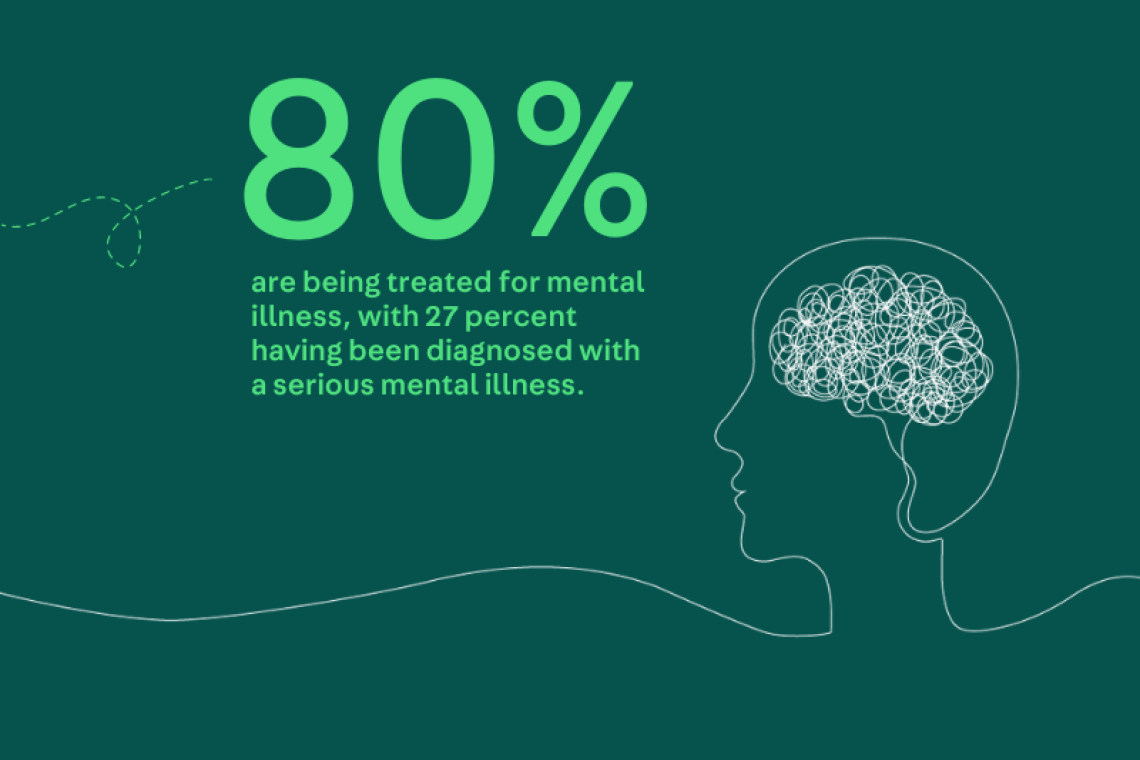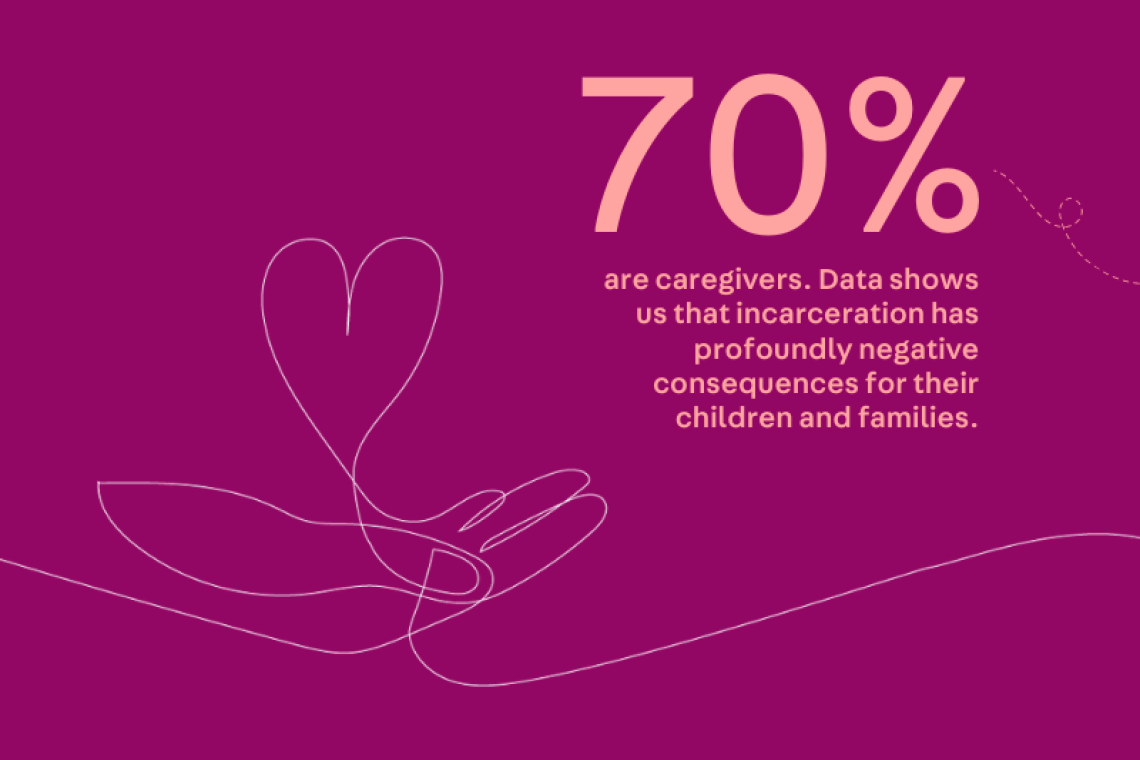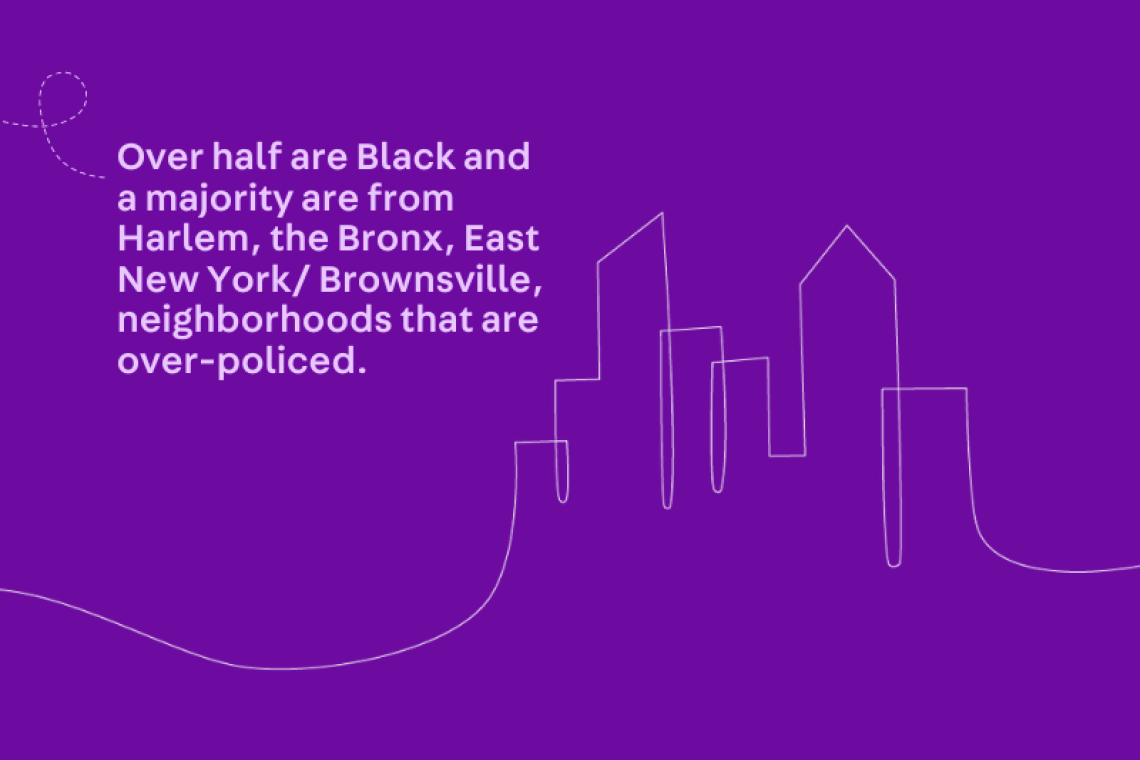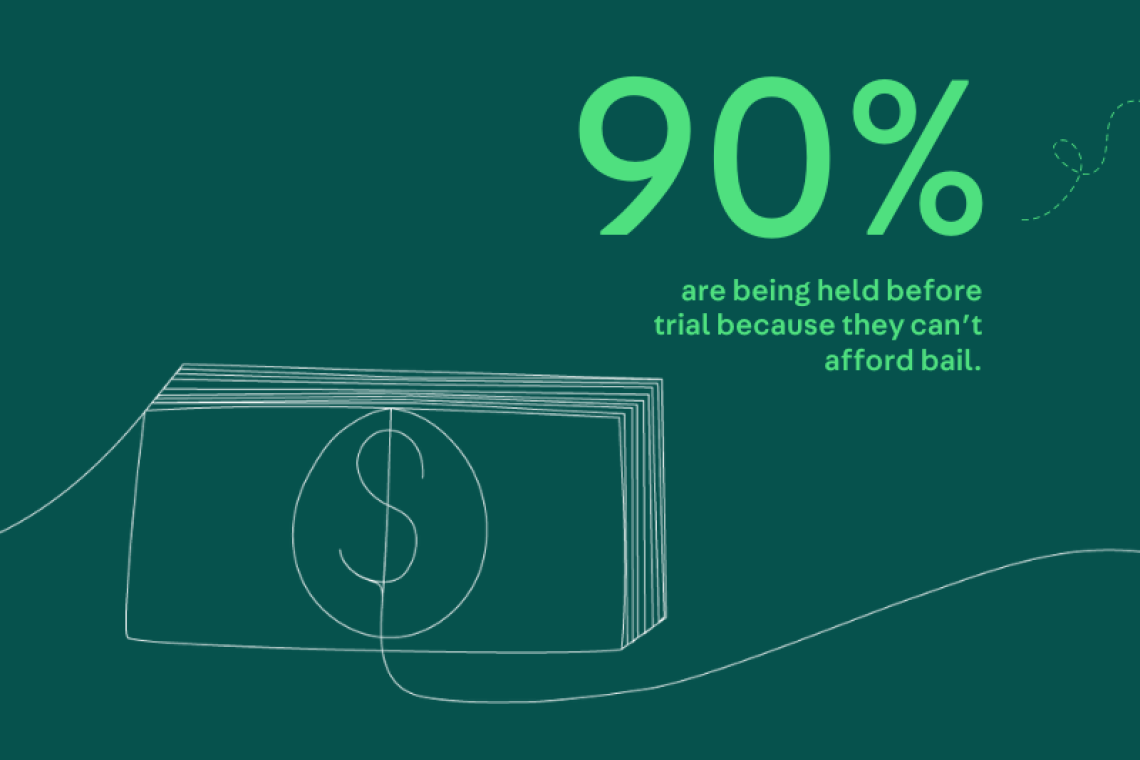 In our research, we released a publication in partnership with the Women's Community Justice Association, the Independent Commission on N.Y.C. Criminal Justice and Incarceration Reform, and the Data Collaborative for Justice at John Jay College, offering strategies for safely reducing the number of women and gender-expansive people on Rikers Island to under 100—a vital imperative in order not only to close the complex, but also to protect a uniquely vulnerable population in the justice system. In October, we released a study documenting survey results from 274 prosecutor agencies nationwide on their guiding principles and decision-making processes, gathering insight into a crucial part of the legal system that often remains obscure. This dovetailed well with a pair of reports we published on the harmful and racialized effects of misdemeanor prosecution and mandatory minimum sentencing requirements.
Press Highlight
The Intersection of Justice and Mental Illness
The Center works closely with the New York State Unified Court System and other justice agencies to provide jail alternatives for a particularly vulnerable population—people with mental health diagnoses. In 2022, the mental health court we staff in Brooklyn took in 99 new participants—many of whom had previously been detained on Rikers Island—and oversaw 82 program graduations. Since it opened as the first mental health court in New York City in 2002, the court has seen nearly 1,300 participants graduate, with a 46 percent reduction in the likelihood of re-arrest compared to those who face conventional justice system responses.
In 2022, we opened new mental health courts for people charged with misdemeanor offenses in Red Hook, Brooklyn, and Midtown Manhattan. Participants have the opportunity to take part in voluntary services—such as counseling, substance use treatment, and housing and employment services. Upon completion, their charges are reduced or dropped.
In Staten Island, we hosted a two-day criminal justice conference featuring a reentry simulation. The simulation recreated the experience of returning to society after being incarcerated, walking participants through what it is like to look for a job, housing, childcare, and more while navigating a complex and ongoing legal process. The simulation was intended to inform the public about the challenges faced by people trying to transition back to ordinary life after time spent in the justice system, and to promote empathy for those whose lives have been impacted by system involvement.
1291 participants successfully graduated from the Brooklyn Mental Health Court from inception to close of 2022
141 evaluations conducted, 82 graduates, and 99 new participants at the Brooklyn Mental Health Court this year
Reducing Pretrial Incarceration
The majority of people in New York City jails are awaiting trial, many there because they cannot afford bail. Supervised Release, which we operate in Brooklyn and on Staten Island, provides an alternative to bail. In Brooklyn, we completed 44,000 check-ins for Supervised Release participants in 2022. We hosted employment workshops throughout the year, helping participants to build resumes and referring them to potential employers. In partnership with MetroPlus, we also connected individuals to health insurance and food stamps. 
In parallel with our work on the ground, we published a report examining how the expansion of Supervised Release programs has reduced detention at arraignment for people charged with non-violent felony offenses. Under New York City's Tactics and Choices program, we also oversaw over 450 classes for 2,245 Supervised Release participant registrations, educating individuals charged with offenses related to intimate partner violence on harmful power dynamics and healthier relationship choices.
150 attendees connected to over 10 organizations and service providers at the Manhattan Justice Opportunities resource fair in September of 2022
5,044 new alternatives to incarceration program participants served across New York City (January to September of 2022)
44,000 check-ins completed in the Supervised Release Program at Brooklyn Justice Initiatives in 2022
Developing Meaningful Forms of Accountability
Another innovative example of our work providing alternatives to conventional justice responses can be found in our Driver Accountability Program. Since 2015, we have been partnering with Families for Safe Streets and Transportation Alternatives to hold individuals charged with vehicular offenses accountable by means other than fines and jail time, which are not only ineffective but frequently contribute to racial disparities in the legal system. In 2022, we worked with over 1,000 drivers on behavioral change and self-reflection, a program we expanded upon by adding cases involving critical injury and fatality, bringing drivers and victims together in a process of accountability and healing. An evaluation we published of our Driver Accountability Program found that it made a significant contribution to safer driving habits among participants.
Guiding Innovation Nationally and Globally
In addition to implementing programs and conducting original research, the Center for Justice Innovation has been providing hands-on assistance to justice practitioners across the country and around the world for over 25 years. We have offered evidence-based, context-sensitive guidance in areas involving problem-solving courts, drug courts, Tribal communities, intimate partner violence, family treatment courts, and veterans treatment courts.
This year, we hosted an online Community Justice Conference to share ideas, information, and strategies with other practitioners aiming to develop more effective and humane responses to issues of crime and safety. Attorneys, judges, social workers, and people with lived experience in the justice system shared their knowledge and perspectives at the conference. 600 individuals, including people from 37 different U.S. states and 15 different countries, registered for our two-day virtual conference. We also welcomed a new cohort of 10 community court sites to which we began providing assistance and guidance under an initiative of the Bureau of Justice Assistance.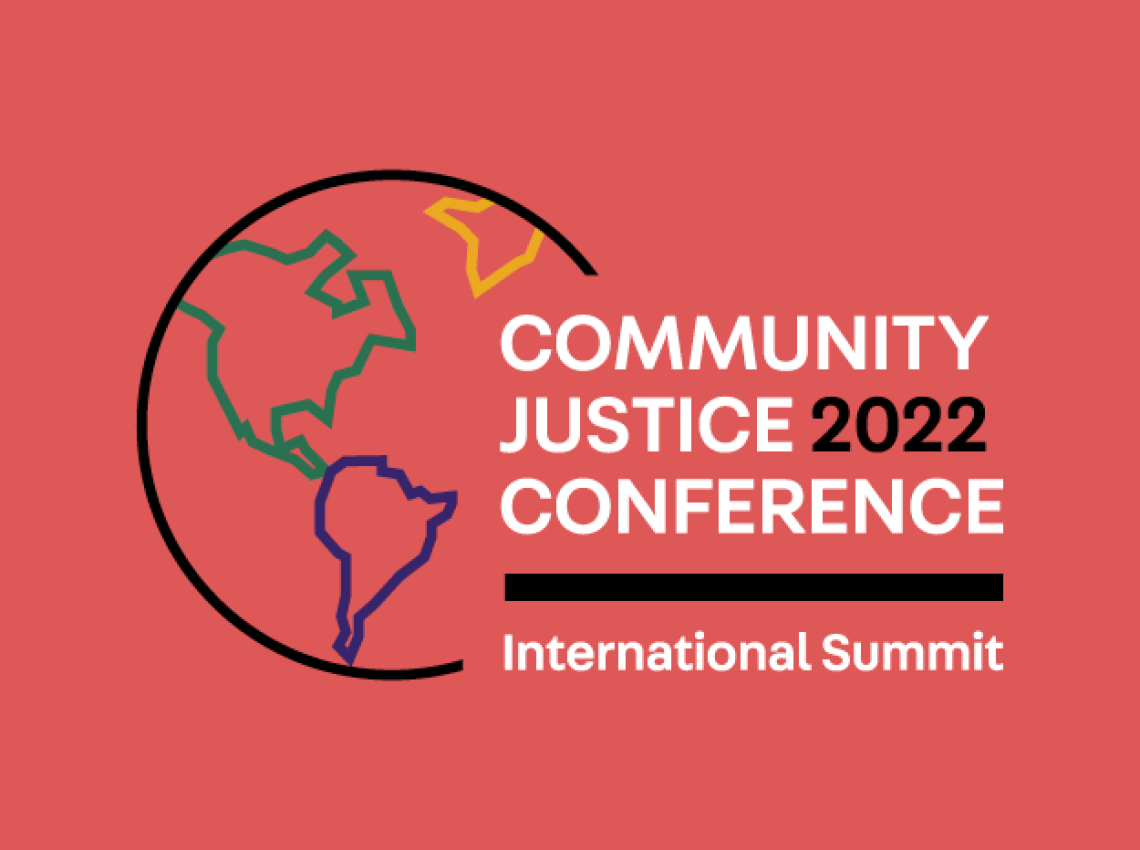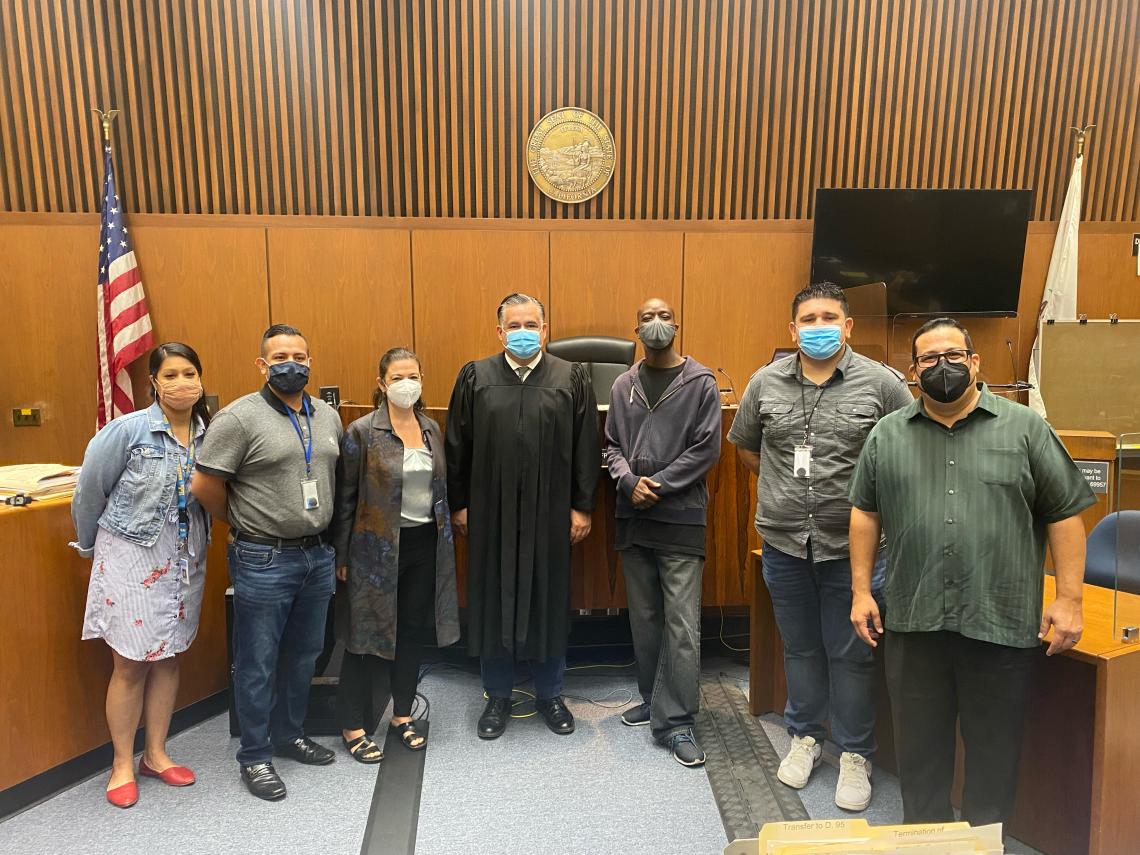 On the West Coast, we continued to offer guidance to Los Angeles County in order to provide early off-ramps for justice-involved people with unmet service needs. Launched in 2019, the Center-assisted Rapid Diversion Program has since grown from one courthouse to six. To date, we have overseen more than 1,300 participants in the diversion program, with roughly 300 graduating to achieve a reduction or dismissal of their charges. In response to structural racism in the justice system, we published a report sharing recommendations for planning and implementing diversion programs in a way that promotes racial equity.
Throughout the year, we organized and participated in educational sessions for systems actors in New York, Hawaii, Georgia, and California on a variety of topics, like the benefits of restorative justice and the principles of procedural justice in the legal process. These trainings and convenings helped cultivate a deeper appreciation for the dignity of the individuals who come into contact with the justice system, as well as the possibilities for non-carceral responses to criminal offenses. Our Gender and Family Justice team provided training and expert assistance to practitioners and jurisdictions in over 40 states as well as Puerto Rico and the United Kingdom on a range of topics such as best practices of abusive partner intervention programs (APIPs) and domestic violence courts, risk assessment tools for intimate partner violence, and engaging judicial leaders.
Internationally, we provided technical assistance to jurisdictions in Mexico, Colombia, Georgia, Kosovo, and Kyrgyzstan in 2022. In June and July, we helped to conduct a process evaluation for Mexico's treatment courts and began providing training on best practices for monitoring and evaluating newly launching ones. In Colombia, we conducted multiple trainings on assessing risks and needs to inform alternatives-to-incarceration programs that are being developed.
10 new community courts received technical assistance through Bureau of Justice Assistance
600 practitioners registered for Center-hosted Community Justice Conference, including people from 37 different U.S. states and 15 different countries
1,300 participants across L.A. County's Rapid Diversion Program since its start in 2019
In 2023, we will continue to advance positive change by sharing new ideas, conducting research, and supporting practitioners. We will also use our unique experience to bridge the divide between government and communities, fostering communication, understanding, and trust.
We plan to hold a series of convenings to spark new thinking on important topics, such as reentry and public defense. These convenings will bring together experts representing different fields, geographic areas, and perspectives with the goal of seeding innovation and finding solutions that even those with seemingly opposed views can agree upon. 
Our Gender and Family Justice team will be expanding its capacity to address the needs of children and their caregivers in the justice system with its new Young Parent Initiative. With funding from the Human Resources Administration's Office of Child Support Services, we will be connecting young parents, ages 18 through 24, to economic and social support networks in their communities and helping them to navigate the child support and child welfare systems. The initiative will promote positive development for children of young parents and prevent legal system involvement wherever possible.
In Staten Island, we look forward to launching the borough's first Family Enrichment Center in Stapleton. The center will be co-designed with community members themselves, who will have the opportunity to take on positions of leadership and play an active role in deciding what services and resources will be offered at the space. Also in Staten Island, we will be launching our Justice Scholars Network program through the Bureau of Justice Assistance, providing support to the Eagle Academy for Young Men of Staten Island to reduce and prevent school violence through training and engagement programs for both students and school faculty.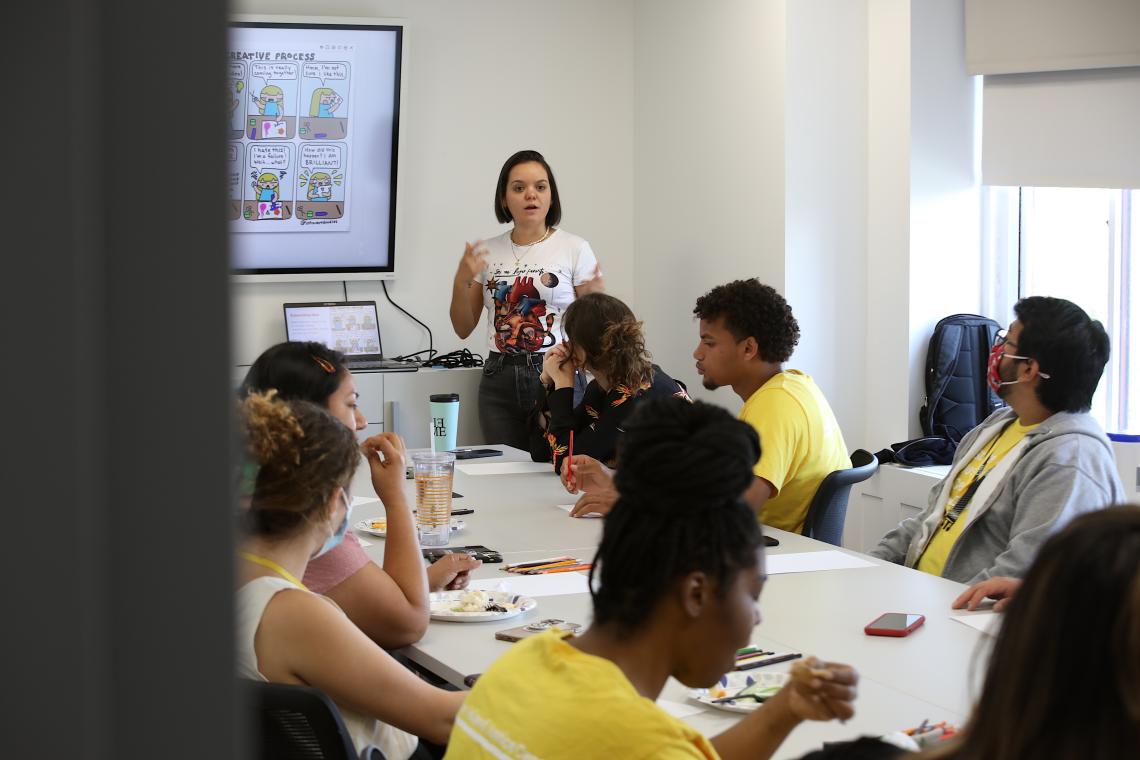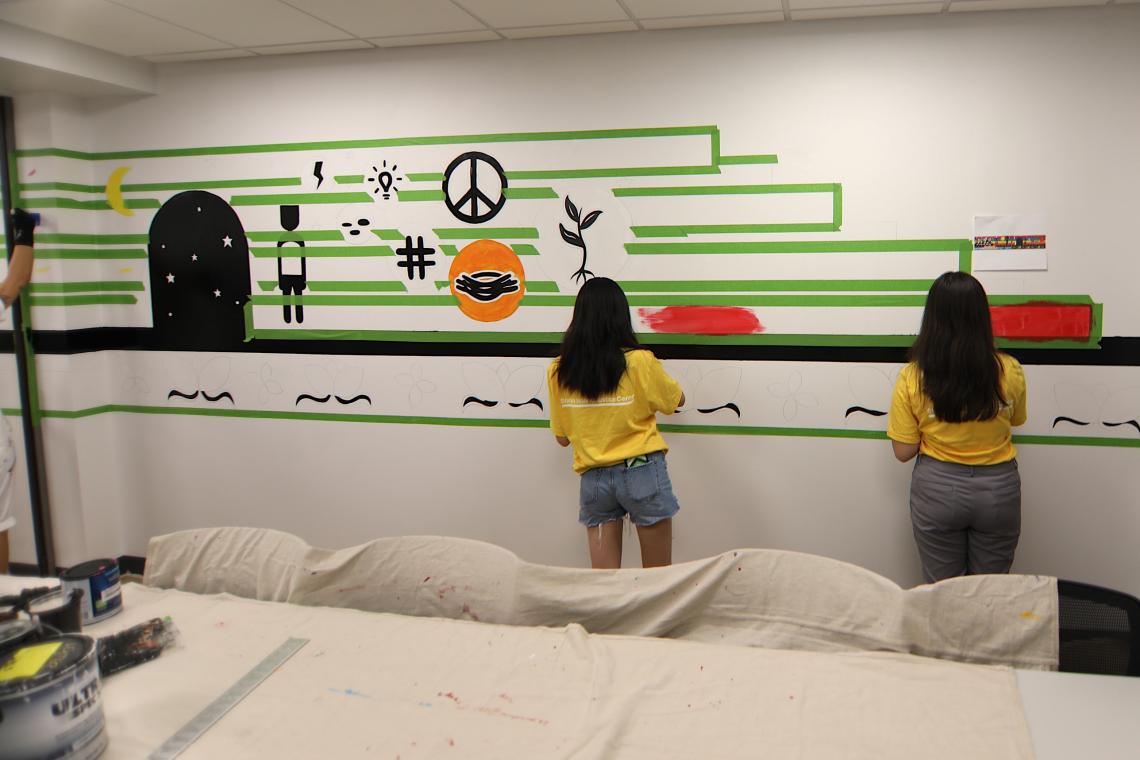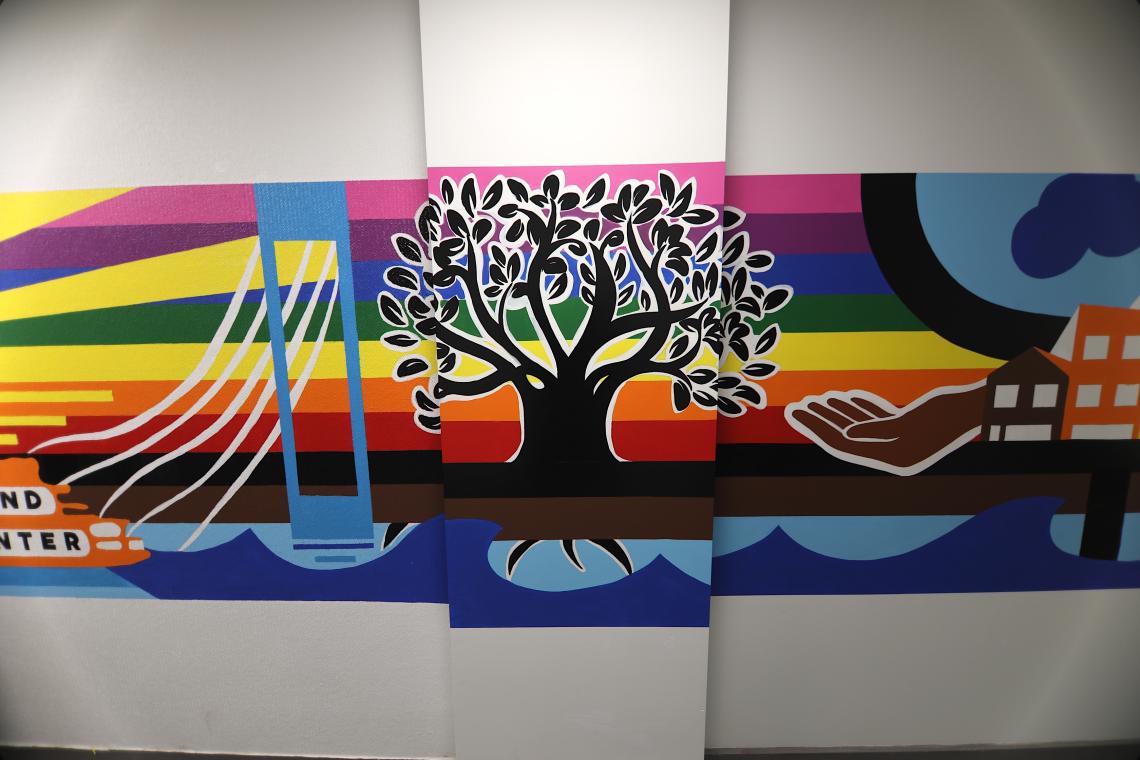 In Queens, we will be expanding our GROW'N (Gardening Raises Opportunities and Wealth in Neighborhoods) program with funding from the U.S. Department of Agriculture. In response to the lack of healthy, affordable food options in Jamaica, Queens, we will be training more members of the community—especially young people—to grow fresh produce within their homes and in shared community gardens.
We are also excited to strengthen and grow our work developing alternatives to incarceration. Among other things, we will be expanding the network of resources and community partnerships that will offer their services to participants in our diversion initiative in Brooklyn. We will also be introducing restorative justice methods into the menu of mandated program options for participants, as well as into voluntary programming options for diversion graduates.
As part of our broader goal of closing Rikers Island, we will be establishing population review teams to identify incarcerated people in New York City who might be better served by community-based alternatives. These teams will then share their findings—including potential participants, available service options, and outcomes of similar cases—with stakeholders for review, helping to make diversion options available as early as possible.
January 1, 2022 - December 31, 2022
Total in Expenditures: $94,286,000