In April 2016, more than 400 participants from 110 jurisdictions gathered in Chicago for a three-day meeting on how to reduce crime and incarceration while improving public trust in justice.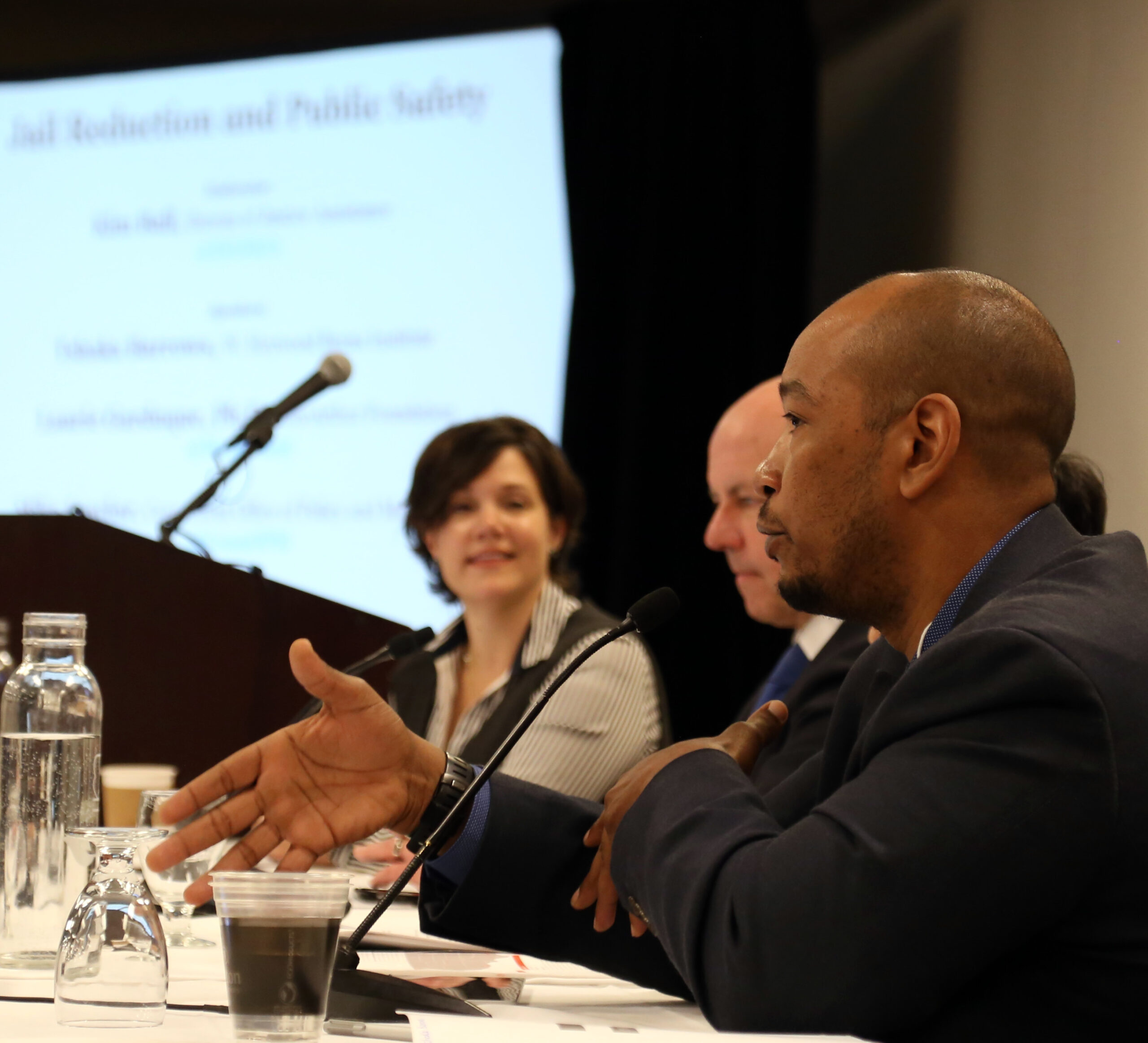 Bureau of Justice Assistance Director Denise O'Donnell and Center for Court Innovation Director Greg Berman delivered keynote addresses. In her address, O'Donnell announced the winners of the 2016 Community Court Grant Program.
Each of the following jurisdictions received a $200,000 grant to plan or enhance community courts: Cleveland, Ohio; Eugene, Ore.; Honolulu, Hawaii; Jersey City, N.J.; Las Vegas, Nev.; Olympia, Wash.; Philadelphia, Pa.; Cook County, Ill.; Dallas County, Texas; and Spokane, Wash.
Berman spoke about how community justice can serve as a lodestar for reformers seeking to create a more humane and effective justice system. "Community courts provide us with a vision of what a more perfect justice system could look like," he said. "Now it is up to those of us who care about this vision to figure out how to get the rest of the criminal justice system to act more like community courts."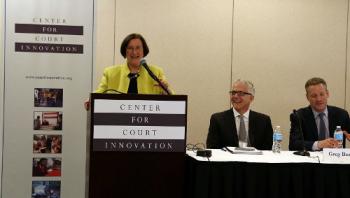 In her remarks, O'Donnell was sanguine about the future of reform, referring to a "renaissance" in criminal justice. "We know so much more than ever before about what works in criminal justice," she said. "Because of improved data- and action-based research, there are more opportunities now than ever before to achieve true systems reform that results in stronger and safer communities."
The summit featured presentations from a diverse group of reformers, including Judge Victoria Pratt of Newark Community Solutions and Judge Alex Calabrese of the Red Hook Community Justice Center, as well as Vincent Schiraldi of the Harvard Kennedy School Program in Criminal Justice Policy and Management, National Institute on Drug Abuse Deputy Director Wilson Compton, Laurie Garduque of the MacArthur Foundation, and many others.
Panels covered topics ranging from using community service to activate public space to promoting procedural justice. There were also breakout sessions on new directions in mental health, restorative justice, and young adult justice.
Phil Bowen, director of the Centre for Justice Innovation in London, Kerry Walker, director of the Neighbourhood Justice Centre in Melbourne, Australia, and other speakers offered perspectives on the latest international developments in the reform movement.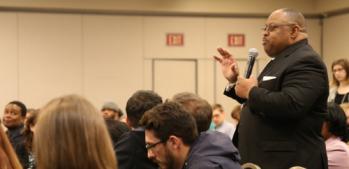 During a conversation on "Race, Legitimacy, and Community Justice," panelists discussed the importance of building community trust in justice. "To maintain legitimacy, open the doors to everyone in your community," said Judge Joe Perez of the Orange County Community Court. "Judges need to get off the bench and go into the community."
Amy Crawford, acting director of the National Initiative for Building Community Trust and Justice at John Jay College of Criminal Justice, noted that the justice system response to communities, particularly communities of color, has to be nuanced. "We have over-policed communities of color and under-policed them in terms of safety," she said.
To see the complete summit agenda, click here.
View the supplemental materials here.
Twitter coverage of the summit used the hashtag: #CommJustice2016.
Click here for more photos from Community Justice 2016.
Videos from Community Justice 2016
Podcasts from Community Justice 2016
Bureau of Justice Assistance Director Denise O'Donnell, Mark Kammerer of the Cook County State's Attorney's Office, and Jose Egurbide of the Los Angeles City Attorney's Office discuss the Smart Prosecution Initiative.
Deborah Barrows, program manager of Community Partners in Action, which is a key partner of the Hartford Community Court, talks about strategies for building community partnerships.
Joe Balles, who recently retired as a captain after a 30-year career with the Madison (Wisconsin) Police Department, discusses restorative justice and police legitimacy with Robert V. Wolf, director of communications at the Center for Court Innovation.
Mike Lawlor, Connecticut's under secretary for Criminal Justice Policy and Planning, discusses Governor Dannel P. Malloy's Second Chance Society, a series of justice reforms (including dramatic changes to bail and juvenile justice policies) that seek to reduce crime, lower spending on prisons, and help rebuild relationships between criminal justice professionals and the communities they serve.
Joe Perez, the presiding judge of the Orange County Community Court, discusses how the principles of procedural justice inform both design and process in his courthouse.
In this New Thinking podcast, Kerry Walker, director of the Neighbourhood Justice Centre in Melbourne, Australia, describes some of the ways the Justice Centre engages the community, all with the long-term goal of promoting the rule of law and a "civil, caring society."
James H. Lewis of the Chicago Community Trust, explains how community justice programs can work with foundations to help launch new reforms.