SPOKANE, WASH.—The community court in downtown Spokane represents a marriage of two venerable pillars of democracy: the courthouse and the library.
It may seem like an unorthodox decision to house a court in a library, but it made perfect sense to the visionary planners who established the court in 2013.
"I made the suggestion that we not hold this uniquely different court in a regular courthouse because the folks we were focusing on have been coming in and out of the system for years, and we wanted to let them know we were approaching this in a new way," said Judge Mary Logan, who has presided over the court from the beginning.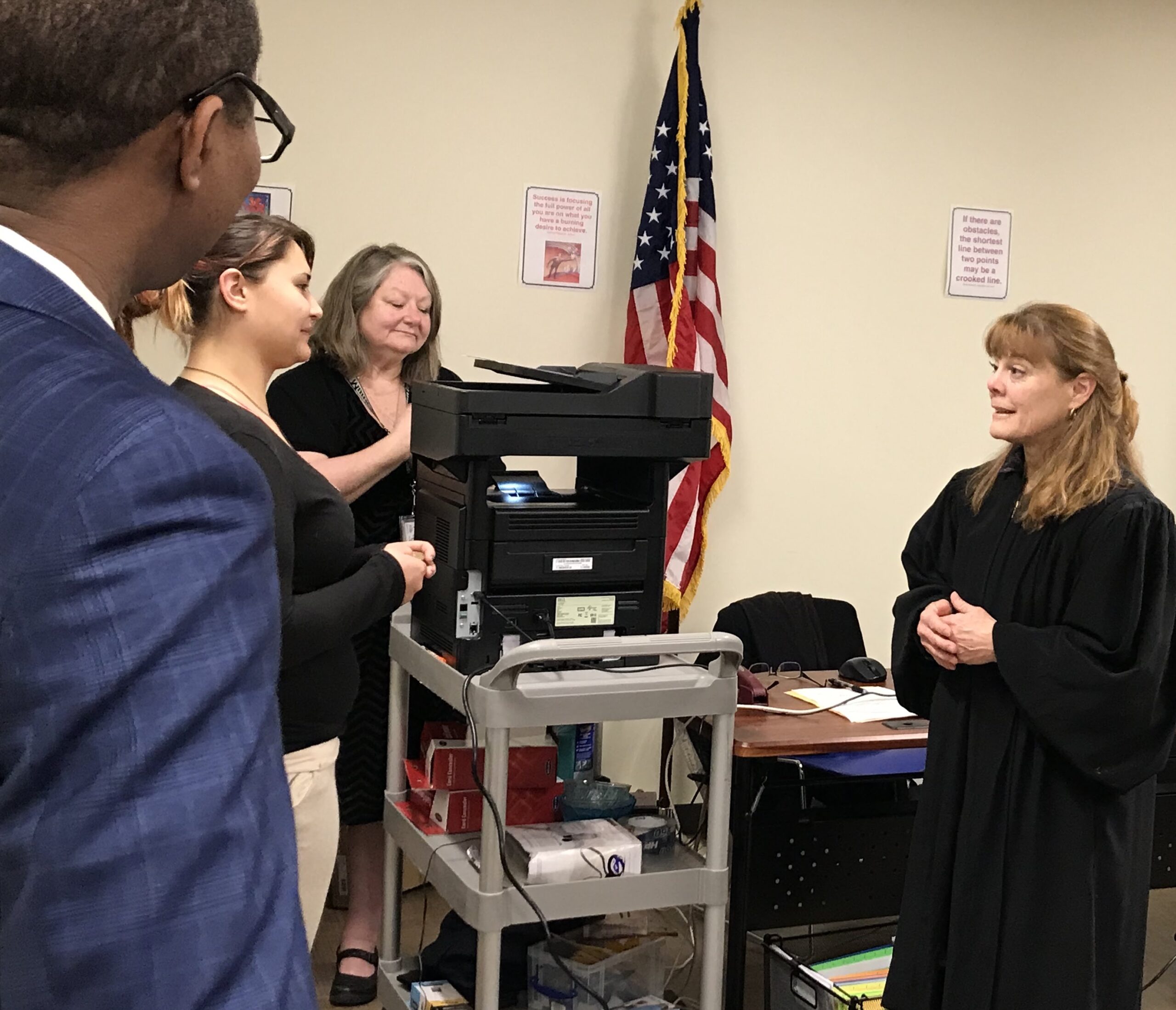 The court meets once a week in the library's community room, handling cases involving low-level charges like trespassing, consuming alcohol in public, and public urination.
The Spokane Public Library's board, and its then recently hired director Andrew Chanse, welcomed the partnership.
"It was really a matter of how can we reach a population in a more meaningful way. Checking out physical or e-books isn't the biggest value we can provide," said Chanse. "Having service providers housed and available to not just the community court population but the entire city seemed like something really valuable for us to offer."
In addition, the library was already a gathering place for some of the court's clients, many of whom lived on the street. "The library is the coolest place to go for free in summer and warmest place in winter," Logan said.
When the court is in session, a sliding door divides the community room in half. The judge and attorneys hear cases on one side; on the other side, service providers set up at tables where they offer everything from counseling for substance-use or mental health issues to help accessing government entitlement programs or housing.
The library also offers services of its own, including free internet access and resume writing classes.
Participation in the court is optional; defendants who choose not to participate are referred to traditional court. Those who stay must complete a minimum of eight hours of community service and possibly additional social services, depending on the results of a risk and needs assessment. Among the community service option is serving meals in a local soup kitchen; the benefits in this case are twofold: the participants have a chance to give back to the community while the soup kitchen has an opportunity to engage participants in services.
Defendants get a continuance of four weeks to six months to fulfill their mandates, and are required to return regularly to court to report on their progress.
"The halls have public art for sale on the walls, with the paintings rotating every couple weeks, which is nice because it's an exposure to another component of life that our participants don't always get," Logan said.
There was initial resistance about the court's location from the business community, concerned that defendants might wander into the shopping mall adjacent to the library. But the court and library allayed those concerns, first by pointing out that many of the defendants already accessed services at the library and then by adding security features—including a screening table at the entrance and a police officer on site. The judge also told business leaders that "we'll meet with you whenever you want, at a minimum once a month, and we'll address any issues that have arisen," she said.
During the court's first nine months, ticketing and crimes in the downtown area dropped by more than a third, Logan said, thus helping cement trust between the court and local businesses. "The Downtown Spokane Business Partnership actually donated a small sum to an affiliated non-profit so we can provide things like bus passes to participants," Logan said.
Logan cites several advantages to locating the court in the library. For one thing, the building provides a neutral setting. "The location conveys the message that we're approaching things differently. Jail is still an option. But by meeting in a library, it conveys a new message, which is 'Yes I can throw you in jail, but I'd much rather help you move to a healthful life.'"
Secondly, the court can take advantage of services—like resume writing—that the library already provides. Chanse said the library is also considering expanding offerings—for instance, by adding a health-literacy class. "We're hoping this will evolve into offering better-tailored services to help reduce barriers for people," he said.
And finally, the modern new building helps build participants' esteem. "This is a beautiful building and they are made to feel welcome there. And that's a worthy distinction because there are so many places where they are made to feel not welcome," Logan said.
Chanse is proud of the library's ability "to adjust and tailor services to community issues." Staff have received training in mental health issues and the library is learning about the "whole ecosystem of criminal justice." In one welcome development, prison libraries (which are part of the state library system) have been making people about to be released aware of the services available at the Spokane Community Court.
In 2016, the community court received a grant from the U.S. Department of Justice's Bureau of Justice Assistance, allowing the court to implement a risk and needs assessment tool and expand its coverage by creating an additional community court serving a different section of Spokane. Spokane's Northeast Community Court opened in December 2017.