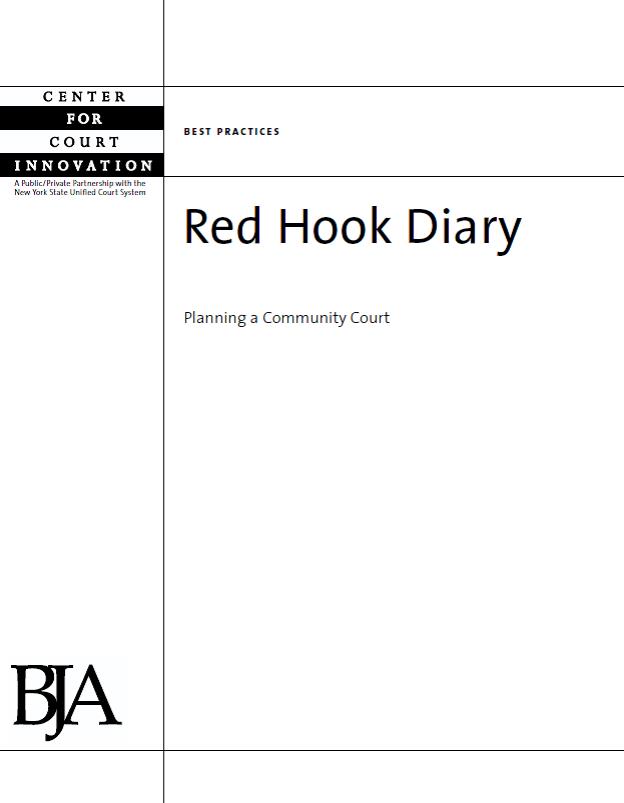 In 1994, Greg Berman was hired as the lead planner for the Red Hook Community Justice Center. The following are excerpts from his Planning Diary, which he wrote as a record of how he negotiated some of the challenges of early planning, including community needs assessment, fundraising and program design. To read the entire document, click here.
I was not alone in trying to build community support for the Justice Center. From the start, I enjoyed the active partnership of the Brooklyn D.A.'s Office. Two attorneys in particular—Gene Lopez and Carl Thomas—were instrumental. Their presence, and the D.A.'s early endorsement, lent the project immediate credibility.

I think it is important to note that the partnership with the D.A.'s office is not a make-believe or paper partnership, but a real-world relationship fraught with real-world tensions and conflicts. Although we share a common goal—creating a neighborhood justice center—we both have our own organizational agendas and pressures outside of Red Hook. Inter-agency collaboration takes patience, but in my experience it is well worth the effort. The D.A.'s office has helped enrich the planning process, bringing additional resources—and a different institutional perspective—to the table.

While the relationship with the D.A.'s office was the most intimate, it was by no means the only partnership that was forged in the early days of the project. Another crucial partner was Victim Services, New York's largest victim assistance agency, which runs programs throughout the city's neighborhoods, including Red Hook.

Bringing Victim Services into the planning process made perfect sense; Red Hook is a community in which nearly every resident is at immediate risk of being a crime victim. Similarly, many residents know someone, either a friend or relative, who has been the perpetrator of crime. In this environment, a community justice center must be aggressive about providing victims with assistance and giving them a voice in the justice process. Victim Services has been instrumental in helping us think through these issues.