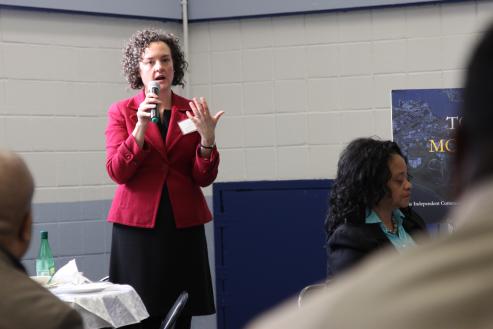 Rikers Island is "a stain on our great city" and should be closed. That's the headline-grabbing conclusion of the Independent Commission on New York City Criminal Justice and Incarceration Reform. With influential leaders, including Mayor Bill de Blasio, in agreement, the next question is: Where do we go from here? Matthew Watkins speaks to the Center for Court Innovation's Courtney Bryan to learn more about the Center's role in researching and producing the commission's report, and the steps needed to carry out its recommendations. We also hear a range of activists and reformers react to the pledge to close the troubled jail facility.
 
---
The following is a transcript of the podcast:
JAMES YOUNG: Hi, I'm James William Young III. I'm a community liaison for Neighborhood Benches, and I am very very proud that they are shutting Rikers Island down. I was 15 years old when I first went there. For de Blasio and for everybody to come together and do this, I'm very proud of that. I think this is a day that was well overdue.

MATTHEW WATKINS: Hi, I'm Matthew Watkins and this is the New Thinking podcast from the Center for Court Innovation. Our focus today, as you just heard, is Rikers Island. The mayor of New York City, Bill de Blasio, recently announced his support for closing the troubled jail facility. The historic and somewhat surprising announcement came just two days before the release of the report of an independent commission that had reached the same conclusion. In a moment we're going to talk about the Center's role in producing that report, but first I'd thought we'd listen to some more reactions to the news about Rikers. I recorded these interviews at the press conference where the commissions report was released. 

RICHARDS: Stanley Richards, executive vice president of The Fortune Society, also a commission member. I can tell you, as a formerly incarcerated person, I have not been able to see this moment. It wasn't until we heard the close the Rikers campaign we started taking our own journey. Let not this be about rhetoric, but how do we do it? Through our fact finding mission we were able to find out how to do it, so today is amazing. I was on Rikers from '86 to '88 fighting my case before I went upstate, and when I'm 67 Rikers Island will be closed. It will be a celebratory day for me.

DONNY RIVERS: My name is Donny Caborne Rivers, I'm the founder of a nonprofit organization called "I Am My Community" and I went to Rikers Island the first time in the 80's and the last time had to be 2009. From the 80's to 2009 it's been a house of corruption just total war and violence and dirt nasty filth, and there's nothing changed so from the first day I went in there the first thing that came to my head was, "Man they need to shut this down." It's so good to see that people got together as strong teams and built a whole bunch of organizations and we did exactly that, shut it down.

GLENN MARTIN: Glenn Martin, founder and president of Just Leadership USA, and founder of the close Rikers campaign. When I first said that we should close Rikers down it was actually right here at John Jay, and I remember how many of my colleagues walked over to me and said, "You probably should never say that again out loud, that'll probably never happen." Yet I had spoken to so many people who had been harmed by Rikers that I was actually really confident that it would happen, because I recognized that if you organize the people who are most impacted by an oppressive system then you build power. That's what we did, we set out to do that, and now here we are with so many diverse voices all saying the same thing, that we should shutter the island and have a smaller, fairer, more humane jail system. Now the question is just, "How do you keep all of these people together and organized and focused to move toward the finish line as expeditiously as possible?"

GREG BERMAN: I'm Greg Berman from the Center for Court Innovation, and this is really a landmark day for the city of New York, I'd argue for the country and certainly for the Center for Court Innovation as an agency. I didn't think we'd get here, and the reason we're here is for a complicated set of reasons, luck is certainly a factor, but I think you'd have to, at the end of the day, give credit to people both inside of government and outside of government, both advocates and people like the Center for Court Innovation that work in a detailed evidence based way with policy makers for pushing the powers that be to do the right thing. So it's incredibly exciting to be here.

WATKINS: Once again, those were people reacting to the planned closure of Rikers Island, and I recorded what you heard at a press conference held by the independent commission on criminal justice reform in New York City. It's known informally as the Lippman commission, after its chair, former New York state judge Johnathan Lippman. As part of its recommendation to replace Rikers with a system of smaller, borough based jails, the commissions report laid out a series of reforms to cut the cities jail population in half over the next decade. The Center for Court Innovation was involved in researching and producing the report, and to find out more about our role and the somewhat unexpected moment we're in vis-a-vis Rikers, I'm joined by Courtney Bryan. Courtney is our director of criminal justice operations and the person in charge of all things Lippman here. Courtney first let me just say congratulations for the report and for the very favorable reception it's been receiving.

COURTNEY BRYAN: Thank you, thanks so much Matthew.

WATKINS: So when judge Lippman talks about Rikers representing a mass incarceration model, just so people get a sense of what the commission is recommending, what is going to replace that model?

BRYAN: That phrase I so associate with judge Lippman these days, because obviously people are familiar with the term "mass incarceration" in terms of incarcerating masses of people, but the judge really I feel like he's coined this phrase a bit in terms of how we incarcerate people. Clearly New York City is an anomaly in terms of the traditional way of thinking of mass incarceration, we actually have had declining incarceration over the last couple of decades. What judge Lippman and Rikers Island represents is the way in which we incarcerate people, and putting everybody all together separate and apart from the rest of society. This mass incarceration model is what he has talked about over the last year. To replace that, what the commission is recommending is a decentralized model that actually mirrors what happens in other parts of the country, which is creating county jails. New York is unique in that we're one city in many ways, but we have five district attorney's and essentially in some ways five mini criminal justice systems within this one city because of that. 

The thought was we should locate jail facilities in close proximity to those court houses, and this goes back to who's in jail which most people in the criminal justice community know that almost 80% of people in jail are there awaiting trial, but this is something that the public I think is not aware of. In fact these are individuals who are merely accused of a crime and who are being held while waiting for their case to dispose and being transported to court regularly for court appearances, need to access their attorneys obviously, not to mention, of course, family members and service providers. So it just made sense to imagine a system where we had detention facilities, jails, in close proximity to the courts. You see that around the country in other jurisdictions. Denver for example, San Diego. We looked at those jurisdictions both in terms of what the facility should look like from a design perspective and programming, but also looked at the fact that it was either in close proximity to a court, or in the case of Denver it was all in one facility, the courthouse and the jail itself.

In many ways I think what we're recommending is the most common way of siting jail facilities, at least in modern times.

WATKINS: What can we say more about what the Center's actual role in this? I think I've written a sentence that we use enough times that I can almost recite it, "The Center is coordinating an inter-agency team tasked with staffing the commission." If we could say a bit more about what that means in practice.

BRYAN: Sure, yes, so the Center really is the coordinating agency. It is the front line of defense. The agency that sat above all of the other agencies that were involved in this effort, in addition to the research. Obviously our research director, Mike Rempel in particular, was instrumental in analyzing data and positing recommendations for the actual report based on the research that the Center had done in the past as well as research that we were doing in service of the commission. We had that function as well. To be honest we didn't really know exactly how this was all going to work out, but then we pretty quickly settled on these three subcommittee's and three discrete areas that we would have the commission divided into to study. The first was looking at how do we reduce the population in the first place, that we called "rethinking incarceration."

WATKINS: How do we cut the population in half so we can move to this different model?

BRYAN: Right, exactly. There's not necessarily a magic number, and it's interesting now that the commission has recommended and suggested that it is possible to cut the population in half, but I don't know that it has to be cut in half in order for Rikers to be closed I think that it doesn't have to quite go that low but we'd have to reduce it by several thousand people.
 
WATKINS: It's currently at about 10,000? [crosstalk 00:09:38]

BRYAN: It's a little under 10,000, mm-hmm (affirmative). That was gonna be one subcommittee. The second subcommittee we called, "The future of jails." What would jails look like in a modern system both in terms of where would they be located, should we create state of the art jails on Rikers and keep the location? Should we have them in the borough's? Should they be at Rikers and the boroughs? Some of it was about siting, but most of it was about what should they look like, and what kinds of programming, and what should their mission be, and what would all of that cost, and could you find some savings? That was that second subcommittee.

The third was looking at just the land itself, so if you didn't have Rikers Island as it exists today, either if you had a smaller footprint or you had no jail facilities on the island, what could you do with this 400+ acres of land? Really looking at it, not as a criminal justice question, but as a land use development question. That was that third subcommittee that we called, "Reimagining the island."

Then the commission sort of proceeded, when I think about how we organized the work of the commission, what we imagined was almost creating a year long conference for the commission members. Many of the commission members are experts in criminal justice, certainly didn't need a conference necessarily, but we wanted to make sure that all of the commission members had some baseline understanding about the issues and were hearing from the same people. The reality is, even as a criminal justice practitioner myself, I don't hear from people who are visiting their loved one. Even though there were certainly subject matter experts I think that we wanted to introduce new voices to those who may not have heard as directly as them, and then certainly for those who are not criminal justice experts sort of bring them to a baseline of understanding about how our system operates, who's in jail and what Rikers looks like.

WATKINS: Did you hear from any commissioners about, maybe, moments? Things that they learned along the way that might have had a real effect on their thinking?

BRYAN: Yeah, says this pretty frequently which is that she and others who are not in this field, MaryAnne GilMartin who is the head of and ended up being the chair of the "Reimagining the Island" subcommittee, knows really no idea what jails were meant to be and that, in fact, the vast majority of people who were sitting in jail at Rikers Island were not convicted of a crime and were mostly there because they couldn't afford bail. That was something that we heard from folks who had not been in the system at all. 

When I think about one of the most moving moments for me and, I spoke to some other commission members, even those who had been in the field for a long time, was, again going back to the voices of people who are visiting loved ones, and we had a woman, a young mother, come and speak at one of the commission meetings. We had a session on visiting and what the experience of visiting a loved one at Rikers Island was. This young woman described bringing her two young children, one of whom had been visiting her father since she was six weeks old, she would bring her children there. I had tears by the end of that, and almost every commission member you could tell physically was moved by that story and hearing how difficult it is. Also the resilience of this woman who was, and I talked with her after and she said, "I don't know if I'm doing the right thing to subject my children to this on a weekly basis." She was committed to bringing her children there every week so that they would know their father.

WATKINS: Right, and getting to Rikers is pretty much an all day-

BRYAN: It's an all day affair, and for a very short visit. An hour at most. She said, "I don't know if it's the right thing. People look at me and say, 'You shouldn't bring your children here.'" She said, "But I feel like it's so important for them to know their father and it's so important for their father to have that connection with us that I'm gonna keep doing it until my kids say they can't do it or they don't wanna do it anymore." 

Even those who had been professionally in the system for many years, I think hearing from people who had been impacted was something that struck a lot of our commission members over the course of this endeavor.

WATKINS: A big focus of the commission's work was in gathering input from the public and trying to reach those communities that have been most affected by Rikers Island and the mass incarceration model we're talking about, which overwhelmingly is communities of color in the city. Could you talk a little bit about the reaction that the commission got from the general public? And maybe any skepticism that you heard?

BRYAN: Yes, that was a big commitment of our work. We didn't want to engage the community and hear from New Yorkers, we didn't want this to be a report that we did in a back office with so-called experts, kind of policy experts. We hosted about six round tables in the borough's, we did one in every borough, and invited a wide range of people. We had a lot of people who had been formerly incarcerated, or who had family members who had been incarcerated come to these events to share their experience. There were people who lived in the neighborhood who came. Service providers. It was a pretty broad range of folks who came to these events that usually were at least 100 or so people, sometimes in a few we had almost 200 people there.

There were some interesting reactions, I mean in the beginning I think there was definitely skepticism, and sort of confusion, like, "Who is this commission? What are they doing?" Because we had approached this work without a conclusion in mind. We weren't the close Rikers commission in spite of that sometimes being the way we were described. We were committed to not coming in with a plan, so I think that was frustrating for communities who felt like, "Well, of course you should be closing Rikers! Why aren't you saying that now?" Our commission members were there mostly to listen, and that felt frustrating I think sometimes for community members, because they wanted to hear from the commission. That was a little challenging, and I think we got better as it went along where we, our commission members too, felt more comfortable in this role felt more comfortable with what the commission was doing and where we were heading. They would field questions, would explain what the role was, explain why they were not coming out saying at this moment, before we had any recommendations, "We wanna close Rikers." That helped.

Overall my sense, having attended almost all of them, was that people appreciated the opportunity to be heard and to have our commission members. Our commission members who were there, whether it was listening, or facilitating, or hosting a breakfast for faith leaders, for example, who demonstrated that this was not just a sort of check of the box endeavor, in terms of community engagement. We learned a lot through that process, and I think it's reflected even just very simply in the report. We have some quotes from people who shared their experience or their recommendations from these round tables, and so they have made their way into our recommendations for sure.

WATKINS: Do you have a sense of what the next steps are going forward? I mean, the mayor has backed calls to close Rikers, the commission has come out with its report making the same recommendation. I've been thinking that the hashtag #CloseRikers and the group Close Rikers was a big part of getting the debate to this point, but I've been thinking the hashtag should become #ClosingRikers, because it seems like it's going to be a long process.

BRYAN: Right, yeah. We didn't expect that we would be what we've been calling, "implementation phase" right now because we thought, "All right we'll put out our report." The hope is that we'll have a champion, and that was a big question, are we gonna have a champion? Now that the mayor is on board with championing, as well as the governor and others, that's terrific. Yeah, so the next steps are implementation and, to be honest, I don't think we quite know what role the commission as an entity will play in the implementation, but obviously the organizations certainly that were most involved in staffing the commission and just leadership, Glenn Martin's organization, are all doing work and will be doing more work in service of sort of implementing these recommendations. 

Whether it's advocacy work that Glenn and others in that community will be doing to kind of hold folks to their word, and continue to build support for this idea. Along with what we at the Center for Court Innovation do every day. Which is partnering with the city and with government to help them implement these ideas, give them the tools that they need. Whether it's data, or boots on the ground in terms of our staff who are able to provide more alternatives to detention or incarceration, thought partners in coming up with models to implement this. We and others who are involved in the commission and outside of the commission, this whole community, are going to be guided by what these recommendations are. Whether it's in some organized fashion or not clearly we have developed a road map that this community can follow in how to get to the end.

WATKINS: Well, great, I just wanted to thank you so much for joining me Courtney, and congratulations on getting this report over the finish line in such resounding fashion.

BRYAN: Thank you so much Matthew, good to work with you.

WATKINS: I've been speaking with Courtney Bryan, she is the director of Criminal Justice Operations at the Center for Court Innovation, we've been talking about Rikers Island and the recommendations of the independent commission on New York City criminal justice and incarceration reform. You can find more details about the commissions work at our website courtinnovation.org. This has been another episode of the New Thinking podcast. Thanks for listening.