Knowing that the needle is stuck between a rock and a hard place, doesn't mean that we don't try every day to bend it, to break it, with the harsh reality of history telling me that it's going to take longer than the people deserve.
Episode originally aired September 2018; audio updated December 2019
Kim Foxx is used to people making assumptions about her. As she tells New Thinking host, Matt Watkins, in a candid conversation about her now almost two-year tenure as State's Attorney for Cook County (Chicago), "I think people wanted to have a narrative about what it meant for a black woman from the projects to have this job."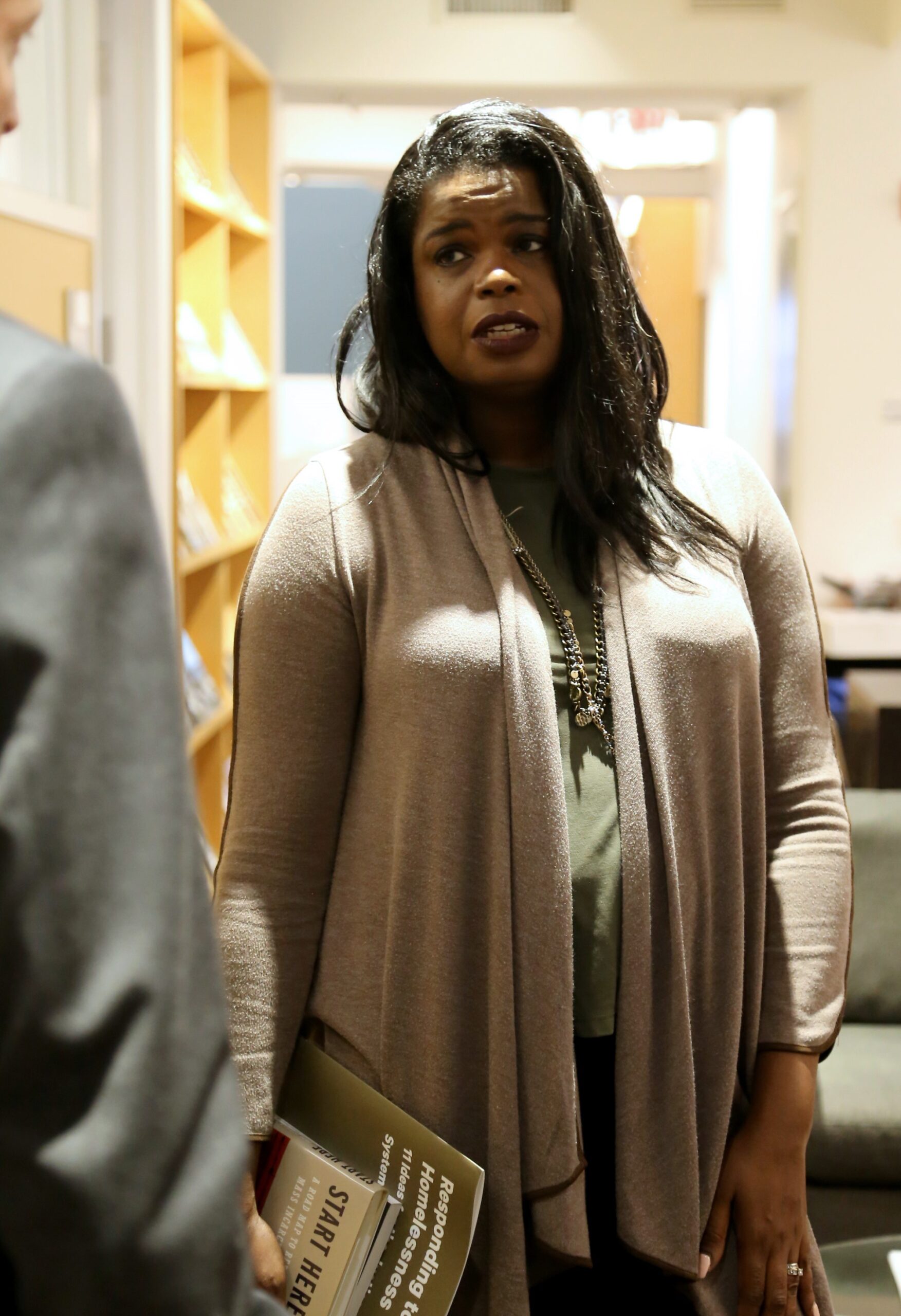 One of those assumptions was that she couldn't defeat the eight-year Democratic incumbent in a primary. However, in a city roiled by the police killing of 17-year-old Laquan McDonald and carried by her promise to "turn the page" on the justice system she would be taking over, Foxx upended that assumption, becoming the first African-American woman to lead Cook County's prosecutors, the second largest prosecutors' office in the country.
Foxx's surprise victory in 2016 helped to ignite the movement to elect prosecutors promising something other than more "tough on crime" policies—a movement that has now racked up some notable victories. It also showed the power of a level of organizing not normally seen in prosecutor elections.
In this fourth installment of our series on the power of prosecutors, Foxx explains the reforms she has been able to make, her struggles with being the face of a system that continues to fail so many of her constituents, and gives her take on the "incredible" distance traveled by the movement to elect a new kind of prosecutor.
Resources and References
---
The following is a transcript of the podcast:
Matt WATKINS: Welcome to New Thinking from the Center for Court Innovation. I'm Matt Watkins. Regular listeners will know we have an ongoing series on the power of prosecutors and today I'm delighted that series has brought Kim Foxx to our studio. Kim Foxx is the State's Attorney for Cook County, Illinois—which includes the remarkable city of Chicago—and she is the first African American woman to lead the office.
Foxx's unexpected victory at the end of 2016 helped to ignite the current movement to elect prosecutors promising to reform the system they would be taking over—a movement, it's worth pointing out, that has now racked up some notable victories. Foxx's campaign showed the potential of a message promising something other than more "tough on crime" policies, and it also showed the power of a level of organizing not normally seen in prosecutor elections. Foxx has since begun following through on her promise to "turn the page" on the system she inherited, and so it's great to have her here to offer an update on that work and to get her take on this larger debate we've been having about the possibly shifting role of the prosecutor.
State's Attorney Foxx, thanks so much for joining me today.
Kim FOXX: Thank you for having me and thank you for acknowledging my city is remarkable!
WATKINS: It is a pretty remarkable city. So this is perhaps an odd question to start with for a State's Attorney, and fortunately you're outside of your jurisdiction here, but it's a question I've asked of everyone else who has been part of this series and that is: do you think that prosecutors have too much power?

FOXX: I think prosecutors have a lot of unchecked power and with that, a lot of obscurity about what they do. No one knows what they do and so the power seems that much more intense, because there's no real way, or there has not been a real way, to scrutinize it. How do we know that you're abusing your discretion? We talk a lot about prosecutorial discretion: the ability to charge, not charge, what to charge, what to drop, how to divert—all of that in the power of this one office, this one institution, where there's no ability to see what you do, how you do it, or why you do it.
WATKINS: Is there a role then for some kind of prosecutorial guidelines?
FOXX: Absolutely. I think, again, because we talk about prosecutor discretion, that word discretion is so heavy. It allows for there to be huge disparities within the same field. As you talk about reform, it is the ability for me to do some things that, probably the law says I have to do one thing, I get to exercise my discretion to do another. My choice and what charges to bring, or conversely not to bring… We had a policy around retail theft that is contrary to what the state law is but using my discretion to do it in a way that I think is less harmful.
It's a loaded concept that could be either used for good or evil. I don't know what the balance looks like other than to start with: I think people should show what they're doing so that we can start asking the question of should you or should you not be doing that? Should you or should you not be allowed to do that?
WATKINS: In a sense then it's sort of galvanizing for the reform movement to be able to put a prosecutor in control who has this kind of discretion that you're talking about.
FOXX: But then it becomes jurisdictional, right? Then it becomes, it depends on where you are. I'm one prosecutor out of 102 in the State of Illinois…
WATKINS: But you are a large one, you're the second largest office in the country…
FOXX: …second largest in the country and maybe, yes, I minimized our impact, but the bigger point for me is, you can drive right across our border and things that I don't prosecute in Cook County, in neighboring DuPage County, you may pay quite the price. And so I think again, with that disparity and discretion, how justice is administered shouldn't be jurisdictional. It shouldn't be based on your zip code. The things that we're doing in bail reform in Cook County are drastically different than what some folks in downstate Illinois want and how the prosecutor views their role in downstate Illinois may be very different than how I view my role here.
That disparity, that kind of range of what happens in these offices, is really concerning to me, as someone who went to school in Southern Illinois and had to wind my way back up, of what happens to me depending on where I stop. The point of "how do we make sure that prosecutors across the board that you don't have to be a quote 'reform' prosecutor to get justice"—you should just be a prosecutor who acts justly is what I think the goal should be.
WATKINS: I wanted to ask you a little bit about your biography. As I mentioned, you're the first African-American woman to lead the office, the second largest prosecutor's office in the country. As almost every profile of you starts, you spent your early childhood in Cabrini–Green, the public housing complex, and you keep a brick from the building in your office.
You've said as well that when you attend a larger family event, there's going to be all kinds of people there who've had all sorts of experiences with the criminal justice system. And that's certainly not the norm I wouldn't think for most lead prosecutors across the country, who overwhelmingly tend to be white men. I'm wondering how you think that perspective influences what you're trying to do with this office?
FOXX: It's funny. My brick, I think, is more famous than I am now. People come to my office and they are, "Where's the brick?" I think it's really-
WATKINS: I tried to interview it, but it never got back to me.
FOXX: It may get its own Twitter page and probably will have way more followers than me! I think it's important to start with my biography of where I come from, even more so like the racial demographic of being the first African-American woman in this position, and we know that people of color, women of color are vastly underrepresented in elected prosecutor's offices, so it's really significant. But I do think of equal important significance is the fact that I come from a community that is very similar to me and the folks in Chicago who experienced high incidents of crime and violence in their neighborhoods.
So we know that in Chicago the crime is not just disproportionate to communities of color just based on color, it's also income and the disparities that we see in housing, education, health care, and that's what my childhood showed me. It's like truly we were an island unto ourselves, poverty stacked on top of each other and the residual effects that come with that. So I think it's really important that we have leadership that is reflective of the communities that they serve, not just based on race or gender. It's a fact. I think my family dynamic of having people who have been victims of crime, I've been very open that I had been a victim of crime, perpetrators of crime, witnesses. My mother was a victim of domestic violence but had this person who was causing harm to her in our home.
My brother and I witnessed that and the choices that my mother made in that relationship, in the residual effect that it had on my brother and I, allows you to recognize that there's a complexity to all of this. That there's a humanity to this work that I think so often in large institutions, people forget about. For me, I'm rooted in that humanity. I don't know any other way to be. There's not a space that I can go to, to escape the reality of the people that I serve on the holidays because again, my family has this mix. My brother lives in a neighborhood that's impacted by violence. I know people, like I said, who've been harmed deeply and personally, so I think that's really important when you do this work.
I see so many people who go into law enforcement and prosecution with this hero complex, this, "I want to save the day." The designation of who wears the white hats versus who wears the black hats. That often makes my stomach churn because it is this belief that you are coming to save someone. Even in the worst of times in the projects, when I lived there, it was a community rich in love and support. Everything that was happening there, there was still this fabric. We didn't need people to save us, we needed people to support us and that, I think, is a big distinction for people who have a healthy distance from communities like that.
WATKINS: And then this belief that the criminal justice system really relies upon that people can be neatly divided up into good and bad, victims and perpetrators, and that's never the reality.
FOXX: It's never the reality! It's only on scripted television. But even scripted television is better now! They have nuances of, you're feeling bad for Walter White. "Look at this guy who was a high school teacher and he's in his midlife crisis and he's trying to figure it out…" You're rooting for Walter, right? And then you're like, "No, he's a meth dealer and he's doing all these things and we shouldn't like drug dealers," but there was even a painting of humanity to him. 
Like, "What does this do to his wife? What does this look like for him?" But in the justice system, we don't like to do that. You've done a bad thing so you are a bad person and you must be treated accordingly. I think that helps us justify punitiveness. If you have to think more nuanced about people, then you cannot be wedded to a system that treats everybody the same.
WATKINS: So then what can you do to get your prosecutors rooted in humanity, as it were? If we think about mitigation, this idea of taking people's trauma and victimization and years often of really deep deprivation, taking those factors into account as part of a prosecutor's office, is that something that you can envision happening?
FOXX: I'm trying to. In our office we tended to think of mitigation as something that defense attorneys put together to minimize the punishment, and we didn't really pay attention to it. We weren't thinking about what are the mitigating factors when we were charging, we weren't thinking about any mitigating factors when we were offering pleas. That just was not in the purview of prosecutors—let the defense handle that. That's their client.
I think the way that I'm trying to talk about what mitigation looks like, what these communities look like, is by talking about my personal narrative, is by saying, "Listen, don't clap for me, like, 'look at you, you made it.'" One of the things I tell people all the time, people ask me, "How did you survive? How did you make it? You're a victim of sexual assault and you lived in extreme poverty, all of these things that we know are supposed to hold you down, you made it." I turn that on its head and say, "Well, if we know that that was supposed to frustrate any chance that I had of being successful, why do the people who are doing exactly what is supposed to happen to them, why do we not have any compassion for them?"
Then people pause and think for a moment, because we like heroes, we like people ... I liken it to getting past the fence, like a hole in the fence. But you know that there are still people back there. So for me it's trying to get our people to recognize that we shouldn't pat ourselves on the back for the one or two who escape. If we know those conditions lead to negative outcomes, we cannot hold our hands over our ears and pretend like we don't know that. 
That's what we're trying to do: engage our attorneys with narratives, not just of mine, but of people who've been impacted by the system. Getting our people out of courtrooms into the community to sit, to listen, and really do some self-reflection on: what do we really factor when we talk about this work? Are you really factoring what's in the best interest of the community or what you think is a punishment fit for a crime?
WATKINS: When you spoke, and I think it was on the night of your election, about this idea of turning the page, and I imagine this really huge book—
FOXX: It's a big book.
WATKINS: It's a big book. What were you turning the page on? 
FOXX: My election was really about talking about the criminal justice system in a way that we hadn't talked about it before. Largely prosecutors' races, and races in Cook County, the messaging was largely for people who lived in neighborhoods not impacted by violence. The target audience were some of our suburban communities who had deep fears about violence in the city of Chicago and wanted to make sure that violence was contained, that their communities were safe, that's who the targeting was for.
This was a race that I wanted to make sure that we were targeting people who were actually impacted by violence, actually who lived in those neighborhoods, who had people who were both perpetrators and victims in their families, in their same bodies, and saying to them, "This system should be fair to you."
We have 86 percent of the people who were in our jail in 2016 when I ran, were black and brown. Most of them had a sense that the justice system only viewed them as an instrument and not as a person. So I ran the race talking to those communities, talking about the fact that I had more in common with the people who come through our justice system than the people who work in the office, and saying that you should expect more. I think for me turning the page was that this was an office that had to be inclusive of the entire county; that we had to recognize that the disparities that existed were unacceptable and that we had to be intentional about doing something about it.
I think in the large book of the criminal justice system as an institution, we had marginalized people so much that they became footnotes on that page. The turning of the page was actually allowing for those people to be present and represented in this office.
WATKINS: Then a major focus of your campaign and ongoing now is part of your tenure is trying to strengthen trust in the criminal justice system and you've just listed some reasons why people have profound distrust of the system. You were elected in the wake of the tragic shooting of Laquan McDonald in 2014—a black teenager who was shot 16 times by a white police officer, and the dashcam video of that was not released by the city for more than a year and only after they were ordered to by a judge.
In fact, as we speak jury selection is underway in the trial of the officer for murder. Your office is recused from handling the case and I don't want to get into the details of that case here. But you have a very powerful message, that's clear to me, but how much as a prosecutor can you do to restore trust in the system and frankly, given everything that's been going on, how hard have you been finding it?
FOXX: I think you have to be honest. The relationship between our office and the community was broken because we weren't honest with the people that we worked with. The justice system in Chicago long before Laquan McDonald, had been broken, and the relationship had been broken. I think that the conversation in the last four years since his death has certainly been elevated, but this is a city that has paid out hundreds of millions of dollars related to cases of police misconduct. This is a city that actually teaches a curriculum in Chicago public schools about police torture as a result of litigation that had been ongoing related to the torture of black men on the south side by Chicago police.
The communities have known for a really long time. If you ask some people about Laquan McDonald, that wasn't a turning point for them, they may have been a turning point for other people in the community or in the city or in the county, but for a lot of communities that were impacted, this was just another indication of what they'd known for years, for decades. I think if you want to build trust, you have to own where you have failed. You have to say, "I have done something wrong." I liken it to my marriage. I've been married to my husband now for 17 years, and we can't move past the thing that's got us agitated until one of us says, "All right, I did this."
WATKINS: I'm taking notes here.
FOXX: If you want to make it last, if you've done something wrong, you have to own it. You have to absolutely own it, and then say how you're going to remedy it and you then have to meet people where they are. I didn't come in expecting that people were going to say, "Oh, you're a black woman from Cabrini. It's all good now." I said to folks: "This has been broken for so long, it's going to take us a while to do it. But the way that I want you to continue on this journey with me is I will be open with you, I will be transparent. You will see the good, the bad, and the ugly, because if I try to sugarcoat it, if I try to spin it, I will lose any hope of you trusting that I'm trying to fix it."

WATKINS: Yeah, not to be unkind, but in a sense you are now the face of that failure. You have to own that failure, as you say.
FOXX: It's a tough role to have. It's a very tough role to have, because I hear it. I hear people say to me, "Listen, you're part of the system, you're but one person. Everyday you're locking people up every day. Nothing has stopped the machine from turning. You're saying you wanted to do it better, but the machine is doing what the machine does." And that is a fair assessment. I think, again, for me it is: "Yes, that is what I represent. I am not an 'other' of it, I am a part of it," and I think that has been really helpful to me in not promising something that I can't deliver because I am a part of it.
It's easy to talk about "those" prosecutors. There are almost 800 lawyers who speak in my name every single day and I have to make sure that we're doing better because that's my name on the record. When I get letters coming from prisons, they're writing those letters to me about harms that have happened to them even before I got here, so there's no separating myself out from them.
WATKINS: Is that message reaching your line prosecutors do you think?
FOXX: I think there are many people in our office who have recognized that the way that the field of prosecution, not just our office… Because these are men and women who want to do the right thing, who come into public service, they don't make a lot of money, who have seen harm in communities and want to help. The notion that somehow they have done something wrong is offensive to them, and so I think even how I articulate the brokenness of it, has to be thoughtful to the fact that you can have good people operating in an institution that is fundamentally flawed, without meaning that the people are flawed.
We did a survey early on in my tenure to ask people, what were their thoughts about how we were doing things? Overwhelmingly, the response was that people thought that we could do things better. What better was, no one was able to articulate; largely because there wasn't a space for that. But we know, and we see the same people cycling in and out of our justice system.
We know that people who are challenged with mental health issues or drug addiction issues who keep coming back and that all of our interventions in the justice system have not worked. That doesn't make them feel good that they keep putting a band-aid on a gaping wound but that's the only tools we have. I think for many of our folks, they know that there's something more we could be doing. The question becomes how do you do it? Then there are some who—again, white hats, black hats—who view this role, view this work, as good versus evil, and evil needs to be rooted out.
Some of those folks aren't going to be convinced that this holistic approach makes sense. I've had conversations where people say, "Well, just don't do bad things and you don't have to worry about this." This personal accountability is really, really important and we believe in personal accountability. But again… So mitigation doesn't really ring for them. If it's like, "I never chose to do that, you never chose to do that, why should we care more about this person?" Those are harder people to touch and what ultimately may happen or ends up happening is that this may not be the prosecutor's office that you need to work for.
WATKINS: Given the kind of gun-related violence that Chicago's been dealing with of late and getting so much attention in the press, this might seem like another odd question from me. But this is a series about prosecutor reform and almost every discussion I have on the topic gets into this idea that prosecutors have to start taking a different approach to offenses involving violence and have to start thinking differently about people who commit violent offenses.
The idea there is that you cannot unwind mass incarceration simply by focusing on the non-violent drug offender and we have to stop drawing this bright line, as we were talking earlier, between good and evil and violent and nonviolent. You have at least four years to try to move that needle. Is that something—and I know there's a danger of trying to move too quickly—is that something that you're trying to move?
FOXX: Yes. We're having those conversations now. Your point is well valid—there is a risk always in moving too quickly. Even having kind of this fundamental agreement that the justice system is broken and not just by people who've been disproportionately impacted by it, but others who realize that we spend a lot of money on prison and incarceration and it doesn't seem like we're getting a good return on that investment. That when you say, "Well all right, if we do everything related to drugs or mental health, we still have this portion here." Well they're saying, "Whoa, whoa, whoa—I hear you, but I still want to be safe."
I think for us it is starting those conversations about: what is dosage? We've got mitigation—let's talk about that. What are the factors? What should we consider? We've considered all those things now. What is the appropriate dosage of our justice system? If someone has committed a violent offense, is it always 20 years because we feel like 20 feels right? Are we operating on a sense of retribution or rehabilitation? Are we operating on a sense of "you should be punished and punishment feels like this," or "I know ultimately you're going to come back out, and if you come out without the requisite abilities to cope in community, your likelihood of going back is higher." And does the longer you're there impact how you will be when you come out?
Those are some of the questions that we're starting to ask, and I think we have to be really thoughtful about that. We have to, because it is taking people's hands and bringing them along, be able to have research and data that shows, there is no big difference between someone who does six years and eight. Prosecutors, we love to talk about the worst-case scenario. 
We do have some of those folks—they're few. We do have a lot of people who have shot people. We do have a lot of people who have engaged in some pretty violent behavior, who aren't going to be in prison for the rest of their lives, they're not. Less than 7 percent of the people who are in our Department of Corrections, are there for life. What are we doing with those other 93 percent? If we are not mindful of overdosing, then what happens to those folks when they come back? We're going to continue to have, not just from a concern about mass incarceration, but from a public safety standpoint. Because we talk about this as just as a mass incarceration issue.
When we talk about violence, I think you're going to lose a portion of the folks who are like, "I don't want to let people out of jail because it's cheaper. I don't want to let people out of jail because we feel like it's too much." We should let people have the appropriate sentence and rehabilitation and reentry because it's safer for all of us. I think how we frame that conversation is really important because people will tend to want to do the things that are easy. Low-level drug offenses ars easy. There is a greater distance to the humanity of someone who commits a violent act.
I think it's hard for people to see the redemptive value of people who hurt people.
WATKINS: When we're talking about this "rooted in humanity" message, how does that work, say, when you're working with the Chicago Police Department? We've talked a little bit about the risk of maybe going too quickly with reforms and damaging the institutional relationships that a prosecutor's office needs to function. I guess I'm wondering… you didn't come into the office with the support of the Chicago Police Union.
FOXX: I still don't have the support of the Chicago Police Union!
WATKINS: I let you say that part. How do you manage that relationship and how do you in tandem continue to try to push forward with reforms?
FOXX: I have a really good working relationship with the superintendent of the Chicago Police Department, Eddie Johnson. Eddie also hails from Cabrini-Green. Eddie and I, we meet on a regular basis at least once a month and we go over the stats of the things that we're doing, any questions, concerns that they have about what's happening and the way that we're prosecuting cases. Any questions or concerns that we have about the types of cases that come to us. And I've been very pleased with the level of engagement that he has had. Many of folks on patrol—I think it's important to distinguish the union from a lot of the men and women who they represent, who share the same goals that we do: safe, healthy, thriving communities. But I think we, again, we've just been honest.
My goal has always been making sure that we do things that are in the interest of community, and that we're being legitimate in the way that we do them. Constitutional policing, I think it's something that we should all aspire to. I think there's a narrative that is written about you or thought about you when you come in and you say the system is broken, again, that defensiveness that comes. "She must be talking about us." We talked about police accountability. I think if you talk about a broken, fractured relationship, if we're being honest, we have an issue with police accountability in Cook County. We spent hundreds of millions of dollars on misconduct cases, but people weren't seeing any repercussions for the people who committed the misconduct, so even talking about that publicly left some bristling and saying, "Well, she's anti-law enforcement."
I've never been anti-law enforcement, I am law enforcement. I am anti-bad law enforcement. That is dangerous to our communities. If people don't trust the police department to be credible and legitimate and fair, then they will then find another mechanism to deal with issues in community that may not be good for everybody. We have a homicide clearance rate in the city of Chicago that is lower than almost any other place in the country. We have a shooting clearance rate that is, I think, five percent. If you talk to people, there's a myriad of reasons that those numbers are so low. But the legitimacy of our institution plays into that.
WATKINS: People don't trust a system that's not working.
FOXX: "It's not working, so I'd rather get street justice!" Again, I know how this works. I've grown up where people don't call the police, "We got this. We'll take care of this." When I was a kid, some of the times that meant people would jump on somebody. You'd posse up your group and somebody would go and take care of the person who did the harm and people will move on. Now with an over-proliferation of guns, people are doing that with guns. But if we can't get witnesses to come forward because we are viewed as illegitimate, that is dangerous to the community.
I don't have the luxury of sugarcoating. I don't have the luxury of making people feel like, "No, not you, not all, not ..." It's the system and I'm a part of it. Again, I'm the face of prosecution. There have been cases where prosecutors have been extraordinarily over-zealous, where we've treated victims who are here seeking justice horribly, and so we have to do something about that. But I think overall, my relationship with law enforcement in Cook County is really good.
I think, again, being transparent dispels the narrative. People are saying, "Well, you're soft on crime." Let me show you what we're doing. I think when you do that, it dispels what people want to say about you, because I think people wanted to have a narrative about what it meant for a black woman to have this job, a black woman from the projects to have this job—"I heard she's going to let everybody black out of jail."
WATKINS: I was going to ask you about that.
FOXX: (laughs) We revamped the Conviction Integrity Unit because it's important to the legitimacy of the work. If I moved based on people's assumptions about me—negative stereotypical assumptions about me—we would not be able to move the needle at all.
WATKINS: So you have a lot of relationships to manage. We've talked about the police relationship, line prosecutors, your husband. Then on the other side—and it occurs to me to go back to this metaphor that you're trying to move a needle stuck between a rock and a hard place—you have the activists, and you have the people who worked so hard to get you elected and have invested so much hope in you. I read this great profile—by the Chicagoan Steve Bogira for the Marshall Project—of you, and in there you and he talk about the fact that you are, or were, the darling of the activists and you also suggest that you don't expect that that's going to last for too long! And there's been this tremendous movement for reform across the country. So does it concern you that maybe people are almost expecting too much from "reform-minded prosecutors"?
FOXX: That's a great question. I think people have been so sorely disappointed by our justice system that they want and deserve a lot more than what they've gotten. The system has operated in a way for so long that I don't think it's unfair that people want a lot from me at all. I get it. it's an interesting place to be as a prosecutor, where people are celebrating you as a prosecutor, when every day we are prosecuting, every day, five days a week, seven days a week, if we talk about bond court, we are depriving people of their freedoms.
Some people may agree with what we're doing or don't do, but that is our role is to prosecute. So there's this tension between wanting to make sure that we do it right, that we're fair, we're just, we're equitable, that we're treating people humanely, but in a paradigm that is built on an institution that is, that was racist. But the institution is still functioning. And so for me, it is an interesting tension, because I am still a prosecutor.
Managing that expectation… I don't think it's unfair. I don't think it's an unfair expectation. I think for me it is, "Hey, I've been here almost two years in an institution in Cook County that has existed for well over a century, where the people who ran this office didn't have the same set of experiences—hadn't had a perspective that I think allowed them to fully grasp what the impact would be. Maybe well-intentioned, but…" So I'm coming in and trying to manage those relationships.
There are things outside of my control with the police, but I try to work with them and manage my prosecutors so that we're operating on the same level. Manage a gun epidemic, and a violence epidemic in the city that I love, that is absolutely remarkable, but it is remarkably heartbreaking that in 2016, we had 762 people who were killed. That this year alone we have over 70 children under the age of 15 who have been shot.
Those realities are real and I have to juggle all of those things. And so what my hope is, is that we continue to strive, that we don't lose the aspiration to have this system be fair and just and equitable and responsive and knowing that the needle is stuck between a rock and a hard place, doesn't mean that we don't try every day to bend it, to break it, to fix it. With the harsh reality of history and time telling me that it's going to take longer than the people deserve.
WATKINS: I wanted to end with a kind of a big picture question, similar to the big picture question that I asked off the top. In several interviews now [on this podcast], people have talked about this idea of having a criminal justice system that's more rooted in humanity. Bruce Western, a sociologist, was just here talking about criminal justice as social justice, and I asked him my kind of classic pushback question to elicit a good response, which was, "Well, what are you going to say to the skeptic who says, 'that's just not the lane of the criminal justice system'?"
Then I was reading Steve Bogira's profile and somebody in there throws this idea at you about, "That's not the lane of the criminal justice system." You dismissed this whole lane conceit in no uncertain terms, which has made me reluctant to ever ask the question again, but instead I'm doing it here in this self-critical way. So can you tell me why I shouldn't even be asking that question at all? That we shouldn't be thinking about lanes for the criminal justice system?
FOXX: We shouldn't! Fairness, justice, equity. Who owns that? Again, it goes back to the point I was making earlier about mitigation. "Oh, are we fully recognizing all the things can make the defendant… that's not for us to care about, that's for the defendant to care about, that's for his attorney and if he doesn't tell us and we don't know, that's not on me." That's how you allow institutions to fester and remain broken. When people say, "I just got to worry about my cog here." If my cog is only, "Did you commit a crime? Can I approve it? What is your punishment?" Without the thought of, "Is this fair? Is this right? Who are you? What do you actually need? What are the ripple implications for your community? What will be the impact time years from now on not just you but your community?"
If I'm just in my cog: I'm a prosecutor, my job is to charge you, convict you, and sentence you—we will have the system that we have. That is how we've gotten here. It's this almost absolution of responsibility for the people who have that much power with little transparency, who don't have to be responsible for their policies and their actions, because that's somebody else's issue. I think in the justice system, we acknowledge all of these big ideas that we pretend that this broken system can fix.
We all acknowledge that people who have mental health issues don't belong in our jail as a response to their mental health issues. The homeless man who is exposing himself outside of Starbucks, who gets arrested for indecent exposure and is brought in our jail and we have nothing to do for him. We just will keep churning because I can't care that he's homeless or that he is mentally ill. He exposed himself. That's not my lane. He exposed himself. That is my lane.
If we operate like that, this is what you get. It makes people feel good about the system that they have is that I'm just doing the part that I'm supposed to do. And I think as prosecutors, to take it back to the beginning, we have such a tremendous responsibility with the discretion. I mean, it is such a powerful tool. I think it's irresponsible to believe that you have this narrow space to fill when every decision that I make has a long-term impact not just on that individual but that community. So I don't believe in lanes.
WATKINS: Well neither do I anymore. Kim, I want to thank you so much for making the time to come visit us here from the remarkable city of Chicago, and we're going to keep looking on, on the work that you're doing there.
FOXX: Thank you and thanks for the profile on the work. I know the last couple of years, there has been this greater conversation. I've read John Pfaff's book too…
WATKINS: Who started off this prosecutor power series, actually.
FOXX: Yeah, I know. That's why I am giving John his just due. Not that I agree with everything that John says, but I think it is an important conversation that he has started. I think the level of scrutiny that these races are having… I will say, when I ran in 2015, The Chicago Tribune, which is the more conservative paper in the city, gave me their endorsement. They did their editorial, and I had been talking about mitigation and talking about kind of the wholeness of the people that we serve. They had this caveat of, "We endorse her, but we don't want her to be the public defender. We want her to be the prosecutor."
WATKINS: A lane idea, I point out.
FOXX: Yeah. I was stewing, for a while. I still do about it. Obviously, I'm bringing it up! But I find it fascinating that in Boston, the candidates who were running for district attorney in Boston held a debate at the jail, at the county jail. So you talk about, in three years, a race that is trying to be inclusive and incorporating the people who are impacted while calming the fears of our suburban constituents, to three years later having the D.A. sit in jail and say, "How are you going to serve me?" It's really incredible.
I think that shift has been because of the work of John and others and activists who say that this is the expectation we should have. So it's been for me, work like this, having these conversations, the other people who are working on this issue, a really fascinating thing to watch. Because it is not just, "Let's get the next new hottest person into this work." It's the constituency who says, "You need to come talk to me," and then responding with victory is really remarkable. So I really appreciate the work that's being done on that.
WATKINS: No, it's the feeling that the ground had really shifted that was the impetus for starting this series, I don't know, six, eight months ago. So to have you now here as our fourth guest in this very intermittent series, is really meaningful.
FOXX: Yeah. Thank you.
WATKINS: So I thank you again. I've been speaking with Kim Foxx. She is the State's Attorney for Cook County, Illinois. For more information on this episode, including some pictures, I hope, and some reading suggestions like that Steve Bogira profile I've been referencing, you can find those at our website, courtinnovation.org/newthinking. And be sure to check out the previous episodes in our prosecutor power Series. Technical support today provided by the superlative Bill Harkins, and our theme music is by Michael Aharon at quiverNYC.com.
Special thanks as well today to Sherene Crawford, Julius Lang, John Butler, and Samiha Meah. And as we continue to try to be the nonprofit podcast that hits above its weight, please help us by leaving a rating or review and by spreading the word to anyone you think might be a fan of the show.
You have been listening to New Thinking from the Center for Court Innovation. I'm Matt Watkins. Thanks for listening.