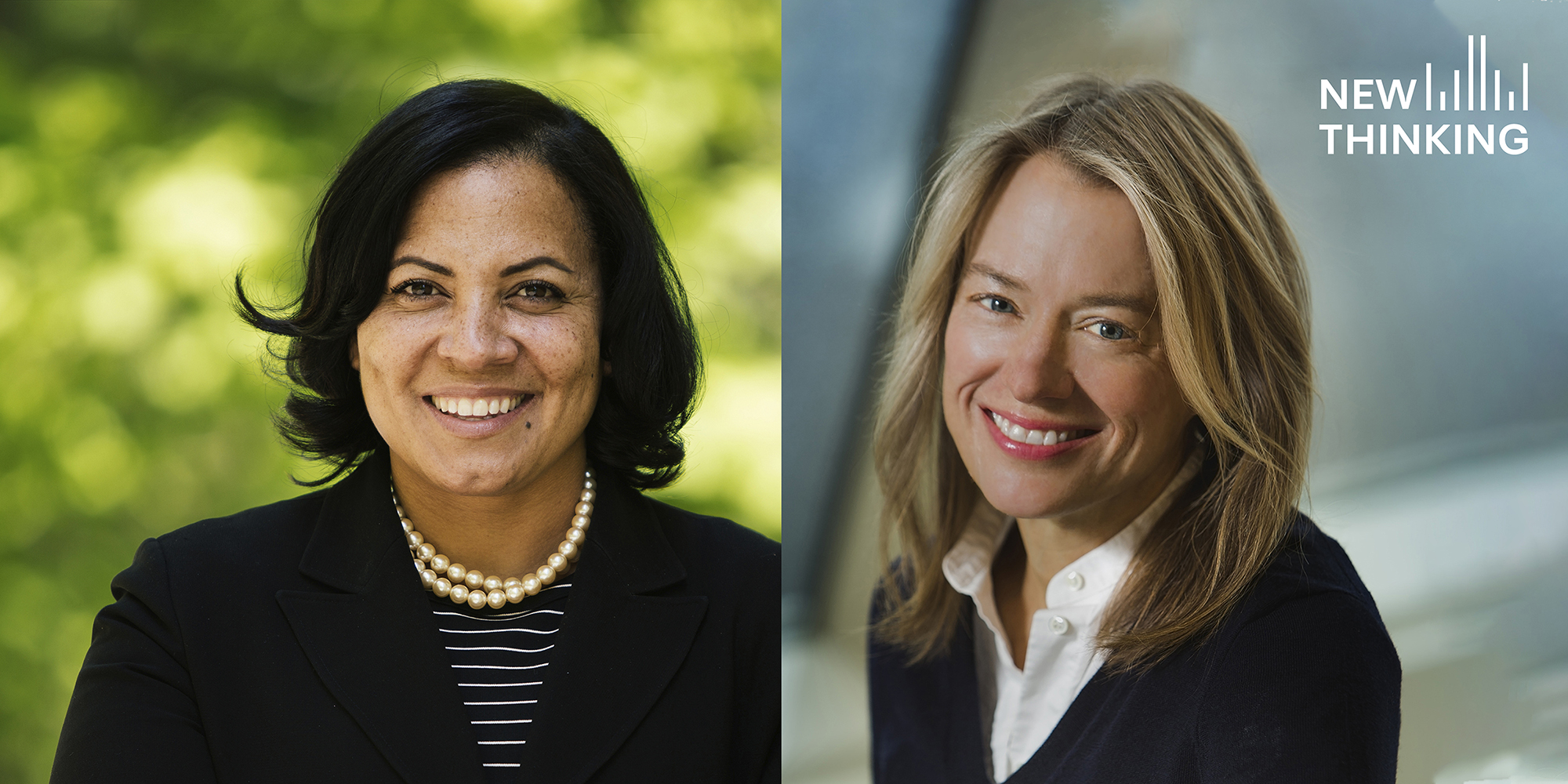 Anyone who tries to tell me that there are not two separate criminal legal systems, I will argue till I lose my voice. –Rachael Rollins
A team of three researchers has spent the last two years going over data given to them by the Suffolk County (Boston) District Attorney's Office.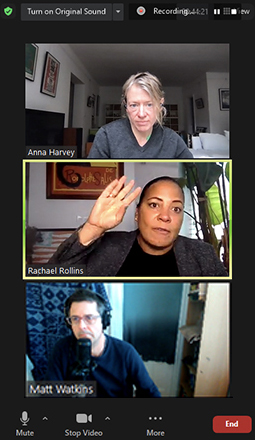 The researchers were trying to answer: what happens when a person arrested on a low-level charge isn't prosecuted at all, and instead is allowed to simply exit the system—no court appearance, no bail, no record even of the arrest.
Any reform that brought down future arrests by, say, 10 percent would be hailed as a major victory.
But what the researchers found was that someone not prosecuted for a low-level charge was almost 60 percent less likely to be arrested again over the next two years.
It's a remarkable finding that suggests even fleeting contact with the criminal justice system is a significant risk factor for incurring a future arrest.
To talk about the study and its implications, New Thinking host Matt Watkins is joined by Suffolk County District Attorney Rachael Rollins, and Anna Harvey, co-author of the study and the director of New York University's Public Safety Lab.
Rollins was on New Thinking in 2019 when she announced her policy of defaulting to not prosecuting a list of 15 common misdemeanors. She promised then to switch course if the data proved the policy misguided. Today, she sees the study's results as vindication. Everyone, she says, deserves another chance.
"I'm not pulling the ceiling down to the floor where poor Black and Brown people enter. I'm pulling the floor up to the ceiling. I want everyone to have that opportunity."
Hear New Thinking's 2019 episode, 'Rachael Rollins Reboots Low-Level Justice' →
 
---
The following is a transcript of the podcast:
Matt WATKINS: Welcome to New Thinking from the Center for Court Innovation. I'm Matt Watkins.
A team of three researchers has spent the last two years going over data given to them by the Suffolk County D.A. Suffolk County, I should point out, includes the city of Boston.

The researchers were trying to answer: what happens when a person arrested on a low-level charge isn't prosecuted at all, and instead is allowed to just exit the system: no court appearance, no bail, no record even of the arrest.

Now, any reform that brought down future arrests by, say, 10 percent would be hailed as a major victory.

But what the researchers found was that someone not prosecuted for a low-level charge was almost 60 percent less likely to be arrested again over the next two years.

It's a remarkable finding, and on the show today we're going to hear more about it from Rachael Rollins, the D.A. for Suffolk County. And from Anna Harvey, a co-author of that study, and the director of the public safety lab at New York University. 

It's important to note: Harvey and her colleagues were looking mostly at the decade and a half before D.A. Rollins took over: what happened when individual prosecutors made the decision not to prosecute. But the study also takes in the first two years of Rollins's tenure. As Rollins took over, she made nonprosecution the default for a number of low-level charges. ADAs, or assistant district attorneys, could still make the decision to prosecute, but now they would have to justify that decision. Overall, under both scenarios, the positive effects of not prosecuting remained about the same.

I started the conversation by asking D.A. Rollins for her reaction to the killing of Daunte Wright by police in Minnesota. Wright was pulled over, police say, for an expired registration. It's another example of the perils of low-level enforcement for people of color.

And I should add we recorded this conversation just before the verdict in the Derek Chauvin case. Here's D.A. Rollins, followed by Anna Harvey.
Rachael ROLLINS: So tragic what we are seeing unfold with these misdemeanor murders, if that; where the trial of Derek Chauvin was interrupted to tell us about Daunte Wright; who then it was interrupted to talk to us about the body cam footage we just saw coming out of Chicago, where a 13-year-old with his hands up is shot—seventh grade.
I'm exhausted. I am teetering on the edge of sheer exhaustion and rage. And although those are polar opposites, I know so many people who have said the same exact words to me. And what we're seeing is just anyone who tries to tell me different that there are not two separate criminal legal systems, I will argue till I lose my voice.

Because we've seen that the police are capable of showing extreme restraint when it comes to insurrections, when it comes to Dylann Roof, when it comes to all of these other defendants that they see the humanity in, even after they've committed mass murders. And they can't see it in us when we are allegedly innocent until proven guilty and have an air freshener blocking our mirror.

I'm deeply dismayed and watching with bated breath to see whether there's going to be some more significant charges brought to honor Daunte, and then what's going to happen in Chicago when we see a police department and a prosecutor's office that lied and said, "this person was armed," and now we have video to show that he wasn't.

We have a lot going on in this country, but until we get to the bottom of our issues on race and our tainted beginnings, we are going to see ourselves continuing to be in the same situation.

WATKINS: Anna, Rachael's really brought out the stakes of the research that you guys have done into low-level enforcement. What is it you guys were trying to establish with your research?

Anna HARVEY: As Rachael can speak to better than I can, in most prosecutors' offices across most of the country, the bulk of resources are devoted to these sub-felony cases, these misdemeanor cases. In particular, the nonviolent misdemeanor cases that were the focus of our study, and these are things like driving without the right paperwork, or being in a public park after closing time, or possessing a small amount of a prohibited substance.

They're nonviolent, they're generally victimless, and there's a lot of them. We spend a lot of time enforcing these crimes. It takes resources away from prosecuting and detecting and determining more violent, serious crime.

And it also puts these individuals who are being policed for these minor crimes in harm's way, as I think the Daunte Wright case really demonstrates. We wanted to ask: what are we getting for it? Is there a public safety benefit to prosecuting these nonviolent misdemeanor offenses?

WATKINS: And Rachael, could you talk a little bit about the policy that you put in place with regards to low-level offenses in 2019? You came on the show and talked about it then: what you announced and why you did it.

ROLLINS: So when I was a candidate, I didn't want to trick anyone into voting for me and I, six weeks before my primary, had a one-pager that just said: if you vote for me, these are the 15 areas and types of crimes that we're going to flip the presumption from prosecution and carceral responses to declination, diversion, or dismissal.

WATKINS: Declining to prosecute, we should just call it.

ROLLINS: Yes, declining to prosecute, and it is a rebuttable presumption. We can always go back to what the system knows how to do incredibly well, which is arrest and prosecute poor Black and brown people. We can fling you right back on that conveyor belt like the system has done for decades.

But what I said is, under my administration, let's look at these issues as they really are. These are people with substance use disorders, food and housing insecurity, homelessness, or mental health issues, or are in a mental health crisis.

And within three months of taking office, we codified those policies, where I wanted my very limited resources—not focused on the nonviolent, non-serious crimes that I believed and did not have the data of our three brilliant Ph.D.'s yet, but I believed with my lived experiences that, if you're going to be in our community all the time, can you at least be solving the murders and the rapes and the kidnappings, and not bothering me about a trespass or the fact that my registration sticker, or whatever the thing is on the back of your license plate, is a week expired? 

For me, that was the mindset of this: with limited resources, what do I want to do? I want to solve the 1,300 unsolved homicides we have in Boston. I want to work on restoring faith in the system in the very communities that are over-policed and over-prosecuted.

These are our potential jurors. These are our potential grand jurors. We need them to believe in the system, or we won't get true bills, returning indictments, or guilty's when we are trying to get accountability for those same Black and brown and poor families that are survivors of the homicides. 

In my mind, guys, it's all related. And then when I was fortunate enough to have three brilliant Ph.D's say: "can we look at your data? And you can't correct us or edit us, you're not allowed to stick your nose in anything, and we're going to go back really far." And I said, "Yeah, sure." And then we came out with this wonderful report that they found.

WATKINS: Anna, as a researcher, was that rare to have a district attorney say: have at it, I'm not going to question anything you do?

HARVEY: I had been talking to district attorneys for almost a year before I met Rachael and I was getting the same answer every time, which is: "yeah, it would be really nice for us to know whether prosecuting these nonviolent misdemeanor crimes helps public safety or hurts public safety, but not our office, you're going to have to go find somebody else."

Because they were all worried: what if the study came back and it turned out this policy that we had adopted of not prosecuting nonviolent misdemeanors, it turns out was actually hurting public safety. And they didn't want that hanging around their neck come the next election.

So, it was so unusual to have... I remember having lunch with Rachael—it was just a couple of weeks after she'd gotten inaugurated. She literally said: "I want to know the truth, I want you to give it to me straight, don't sugarcoat it. Find out the truth and come back and tell me, and if it turns out that declining to prosecute these offenses is a bad idea, we'll adapt."

WATKINS: I mean, maybe some offices don't want to know. They don't want to find out results that are going to challenge the conventional wisdom, right?

HARVEY: And then ultimately it's on us as voters to demand that of our elected district attorneys. District attorneys are responsible for public safety. And we're the voters, so we can demand that our district attorneys know what's actually happening with public safety in their counties.

WATKINS: Rachael, do you understand why some of your colleagues tend to guard their data a little more jealously?

ROLLINS: For sure. I had the privilege of having been in office for two weeks. So, I knew that she had two weeks of data about me! So, it's very easy. I don't want to say I'm a hero here. 

WATKINS: But the researchers are also looking specifically at your policy of declining and got similar results?

ROLLINS: Absolutely. I'm being a little flip. I knew she was going to look backwards, but I also knew they were going to look forward. Look, I didn't run for office so I could make Suffolk County less safe.

If this research published in the National Bureau of Economic Research showed the exact opposite of what it's showing right now, I would have literally called a meeting with my law enforcement partners and said: "look, we got some data that is troubling. We are culling through it, but we're going to be suspending the Rollins 15, for now."

That's the way you should be looking at things. This is what data does for you, is tells you, I hope in real time, how you're going to adapt.

And so, although we looked at 17 years total, we are going to continue to either use the good work that was done and try to replicate it—I know we cannot replicate the beauty that was done, but we will try to at least not wait another 17 years before we look back and see: is it still working? I want the kind of real-time analysis that we see in so many other professions.

WATKINS: Anna, you looked at 17 years of data, as Rachael said. Could you walk us through some of the headlines of what you found were the effects of declining to prosecute people for low-level misdemeanor charges?

HARVEY: So just briefly, what we were trying to do was, in our heads, we had this idealized, fictional, randomized experiment which was, imagine that somebody charged with a nonviolent misdemeanor offense is brought into a court for arraignment.
But imagine that the ADA in charge of arraignments in that courtroom on that day just flips a coin. And the outcome of the coin flip is you're either prosecuted and the case goes forward, or you're not prosecuted and the charges are dismissed and you walk away and you don't have anything on your criminal record.

What that would do is that would eliminate the problem of the ADA getting to know the case and the defendant and making a choice about whether to prosecute or not prosecute based on whether they thought the defendant would be able to stay out of the criminal legal system. And so, we wanted to kind of get outside of that choice.

WATKINS: Right, but then I guess the Rollins memo, if we're calling it that, then actually creates its own natural experiment that's non-hypothetical?

HARVEY: Yeah, so, we had two ways of looking at the data and one was to kind of use everything that happened prior to Rachael and use that kind of luck of the draw of which ADA do you get. And for that, we're able to follow people for up to three years after the end of their case.

And what we found in that analysis was that random flip of the coin, you're not prosecuted, those defendants were almost 60 percent less likely to return to the criminal legal system in Suffolk County within two years or three years. So, there was a really big effect.

WATKINS: Just to stop there for a second, I believe that is what researchers call statistically significant, right? I mean, a 60 percent reduction in the chance that people are going to get arrested on a new charge—that's pretty remarkable, isn't it?

HARVEY: The secret backstory to the paper is that it didn't actually take us two years to get to that finding. We had that finding over a year ago and we thought it was too big. We didn't believe it ourselves. We said that can't be right.

And we spent another year talking to all of our econometrician colleagues and running through robustness analyses and doing everything we could think of to make that finding go away. And we couldn't make it go away. It's a very large effect.

WATKINS: And the effect is particularly strong with first-time defendants—people with their first contact with the criminal justice system.

HARVEY: Yeah, we think a big part of what's happening is that if your case goes forward in Massachusetts—so you're arraigned in front of a judge—you get a record of that arrest on your lifetime criminal record that never leaves you.

That may start you down a path, both in terms of your own responses to that and in terms of law enforcement responses to that criminal record that you now have as you go through the choices in your life. Keeping somebody off that path of having a criminal record seems to have the largest effects. It's deterring the entry in the first place is where we saw the largest effects on defendants.

WATKINS: Well, Rachael, what does it say, then, about this system that we all work either inside of or around, that merely coming into contact with it is creating crime, in essence. It's criminogenic, right? The same way we speak of cigarettes as being carcinogenic, as cancer-causing, the criminal justice system appears here to just be consistently causing crime.

ROLLINS: Yeah. And, believe me, I can hear some of my peers, Massachusetts district attorneys, shrieking in the background when you say something like that.

WATKINS: I think they're muted right now on this call.

ROLLINS: Yeah, I hope so. But I can tell you that I was so dismayed to hear the flip of a coin statement, but it truly is.

It should not be that if you happen to get Matt Watkins who's compassionate and thoughtful and will hold you accountable if you have a violent or serious crime, but understands that there's an emotionally disturbed person or something else that might be presenting before him that day, as opposed to Rack 'em up Rollins, who the answer to any question is arraignment and the strongest sentence possible, that that's how our system works.

Part of what is so important about memorializing and codifying things is that it removes the random, it removes the ability for, just because you happen to know the clerk, or you happen to know a judge, or you happen to have the direct line of the sitting district attorney, that you get the benefit of this privilege or opportunity.

And believe me, I like to say, I'm not pulling the ceiling down to the floor where poor Black and Brown people enter. I'm pulling the floor up to the ceiling. I want everyone to have that opportunity.

And then the last thing I'll say is just: when we think about all of the collateral consequences of having a criminal record, and guys, I'm not talking about a felony criminal record.

I am your chief law enforcement officer of Suffolk County. And when I was 19, I received a complaint in the mail, a summons, for a misdemeanor: receiving stolen property under $250. Ultimately, I was a college student, I had good grades, I was a division one athlete, and I was CWOFed, I was continued without a finding.

Even though they say it's going to be dismissed, it's a brand on your record. Every job I've had, every SF 86 I've had to complete to be an assistant United States attorney, or a federal attorney for the National Labor Relations Board, I had to disclose that every time.

I am 50, and I am still disclosing something from when I was 19. And I like to say, "look, I'm going to be okay. No matter what, I'm going to be fine." What say you to the young man from Charlestown who's 19 and has a felony and his father's in jail serving life, and his mom passed away two years ago of an overdose.

How do they see a way out of the felony that they have on their record? We have already shut so many doors to them. This really matters to me. This study is so important.

Yes, it's great that it vindicates the progressive prosecutor before me. Yes, it's our data of Suffolk County so I'm proud that we stood there. But I think it speaks way more as well to just allowing people to get the help they need from community or social services and not carceral responses.

WATKINS: Anna, do you think there's some sort of special sauce in Boston or are you anticipating the findings here about the harms of the criminal justice system are going to be more generally applicable?

HARVEY: That's a good question. The first thing to think about is that we already have a bunch of studies about the harmful effects of criminal records on defendants. But what's interesting about most of the studies is they tend to be for more serious kinds of records—in particular, felony conviction records have gotten a lot of attention.

And it's very clear that having a felony conviction record really matters to employers, in particular. And it also matters for your return to the criminal legal system. You're much more likely to return with a felony conviction record, and you're much less likely to be employed down the road.

And I think what we haven't known until now, because it's been hard to study, is what about a lighter, you still have a criminal record, but it's a lighter footprint. It's like Rachael just said, it's really just the arrest for a misdemeanor. And you might think how could that possibly matter? But then you have to remember that employers are able to choose between applicants that have completely clean records and somebody who's got an arrest for something.

And it's not hard to imagine that actually that might matter. We're working with district attorneys in other parts of the country who are now—surprise, surprise—more interested in sharing their data with us. They're a little less nervous about it now.

We are talking to a number of large jurisdictions and we do think that we'll be able to replicate pretty soon. And we have a lot of code written, so that won't take us two years this time.
But I think we are looking at a more general problem here, which is not specific to Suffolk County, which is that people don't, I think, focus on the fact that these criminal records are lifetime penalties, for an offense that you, in many cases, were not even convicted of. And yet you still have that record hanging around your neck for the rest of your life.

ROLLINS: And I will give you a real example of, before I became D.A., there was a very public situation where the office I now have the privilege of running charged a young man with a murder.

But for his uncle being the former president of the Boston branch of the NAACP, and having a platform to say, "this was not my nephew who did this," and having the ear of the mayor, and the then D.A., and some other people, and getting some media attention, ultimately the office determined that no, it was not in fact that individual that committed the murder. And we luckily found the person that did and charged them with the homicide.

When I took office and said, "Well, what happened to Kevin?" And they said, "Yeah, we dismissed it." And I said, "No, no, no, wait." So, when Kevin's background check is run, what does it say? And you know what it says: "Murder—Dismissed."

Are you kidding me? What type of goddamn system is this? That anyone believes that that's an appropriate response, that we are not sprinting to file a joint motion to expunge and paying for the postage, and his lawyers fee, when we made a mistake and then you have to file a motion?

This is what I'm talking about. Our system is flawed. I heard somebody say something yesterday that I was like, oh my God: "systems of oppression are hyper-resilient." They always snap back to where they were. And there is this belief in our profession, guys—and I love being a member of law enforcement, I'm very proud of my job.

But I will tell you, I am just floored at the fact that we believe we have a zero percent error rate. Name me one other profession that believes they never make a mistake. We have to be so much better. We really do.

WATKINS: Speaking of hyper-resilient systems that keep snapping back into place, Anna, will your study spell the definitive end of the broken windows theory that prosecuting people for low-level offenses stops larger crimes down the road?

HARVEY: I'm sure it won't. I mean, I believe Rachael that there's many people who are pretty invested in the current way of doing things and they'll fight back. 

WATKINS: Rachael, you've alluded a couple of times in this conversation to critics that you have in Boston. That's not surprising—you're a Black woman trying to change how justice is delivered in Boston. Do you think that this study, are you hopeful at all that this might quiet some of them? 

ROLLINS: No, but it is, look, it is a vindication for sure. And there are people that are going to... I'm not doing this for them. What we're doing it for is the generations of communities, poor people of all colors, and then Black and Brown communities, in particular BIPOC communities, that for the first time, I hope, not just in Boston, but across the country well before me, are seeing leaders that are speaking truth to power about systems that were put into place without our input, but with us in mind.

There's a piece that I really like hearing about the expungement. I got pushback from my office to say, "well, in Massachusetts, it's the defendant's right to expunge. So, we can't jump…" It's like, spare me, please. What we can do is have a sample motion, or what we can say is we will assent.

We will assent to every single motion so that there is not even a... There's no controversy that this judge needs to determine or rule upon. The expungement is really important. And just even when you think of, it's arraignment that everything starts at. Because even if you're-

WATKINS: That first touch, your first touch.

ROLLINS: That first touch, right? Which is what's so important about the study we're here about right now. I really believe systemic harms need systemic solutions, and that's the way we're trying to think about this. So I think the study, I hope, is a systemic solution that we are going to now, with monthly updates of our data, peek in to see, hey, are we seeing any shifts? 

WATKINS: Do you see the results of the study maybe being helpful with police, with your conversations with them, with going to them and saying, "hey, look, I've got validation now—the model of public safety we were pursuing wasn't working." Will they be more on board do you think?

ROLLINS: I don't think they're going to believe that. But what I do think is great that I have used it for to pushback is, the police always say, "you've decriminalized 15 things." And I've said, "no, I haven't", because they say, "you're not the legislature. You're just the D.A. and you can't..." And that's what the conservative D.A.s say and all.

Well, if in 2019, on my list of 15, if my predecessor was already diverting, declining, or dismissing 42 percent of those types of crimes, and I jumped up in 2019 to 57 percent of them were now declined, dismissed or diverted?

It was only a 15-point increase. So, if you're outraged, the outrage only gets to start at 43. Because my white predecessor that you are, I don't know, making a sculpture of in West Roxbury somewhere, he was declining these too. He just didn't trust you enough to tell you that that's what he was doing and was likely only doing it for people he knew, not for everyone.

So that's number one. And number two: if I declined 57 percent of them, what does that mean? It means that in 43 percent of the cases we moved forward, which shows that we are actually using our discretion. If you are Matt Watkins, and this is the first time you've ever done this, or the first time you've done it in the last three years, yes, you are likely going to get a nolle pros.

WATKINS: A straight dismissal.

ROLLINS: A straight—you don't have to do anything. We just file something and you don't even have to speak. If you were Anna, and maybe you did this once or twice in the last year or two, we might talk to you a little bit, call the arraignment, ask for another date, see if you're going to do one or two things before, and then dismiss or nolle pros.

But if you're Rachael and this is the fifth time you've done this, this month, in Suffolk County, we're arraigning you. It's just guideposts to say: instead of presumptively always being carceral-minded, let's think in a human way about the people that come before us and be as compassionate as we can be.

WATKINS: Right, because this study confirms, to use the example of myself that you just cited, if you're Matt Watkins and it's your first-time offense, the study confirms that people who are at a low risk of re-offending, that risk actually gets worse the more the criminal justice system gets a hold of them. 

ROLLINS: Absolutely, which is a sad... I mean, that's the bigger statement, is if we are the Department of Corrections, the House of Corrections, and we aren't correcting, we are in fact what is making the situation potentially worse. That's a bigger story, but I'm just the D.A., I'm not the sheriff.

That's another podcast and another call, but just, yeah. I mean, that's what we really need to start talking about is we're sending you to a place where are you getting better or are you getting worse? Because if you come out more mentally ill, more violent, less employable, that is not a win for anyone. Not for you, not for our society, for nobody.

WATKINS: Anna and her colleagues are studying non-prosecution, Rachael, you're implementing it. I can't help, but take note, it's two other Black women who are implementing a lot of the similar policies—Kim Foxx in Chicago and Marilyn Mosby in Baltimore. Is there a sense in which non-prosecution of low-level offenses can blossom into a movement?

ROLLINS: That is my absolute hope. And look, non-prosecution is only but that. It does not mean that these people don't get some help. And I think about the word accountability. Accountability isn't the right word for a mental health issue.

If it's truly the mental health issue or the public health issue that substance use disorder actually is, then we don't hold you accountable for having diabetes. We don't hold you accountable for having breast cancer. Why are we holding you accountable for having a substance use disorder or mental health, DSM-5 diagnosed mental health issue?

I think what we're going to be seeing is hopefully more societal and community resolutions or opportunities for people that come into contact with the criminal legal system. We just need more places that we can say: Rachael, we're going to send you to the Brook House who's going to be able to get you housing, the counseling, and treatment that you need, and also put you in a program for X, Y, or Z. And get you some job training skills.

I just don't think Houses of Corrections and Department of Corrections should be those places. I hope we start having more wraparound services in different systems speaking with each other.

WATKINS: Anna, I think, you know it's striking the sheer size of the criminal justice system, and the amount of points of contact people have, and the amount of data it produces. There's a lot of ways to reform or remake the criminal justice system—and you're biased, I think, with this question—but do you think that maybe data and transparency are really the royal road to reform?

HARVEY: I think one of the things that's been most interesting for me in working with criminal justice agencies is precisely that, it's coming to grips with the vast lakes of data that these agencies are sitting on. Because as you said, there are so many ways that individuals come into contact with the criminal legal system and it's all recorded.

And a lot of times it's already been digitized—even if it hasn't been, it's sitting in boxes and paper files. And yet, agencies aren't generally making use of those data to try to understand the consequences of their actions for people down the road, which is of course the first thing that I want to do. I want to know, okay, what are we doing? What impact are we having? What are the consequences of our choices?

And it's all there. It's all there in the records of these individuals and their interactions with the criminal legal system over time, but the offices aren't using their data. So I do think that as we think about this particular study that we did on nonviolent, on misdemeanor prosecution, I think the bigger underlying shift that we're seeing in criminal justice agencies is more and more people who are interested in asking the question of: well, what consequences are we having for individuals and for communities? And can we work with researchers to understand those consequences? 

And I think that's a huge shift. That's my hope for the criminal legal system is that we have more and more actors and decision-makers who want to ask that question and who are willing to put the work in and work with researchers to use their own data to try to answer that question.

WATKINS: Rachael, when we spoke in 2019, I certainly didn't have the impression that you were holding anything back. But it really seems now like you are even more speaking your mind and speaking truth to power, in a sense, to use a hackneyed phrase, even though you kind of are the power in many ways.

But what has the experience been like for you these two years of actually holding the reins in this way? And what has that done to your, I don't know, your radical outlook?

ROLLINS: Running for office is the hardest thing I've ever done in my life. And when you win and you're exhausted, then the work starts. But I will say, it is the most gratifying work I've ever done in my life because I believe everything we're fighting for, there are real people that are impacted by this.

Matt Brelis and I were former colleagues at Massport which is a very beautiful and wonderful place. And people's planes being on time is very important, don't get me wrong. But we are dealing with literally life and death decisions all the time.

We don't have the death penalty in Massachusetts, but we can send you away for life without the possibility of parole, or with our substance use population we are seeing people die every day.
 
I know I'm urgent. I know that I am loud. But we need urgency right now because we have been malnourished and are anemic. We need an infusion of urgency and thoughtfulness and relentless pursuit of equity and justice and all that is right. And until I have no power left inside of me, I am going to give this job everything I can because the people of Suffolk County deserve it.

And I have people, you've named them: Kim Fox, Marilyn Mosby, Larry Krasner, George Gascón; even some people that came after me—Chesa Boudin. And some people that didn't win—Tiffany Cabán, who I am waiting to see what she does, because she is just phenomenal. They are the ones that give me hope when I feel like I'm just so tired.

When I think about Adam Toledo, the 13-year-old. It's thinking of them and thinking of my daughter that I say, "get up, we got work to do." I'm excited and just wait till you see what we do next.

WATKINS: Well, I will be watching. Listen, Rachael, Anna, I just want to thank you guys so much for making the time and and for just a great conversation. So thank you so much.

ROLLINS: And thank you, Anna, for all you did for us. We appreciate you. Take care Matt.

HARVEY: Thank you Rachael, same. Thanks Matt.