We're not just going to assume that this guy is problematic because he's acting out. We're going to look at him and say: what is going on, is there pain behind that, is there a story?
If you follow debates about the criminal justice system, you've likely heard a lot about trauma. Maybe you've heard that many defendants, victims, and witnesses are suffering from some form of it. But what trauma is and its relationship to the criminal justice system isn't always defined. To try to get some more understanding of these questions, our New Thinking podcast visited the Make It Happen program in Crown Heights, Brooklyn, to profile its innovative approach to working with young men of color affected by violence. Through interviews with participants and practitioners, the episode addresses the intersections of trauma, involvement with the justice system, and the lived experience of race.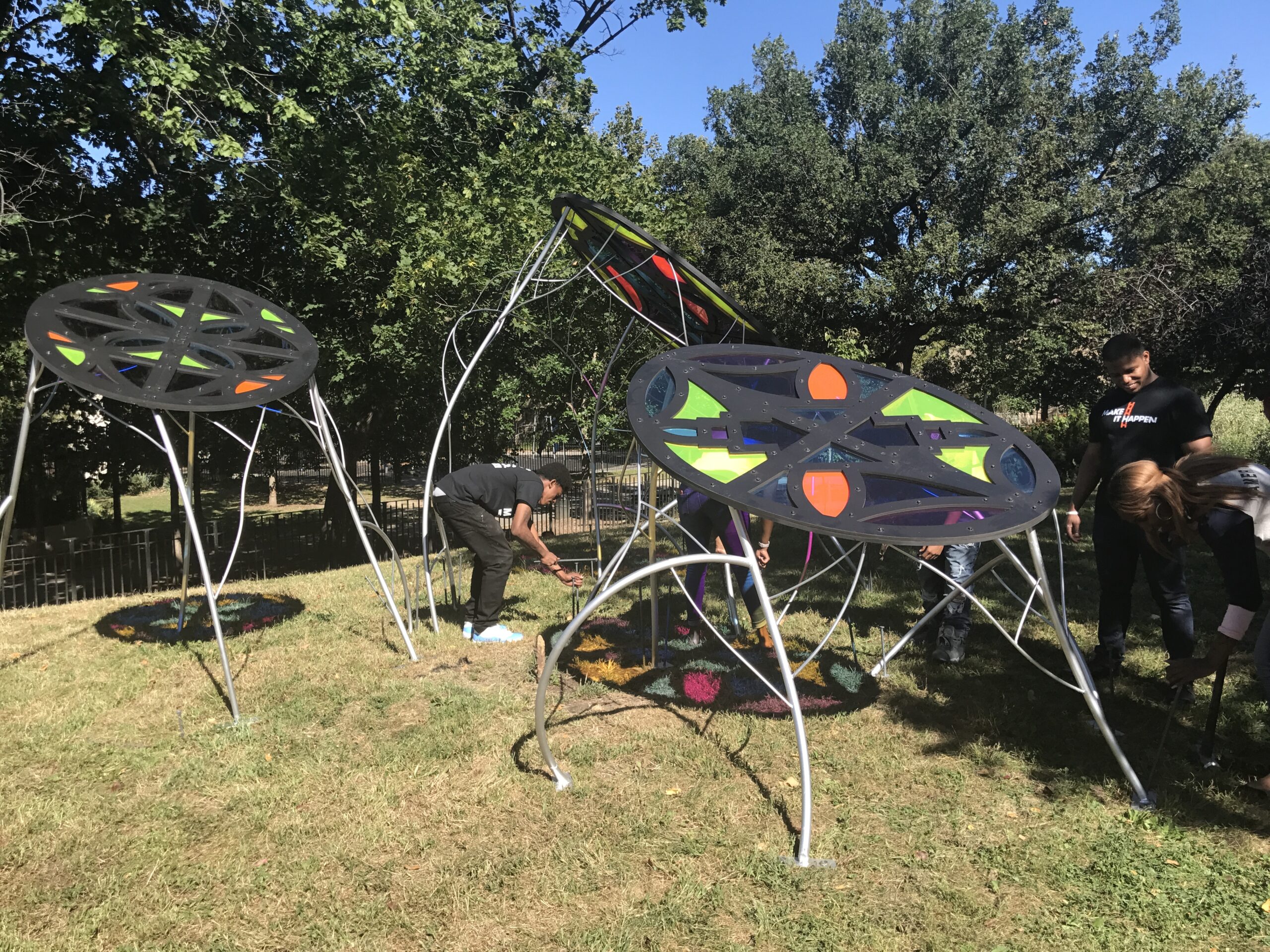 ---
The following is a transcript of the podcast:
MATTHEW WATKINS: Welcome to the New Thinking Podcast, from the Center for Court Innovation. I'm Matt Watkins, and today we've taken the podcast to Crown Heights in Central Brooklyn. 
    
Like the rest of New York City, Crown Heights has seen a lot less crime in recent years. But violence can still permeate daily life here. Especially for young men of color in what has traditionally been a black and African American neighborhood. That violence leads to trauma and that trauma can lead to involvement with the justice system.
    
It's those connections I want to learn more about. So I've come today to visit a program we operate called Make It Happen. It's crafted its own innovative approach to working with young men in Crown Heights affected by violence. 
SOUND: Heavy door to street opening

WATKINS: Hey, how you doing?

CARLOS: Hey, how's it going? I'm Carlos. 

WATKINS: Matthew.

CARLOS: Nice to meet you!

WATKINS: First up, we're going to hear from two participants of the program: Sean Murray and Kyle Leacock. You'll hear them refer to Kenton and Sean in their answers. That's Kenton Kirby and Shawn Deverteuil, the two social workers who run Make It Happen.

In the second half of the show, I'll sit down with them to talk about trauma and the impetus behind Make It Happen. But first, I asked Sean Murray, a six-year veteran of the program if he could think back to what initially got him involved.

SEAN MURRAY: I used to play around at school. And I didn't like to go to school and stuff. Like, I used to show up in the hallways, not really focus in class. And, my teachers thought like, that I was disruptive. You know, they thought I was a troubled youth. You know? So, here comes Kenton. Like, hey, we got a safe haven for you. You know you can come talk to me, you know. I dumped him the first time. I ignored him. And, he came back again. Just popped up in my life.

So, I was outside the school. He was like, come to the PAL I'm having this men's group meeting tonight. You should just pull up. You know? We're having pizza. So, I said I would go. You know? I ended up going. It was a cool, chill place. You know?

I got to relax, you know. Got to let people know how I was feeling and all that. And, eat free pizza. So ...

WATKINS: Was it hard, like letting people know how you were feeling, for example?

MURRAY: The way I grew up, yeah. I don't like telling people my feelings. I just close up. And, I ball everything up and usually explode. But, like, Kenton showed me it's better to, like, vent and let people know how you feel. You know, talk amongst each other. You know? So, we can all communicate and say, like, everybody ends up feeling the same way sometimes and how we can fix that solution. How we can fix that problem.

WATKINS: Kyle, you've been part of Make It Happen for a little more than a year.

KYLE LEACOCK: Almost close to a year, yeah. 

WATKINS: Close to a year. So, you've been doing this close to a year, now. How about your story. What brought you into this program.

LEACOCK: Cause, like, I wasn't like cooperating with my program like they sent ... cause, like, I got in trouble with the law. For me, after that, they sent me to ... I got accepted to a program after I did a little bit of time, for me. Then, I came ... they told me about this program. And, I'm like, oh. I didn't want to go to that program after ... so, I was like, damn, I gotta go another program. That's too much. Then, when I went, I felt like it was a space where I could, like, be myself. I could talk to people. They would treat you like you're family. Everybody would say, "what up" to you. If you come in on a bad day they try to make sure that you good.

So, I like people who motivate me. Like that type of energy.
 
WATKINS: So, what's different about the space here than for outside of it?

LEACOCK: Normally, like, I don't really get a space to, like, be myself. Like, outside, you gotta be somebody that nobody gonna wanna play with. But, like, in here? You can let all that bad energy go and focus on yourself. And, you can really know what you really need. Like ...

WATKINS: Are there aspects of the program that are really tough?

LEACOCK: They work with you, through everything. Like, no matter what the situation is, they gonna work with you. 

Shawn came to my court dates, all of that. He came to my other programs, just to see me. Just to make sure that we get that conversation--

MURRAY: Yeah. They do things that other people don't do outside, man. Like, they will hit you up and let you know, like, "hey, I haven't heard from you in a while. You doing alright?" Especially if you come to them with a problem. And, after you come to them with that problem, they haven't seen you in a minute. You know, they're definitely hitting you up to make sure that you're okay. Make sure that your situation's alright. You know, asking you if you need to come in. They're like, if you come in and you're hungry, come in and ask, you know, they got you. They make sure that you're good. They're family.

WATKINS: Was it easy to trust these guys?

LEACOCK: It was a little hard. Like, trusting Shawn, like a dude's I don't know. "Basically, I'm your mentor. We talk. You can tell me your problems, like, we can talk about your case. I won't tell nobody". And, I'm like, mm-hmm [skeptical], I don't believe that. But then, as it go on, I started, like, getting comfortable talking to him. I tell him a lot of problems ... they's some mad problems. And, he just listen. And, he still remember them. That's the best thing about them. You talk to them about your problem ... next session, next three sessions, they're still bringing that up. They will say, "you good on that?" And, when they listen, that means that they respect me. Cause, for me, they listening to what I gotta say. 

WATKINS: What do you guys find is more helpful? Like, a kind of one-on-one talk, with Kenton or Shawn? Or, as I understand it, you guys also do group work?

MURRAY: Both of them is actually helping. Like, the one-on-on conversations is like, if you have personal problems that you don't want to spread around, like, to the whole group; you don't want anybody else in your business. You know? You just want to talk to them about a personal issue that you have. You understand? 

But, like, a problem that you want the group to know about, too. You know what I'm saying? Everybody gives advice. Everybody. Like, everybody will put their two cents in and let you know. Like, "hey, this is how you go about the situation, this is how you fix it. This is how handle that". You know? And, like you leave with a new knowledge and you try to fix the situation that you're in. Or, you try to handle your problems.

WATKINS: Anything else you guys want to say?

MURRAY: Yeah.

LEACOCK: Yeah. I just remembered, now that he said that. We build sign in Brower Park. I never did none of that before. Like, they give me a new experience every time I walk past that park, drive past that park, ride past that park, I say, "I did that". We did that. I was the program. We did that. 

WATKINS: Wait. Can you describe it? What did you build?

LEACOCK: The art ... it's like art ... like it's shining off like the sun ... like, when the sun hit it, it's like a different color is coming out. It's, you gotta go past that to see. Once you drive past, you're gonna go, "Oh, I know what you're talking about".
WATKINS: So, that was Kyle Leacock and you can see a picture of the art work Kyle was referring to on the page for this episode on our website. We also heard from Sean Murray. 

Next up, I spoke with the Coordinators of Make It Happen, Kenton Kirby and Shawn Deverteuil.
 
Kenton is also the director of Clinical and Trauma Support Services at the Crown Heights Community Mediation Center. 

So, I started by asking him to explain trauma. Both in a clinical sense, and a daily lives of the young men he works with.

KENTON KIRBY: When I'm thinking about trauma, from a very broad sense, I look at it as something that's happen that's having a negative impact on someone moving forward. So, I would say, what happened to you today, is going to impact you for the rest of your life. Not coming from a lens of, "oh, you're troubled. You're problematic ... you're a problem now". It's just that, acknowledging that. The experience over-crossed a life trajectory; its impacted by the experiences that you have. Especially the work we do. Specifically working with young men of color. We have to acknowledge that there are individual instances that take place that can impact our ... these young men. But, also there's historical trauma that has happened in communities of color. 

You know, we have to acknowledge the community trauma. We have to literally understand how, also, racism and White Supremacy plays a role. And, trauma reactions. And, how, a lot of times the trauma reactions we're seeing out in our communities are misrepresented. Not as trauma reactions as, in fact, criminal behavior, adverse behavior as opposed to someone who needs help and needs support. 

So, I mean, I can ... you can tell by how the brain operates when experiencing a traumatic experience, especially when you layer on top of the ... on the brain that's normally developing, a layer of poverty, a layer of racism, a layer of all the historic trauma that's happening, in these communities. 

And then, the end result are ... is the stuff that we're seeing out here. Higher rates of incarceration in our communities. Higher rates of people, specifically men of color, that are behind prison walls that are living with undiagnosed mental health issues. Misdiagnosed mental health issues. Literally, just stigmatized as people who are problems as opposed to people who deserve humanity, to deal with whatever experiences that they had.

But, at the end of the day, the Mental Health System that Shawn and I are both clinicians and went to school and have those letters after our names. But, we are a part of that system. And, we have to, while tackling trauma, we have to look at it from a wider lens. Not just the stuff that we read in books. And, really kind of look critically at the communities that we're working with. And, if we see a six foot four black kid with tattoos on his neck, and he may be a part of a street organization, we're just not gonna assume, "oh this guy is problematic cause he's acting out". 

We're gonna look at him and say, "okay, what is going on? What is driving that outward behavior? What is their pain behind that? Is there a story?" 

And, for us, this is important for us to, kind of, go into that as opposed to retreat from it. And, standing behind what we call, Evidenced Based Practices and all this theory. When, in fact, a lot of that theory of Evidence problems have not been tested in our own community. But, for some reason, have been thrown down our necks. 

WATKINS: Shawn, how do you see the trauma that Kenton is talking about specifically playing out in the young men that you're working with?

SHAWN DEVERTEUIL: I would say that, that the trauma that most of our participants that I would see revolves around a negative experience that has been hard for them to cope with, I guess, externally or internally, though. 

These behaviors could be defense mechanisms for them. So, just taking that time, though and really reaching out ... I don't want to say, "digging", though ... but, that's kind of, in a way, what we're doing, though. We're digging, though, to help them process that they have experienced.

When I am working with our participants, I try to look for those things. Lead where they at, as we say with the Social Work terms. Yeah. That's something that really resonates with our participants, I would say.

WATKINS: So, it sounds like the intersection, with the Criminal Justice System happens when you have young men dealing, or not dealing, with their trauma. It can be mis-recognized by the Criminal Justice System? I mean, as sort of violent behavior? Have I got that about right?

KIRBY: Yeah, I would say that. I mean, I'm also about ... let's be honest, people need to be held accountable for their actions. But, there's also that other end of the action. Right? 

I think of, I had a young man ... we had a young man in this program who was open court case. And, while he had his court case, he was assaulted, viciously. Unfortunately, he was left to die. He survived. Missed a few court dates. Then, his first date ... time back in court, the first thing the judge says was, "what did you do to have that happen?" 

That type of language, being shared with someone who was a victim of a crime, ... imagine if that was a rap victim. Imagine if that was a veteran who was got shot while he was in the line of duty, who we honor. We always say things like, thank you for your service. 
But, this young man, who may have had a situation that led him to be caught up in the system ... his story doesn't matter as much. His life experience, outside of the system is, less than. He's not ... his humanity is not valued. 

Understanding that, you know, a lot of the acting out that we're seeing, going back to brain development. Right? And, how to have the brain responds to trauma. 

But then, also, understand that these young people who come through our doors. They're between ages 16 and 24 and brain development isn't complete, at that point. 

And, especially a part of the brain development that is around making better decisions, around making decisions. So, now you have that very simple, kind of, disconnect. But then, adding all of the other stuff I mentioned before. Trying to stay safe out in our community.

I mentioned one of the young men that was ... that you spoke to earlier, said that, "yeah. There's certain things that I can't ... I can't do certain things outside. I can't be vulnerable. But, I can be vulnerable in this space". 

That lack of ... that desire not to be vulnerable out in the community is what's actually keeping him safe. And, we have to acknowledge that. And, our job here, is to give our young men the tools ... understand, that to acknowledge that, that's their reality. But, to also expand that reality. And, kind of say, listen there are other ways that you can navigate the world that you're currently living in, in a way that will definitely get you to a place where you can heal and actually not get caught up in that cycle.

That's actually continued to re=traumatize you over and over again. 

WATKINS: You guys have a real focus on masculinity and rethinking ideas on masculinity. So, why that particular focus?
KIRBY: A lot of our young men are emotionally stunted. Emotionally stunted in the sense that they don't fully understand their entire emotional experience. So, I mean, I always use the example of a little boy learning how to walk. And he falls. And, the first thing he does is, he looks around, he's getting ready to cry, and everybody says, "get up boy, don't cry". That's your blueprint on how you navigate the world. So, at that point in life you're told, boys don't cry. That's not an emotion that you show. 

But then, you add, kind of, the community expectations of these young men, adding, kind of, the systems expectations on top of adding violence and all those things around. There's no space to let that be seen. There's no space to let sadness or anything beyond anger, or quote/quote baseline behavior be seen. 

So, you get a kid who is in third grade and he starts, he's embarrassed by something ... maybe, he's a smelly kid in class. Cause they're teasing him. So, instead of saying, I'm embarrassed and understanding what that feels, he throws a chair.

Now, the teachers say, he's angry, he's oppositional defiant, and then, that's when the kind of cycle ... that's when it starts. Right?

So, our point here is, we really, in our groups, the curriculum is focused our young men understand their emotional experience. 

But, also, be mindful of all the world around them and the things that they're faced with. 

We've had young men who have come in here and couldn't even, like, verbalize their anger. They would, literally, come in and start scratching themselves. And, I could tell that they were upset about something. I could tell that there was something going on. But, the young men could not put the words out there. And this is a 17-year-old man who has ... should be able to do something like that. But, he was so stunted in his emotional intelligence we had to really do a lot of work with him.

Now, he's to the point where he can actually explain himself a lot ... much better. He's not there yet, fully. But, I feel like, we all as men, have a long ways to go when it comes to this. Even us as the service providers that are really focusing on this. This is our journey too. We're learning as we're going here, also. 

We feel like we help our young men understand their emotional experience a little better. That'll impact the decision ... the decision that they make out in the community, when they're faced with adversity.
WATKINS: We also have this notion that cities are becoming safer and safer places. But, to what extent are the young guys that you're working with ... are their lives still permeated by violence? Is violence pretty frequent? Something that they're familiar with?

DEVERTEUIL: I would say, yes. Because, there are some of our participants that have to navigate where they go every single day, just to feel safe, though. For instance, I could think of a participant of ours which could easily be, let's say, ten to fifteen minutes travel, to our office. It could easily turn into 30 minutes because certain places he can't go or he can't walk down a certain block. Because, he understands that if he goes this way, he puts himself in a greater risk of, I don't wanna ... well, just finding himself in a situation and what you have to avoid, though.

KIRBY: It goes back to ... there's a thing called Assertive Community Treatment in the Mental Health world. What it is, is you provide intensive in the community, therapeutic services to people with severe and pervasive mental illness, who have historically have a history of not following up, post discharge, from long-term hospitalizations. 

We're using that same type of thinking in our work. Our focus is really, kind of, building trust by going out and bringing interventions to them. 

WATKINS: Just so people have a really concrete sense of what Make It Happen consists of and the curriculum and the program, can we just run through a few of the principle activities and strategies that you guys employ.

KIRBY: Make It Happen. We run two types of groups. One of the groups is our Masculinity and Trauma group, which is a ten week curriculum that we developed in house. Then, we also have a S.E.L.F. group, which is part of the Sanctuary model. And, it's an acronym for Safety, Emotions, Loss and Future. 

The Masculinity and Trauma group is combination of psycho-ed and processing. And the S.E.L.F. group is really about psycho-education. Helping our young men understand their experiences, by using this acronym. Right?

We understand that with trauma work, it's really important to help people understand what they're experiencing. It's important to understand, okay, why am I hyper-vigilant, right now? Why am I having a hard time sleeping? And, really, kind of, giving that information to them. So, we get that in the S.E.L.F. groups.

Our individual therapy is very eclectic, in our approach. Like I said earlier, we're very PERSON centered. So, we definitely borrow from a number of quote/unquote Evidenced Based Practices. But, we don't follow the individual  to the letter--

WATKINS: And, why not? Because, it's important that things be tailored to the community you're working in?

KIRBY: Exactly. Because ... just because we have two 17-year-old kids come in through these doors with similar issues on the surface, doesn't mean the same interaction ... intervention has to take place.

And so, it's important to us to use those EBPs and bits and pieces of them to inform the work that's going to be truly PERSON centered. But, we also provide case management services and our work ... and that is actually serious ... super important because, we can't expect our young men to kind of sit here and process their trauma history, or whatever it is. If they don't know where their next meal is going to be coming from, where they're sleeping that night, where there going to be safe going back to their community.

So, really leading with, okay, let's get these immediate needs met and then coming together for a plan. To then get you to a place where, okay. Let's start now. Let's start processing. 

And also, we walk with our clients through the systems that they have to navigate. So, a lot of our clients have court cases. So, we go to the court with them and if everyone has ever been inside a court room, you sit around all day. You stand in front of a judge for 30 seconds, a bunch of people are talking around you, about you. And then, your attorney is running out, says one or two things to you and you have a card that says, oh come back in six weeks and you have no idea what just happened.

Our job in that space is really to kind of fill in the gaps and kind of help our young men to understand what is going on. And then, also, to be that advocate for them. 

And so, we write letters of support to our ... to the court. Alright? And, we let it be very clear that, we're going to highlight all the great things these young men ARE doing. Because, at the end of the day, you'll definitely figure ways to talk about all the things that they're NOT doing. Alright? 

So, we're going to highlight the entire person as opposed to the person that's coming in front of you because of an event. 

DEVERTEUIL: I guess I could probably add the man in the storm. Where I will have our participants ... I'll have them draw themselves in the storm. So, for instance, I'll have a participant who will draw himself with a big cloud just over him. And, he has a really tiny umbrella that's not covering his whole body and he's getting wet. And, it's only raining on him. 

And, as we're having a more and more sessions, I can easily go back to him; and like, remember the drawing that we did? And then, I can easily talk about, like, what exactly and why did you draw it this way. Or, there is certain things I notice in it. Do you notice it now? 

So, that's one thing that I see myself utilizing sometimes, with our participants. And, I think that, it works well.

WATKINS: So, that was Shawn Deverteuil. And, before Shawn, you heard from Kenton Kirby. Together they run Make It Happen. That's our program for young men in Crown Heights, Brooklyn who have been affected by violence. 

I also want to thank Kyle Leacock and Sean Murray for generously sharing their experiences for today's episode. For more information about Make It Happen, you can visit our website. That's at https://www.courtinnovation.org. 

Kelly Crichton and Rob Wolf provided editing help and technical support was from Bill Harkins. 

This has been the New Thinking Podcast, from the Center For Court Innovation. I'm Matt Watkins. Thanks for listening.