NEWARK, N.J.—Community and government leaders of Newark, N.J., celebrated the official opening today of Newark Community Solutions, an innovative justice project that applies a problem-solving approach to non-violent cases in the Newark Municipal Court.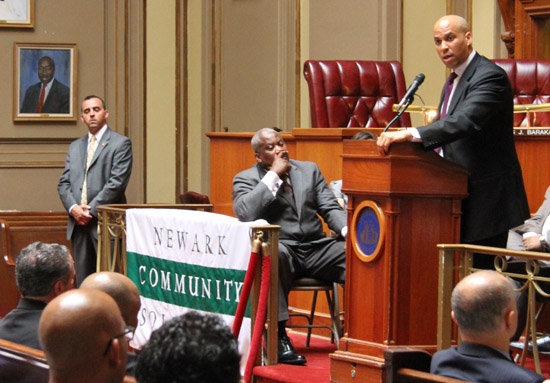 Before a standing-room audience, representatives of the judicial, executive, and legislative branches praised the initiative, which provides increased sentencing options for non-violent offenses, such as drug possession, prostitution, and shoplifting.
Mayor Cory A. Booker said Newark Community Solutions reflects his commitment to supporting a justice system that is more restorative than punitive, that works toward "ending cycles of recidivism by creating positive change and empowering lives."
The initiative is a project of the City of Newark, the Newark Municipal Court, and the Center for Court Innovation, in collaboration with the New Jersey Institute for Social Justice and the Center for Collaborative Change. Major funders include the Bureau of Justice Assistance at the U.S. Department of Justice, the Nicholson Foundation, and the New Jersey State Bar Foundation.
Business Administrator Julien X. Neals called the years of planning that preceded the launch "a group effort" that brought together not only a diverse array of planners but the three branches of government, the federal Department of Justice, and numerous community representatives, both groups and individuals.
Newark Community Solutions operates in the Newark Municipal Court, the largest municipal court in New Jersey, where seven courtrooms and thirteen judges serve a population of 285,000. By combining punishment with help, Newark Community Solutions seeks to reduce the court system's reliance on ineffective fines and expensive short-term jail sentences and build public confidence that the system is holding offenders accountable and delivering the assistance needed to prevent further criminal conduct. 
Several speakers cited as inspirational a number of successful community courts, like the Red Hook Community Justice Center, which have reduced local crime, improved compliance with alternative sanctions and strengthened the connections between courts and communities.
"We couldn't be more proud to support such an exciting project as Newark Community Solutions in its unique efforts to apply problem-solving justice to an entire city, while at the same time fostering bonds between the court and the community," said Kim Ball, senior policy advisor in the Bureau of Justice Assistance at the U.S. Department of Justice. "This is indeed as ambitious as any community justice initiative we've been part of, and the City of Newark deserves great credit for undertaking such efforts."
Municipal Court Judge Victoria Pratt, who presides over Newark Community Solutions, said that one of the keys to the project is that it treats defendants with respect. "What is it about this program that someone with over 50 arrests can come into the court and say, 'Judge, this is the first time I've entered a court through the front door'? It's because the defendants feel they're being treated with respect and dignity."
Another key is that Newark Community Solutions offers an array of community service and social service options—including educational assessments, group counseling, treatment readiness programs, and monitored placement in community-based treatment—intended to get at the root of a defendant's problems. "I now have an extraordinary opportunity to look at a defendant holistically and respond in a way that's meaningful to the process and the defendant," Pratt said.
Other speakers at the opening ceremony included Municipal Council President Donald M. Payne, Jr., Chief Municipal Court Judge Richard E.A. Nunes, and the Rev. John W. Rice Jr. of Horizons Community Development.
In the long run, Newark Community Solutions has two principal goals: to change sentencing practice and to improve public perceptions of justice. It's anticipated that the project will coordinate and monitor alternative sanctions for 3,500 defendants in its first year of operations. 
As part of the early planning process, nearly 350 citizens from all five of Newark's wards participated in more than 15 community dialogues where they articulated their priorities and identified a range of public safety issues that adversely affect their neighborhoods.  Participants strongly endorsed the idea that visible community service, particularly when coordinated with local community-based organizations, could help restore neighborhoods.
Editorial: Newark Star-Ledger endorses community court
Article: Newark introduces court program to offer community service for minor offenses