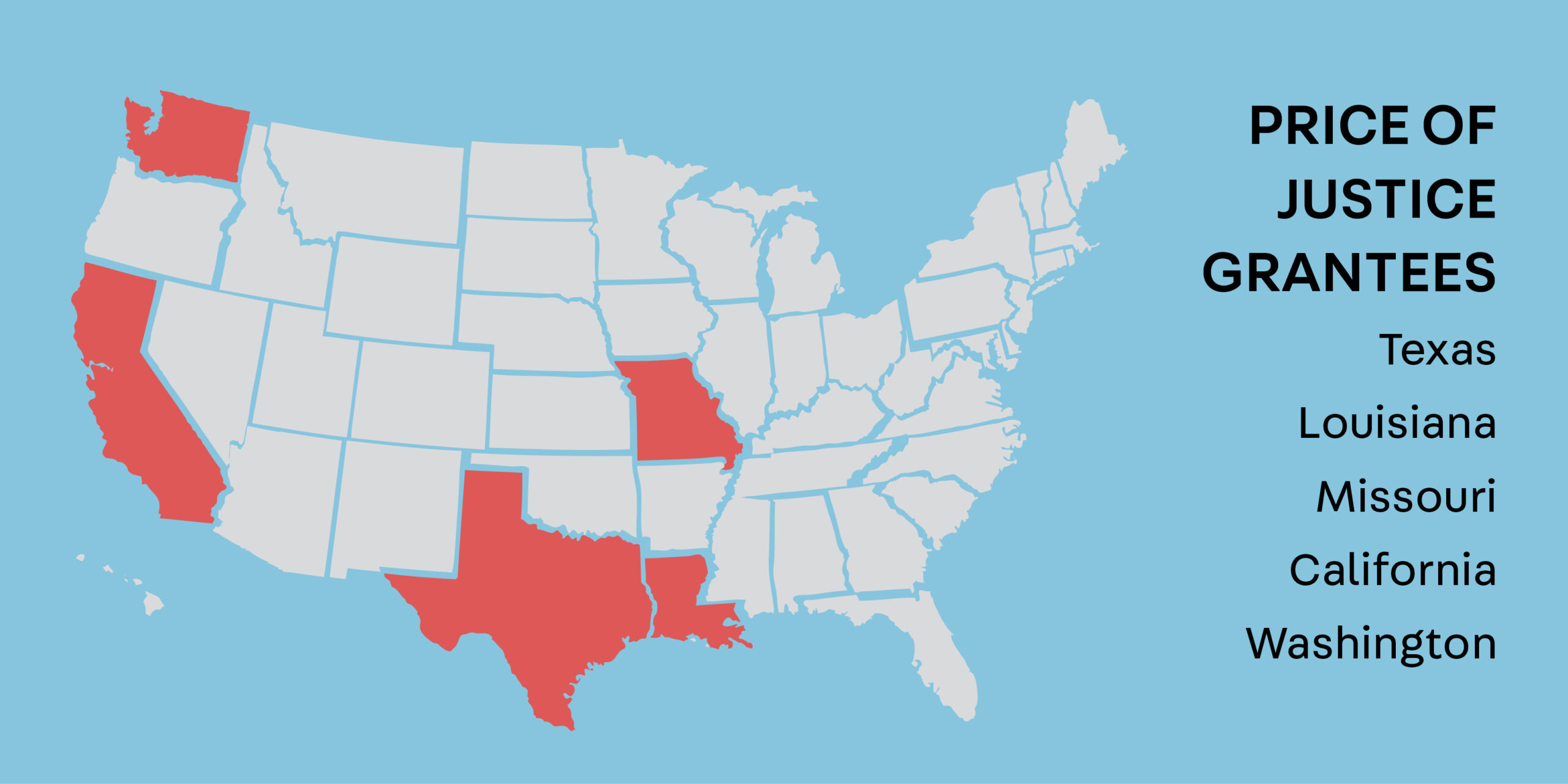 Yolaine Menyard and Chidinma Ume of the Center for Court Innovation answer questions about the Price of Justice Initiative.
Menyard serves as clinical advisor to the Center's policy and research team and associate director of Research Practice Strategies. Ume serves as deputy director of policy for the policy and research team. The Center for Court Innovation has been helping to implement the Price of Justice Initiative with the support of the U.S. Bureau of Justice Assistance.
What is the Price of Justice initiative? What problem does it seek to address?
The Center for Court Innovation is working with five states—California, Louisiana, Missouri, Texas, and Washington—to address criminal justice debt as part of the Bureau of Justice Assistance's Price of Justice Initiative. The three-year project was launched in 2016 to create and implement strategies to reduce the states' reliance (as both punishment and income) on criminal justice fines and fees. The use of fines and fees has grown dramatically in recent years and tends to place disproportionate and harmful burdens on litigants who are poor or from communities of color. Among the impact of fines and fees:
The California Department of Motor Vehicles estimated that in 2016 more than 612,000 suspended driver's licenses had been suspended for unpaid court-ordered debt.

Although courts in Texas have statutory authority for discharging legal financial obligations through alternative means, such as community service or a waiver, less than two percent of convictions in 2015 were resolved using such options.

In Washington, just one quarter of inmates reported having some type of legal financial obligation in 1991; by 2004, that number had increased to nearly 66 percent. Similarly, the number of open accounts in the Superior Courts had grown. In 2006, there were 363,875 open accounts for court-ordered legal financial obligations in Washington's Superior Courts, and by 2012, that number had grown by nearly 33 percent to 483,725 accounts.
The City University of New York's Institute for State and Local Governance is working in partnership with the Center to assist states in developing performance measures for initiative.
What are the goals?
The main goals of the initiative are to help states determine the appropriate role for fines and fees in the justice system and implement practices that are fair and effective.
Many jurisdictions overuse fines and fees, placing crippling constraints on litigants (through, for instance, the use of jail for nonpayment, damaged credit scores, and late fees that fuel an endless cycle of debt). By implementing improved practices, the initiative hopes to:
Eliminate jail as a punishment for nonpayment.

Find/promote greater use of alternatives to fines and fees.

Increase data collection and awareness among justice agencies about the fines and fees they've imposed and the amount of money they've actually collected.
Eventually, the participating states will serve as models for other states wishing to change their use of fines and fees.
Why is data collection and sharing important?
Many jurisdictions rely on fines and fees to fund a portion of their budgets. But research has shown that much of the money they expect to receive never arrives—a significant portion remains uncollected or is diverted to other budget lines. In addition, it's unclear how much money jurisdictions ultimately recoup, especially when they spend additional sums on staff, paperwork, or collection agencies to enhance their collection efforts. An analysis by the Brennan Center found that a North Carolina county in 2009 arrested 564 individuals and jailed 246 of them for failing to pay debt, but that the amount of money ultimately collected was less than what it spent on their incarceration.
Gathering accurate data about collection rates will spell out the inefficiency of the current system and make it easier for jurisdictions to move away from excessive reliance on fines and fees.
What are the consequences of fines and fees on litigants and communities?
When fines and fees are imposed on people who are least able to pay them—as they so often are—they plunge litigants into spirals of debt. Defendants who are unable to pay their fines and fees are often charged additional collection fees and surcharges with high interest rates, making it even harder for them to fulfill their obligations. Nonpayment can lead to future arrests, incarceration, revocation of a driver's license, and challenges in obtaining or maintaining employment. This kind of long-term legal debt destabilizes the lives of low-income people and their families, and, by extension, their communities.
What's the difference between fines and fees? Is one more problematic than the other?
A fine is imposed as a sanction for committing an offense. A fee is a service charge for using the justice system, regardless of your conviction status (e.g., guilty or innocent). Fees have been charged for a wide range of things, including appearing in court, obtaining a public defender, being on probation, or being placed on electronic monitoring.
Fines and fees together are sometimes referred to as "legal financial obligations" or "criminal justice debt."
Some argue that fines can be a legitimate tool for holding someone who has committed an offense accountable, provided they are proportionate to the offense and take into account their ability to pay. Fees are generally considered more problematic because they're charging someone to take advantage of their right to access the justice system. Access to justice is a fundamental right that for which people should not be charged.
Is there an argument for keeping fines and fees?
The argument governments and agencies make to keep fees is that they're necessary to fund basic operations. Smaller jurisdictions with fewer resources may feel especially dependent on them. The counter-argument is that many places are not getting nearly as much from fines and fees as their budgets claim. A huge portion goes uncollected and efforts to collect—including imposition of jail and the hiring of collection agencies—saps resources further.
As for fines, some argue that they're better than jail or community service, both of which cost people time away from other things, including important obligations like work. Some find community service onerous and arbitrary, since the formula for translating a fine into hours of service  can be seen as lacking in transparency or proportionality. For those who can afford it, fines are often a more desirable option than other sanctions.
Why now? Why has this issue risen to the forefront of justice reform?
The use of fines and fees has expanded hand in hand with the increase in reliance on incarceration, but use of fees spiked significantly after the 2008 recession when governments turned to them to help fill budget holes. Since 2010, 48 states have increased fines and fees in both criminal and civil court. Starting around 2014, a number of studies amplified the devastating effect fines and fees were having on people and communities. The shooting death of Michael Brown in 2014 in Ferguson, Mo., also drew nationwide attention to that city's practice of relying on fines and fees—imposed disproportionately on people of color—to fund operations.
What ideas have emerged as a result of the initiative? 
Most of the five states have been developing ability-to-pay calculators, which will help judges make more informed decisions when using their discretion to impose or adjust a litigant's costs. California and Washington are furthest along in implementing calculators. The California calculator allows people to submit information about their income online and request a modification in their financial obligations—for instance a reduction in the total or a payment plan. The Washington calculator also allows judges to easily identify which fees they have the discretion to waive.
Some states are also trying to develop alternatives to fines and fees, such as opportunities to perform community services in lieu of legal financial obligations. However, some have expressed concern that a community-service alternative creates a two-tiered system—ensnaring those who can't pay in a labor obligation that can take hours or days to fulfill. These states are working to identify more accessible and meaningful alternatives and determine the role that technology can play.
What have been the challenges?
Key challenges have included making the case to state and local legislative bodies that fines and fees are not an effective or fair way to fill budget holes. Another challenge has been working with varied data systems used by different counties within a state. Because so many local jurisdictions use different computers and programs—often ones that are years and sometimes decades old—it can be difficult to integrate new software, such as an ability-to-pay calculator.
In addition, many states do not have unified court systems. This makes it next-to-impossible to have all counties adopt the same practices or policies.
Where do you see this going next?
Hopefully, the lessons learned from this initiative, and the efforts of the five states, will lead other states to pursue their own reforms.
In addition, this initiative focused on only a portion of fines and fees: those connected to traffic and low-level offenses. But if funding becomes available down the road, there are other fines and fees—such as those associated with more serious crimes, for accessing a public defender or for being on probation—that are also ripe for reform.
Learn more about our work creating alternatives to fines and fees.