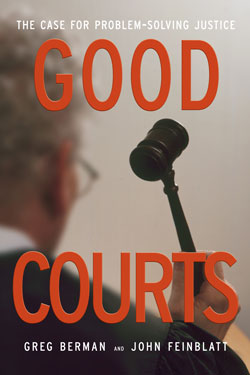 American criminal courts are in desperate need of reform. Public confidence in justice is at an all-time low. Victims, communities and even offenders see courts as unable to respond effectively to complex social and legal problems like drugs, domestic violence and quality-of-life crime. Even many judges and attorneys think that the courts produce assembly line justice.
Increasingly embraced by even the most hard-on-crime jurists, problem-solving justice offers an effective alternative. As documented by Greg Berman and John Feinblatt—both of whom were instrumental in setting up New York's Midtown Community Court and Red Hook Community Justice Center, two of the nation's premier models for problem-solving justice—problem-solving courts re-engineer the way everyday criminal justice problems are addressed. Community courts, domestic violence courts, mental health courts, and drug courts focus on the underlying problems that bring people to court, offering a more effective response to crime.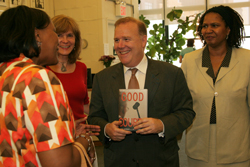 Greg Berman and John Feinblatt, in their new book Good Courts, put forward fundamental reforms to restore accountability and legitimacy to our criminal justice system.
— Mother Jones
Originally published by The New Press, Good Courts has been re-issued by Quid Pro Books with a new introduction by New York State Chief Judge Jonathan Lippman. Good Courts is the first book to document the movement toward problem-solving justice. The authors offer case studies from the field; review the growing evidence that the problem-solving approach is effective; and tackle the principal criticisms that problem-solving reforms have generated.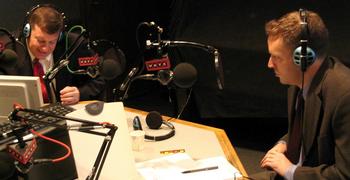 Sociologists and those within the legal system will no doubt be intrigued by this accessible and provocative call for change.
— Publishers Weekly
Good Courts has been used as a text book in graduate-level courses in law, criminal justice, and public administration, including classes at John Jay College, Brooklyn Law School, Fordham Law School, University of Maryland Law School and others.

Order from: Amazon, Barnes & Noble, Apple or Google.
Praise
Berman and Feinblatt's work presents a thought-provoking assessment of problem-solving courts that will be of interest to political scientists and sociologists and to court practitioners.
— Justice System Journal
Good Courts concludes by asserting that problem-solving courts offer a rare beacon of hope within the criminal justice system.  This is a message that should be heeded by all who seek to improve the courts.
— Commonwealth
Good Courts is an excellent, up-to-date introduction to the possibilities of problem-solving justice.
— Court Review
This book is recommended to anyone from the bench or bar who has come into contact with problem-solving courts.
— New York Law Journal
Good Courts makes a compelling case for reforming the American court system...The authors are pioneers in a reform project that [offers] a vision of a radically changed criminal justice in the United States.
— The British Journal of Criminology
Good Courts is an important new book from veteran New York City practitioners Greg Berman and John Feinblatt.
— Community Corrections Report
Good Courts is a well-written book...citizens, lawyers, judges, court administrators, politicians, and academics alike will find it useful.
— Criminal Justice
Good Courts is an informative and timely book on an important subject. It is also a good read.
— Judicature
Highly recommended.
— Domestic Violence Report
The book is written in a punchy, straightforward style that argues forcefully for problem-solving, not revolving doors.
— Law and Politics Book Review
This is a well-informed and well-argued book that should be welcomed as a substantial contribution to scholarship on American courts.
— Criminal Justice Review
This well-written book presents a fascinating inside look at experimental projects designed to render our court system more effective for all participants.
— Public Administration Review
A fine book. Berman and Feinblatt are likely the two most knowledgeable people in this field and their insights should be read by anyone interested in criminal justice in America.
— Michael Jacobson, author of Downsizing Prisons
An excellent documentation of a powerful movement. In a wonderfully straightforward, jargon-free style, Good Courts documents and explains this movement.
— George Kelling, author of Fixing Broken Windows
A gem of a book.
— Frank Hartmann, John F. Kennedy School of Government, Harvard University