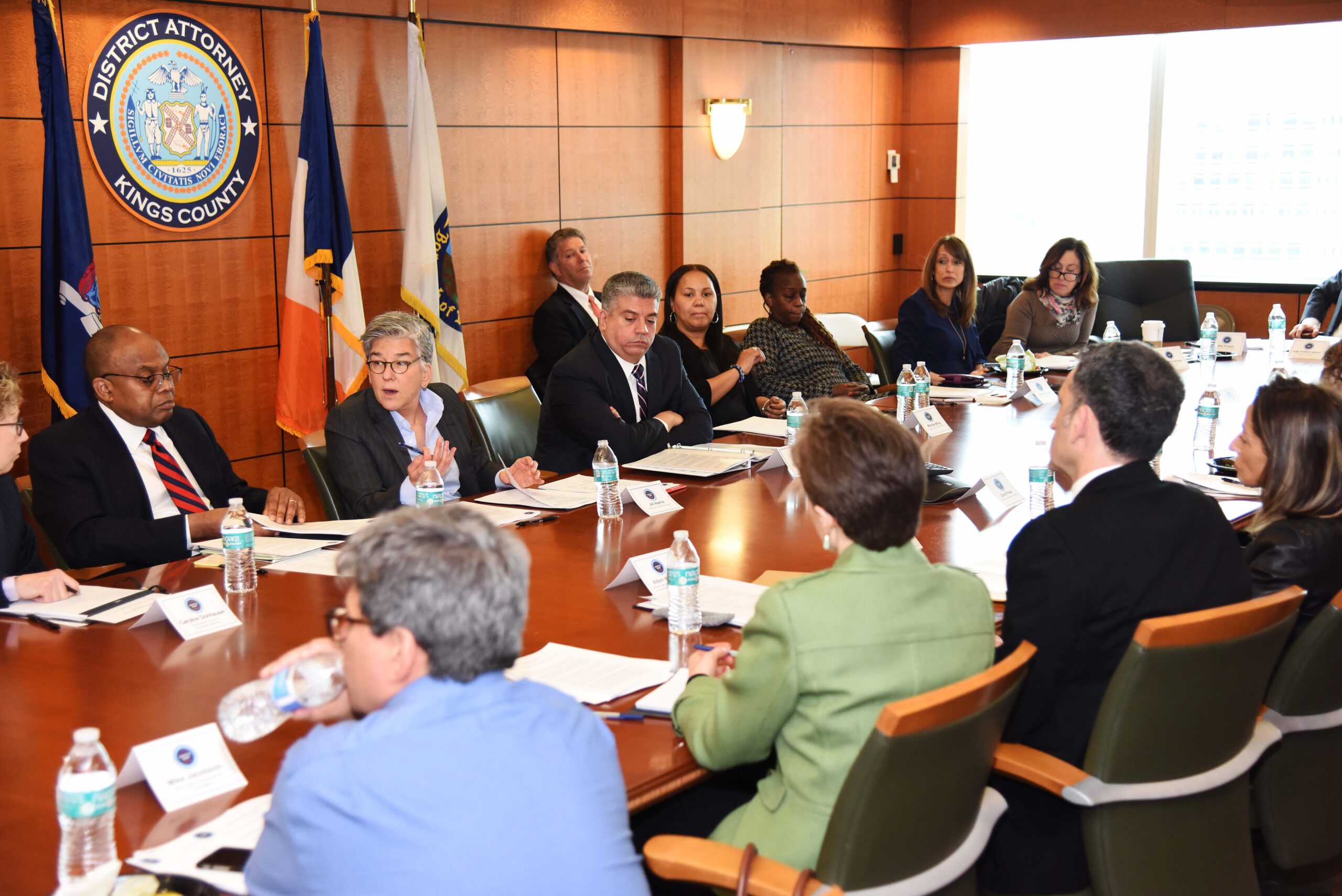 What is the message that a prosecutor gets at each stage of their becoming a prosecutor? What do we tell them their job is? If all we're measuring are felony convictions, then we're going to try and get more felony convictions.
A former public defender and long-time criminal justice reform advocate with both the Drug Policy Alliance and the American Civil Liberties Union, Jill Harris says she is "shocked to find myself working for a D.A." As the recently named policy and strategy counsel for the Brooklyn District Attorney's Office, Harris is heading up its "Justice 2020 Initiative," a big-tent effort to model "what a truly progressive prosecutor's office can be" (including two members from the Center for Court Innovation). The areas targeted include everything from increasing the use of alternatives to incarceration to reducing racial disparities in the justice system.
For this third installment of our series on the power of prosecutors and the possibility for reform, Jill Harris sits down with New Thinking host Matt Watkins. Together they discuss the challenges of changing the culture of prosecution, what it's like for Harris to now be on "the other side" at a moment when prosecutor decision-making is being subjected to an unprecedented degree of public scrutiny, and what she sees as a possible turning-point in the debate. "The extent to which both reformers and funders have turned their attention to prosecutors' offices," she notes, "it's just really remarkable that change has occurred in a really short amount of time."
The following is a transcript of the podcast:
Jill HARRIS:
What is the message that a prosecutor gets at each stage of their becoming a prosecutor? So who do we hire? And then when they come, how do we train them? What do we tell them their job is? If all we're measuring our felony conviction rates, then we're going to try to get more felony conviction rates. 
Matt WATKINS:
Welcome to New Thinking from the Center for Court Innovation. I'm Matt Watkins. Today, we're continuing our series on the power of prosecutors. Our first episode was with John Pfaff. He argues in his book, Locked In, that prosecutors are the main actors responsible for the era of mass incarceration. Next, was Scott Hechinger, a prominent public defender in Brooklyn. He explained the way prosecutor power is used often, unfairly he thinks at each stage of his client's cases. Today to get the perspective of a prosecutor's office I'm delighted to be joined in studio by Jill Harris. Jill is the policy and strategy council with the Brooklyn District Attorney and the head of its Justice 2020 Reform Initiative. She also has for a prosecutor's office, an unconventional background, and I think it's one that makes her a great person to reflect on the possibly shifting role of the prosecutor today. Regular listeners might also recall that Jill was part of our recent episode on Rikers Island in the Bill Moyers-lead documentary. Jill, thanks so much for joining me today.
Jill HARRIS:
Thanks for having me.
Matt WATKINS:
So I've done my research. I noticed on your Twitter biography that you described yourself as shocked to find myself working for a DA. And you do indeed have three decades of work behind you dedicated to reforming the justice system. You were a public defender, you worked at the Drug Policy Alliance. You worked for the ACLU. Now you're working as it were for the man. What should we read into this?
HARRIS:
Well, I think it says a lot about my boss, Eric Gonzales, the Brooklyn District Attorney, that he hired me with that background. I had a meeting with him before I joined his campaign staff where he just pretty much blew my mind, the extent to which he had thought about the same issues I was thinking about, just the extent of his knowledge about all of these things that you've been talking about in this series of podcasts. And so he just felt like somebody who I could help and who once he was elected would make real change and I want it to be a part of that.
WATKINS:
And so you've, as I mentioned, advocated for a long time for reform of the system. Now you're inside that system somewhat. And it's also at a moment when the prosecutorial system is being subjected to a really quite remarkable amount of, I hope, productive scrutiny. And I'm wondering what you make, I mean, in part based on your experience of being a reformer, but what you make of this particular moment right now.
HARRIS:
I think it's remarkable, really a long time coming, and I'm surprised at just sort of how quickly things have turned. It wasn't really that long ago that incoming prosecutors had an over 90% re-election rate. And the level of scrutiny that those offices received was basically nothing unless you were really engaged in these issues. And the extent to which both reformers and funders have turned their attention to prosecutors' offices, and also just people in communities, and people who care about social and racial justice have looked at it, it's just really remarkable and that changes occurred in a really short amount of time.
In terms of Professor Pfaff's book, I think I agree for the most part that prosecutors have been the drivers of mass incarceration in a lot of ways. And on a lot of levels in this country, the whole tough-on-crime mass incarceration trend has been starting to be reversed on a lot of levels. There's just a kind of a bipartisan consensus now that incarceration shouldn't be kind of the default response to any kind of crime. There is tremendous bipartisan and widespread consensus that people with drug problems, for example, shouldn't be incarcerated, that drug use should be treated as a health issue.
WATKINS:
A big part of Pfaff's critique of prosecutors is this portrayal of them as the gatekeepers of the system, with the focus being on the decision made whether and at what level to charge people. Whether they're charged with a misdemeanor or a felony, for example, obviously, it has huge knock-on effects all down the line. And that's something that Scott Hechinger, the public defender I spoke to also highlighted. So I'm wondering if you share that view of the prosecutor as a kind of gatekeeper, do you see charging as a kind of outsized power that prosecutors have? And I'm just wondering, is that something that is on the radar? I mean, is it something that's amenable to reform, I guess?
HARRIS:
Well, I think it's important. I think it's critical. I agree that those decisions, those charging decisions have impacts all the way down the line in a case. It's an enormous amount of power that the prosecutor has at that stage. What was the term you used, outsized power or inappropriate power or something?
WATKINS:
Yeah. I guess, I mean, there's a portrayal that prosecutors have a kind of unfettered discretion.
HARRIS:
Well, I don't know who else in the system the power should be in other than the prosecutor. I mean, that's the role of the prosecutor and there are checks on it. The courts review grand jury minutes, and they review charges, and applications can be made to reduce charges for the insufficiency of charges on the part of defense. So there is some review of it. People can argue about how meaningful that review is, but I don't know if I would call it outsized. But it is something that prosecutors need to be very thoughtful about. They need to be aware of it. They need to be mindful of it. And I think that in the Brooklyn DA's office, that's one of the things that has happened and is continuing to happen. The DA is very interested in having his assistant district attorneys not think of themselves simply as case processors, which characterize the practice in the past I think. You just have a file and you just have to dispose of it. And it doesn't even feel sometimes in that context, like it's attached to a human being.
He said to them specifically, I want you to be thinking about each case. I want you to be thinking about the defendant as an individual. I want you to be thinking about the victims and what they might need. I want you to be thinking about what is the public safety goal that we're trying to achieve with this case, and what is the outcome that's going to come closest to achieve it? And also another thing that is very important to him and important in this conversation is what does the community want because what the community wants or thinks they want or says they want has shifted too, partly as a result of crime, crime rates being lower, and the feeling of more safety. So there's more room for different ways of dealing with cases, I think, and more tolerance, I guess, for sort of what we might call alternatives to incarceration.
WATKINS:
So the goal for prosecutors then should be justice, not merely convictions, which you can enunciate from the top, but how are you finding that that message is filtering through? I mean, something that's come up on this podcast before is this idea that you can have great ideas for how you want to change things, but culture eats strategy for breakfast. So yes, Eric Gonzalez can say he wants these changes. What happens with the assistant district attorneys who are actually in the courtrooms, and how are you finding navigating that challenge?
HARRIS:
So at this point, I think I want to talk about the Justice 2020 Initiative, which grew out of the DA's transition when he became elected. Even though he was nominally the accumbent, he'd been there for close to a year after his predecessor died, after Ken Thompson died. He wanted there to be a transition. He wanted to signal that he was going to be doing things differently, even differently from what Ken Thompson did. And Ken Thompson was a reformer and did a lot of really important reforms. Justice 2020 grew out of that. He brought together over 70 nationally recognized experts on criminal justice reform.
WATKINS:
Including I should say, a couple of people from here in the interest of full disclosure.
HARRIS:
Including a couple people from CCI. Absolutely. Some of those individuals are people who are well-known and are involved in discussions like this with the district attorneys all the time. Some of them were people who you wouldn't necessarily think the DA would want to hear from, some very progressive reformers who may not always even be supportive of the DA in some ways, politically or in terms of his policies.
WATKINS:
It's a very big tent list, I must say.
HARRIS:
Correct. Members of the community, members of the clergy. And they came together and were basically told by the DA think big. I'm committed to public safety. That's my number one commitment. I'm committed to improving and strengthening community faith in the criminal justice system. And I want to do that by ensuring fairness and equal treatment for all. Tell me how I'm going to do that. Tell me what are the things that you think my office should be doing. And there were 13 subcommittees on case processing, and ethics and professional responsibility, data and transparency, drug policy, mental health, youth, gender-based violence. I mean, there were 13 committees, very wide-ranging issues that the prosecutor's office should deal with.
But the specific question was about culture change and about how change comes down from the top. And so that's one of the things that Justice 2020 sort of tackled head-on. The leading recommendation from the Committee on Alternatives was that the DA's office engage in a process of culture change so that every DA would think that incarceration was the alternative, as opposed to the way we think about it now. And we've got sort of alternatives to incarceration and incarceration kind of feels almost like the default.
And I've heard the DA talk about how in his experience, in his own personal experience, as a DA, you get a file and it's like, okay, this person did this crime, this person has this record, that's worth this amount of time. The Justice 2020 Alternatives Committee sort of asked us to turn that on his head and to start out with the assumption that we're not going to incarcerate this person, and what are the things that we can do, and sort of think all of that through and have all of that inquiry happen so that we might come out at the end thinking that incarceration is appropriate, but it's after all this other thought has gone into it.
And so that is going to be a process of training. We're going to be coming up with ways of kind of looking at what is the message that a prosecutor gets at each stage of their becoming a prosecutor. And by that I mean, what do we say when we go to a law school and recruit people? Who are we looking for? Who do we hire? And then when they come, how do we train them? What do we tell them their job is?
So one of the things that we need to do, and we've talked about it, and the Justice 2020 committee folks grappled with it, what are the metrics? How do we measure success? If all we're measuring are felony conviction rates, then we're going to try to get more felony conviction rates. So we do reward that. We do say good job when people get convictions, but we also need to recognize the person who went through a bunch of extra work to figure out that someone who the police had arrested was wrongly arrested and we need to reward that person, or the person who realizes that somebody who's been in a drug treatment program, has been in the program over and over and over again and he keeps failing it, and instead of just saying, you know what, you didn't succeed in the program, we're going to put you in prison now or we're going to put you in jail now, says, well, let me take a closer look.
Why is it that that person isn't succeeding in that program? Maybe there's some impediment that's an easy fix. Maybe the person needs another program, maybe the services that are being offered there, aren't what that person needs. That takes work and time and energy, and that person needs to be rewarded for kind of conducting that inquiry in such a thoughtful way. So we are thinking about other ways to reward the actions of the ADA's in the office and other metrics that we're going to integrate into training, into the evaluations, into promotions. And that's how we're going to make that change.
WATKINS:
And you're the person shepherding this whole Justice 2020 Initiative, so I'm wondering what kind of reception are you finding that you're getting when you present these ideas and these new imperatives to the larger office, so to speak?
HARRIS:
Eric Gonzales, the DA, enjoys a lot of support from the people who work for him. So he starts with a lot of goodwill, which in contrast to maybe some other progressive DA's who've been elected, who don't come in with that level of support, some of these reforms might be harder for them. For us, it's not that it's easy because it is a different way of thinking about things, but there is at least a measure of support and sort of willingness to go along and find out more. When you start to have specific conversations about specific cases, then you start to have some disagreements. So here's an example. We had a retreat for Justice 2020 a few weeks ago, and we invited all the bureau chiefs, all the executives, deputy bureau chiefs, and some of them, we picked some newer attorneys also so we would have a range of experience represented, and there were about 80 people. It was 20% of our legal staff.
And part of the day involved a hypothetical case, this person's arrested for this thing, these are the facts, this is their record. What bail should we ask for? What is the outcome of the case that we think is appropriate? And it turned out that, and there were 10 different tables of people, it turned out that sort of initially people had different thoughts about what you would charge for the case. Pretty much everybody thought that what the person needed, and I don't really need to go into all the facts, but it was a misdemeanor case with someone with a substantial record and just a ton of cases where they hadn't shown up and all that.
WATKINS:
Something you see a lot. That's very common, right?
HARRIS:
Very common. Sort of what we call the frequent flyers, the people who would just come in and out of the system. And so what should be the outcome in that case? And so pretty much everybody came to the same conclusion that the person should not be imprisoned, that the person should be in some kind of a treatment program or receive some kind of services. And people came to that kind of in different ways. Some people thought it should be charged as a felony initially. Some people thought it should be charged as a misdemeanor. Some people when they got pushed about, well, what happens if the person doesn't do the program, some people thought that then jail would be an appropriate alternative for somebody who was given a chance and didn't complete the program.
So there were differences, I started to say around the edges, they're not necessarily around the edges because they're substantial and they have substantial impacts on the person, but pretty much everybody was at the same place that this person needed a program, that imprisonment was not going to meet our goals or make us safer or help that person to not engage in crime. So long answer to a short question, which is sort of how does it feel and what kind of pushback am I getting or not, I feel like I'm not getting that much sort of directly, and it's really sort of in the details that the differences occur.
WATKINS:
And this is a question you can answer specifically about Brooklyn or just more generally. In this push to reform prosecutors, prosecutors do have still a clearly defined role within the system, which is public safety, accountability for crimes, working hand in hand with police, is there a concern, do you think of some prosecutors' offices moving too quickly in a reform direction, and possibly damaging the kind of institutional relationships that they need to function? I mean, I'm thinking in part about, say what's going on in Philadelphia with Larry Krasner who was putting in place as he describes it, the pirates taking control of the ship, and putting in place a remarkable number of reforms. Obviously, there is a risk of alienating the people that prosecutor's offices need to function.
HARRIS:
Well, that's true. The Brooklyn DA has a good relationship with the NYPD and he works hard to maintain those relationships because it's important because public safety depends on the police and the DA's office working together. At the same time, our office doesn't always agree with them. I think one of the differences that have occurred with the relationship between the PD and the DA's office in Brooklyn, and I don't know where I would put it historically, but my sense is that in the past the DA's offices, and again, we're talking about sort of the case processing role, the DA's office would just sort of process the cases that the police brought in, and the DA's office didn't have that much of a role in terms of determining what the cases were that got brought in, and sort of what the cases were that the office was given to handle. And I think that's changed.
I think it's more of a relationship now, and it's more of a partnership. And so the DA's office, we don't work for the police, we work with the police. We make joint determinations about sort of what public safety and justice require and we see them as our partners. I think what you're saying about the danger of sort of having those relationships be bad, that's a real danger. At the same time, we also have the role of prosecuting them when they engage in criminal activity. We take that role very seriously also. We can't sort of be their friends when they're engaged in behavior that's criminal. We have a police accountability unit. One of the recommendations of Justice 2020 is that we take that unit and move it into kind of a separate part of the office so that it's less connected to the DAs who kind of work with the police more on a day-to-day basis.
WATKINS:
Now that you're part of the Brooklyn DA's office and we're in this age of social media, if I can call it that, the actions of assistant district attorneys and of your offices are often being commented on almost in real-time, most prominently on Twitter, for example. You have groups like CourtWatch, which sends volunteer observers into courtrooms to monitor and report on what's happening, and report on whether the promises from the top on requests for bail are actually being followed through on. You have public defenders like Scott Hechinger that we've been talking about, who will praise you guys on Twitter when he feels you merit it and will not shy away from criticizing you when he feels you merit that. So I'm wondering what your reaction is now that you're inside the system. Do you find that level of scrutiny? Is it helpful? Is it a hindrance?
HARRIS:
I don't think it's either one really. It is funny to be in this position, I have to say, just because it feels different to be on this side. I'm happy that that reformers want to hold the DA accountable and I feel like he is doing what he needs to do. And them pointing things out doesn't make him really do anything differently because he's looking at the same thing. So the DA himself looks at the bail requests that come in from every arraignment shift. Every DA, and this was a shift in the DA's practice that he instituted last April, April of 2017, which was instead of an ADA in arraignments having to justify why they agreed to ROR, release on recognizance, as opposed to ask for bail, he flipped that. Now they have to justify whenever they ask for bail.
In fact, any case where they've asked for bail, they have to fill out a form and talk about why they asked for a bail, what the circumstances were about that case, what the person's record was, any other factors that are relevant, and this is why they made the bail request, and this is whether the judge set the bail or didn't set the bail. So every single case that comes through arraignments gets written up in that fashion. And that writeup gets sent to every executive. I get it every day. The DA gets it every day. All of the executives get it every day. And we look at them and if there's a case where we feel like the decision that was made was not the right one, we talk about it and we talk about it with the assistant and we talk about it with their supervisor.
So we are monitoring that bail policy ourselves and doing a good job of it. And frankly, I'm not sure that if the defense bar were part of those conversations, if they would be happy with them because we have the interest that I described before, which is having jail as an alternative. The DA has come out publicly in favor of closing Rikers. He's committed to reducing the number of people who get sent to Rikers and those numbers have dropped substantially. I mean, Brooklyn already sends fewer people and has always sent fewer people to Rikers than the other boroughs do as a proportion of the arrests that we have. But those numbers have dropped even further and we're mindful of it and we keep track of it because we know that those numbers have to continue to go down.
So really the only cases now where the DAs and the parts are asking for bail are cases where there's a genuine public safety concern. And I think Scott and others on the defense side would agree that that's the case and that's what they're seeing. And you can disagree in an individual case, and there's disagreement in our office over individual cases and what the appropriate outcome should be. But those cases are getting scrutiny on an individual level and also the DA is. I mean, even just last week, the DA sent out one of these write-ups, do you think this was the appropriate thing for the ADA to do in that part? I want to hear what you think. So the level of scrutiny that is going on already internally in the Brooklyn DA's office is very substantial. And so I'm glad that people are looking, but I feel like whether they were looking or not, we would be looking ourselves.
WATKINS:
And then just as a final question, now that you're working on this side, as you put it and on the prosecutor's side, which I think since November, so that's about eight or nine months, is there one thing or a couple of things that have most surprised you or changed your perspective on the system?
HARRIS:
I guess what surprised me is how open people are to looking at doing things in a different way. I think there's an understanding in the DA's office that the things that we have done, that they have done in the past, aren't always necessarily going to lead to the best outcomes, and that there are other ways that things could be done. They don't necessarily know what those other ways are and that's one of the reasons why the DA hired me, was to kind of bring this perspective on, okay, so here are some other ways you can think about it.
In terms of perspective, I have to say that the concern for victims is something that is new to me. It was not my role as a defense lawyer. It's not the role of a defense lawyer ever to care about what's best for a victim. It's just the way the system is set up. That's not what you're supposed to do. Seeing the extent to which these prosecutors care about the victims and just their sense of responsibility that they have for their safety has been eye-opening for me. And if you talk about these bail cases in criminal court, so these are misdemeanor assaults, for the most part, are the cases where our office is still asking for bail.
So these are domestic violence incidents, and in New York, which is different from other jurisdictions, a misdemeanor assault is serious. It's not just a touch. A misdemeanor assault is a black eye. A misdemeanor assault is an injury, and a misdemeanor assault can also be kind of an indicator of sort of future risk, and yet, they're misdemeanors. And in a lot of cases, the victims are ambivalent about what they want to have happen, and the person is a provider, and needs to keep their job, and we don't necessarily feel like incarceration is going to be the best solution.
And yet these ADAs in the part, just have this tremendous fear that somebody who they agree to ROR is going to go and kill that person. And it happens. It doesn't happen every day. It happens a few times a year where that person gets out and goes and kills a person. And that is the greatest fear of an assistant district attorney and that's what's motivating them. And that's just not something that a defense lawyer really can internalize. I guess I would call that the most eye-opening part, just that level of responsibility that they feel.
WATKINS:
Well, Jill, I want to thank you so much for taking the time to join us today.
HARRIS:
Thanks for having me. This was great.
WATKINS:
And is there a date that people can look for publicly for something new on the Justice 2020 Initiative?
HARRIS:
We're shooting for end of September as a publication date, and we'll be doing press around it, and so I think people could expect to see something at the end of September and if not, then early in October.
WATKINS:
All right. Great. We'll keep an eye out for that.
HARRIS:
Thank you. I appreciate it.
WATKINS:
I've been speaking with Jill Harris. Jill is the policy and strategy counsel with the Brooklyn District Attorney's Office, and she is also the head of its Justice 2020 Reform Initiative. To hear the previous episodes in our Prosecutor Power Series, subscribe to New Thinking, wherever you get your podcasts or visit our website, that's at courtinnovation.org. Please also consider leaving us a rating and review on iTunes. And this has been another episode of New Thinking from the Center for Court Innovation. Technical support provided by the great Bill Harkins. Our theme music is by Michael Aharon at quivernyc.com. And I'm Matt Watkins. Thanks for listening.