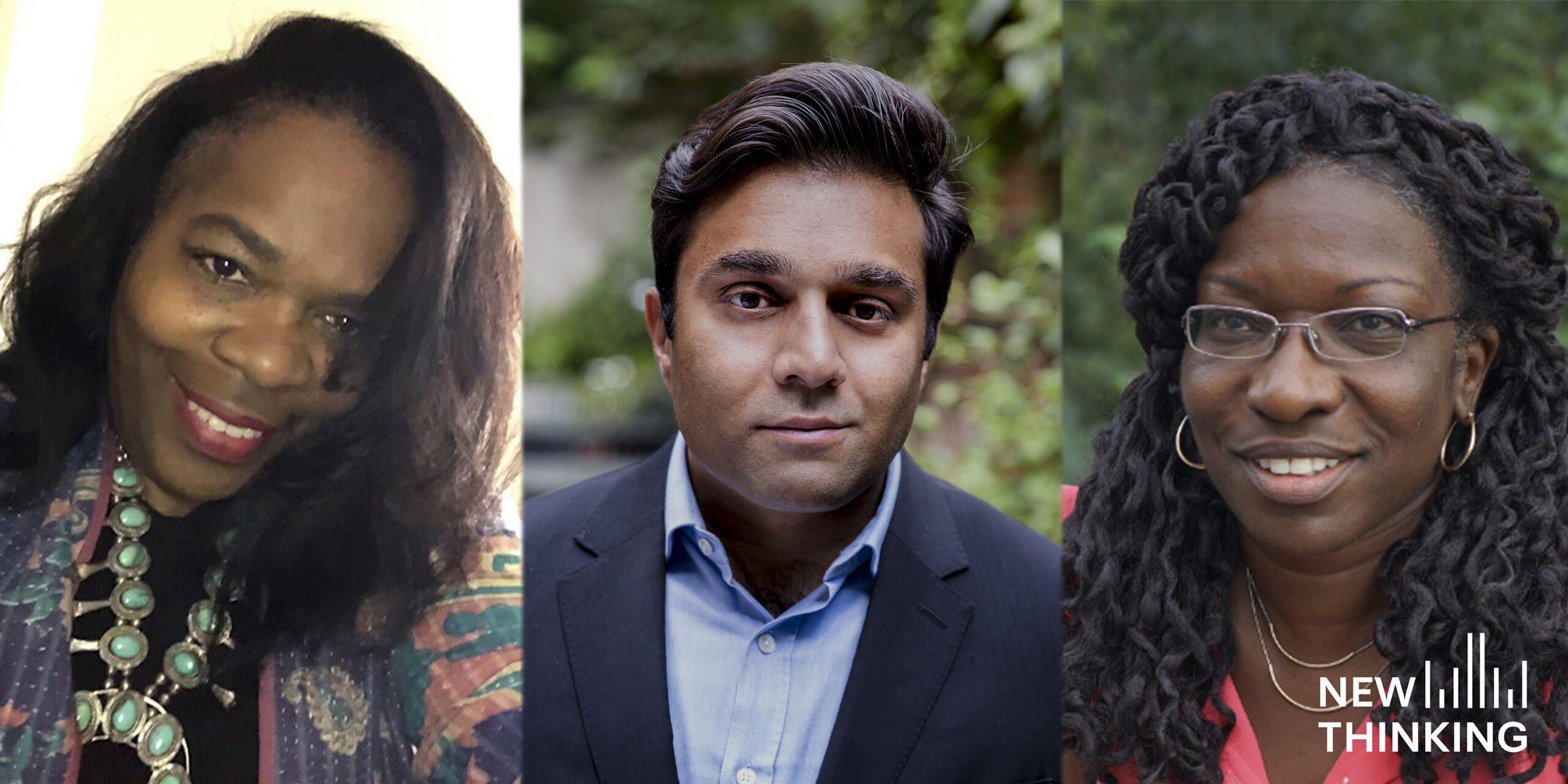 One of the greatest stigmas of our approach to mental illness is that it's founded on a predominantly white framing of what makes us afraid.
If you call 911 because of a broken arm, you get an ambulance. But if you call 911 because of a mental health emergency, in most jurisdictions, you get armed police officers.
The consequences of those encounters can be fatal. People experiencing a mental health emergency make up one of every four people killed by police. 
A new report from The Front End Project—led by Fountain House, a national mental health nonprofit, and including the Center for Court Innovation—looks at how mental health emergencies are currently handled and lays out a vision for transforming those responses.
The work puts racial equity and the expertise of people with lived experience at the center of every recommendation. And it asks how, long before the point of a mental health crisis, we should be responding collectively to a problem that affects so many of us.
To talk about this work, New Thinking host Matt Watkins was joined by three of its contributors: Dr. Ashwin Vasan, the president and CEO of Fountain House, a national mental health nonprofit; Keris Jän Myrick, a mental health advocate and currently the co-director of the Mental Health Strategic Impact Initiative at The Jed Foundation; and Christina Sparrock, a mental health advocate, deeply experienced in the issue of mental health response in New York City, who is a trained mental health peer.
Sparrock and Myrick are two of the people with lived experience who contributed to the work and speak powerfully of what "crisis response" has looked like in their own cases.
 
---
The following is a transcript of the podcast:
Matt WATKINS: Welcome to New Thinking from the Center for Court Innovation. I'm Matt Watkins.

If you call 911 because of a broken arm, you get an ambulance.

But if you call 911 because of a mental health emergency, in most jurisdictions, you get armed police officers.

The consequences of those encounters can be fatal. People experiencing a mental health emergency make up one of every four people killed by police. Once race is added to the picture, those numbers can quickly become even more alarming.

A new report from the Front End Project—a collaboration among Fountain House, the Center for Court Innovation, and others—looks at how mental health emergencies are currently handled and lays out a vision for transforming those responses; for example, by relying on peers—people who've experienced mental health crises—rather than police.

The work puts racial equity and the expertise of people with lived experience at the center of every recommendation. And it also asks how, long before the point of a mental health crisis, we should be responding collectively to a problem that affects so many of us.

To talk about this work, I was joined by three people who were part of it. Dr. Ashwin Vasan is the president and CEO of Fountain House, a national mental health nonprofit; Keris Myrick is a mental health advocate and executive, currently the co-Director of the Mental Health Strategic Impact Initiative at The Jed Foundation; and Christina Sparrock is a mental health advocate, who is deeply experienced in the issue of mental health response in New York City, and is a trained mental health peer.

I should say Christina and Keris are two of the people with lived experience who contributed to the work, and you're going to hear some very powerful testimony from both of them in what follows.

But I started the interview by asking Ashwin Vassan about the extent of people living with mental health needs in the U.S., and then how the pandemic has affected that.
Ashwin VASAN: Even if you don't experience diagnosed and diagnosable mental illness, you definitely know someone who does, and you're probably related to someone who does.

There is this universalist piece to this, but within it, like with everything in this country and in this society, it's regressive, at times, and unequal. But overall, we've seen a massive increase in overall mental health diagnoses due to a lot of structural issues and manmade issues: economic inequality, racial injustice—that has always been there but is increasingly, frankly, worse in some ways—housing insecurity, health insecurity. 

We're seeing this increasing rise, and that was all before the pandemic. Then the pandemic hit, and really just split that even further apart. Depression and anxiety rates are two to three times as high as they were pre-pandemic. At least at different points during the pandemic, rates of mental-health-crisis calls, at one point thousands of percent higher than they were.

It's an issue that has historically been so deeply stigmatized and pushed to the side of our society and our public discourse and it finally feels like it's starting to change. It finally feels like there's an ability to talk about this in public because I think people are starting to see the connections between our mental health and all of these other areas of society: our schools, our jobs, our economy, our criminal legal system, our healthcare system.

They're finally saying, "Enough's enough. This place is hard to live in. This country is too hard to live in for too many people. We're traumatizing people. We're making things worse due to our policy and political decisions." I think we're at the beginning of that wave.

WATKINS: A question then for Christina or Keris: As Ashwin has just laid out, we know the experience of mental health issues is really affected and divided by race. What do we know about access to treatment and therapy—how that breaks down in terms of income and race? Doing the research for this episode, I ran into this phrase: treatment deserts.

Christina SPARROCK: This is Christina. I know particularly in communities of color, particularly Brownsville in East New York, they have healthcare deserts. They have liquor stores on every corner, but they don't have mental health clinics and resources to help people in the community. The community is over-policed, and people end up being arrested more.

For me particularly, when it comes to being misdiagnosed, I remember one of my first breakdowns, because I was discriminated in a white male-dominated workforce. I ended up in a hospital and I had my first white male psychiatrist.

When I was explaining to him about how I was being mistreated in the workforce and sexual harassment, my race, and everything, he didn't believe me. When he brought in his students, they just looked at me like, "oh my God, there's something wrong with her," as opposed to, "what happened?" They weren't showing any compassion or saying, "Oh my God, how can we help you? What's going on? Let's try to help make you better."

Instead, they were looking at there was something wrong with me. They misdiagnosed me with schizophrenia because, me saying something about white people... It was that white fragility thing, they felt uncomfortable, me talking about, "Oh my God, white folks did this to me, and oppressed me, and did this to me." So, they misdiagnosed me and over-medicated me. 

WATKINS: So, even though you had access to care, you didn't have access to culturally competent care.

SPARROCK: Exactly.

WATKINS: Keris, the topic of the report, which is part of what we're talking about today, is: how do we respond as a society to mental health crises? Too often, the people who respond are law enforcement.

I thought we should talk about, first, what is a mental health crisis? And really, who gets to define that? Because a lot hinges on how that gets presented in the moment, right?

Keris MYRICK: Yes. I think that was the beauty of that being our first step in the Front End report, is we think about the word, mental health crisis, mental health emergency, as if we all have the same definition in our head. And quite frankly, we thought, "Well, maybe we need to back up a little bit and start with, how would we define that? Let's start with people with lived experience to see how people with lived experience might define it."

Right now, the way that it generally works is it's defined by somebody else.

WATKINS: They've made a call to 911, they've called the police.

MYRICK: They've made a call generally to 911. Different jurisdictions have different things, but the majority of people, they may not know what that is. They'll call 911. It'll be, "Well, there's a disturbance," or, "Oh, they're too loud," or, "They're screaming at themselves and it's an emergency," or sometimes, "The person is so agitated that we don't know what else to do. You need to come over here and control that person."

That starts us down the road of the team, if it's a police team, for example, they're already going in with the information that may precede what's really going on—that there may be danger or there's something going on where we'll have to protect everybody, versus starting with, "Well, tell me what's going on. Tell me what's happened to you. Let me understand the situation. Let's sit down and unpack what's going on and what will be most helpful for you at this time." That generally doesn't happen. Usually, it goes a lot faster than all of that, especially if police who have not been trained are involved.

WATKINS: Christina, could you talk a little bit about the contrast between what people need when they are undergoing a crisis, such that someone has called the police? What people need, what would help them versus what they typically get from police?

SPARROCK: Every crisis response is different. That's why I was saying that we need more preventive and intervention—that's more important than having a crisis because a lot of times, the signs are there, but people who know the person are letting it escalate.

It could be you coming home to your wife or your husband who just irritates you because you're in a domestic violence relationship. It could be any reason. Or you're walking past the ice cream store where you were assaulted by, and you just get triggered—something. But a crisis response episode can look different.
 
For me, I live with bipolar disorder. I get manic. I have racing thoughts and rapid speech. It just spins where I can't even hear my own thoughts. Everything is racing in my head. That small little voice is saying, "Christina, just calm down. Just calm down." I start screaming at myself, and I just can't stop it. I keep pacing around my house.
 
Eventually, police would come because I'm just ranting, and I know I need help. I hate hospitals because to me, hospitals are just like being in prison: you get in, you get locked up, you get drugged up, foaming from the mouth, and you have no control whatsoever. They're just monitoring your behavior. They get to control when you go home.
 
When police come, they come in with guns. They come in with uniforms. It's embarrassing, they're banging on your door. That escalates, that noise. You're high. Just hearing that even more, it just heightens the intensity of your episode. Now they come in, and they have commands.

It's like, "Sit down. What's going on?" Whatever, whatever. Now, when you're in an emotional state, you can't respond to commands at all. They're looking for voluntary compliance. If they don't get the voluntary compliance, they're going to take you in to jail or to a hospital. If you're able to calm down as quickly as you can, you could stay home. Since you're in a crisis and they already escalated it, it's hard to get back down.

But if a peer were to come and knock on your door, there'll be more of a gentle approach. They will speak one word at a time: "Hi, my name is Christina"—slow. Just trying to get eye contact. I may not get eye contact. "But I'm here to support you. Your mother called. She was just concerned about you." Gentle. You may not get that contact, take your time. 

"Do you mind if I stand at your front door?" Person may not respond, but you stand at the front door because you want to make sure they're safe. Fifteen minutes later, you may just ease your way in. Mind you, we spoke to the mom. The mom might have said, "You know what? My son... " Because I will ask, what is his favorite treat? What's his comfort food? Because I'm a foodie too.

He may say, Baskin Robbins ice cream, right? I may just go to Baskin Robbins ice cream. By the time I probably get to the house, it probably melted anyway. As I'm trying to talk the person into a calmer state, I'll be like, "You know what? I got some Baskin Robbins ice cream."

It may just get them out of that situation. They may come to me. Even if they're still in crisis, they may not even talk to me, but they may grab the ice cream. That's a start because it's about redirecting that thought of whatever thought is going on. I'm meeting them where they're at because I'm no better than them. I know. I've been through crisis. I know what crisis looks like, so I'm just trying to just calm them down somewhat.

They start to talk. I'm just listening to their needs, because usually, it's an unmet need. It's like, "oh my God. I lost my job. Yeah, something's going on in my life." Then that's where I pick up and I say, "You know what? I may have been there too, or I've been there too, and this is what I did to get out of that situation. It may not help you, but you know what? I will be here to help you get out of your situation. Is that okay?"

Because what people really want is the connection and support, so they can get out of a situation. Once they have that trust, then things will get better.

WATKINS: Ashwin, it strikes me that police responding is, right out of the gate, criminalizing people having a mental health issue. Then when you add the issue of race to it, which is a big focus of the report, there's a double-bind of criminalization, because we know people of color are very often criminalized out of the gate in the eyes of police.

VASAN: The systems we currently have, and 911 is a gateway to that system, is deterministic. People don't realize that there's only a certain range of outcomes that can occur when you call 911. Most of them are punitive, in some fashion. They're not about the person, and choice, and agency, and dignity.

They're about: we've been called because someone else has framed what you're going through as a crisis. Not because you've asked for help, because someone else feels uncomfortable. 

If we say, if we assume that that person doesn't, nor should they—no member of the community should be expected to be a mental health expert. But then, do we offer them other options? Not really, right? We say: "call 911, and we'll figure it out."

That's really what mental health crisis response is today. It's not surprising, then, that we get so many tragic outcomes, that we get so many just not the right outcomes. Even if they're not tragic, they're just not correct, and that those outcomes are racialized in the same way that everything in our policing system, and law enforcement system, and criminal legal system is racialized.

I think what the report did so well is say: how can you have this conversation narrowly without tackling the toxic intersection of mental health crisis response and mental illness with law enforcement reform, police reform, criminal legal reform, and racial justice?

WATKINS: It strikes me, if you're having a mental health crisis, probably the last person you want to see is a police officer. That's got to be particularly true if you're a person of color, given the history and the volatility of those encounters in this country. Keris, I think you've experienced this yourself—wellness checks from police officers. Could you talk a little bit about what you learned personally from that?

MYRICK: I think that is so true on so many different levels that even a trained police officer... You know they're a police officer, right? As a Black person—I'm African American—a police officer comes to my door, police officer's behind me when I'm driving my car, the anxiety level rises. 

My first time that I was really not doing well at all, a wellness check was called. I didn't expect to see a police officer at the door. They were loud, really knocking on my door all loud. I lived in a very small apartment building.

They were just announcing, all bold: "Police! Wellness check." I'm thinking, "Hush. Be quiet!" I'm like, "Be quiet. No, no, no. I don't want my neighbors to hear this," thinking that my neighbors who... I was the only Black person in the building. My neighbors are now, in their minds, sort of conjuring up, "Well, what's she over there doing, that criminal, that drug-addicted Black person?"—that stereotype.

Reluctantly, I did not want to open the door, but reluctantly, I opened the door so that they would stop yelling in the hall. The whole experience was really just... bizarre. I hate to say it. I don't know how else to say it. They ended up saying that I was a danger to myself and said that I needed hospital care straightaway.

WATKINS: I mean, to be clear, that's a police officer, basically diagnosing you on the scene.

MYRICK: Yes, saying that I needed to be hospitalized. I'm thinking, "Okay, so this is how one gets to the hospital?" I said, "Well, let me go get some pajamas and some..." "No, no, no. We can come back and get that later." Then it started off with, first, they're at the door, there's screaming. Secondarily, they're not telling me the truth. Yet everything about being able to participate in your treatment and your treatment team, even if it's a police offer at the time... It should be built on trust.

They broke it from the very beginning. Then they handcuffed me behind my back. I asked, "Could I, please... " I didn't understand that. They said, "Oh, we have to. It's in our regulations." I said, "Well, I have to walk outside in front of all my neighbors. Can you handcuff me in the front and–

WATKINS: Oh my God.

MYRICK …drape a coat so that it just looks like I'm carrying my coat. They said, no, they couldn't.

Anyway, they transported me handcuffed behind my back, took me to the police station first, which was... Didn't understand that, and handcuffed me to a chair. They had to deal with this African American, young teenager who had stolen his grandfather's gun. I've never seen a gun. There's this gun sitting on the table, locked in a police gun case, while they're telling the grandfather to come and get the grandson.

I'm in my mind going, "They said I needed to go to a psychiatric hospital. They said that I'm in danger to myself. They say that I'm sick, but I'm sitting here handcuffed to a chair." This doesn't even make any sense in my mind whatsoever. Then I started to wonder, "Well, how sick am I if I can't make sense of this?"

Ultimately, that actually started me down this road of never wanting to accept acute care. I was able to see my psychiatrist and the like, but as far as anybody talking to me about psychiatric hospitalization—off the table. I, unfortunately, was hospitalized involuntarily at least a dozen more times, because I thought that's what hospitalization was.

So it does have a lasting effect. It's kind of like—what do they say—"you only have one time to make a first impression"? Well, that was the one time and it was a pretty bad first impression.

WATKINS: Christina, you were shaking your head a lot during Keris's story and looking pretty appalled. I take it this is precisely why you work so hard to have peers and people with lived experience being the ones doing the responding and not police officers making diagnoses on the spot.

SPARROCK: Yes. Keris, I'm sorry you've been through that experience. I wish I was there to support you for that. I would have been your advocate.

MYRICK: When that first happens, you don't understand a lot of what's going on in the mental health system. It's like you're fast-tracked on this education around language and terminology. 

Then I had to think of it in a race frame. When I show up someplace, people see me as a Black person, Black woman. Then you have to understand how I'm working towards my recovery in this cultural frame.

My family is very important to me, though they're not here—I live in California—though they're not here in California, how to and when to involve my family also became something of a conundrum. We weren't using things like psychiatric advance directives. A wellness recovery action plan with your psychiatric advance directive helps everybody on your treatment team, your family members, your allies, peer supporters, understand what your preferences are, especially when you're in crisis, versus that being a guessing game.

Those are the kind of things that we recommended in the Front End report as well when we're looking at: what are some of the solutions? Trained peers on mobile crisis teams, peers on the warmlines and hotlines to be able to respond to calls that come in, as well as things like a wellness recovery action plan and psychiatric advance directives.

VASAN: Psychiatric advance directives are one of the potentially most powerful interventions that no one's talking about enough, as a way to traverse the very real gap between knowing, and understanding, and respecting the person in front of you.

While we talk about aligning police, and defunding the police, or reinvesting the police, or creating these certain teams, and CAHOOTS, and the different possible iterations of a solution, there is a very person-centered solution that we should be also equally lifting up. That is, get a person to talk about what they want, and write it down, and codify it, and make it legal, so that at their moment of greatest need, should that arise, their wishes are clear.

WATKINS: Christina, did you want to talk at all about the role Fountain House played for you, because it occurs to me, one of the things this report makes clear is we need more social infrastructure, so that we're not just focused on a crisis moment, but we're trying to support people more broadly. For you, Fountain House was kind of an example of that, no?

SPARROCK: I've been a member of Fountain House about maybe five or six years. What I like about Fountain House is that you don't have to be so-called "well." When I show up in other settings, professional settings, or even a lot of times, with my friends, I always have to pretend that I'm always well. It's hard to be an actress all the time.

I want to come into a place where I feel like, I'm having a bad day or a moment, and I could speak to another peer specialist who is going to say, "You know what, Christina? Do you want to talk about it? I see that maybe you may be uncomfortable or something's going on," because I already built that rapport and trust with that person.

They know me. Then they'll sit down. We'll have a honest conversation. They'll just listen to me. I may be ranting, and they won't respond because they may say, "Well, I know, Christina. She just wants to rant." Or he or she may say to me, and say, "Look, Christina. Do you want me to say anything, or do you just want me to listen to you?" Because that's what peer support is about. They just may listen for half hour. 

There's no time limit on developing that relationship with a peer. I've been in situations where my peer specialist there... She even went to court with me because I was so scared to go to court because I know how when you go into a court system, judges automatically say, okay, or people in court say, "Oh, well, since you have a mental health condition," the first thing they say, "Did you take your medication?"

They shouldn't stigmatize me. Who says I need medication? Who says I'm the so-called off today? Maybe you're off today. Having that support there from when I walk through the door, from when I have the phone number of my peer support system, going to a court, or just having me just sit in their facilities all day, just relaxing, or going to the gym, or just meeting with other people who are just like me, just feeling safe and not always feeling like I have to be perfect... That's what I like about Fountain House.

WATKINS: Keris, with all the funders and the organizations that are working around the mental health space these days, do you feel like the issue of race is taken on squarely enough in the actions that they're taking and the conversations they're having, or is there a tendency to try to skate over it?

MYRICK: I think a couple of things are happening. Ashwin clearly said at the beginning, which I thought was very powerful, around: this is a moment in time that we haven't seen, where everybody has finally wrapped their head around talking about mental health and making it something that anybody could talk about.

I think what happened in mental health is, we've always wanted to figure out the appropriate role of police and emergency or crisis response. If people are talking about, "wow, let's do some police reform," then I think mental health said, "Yes, let's talk about police reform as it pertains to mental health," but hasn't done a very good job of saying: "and that police reform is grounded, and must be grounded and centered on Black and Brown people who have such disparate outcomes when it comes to police interactions."

I don't think that's fully happened. Again, I think that's the beauty of the Front End report. It's the beauty of kind of the work that I'm doing with the Mental Health Strategic Impact Initiative, is to ensure that the work that we're doing when we're working with philanthropists, and funders, and others, that we have to center it on race equity, as well as lived experience.

The other thing that can happen, too, is a lot of things are done without benefit of hearing from the recipient of that service, the recipient of that program. Those are the people with lived experience who should be part of that co-design, co-development reform efforts, and so forth.

WATKINS: Ashwin, if we're turning to look at solutions, recommendations, for either reforming or rebuilding our whole response to mental health—in the most concrete and pragmatic terms you can muster: what steps would you say need to be taken to get from where we are now to the right kind of crisis response system and, really, a better approach to mental health in general?

VASAN: There's a reason we call the project, the Front End. We didn't want to just talk about this as narrowly about how to reform the services that people receive at the moment of crisis. 

We outline key principles in the report. One is crisis systems have to center racial justice and equity. How do you ignore this if we have a system that leans disproportionately on law enforcement to solve health issues? How do you disentangle that from racist policing or racist law enforcement?

Number two is crisis response systems have to be embedded within holistic and integrated health and public health systems with high-quality, accessible, and equitable services.

This is what both Christina and Keris alluded to, is that it wasn't just that the moment of response was wrong, but then the care they received downstream was wrong. It was not culturally competent. It wasn't sensitive. It didn't lead to better outcomes, healthier outcomes. 

Number three is that people in crisis have to have every opportunity to maximize their choice, self-determination, and autonomy. But it's not just at the moment of responding to a crisis. It's in defining a crisis, as Keris has so elegantly taught us all and educated us all on that moment, and Christina as well. Who gets to decide? Who gets to decide when something's a crisis? 

One of the greatest stigmas of our approach as a society to mental illness, much in the way our society has responded to people of color, is that it's entirely founded on a predominantly white framing of what makes us afraid.

People suffering with, living with serious mental illness make us feel, at times, uncomfortable. We've designed our entire system not around them—the person in need—but around the comfort of the person feeling uncomfortable. 

Why are mental health initiatives growing in number and size? It's because people see more homeless people on the street, or people see people in the subways, or people are concerned about, quote, unquote, "public safety." The motivations behind this are not always good, even though programming may flow from this.

Next thing is crisis responders should really focus on creating trusting relationships. You have to have peers.

This isn't just rhetoric. It's borne out in the data. Peers build trust. They form durable relationships. They're more likely to drive someone into a healthier outcome and response. They keep people engaged. They make people feel safe.  

Law enforcement should not be the default or primary responders to mental health crisis. I think that's a pretty obvious point that we've all highlighted, but it has to be agreed on. It has to be socialized throughout our systems because if you look at crisis response across the country, it's all over the place. 

WATKINS: Keris, once we start talking about mental health and pull on that thread, obviously, we start pulling on a lot of other deep threads of American life and inequality: racism, disparities, and access to housing and stable employment. All of those things need to be strengthened if we're going to strengthen our response to mental health. Is that how you see it? Is there a way to talk about it that can still feel actionable?

MYRICK: Sure. I think this is exactly when we use the words like prevention or early intervention, it starts to place the person not in their illness, but place them as a person in the context of their community, in the context of their culture, and in their context of just being human. Without a house, not a lot you can do to have maximal health and/or mental health.

It feels really big, but it's not. I think we know that there are a lot of philanthropists who work in the area of housing, or criminal justice, or poverty, education. If they're working in those areas, quite frankly, they're working in mental health. They just don't call it mental health. The question now becomes, how do we help?

Again, I'm going to philanthropy just because that's part of my job. I'm going to philanthropy because it can kickstart things that government also can be doing or should be doing.

If work is already happening in housing, how does it become mental health and housing, doing it from a cultural lens, and also from lived experience of what folks with lived experience would be looking for in housing and housing support? One thing to have the house, another thing to have the support to maintain and live in the house.

The other piece I would say is that a lot of times, we look at systems as that's where the care and response is going to be. We also need look at the community in which people live. How does the community also become part of the natural supports for the person? 

When we think about things like peer supports, community health workers, promotores, things like this, health navigators, that those folks are not situated at a mental health center. They may not be situated at their primary care.

They may be at the barber shop. They may be at the church. They may be at the Y.M.C.A., or the community center, or even what we call street outreach, working where people are versus always, also, having people come to us, is another way to think about some of the strategies that are effective in meeting people where they are versus having people meet us where we are.

WATKINS: Ashwin, with all that we've learned this year, tragically again, about the broken relationship between police, and communities of color, and all the attention that's being paid on that, do you have any optimism, in a sense, right now that there is a possibility now to push more for genuine change?

VASAN: I feel a great deal of momentum here and a great deal of interest. I feel there is a great deal of interest, also, in the conversation that this report also highlights, which is: how does this interact with and intersect with our calls for wider police reform and our wider calls for racial justice? I do feel optimistic that there is a moment here that we need to capitalize on, because there's also this wider public conversation about mental health that's happening. 

This is an opportunity, this conversation, to bring those things in line, use the momentum we have around a wider public conversation about mental health, loneliness, addiction, belonging, and say: what about this? What about this segment of this, which actually intersects with much higher visibility conversations around police reform, criminal legal reform, and racial justice?

But it needs to move out of the conversation space and into the action space as soon as possible. That only happens with the right resources. Ultimately, people need to be funded to change systems, and need to have the right rules and regulations to change those systems. That has to accompany all of this groundswell of momentum.

WATKINS: Keris, do you think that there's a little more openness—it's come from such a dark place, unfortunately—but that there is more of a possibility now to push for some genuine change on a larger level?

MYRICK: I'm going say, yes, and—which really is yes, but. Yes, and, that there is... I think, really, 988—the new suicide prevention and mental health crisis lifeline number—is spurring people to think about this, not as just a number, but as a systematic reform.

This is great, and—that's the and part—is ensuring that when you look around the table at who's thinking about these reforms, and policies, and program decisions, and implementation, evaluation, et cetera, who's at the table? Who don't you see at the table?

If you do not see people of color, if you do not see people with disabilities— because I'll say, too, when you've got multiple disabilities, including having a mental health condition—if you do not see people who identify LGBTQ2SI, et cetera, if you don't see all of this at the table, then you best go get another table, or go sit at another table. I'm not going to say invite people to your table because we're having our conversations. Come to our table.

WATKINS: Don't even bring a folding chair. Don't bother sitting down at that table.

MYRICK: Don't even bring a folding chair. Just knock down that table, come on over to our table, because we're having these conversations. Many times, we're trying to figure out: how do we bring our folding chair? We're done bringing our folding chair, quite frankly. We're having our own table over here. Come and join our table. Hear what we're talking about, hear how we're talking about it, because I think that's the part that's missing. 
On many of the 988 implementation calls, I rarely have seen where the voice of people with lived experience and people with lived experience who— intersectionality, that I just talked about... Where are they? They're not there. Train's left the station. Time to kind of pull the "erk" on the train, you know, the emergency stop, and get some people on your train, or hop off that train and get on the right train. So many analogies: trains, tables... You get what I'm saying.

WATKINS: They're all good ones! It is depressing but not surprising, I guess, to hear, Christina, that this message of, "Nothing about us without us," is still not being heard loudly enough, it sounds like.

SPARROCK: I've been through the same situation like Keris, where I was on the mayor's Task Force of Crisis Prevention—Crisis Prevention and Response Task Force—where we had about 80 people coming, but it was not people with titles. It was Department of Homeless Services, it was Correction Department, the FDNY, mayor's department, mayor's office, and community organizations. They had a sprinkle of a few little peers and a few little Black people in the room. I was the sprinkled Black person in the room with a mental health condition, right?

It's like anytime they had asked us for suggestions or anything, if I gave my recommendations, it was ignored. No one even knew I existed in the room. It was just a waste of my time. 

Like she mentioned about those chairs, I really want to be at the table because I know "nothing about us without us," and I know how I can make systemic change because I know. I've been through the system, through the criminal justice system. I've been through housing. I've been through everything. I know where the cracks in the systems are. I know how to make those systemic changes, but they don't really care. It's a battle. 

MYRICK: Racism, poverty, lack of employment, lack of food and healthcare insurance. Then police interactions. Police interactions for Black folks... They're dying at a 50 percent higher rate. Then add in a mental illness, it gets tenfold that. It's a tough life out there, being a Black person. We have to work together to come up with solutions that are community-based and systems-based that really maximize our mental wellbeing, or our wellbeing, our whole wellbeing.