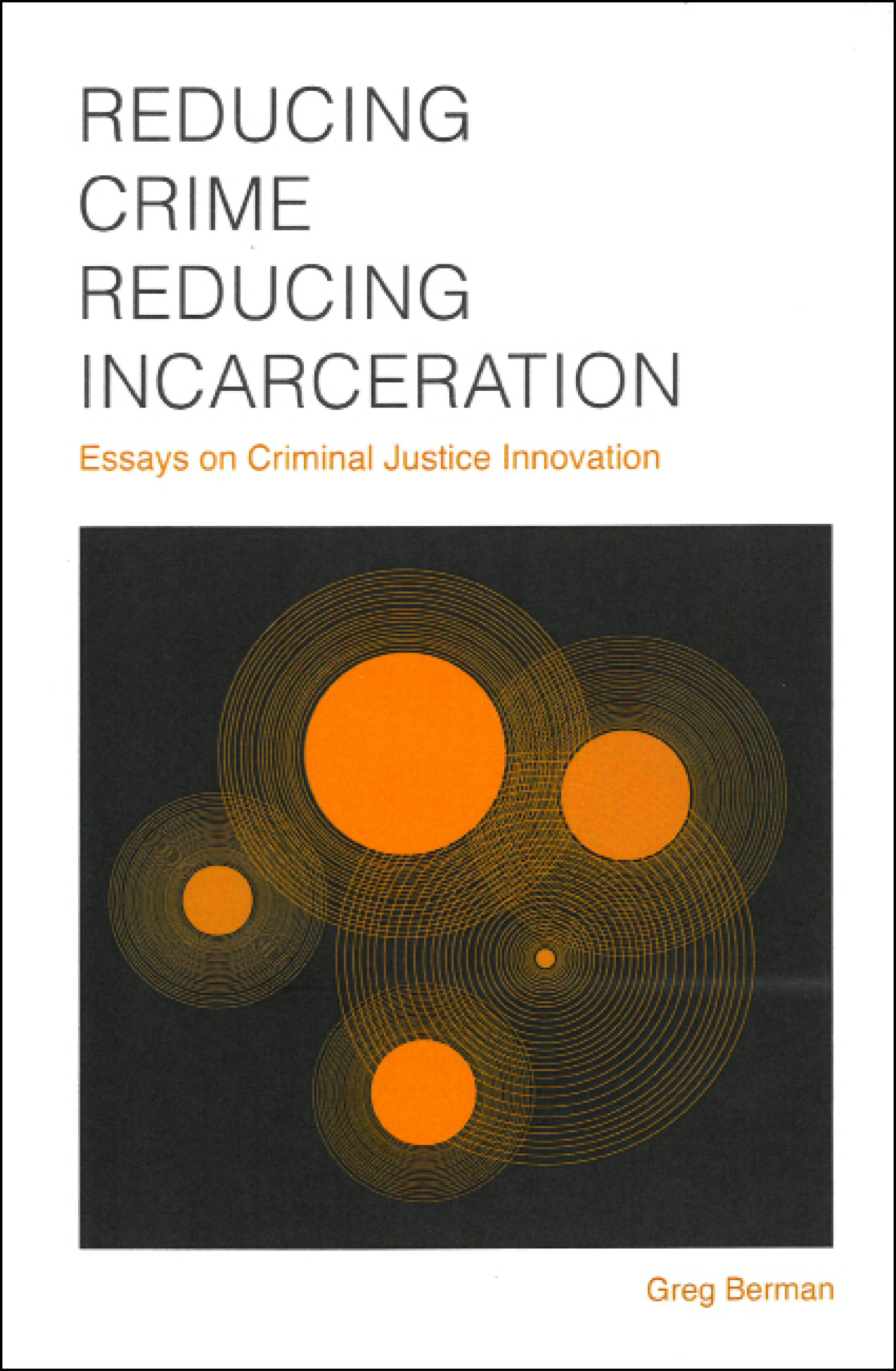 Reducing Crime, Reducing Incarceration: Essays on Criminal Justice Innovation (Quid Pro Books) makes the argument that sometimes small changes on the ground can add up to big improvements in the criminal justice system. 
How do you launch a new criminal justice reform? How do you measure impact? Is it possible to spread new practices to resistant audiences?  And what's the point of small-bore experimentation anyway?  Greg Berman answers these questions by telling the story of the Red Hook Community Justice Center, an experimental courthouse in Brooklyn that has been documented to reduce the use of incarceration, change the behavior of offenders, and improve public trust in justice.

From this starting point, Reducing Crime, Reducing Incarceration widens its lens to take in the national movement toward problem-solving justice, exploring how problem-solving courts challenge conventional practice in the courts.  Other essays investigate the challenges of implementation, making the case that good intentions are not enough—real thought must be devoted to how to adapt to conditions on the ground and how to manage change over the long haul.

Reducing Crime, Reducing Incarceration concludes with two essays that reflect on a generation's worth of criminal justice reform, first in New York City, and then among problem-solving courts nationally.  As Laurie Robinson, Clarence G. Robinson Professor of Criminology, Law and Society at George Mason University, writes in her forward to the book: "In Reducing Crime, Reducing Incarceration, Greg Berman offers vivid testimony that—even in the face of opposition—it is, in fact, possible to push our criminal justice system closer to realizing its highest ideals. And that, indeed, is good news."

To order Reducing Crime, Reducing Incarceration, click here.
Praise
The topic of criminal justice reform has challenged and bedeviled social thinkers for centuries. In this book, Greg Berman offers a clear-eyed and inventive approach to the problem. Recognizing that change is best achieved at the local level with small, incremental steps using demonstration projects, Berman provides concrete examples of both successes and failures stemming from the work of the Center for Court Innovation over the last two decades. For anyone interested in the future of criminal justice, this book should be on the top of the "must read" list.
– John H. Laub, professor, University of Maryland
The central insight of Reducing Crime, Reducing Incarceration is that small tweaks in practice within the criminal justice system can sometimes lead to big change on the streets. By telling the story of the Red Hook Community Justice Center and other similar innovations, Greg Berman offers a hopeful message: criminal justice reform at the local level can make a difference.
– James B. Jacobs, Warren E. Burger professor of law, New York University Law School
Innovation is hard work. In Reducing Crime, Reducing Incarceration, Greg Berman offers a look at how change happens at the local level—and how, sometimes, it doesn't. These well-written essays offer a compelling vision of both the challenges and opportunities of criminal justice reform.
– Nicholas Turner, president, Vera Institute of Justice
Here you will find Berman's compelling case for community justice, along with classic readings on problem-solving courts. Berman writes like all the rest of us wish we did.
– Candace McCoy, The Graduate Center and John Jay College, City University of New York
Reducing Crime, Reducing Incarceration describes a set of criminal justice reforms that seek to engage with the public in new ways, to make greater use of alternatives to incarceration, and to use data to measure impact. It would be hard for me to think of anyone better positioned to tell this story of criminal justice reform than Greg Berman.
– Laurie Robinson, Clarence G. Robinson professor of criminology, Law and Society at George Mason University
Reducing Crime, Reducing Incarceration is not only relevant to legal scholars, professionals, or academics within the social sciences, it is also well suited for a general audience interested in citizen advocacy, community activism, and social justice. 
– Judicature
A thought provoking compilation of essays and articles. The author does a tremendous job outlining the steps and decisions that politicians, judges, community leaders and citizens may take to effectuate short or long-term change. 
– Corrections Today