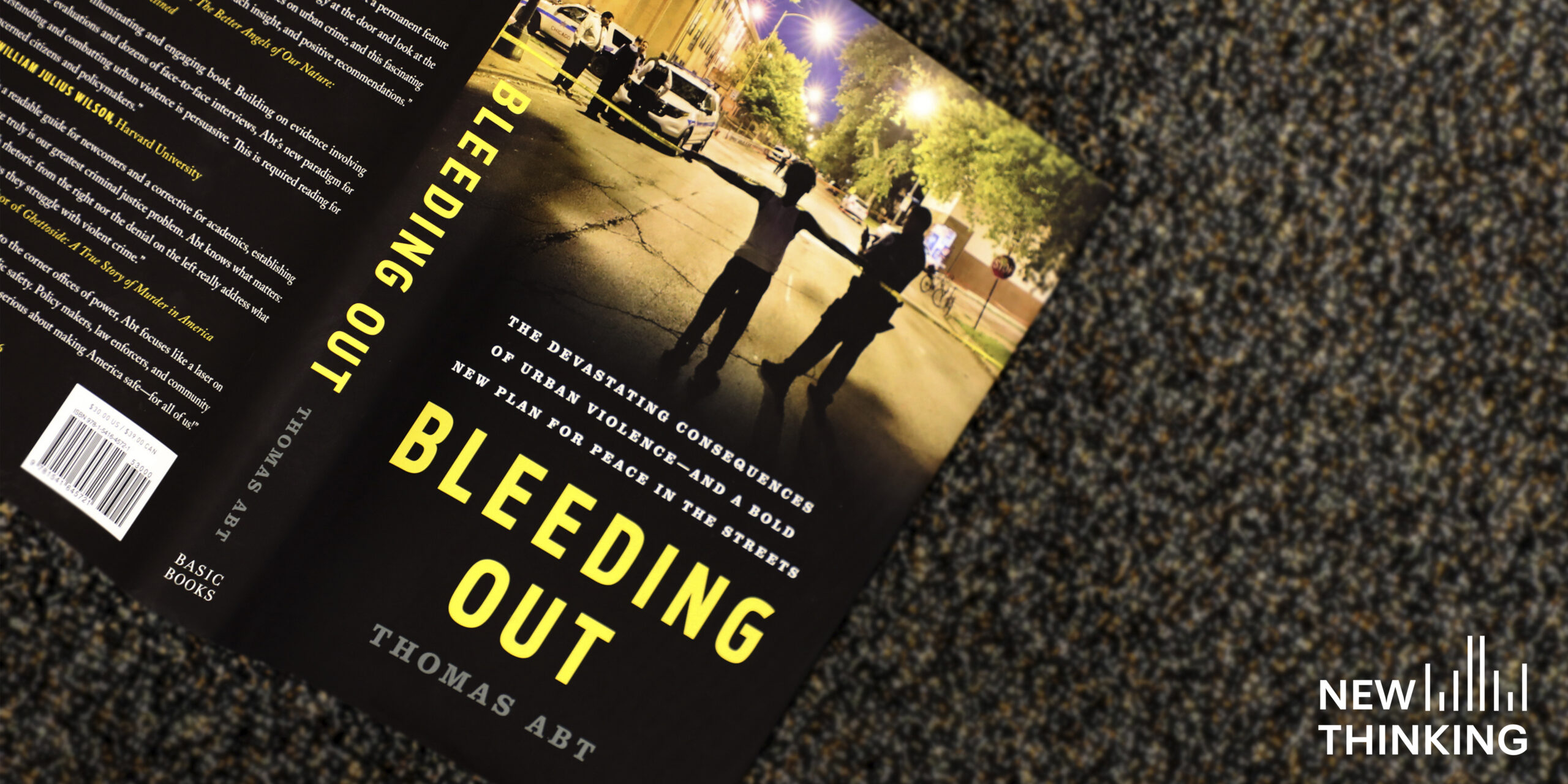 Violence reduction is an art and a science. The evidence needs to be grounded in the local realities. But you can't do this work based on hunches and good intentions.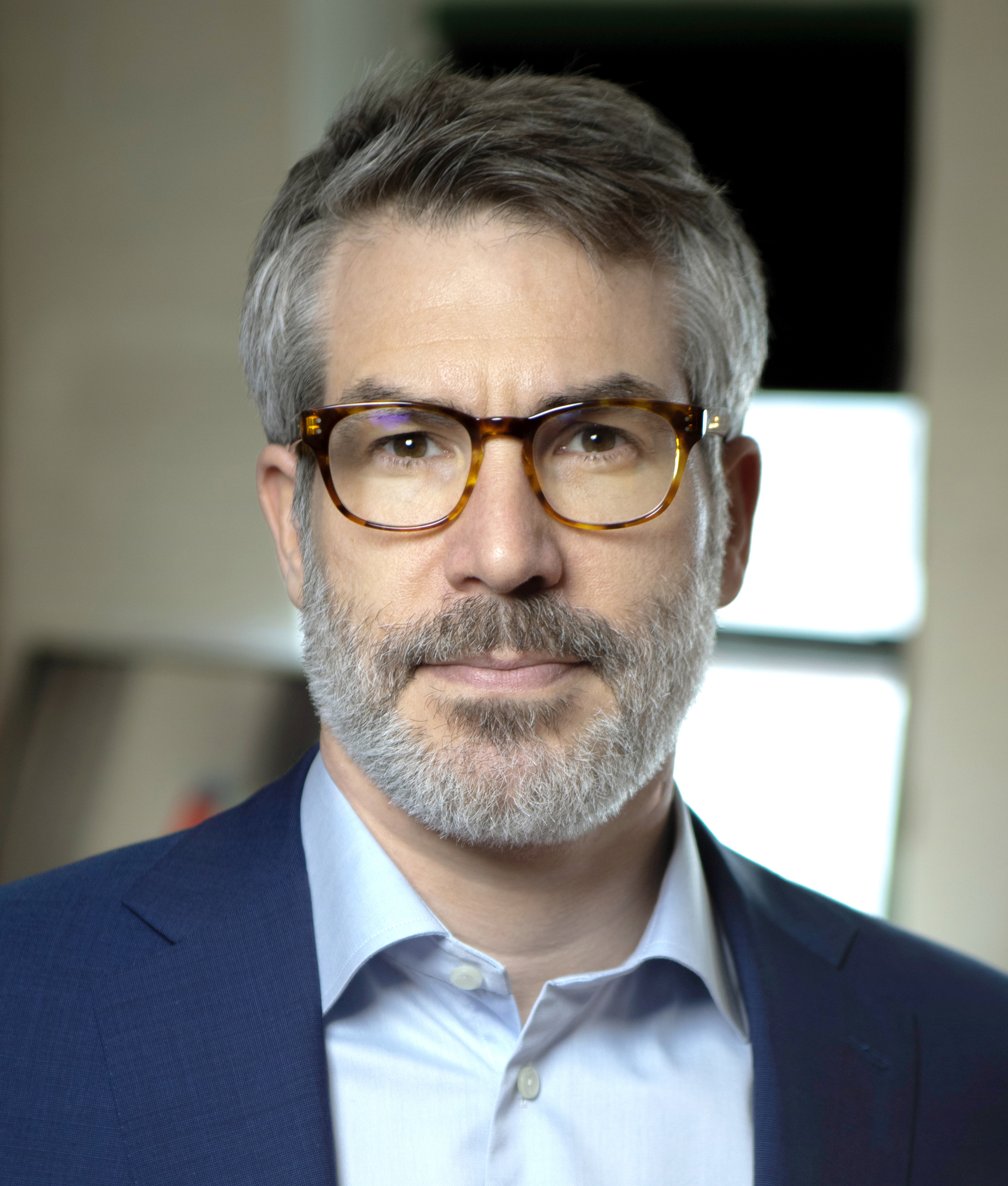 We pay a lot of attention to mass shootings—the terrible attacks in places like malls, workplaces, and schools. But Thomas Abt says we're not giving enough attention to the much greater toll of daily violence in city streets.
In 2017, more than 17,000 people were murdered in the United States, and the weight of those deaths—tragedies that ripple out from victims into families and entire communities—is not being carried equally. For young black men, for example, not only is homicide the leading cause of death, it's greater than the other nine leading causes combined.
A self-described "professional crime nerd" and former justice official under President Obama and New York State Governor Andrew Cuomo, Abt is now a senior research fellow at the Harvard Kennedy School of Government. He's also the author of Bleeding Out: The Devastating Consequences of Urban Violence and a Bold New Plan for Peace in the Streets.
In it, Abt argues for dispensing with any solution to urban violence that doesn't focus exclusively on the violence itself; chiefly the small number of "sticky" people and places where violence concentrates. Like the synthesis of research and first-hand accounts in his book, it's an approach, Abt says, that is both "evidence-based and community-informed."
Resources and References
The following is a transcript of the podcast:
Matt WATKINS: Welcome to New Thinking from the Center for Court Innovation. I'm Matt Watkins. We all pay a lot of attention to mass shootings—these terrible attacks in places like malls, workplaces, and schools. But my guest today says we're not giving enough attention to the much greater daily toll of violence in city streets—52 people shot in one weekend in Chicago last month, 32 people two weeks later over a weekend in Philadelphia.

In all, more than 17,000 people were murdered in the United States in 2017. Those numbers and the tragedy behind them are overwhelming. But Thomas Abt says there are proven ways to reduce the violence, and he lays out those solutions in his new book, Bleeding Out: The Devastating Consequences of Urban Violence and a Bold New Plan for Peace in the Streets.

Abt is a senior research fellow at the Harvard Kennedy School of Government. Thomas, thanks so much for joining us today.

Thomas ABT: It's a pleasure to be here.

WATKINS: So, you have a long career in the world of criminal justice, and I've seen where you've described yourself as a professional crime nerd. But I'm wondering if you could explain over the course of this career, how this particular focus on urban violence took shape for you.

ABT: Over the course of my career, beginning right here in the Manhattan D.A.'s office, the cases that drew my attention most were the most serious cases, and those were assaults, and then shootings, and ultimately a couple murders. From there, I had a series of positions in government where I would see every type of issue, both as chief of staff at the Office of Justice Programs, in the Justice Department under Obama, and as head of public safety serving Governor Cuomo.

But within that broad portfolio—urban violence—I still gravitated to that issue, and I was able to create initiatives that were dedicated to reducing urban violence.

WATKINS: And could you maybe define what you mean by "urban violence," and then talk a little bit about where the trends are going. Because you hear conflicting statistics, on one level we hear that crime is down quite markedly nationally, but then you also hear, as I was referencing in the intro, frequent stories of just terrible eruptions of violence in cities across the country.

ABT: Certainly. So, when I'm talking about urban violence, first I'm using a somewhat simple definition of violence, meaning physical violence, and in particular, lethal or potentially lethal violence. By urban, I mean that lethal or potentially lethal violence that occurs in cities. The overwhelming majority of the nation's homicides occur in cities of 25,000 people or more. So that's what I mean by urban violence. And really what it is, is it's the intersection of what we call community violence, interpersonal violence, youth violence, gang violence, gun violence, street violence. It's the nub between all of those different phenomena.

And to your point about where we are with urban violence, I think it really depends on your frame of reference. And in my experience, people either sensationalize urban violence, for instance our current president, or they minimize violence.

So if you go back 25 years to 1994, we have a homicide rate that's roughly half of what it was at that point. That was quite near the violence peak in this country that we reached in 1991. However, if you go back another 25 years, to 50 years ago, we are essentially standing in the exact same place. And so we've made no progress whatsoever. And then if you look at us in comparison to other high income nations, we have a homicide rate that is five times higher than our wealthy colleagues and that's driven by a gun violence rate that is 25 times higher. So I believe that you can make a strong case for urgency on this issue without being panicked.

WATKINS: And what's the role of race in the story that you're telling about urban violence? Race, I think, can often make this subject tricky to talk about. The violence that you're talking about is mostly not taking place in more affluent neighborhoods. And as we know, it's a tragedy of this country that your race dictates a lot about the kind of neighborhood that you end up living in.

ABT: Race is everywhere in criminal justice, and in particular on this issue. For young men, homicide is the third leading cause of death. For young Latino men, it's the second leading cause of death. And for young African-American men, it's the leading cause of death, and it causes more death than the other nine leading causes combined. And so, this is a problem that is disproportionately impacting poor young men of color.

I grapple with the issue of race in the book and I point out that how we got here has a lot to do with race, in particular with racial segregation throughout the last century with redlining, restrictive covenants, and other things. And that once poor people of color were restricted and concentrated in certain geographic areas, there was a systematic disinvestment from those areas that occurred over multiple generations.

And it's those levels of concentrated poverty spanning generations that ultimately produce high rates of criminality. So that's all about race. But I think it's also important to understand that we can't wait for a national reckoning on race to start saving young men's lives right now.

And one of the points that I make later in the book about the politics of urban violence is that we have, on the right, the president of the United States demonizing and fear-mongering with poor people of color, religious minorities, and others. But on the left, we have some advocates who are so concerned with race that they really refuse to engage with the criminal justice system.

And one of my points is that ultimately, the solution to urban violence involves reconciliation—reconciliation between the criminal justice system and the communities that it's supposed to serve. And I worry that the rhetoric on the right, and that sometimes the extreme rhetoric on the left, is going to either prevent or delay that reconciliation entirely.

Now, I just want to be careful about one thing. I don't want to suggest any false equivalence. Progressives are doing much better on this and are much closer to the answers than conservatives right now. Because conservatives led by Trump are not providing any constructive voice in this whatsoever. But that said, the progressive approach is not perfect either.

WATKINS: Sure. I don't think anybody's claiming it's perfect, but to pick up on this right-left point: when you write that you worry that the left is overly-suspicious of police and the law enforcement apparatus. The reaction I think some people would have is: why is the onus on the left to be less suspicious? Why isn't the onus on police, for example, to do fewer things that are contributing to the suspicion and the skepticism? I mean, there's no shortage of things just in the recent headlines that give very good grounds for a criticism of the system. We've just had 72 police officers in Philadelphia taken off the streets because of one survey of bigoted social media posts!

ABT: Absolutely. And I am a firm supporter of progressive criminal justice reform. But I worry about the most extreme conversations about this, particularly what's known as criminal justice abolitionists who basically believe that the system is so infected with racial discrimination that you can't engage with it at all. I fully believe in holding the criminal justice system and its organizations and its individuals fully accountable, and I've done a lot in my career to push that forward. But you can save lives in poor communities of color right now as well. I think what's happening is that sometimes there is a false choice presented between safety and legitimacy. And I think what we need to be able to do is pursue both at the same time.

WATKINS: You understand the impulse of people who say, like Larry Krasner, the D.A. of Philadelphia recently after this terrible weekend of violence said, "Look, we need to address the root causes here of violence." And you write that you understand that impulse. But at the same time, you've got concerns about this focus on root causes because you worry that it's not a rapid-enough answer to this bleeding-out urgency that you're underlining?

ABT: I think that's right, and I think it's actually one of the central challenges to providing solutions to urban violence—this concept that crime is the inevitable consequence of root causes, be it the root causes that are cited on the left, or the root causes that are cited on the right. And that the only way to resolve this intractable issue is to, over generations, address these root causes.

WATKINS: The criminal justice system becomes such a concentration point for so many of the inequalities in our society and the long history of racism we've already talked about, and so, trying to address all of that leads to inaction in some ways.

ABT: And it leads to pessimism and hopelessness, which is not based on facts or evidence. Here's what the evidence says about root causes and urban violence: there are correlations, strong correlations, between root causes like poverty and urban violence. Poor countries tend to be more violent than wealthy countries. Poor neighborhoods tend to be more violent than wealthy neighborhoods. Same is true for individuals. However, those are static comparisons.

When you do dynamic comparisons, meaning when you're looking at changes over time, what we see is that the causal connection, the if-then connection between poverty and violence, is much murkier and much weaker than people assume. Crime fell during the Great Depression, it rose during the booming 60s, and it fell during the latest recession. So, this idea that if you just address poverty that you would somehow cure urban violence—that's not supported by strong evidence.

The same is true for improving opportunity, for addressing inequality, or all these things. There are many examples of countries reducing inequality yet becoming more violent. There are many examples of employment programs that have had zero impact on violence. I'm a committed progressive. I'm in favor of doing all of those things on their own merits. But the notion that root causes are the way to address urban violence is just not supported by the evidence. The evidence says, if you want to reduce urban violence, focus on urban violence, focus on proximate causes, not root causes.

WATKINS: Well, so let's start talking about some of those proximate causes, and what and who and where we should be focusing on. Because this concept of focus is really integral to the book.

ABT: Absolutely. It's critical. So one of the things that, I think, your audience needs to know about urban violence is that it is sticky. It's concentrated among certain people, certain places, and around certain behaviors. And in fact, it's not just concentrated, it's hyper concentrated. The overwhelming majority of violence in any given American city is typically perpetrated by a few hundred individuals, a fraction of 1 percent of the entire city's population. Similarly, if you look at the entire city's geography, there are going to be dozens of hotspots, micro locations, not a whole neighborhood, but a certain corner, a certain block, a certain housing development that are going to account for the majority of the city's crime, and the large majority of the city's violent crime.

And so this idea that crime is everywhere, that violence is everywhere, and we have to push out on all fronts is simply not the case. This is an extremely serious problem as I talk about in the book. The social costs are enormous.

WATKINS: And they radiate out from the victim into the family, the community.

ABT: And into the larger society. Taxpayers are paying a huge toll for urban violence. It's invisible, but they don't see it. They're paying in raised insurance premiums, increased taxes, decreased property values, and so on. But the point is, we think of this because the problem is so serious, it must be big. Actually, this problem is quite small in terms of its concentration. And we just need to focus, we need to have higher quality programs, rather than higher quantity programs.

WATKINS: So what would some of those programs or measures look like, or are already looking like? Because some of them are already in place.

ABT: So I think one of the most important observations that I make in the book regarding how to help people change their lives and to remove themselves from the cycle of violence is that you really need to help people engage in thinking and behavior change. That's done, according to the research, most effectively through something called cognitive behavioral therapy.

And this isn't your mom or your dad's Freudian therapy. This is very constructive, very practical, working through specific problems you have, identifying your problematic thinking and behavior around that, and then practicing alternative solutions to get you better results. And what I see in the literature about these reentry and rehabilitation programs is that one of the central themes of whether they're successful or not—whether they're employment, whether they're education, whether they're arts-oriented—is do they have some form of CBT?

Are they addressing thinking and behavior change? Because if they're not, then you get someone into a new apartment and they have a fight with her roommate and they get kicked out. You get someone into a job and they can't take the criticism from their boss, and they walk off, and then they don't attend their drug treatment, and so on and so forth. And this is a very important point, which is that for these highest-risk individuals, individuals who have been through a tremendous amount in their lives…

WATKINS: Tremendous amount of trauma and victimization very often as well, right?

ABT: Exactly. It's not realistic to think that you can just throw resources at them and they're going to have the skills and capabilities to just absolutely make the best of them without further assistance. And so, one of the things that I point out is that we need to have a more thought-out process about engaging with these highest-risk individuals.

We need to think first and foremost about their immediate safety, because many of these people, their lives are in jeopardy at the time. So we first need to keep them alive. Then we need to stabilize them by helping them think through open warrants, get them a driver's license—very simple concrete things to simply stabilize them.

Once we've helped them get stable—they have a steady place to stay, they have enough food, et cetera, et cetera—then we need to talk about treatment with CBT. And it's only at the end of the process that we think about these broader opportunities about getting a GED, getting higher education, getting a steady job and these things.

Let me give you an example. Father Greg Boyle, a famous anti-gang activist and gang mediator, he coined this phrase: "nothing stops a bullet like a job." And this phrase went viral, and you hear it all over.

WATKINS: Because it makes this connection that people are, it already makes intuitive sense to people.

ABT: Right. It makes intuitive sense. It's not backed up by the evidence. And Father Greg Boyle has recanted, and he is embarrassed that he is associated…

WATKINS: But it's too late!

ABT: Right. But this idea that you can simply get someone a job who's been through hell and back and that that's going to magically change their whole life is just not borne out by the evidence. And so one of the things the book does is it gently challenges the conventional wisdom from both sides about what works in reducing urban violence.

WATKINS: And then you also write about this principle of balance, that in terms of dealing with high-risk individuals it can neither be all carrot or all stick: it can't be all offers of assistance or all offers of punishment. It needs to be both.

I might quibble a bit with this idea that there's people out there advocating an "all-carrot" approach. I think even abolitionists are not saying, "let's close all prisons tomorrow and have no accountability for anyone or for anything." But, do you want to talk a little bit about how you understand this principle of balance?

ABT: Basically, the principle of balance is based on two observations. One is that, when my colleagues and I reviewed hundreds of rigorous impact evaluations of anti-violence programs, we found examples of strategies that worked that were heavily enforcement-oriented, and we found strategies that worked that were heavily prevention-oriented. And the evidence does not prefer one strategy over another. That's the first observation.
The second observation is that, to my knowledge, I have seen no city that has successfully and sustainably reduced violence over the long run that has depended purely on enforcement or purely on prevention. Look at New York City, for example. The conventional conversation about what happened in New York City—the "New York City miracle"—is all about policing. It's all about Bill Bratton, and stop-and-frisk, and "taking the city back," and then a later story about the excesses of that approach.

But people don't really acknowledge the incredibly rich web of nongovernmental organizations, of community-based organizations, of alternative-to-incarceration organizations that New York City has—this very dense capacity. The Center for Court Innovation is one of the most prominent. And in fact, Pat Sharkey, who you've had on this podcast, really proves this out in his book, Uneasy Peace.

He credits police with significant responsibility for crime reduction, that they contributed a certain amount of crime reduction, but he notes that community-based organizations played a critical role as well in this New York City miracle, and in the national crime decline generally.

WATKINS: Right. I mean, part of his argument, I think, is that, sure, you can put a cop on every corner and they're going to end up mostly stopping young black and brown men and you're going to generate a form of public safety at that point, but it's a thin form of public safety that creates a lot of distrust between communities in the city and police officers. Whereas nongovernmental community organizations that are involving the community, involving directly-affected people, creates a thicker form of public safety. I mean, maybe that's the argument against the broken windows model, but you're going to tell me the evidence doesn't support that, I feel like.

ABT: Well, I think that's a very sophisticated and very nuanced, but incorrect, view of the progressive view, which is that you can have both, but you should really choose one because it has less collateral consequences. And I think that there's a lot of truth in there, but what we should really be emphasizing is partnership. And I think subtly in what you're saying is this distaste and distrust for law enforcement, not distrust, that's too strong. But I think that the message has…

WATKINS: Or the broken windows era, I guess, to some degree.

ABT: Certainly. But I think one of the things that we have to recognize is that hotspots policing, when it uses zero tolerance strategies may reduce crime, but it has all of these negative collateral consequences, and it triggers all this community resistance.

However, when it's done in collaboration with the community, when it's even more focused—it's not just focused on key locations, it's focused on key individuals and it's supported by crime analysts and other information—it's, a) more effective in reducing crime and, b) it doesn't trigger significant community resistance.

So, this idea that hotspots, or stop-and-frisk, or broken windows is always going to be the wrong strategy is just not supported by the evidence. And it's important to not throw out the baby with the bathwater. When it's done wrong, it's ineffective and it's illegitimate. But that doesn't mean that it can't be done right.

WATKINS: Sure, but from your perspective, isn't the problem with broken windows—the way it was done in New York City—is that it wasn't focused, it wasn't targeting micro locations. It was more of, at its height, was a real dragnet, again, for young men of color.

ABT: Yes, I take the New York City example to task. I really think that the New York City story is a story of hotspots policing gone too far. But I don't know whether it was geographically too spread out. They were in the areas where there were the highest rates of crime and violence. My problem is that it was not focused any further after that. They basically went to a high-crime area, and they stopped every young man, and that ended up being every young man of color.

And that was geographically targeted, but not targeted enough in terms of… And this is one of the things that I think is very important, that we don't stigmatize entire communities. Even in the most allegedly dangerous communities, most people are not dangerous. So, you can't go into one of these so-called dangerous communities and think that you can simply do this, as you said, dragnet approach. It's not right. It's not fair, and it doesn't work that well.

WATKINS: As you mentioned, the Center for Court Innovation where we're speaking, we operate some anti-violence programs in New York City. We've got four at neighborhoods in Brooklyn and the Bronx and they adopt what's known as the Cure Violence strategy, which is treating urban violence as a contagious phenomenon—sometimes called a public health approach, that you can fight violence using similar measures that you would use to combat disease outbreaks. And you write a bit about that in the book. I wonder where you think that public health approach to violence prevention, where that movement stands right now, and what the evidence says about it.

ABT: So, in terms of Cure Violence, first of all, congratulations. Your strategies have been pretty rigorously evaluated, and they've been shown to be successful. And so that's very encouraging. That said, let me approach this issue of public health. I think that public health is an extremely important component. There are two major fields that have the most equities when it comes to urban violence. That's public safety, and public health.

However, I think many people in public health want a 100 percent switch over to the public health model. I don't believe in that. I think we need a partnership between the two. And frankly, in some of the circles that I operate in, law enforcement is more willing to engage with public health than public health is willing to engage with law enforcement. And so, I think that that is a challenge.

I also think that this metaphor of violence as an infectious disease is extremely useful, but it has somewhat gone too far. There are people who now use it in a near religious capacity and they almost seem to believe that it literally is an infectious disease, which of course it isn't. And I actually in the book prefer a different public health metaphor.

I'd like us to think of urban violence not as a disease, because some diseases require urgent attention, but others don't. I'd rather us look at urban violence as if it was a gunshot wound—a grievous injury that is bleeding and that we have to stop the bleeding immediately.

WATKINS: And then you write a few times in the book, in an overarching way, that the solution for you to urban violence has to be both evidence-based, as we've been talking a lot about in this interview, and also community-informed. And I think you make the case that in fact, there's a lot of overlap, and maybe more overlap than some voices might think.

ABT: That's right. When I started out writing the book, I quickly decided that I didn't want to simply summarize all the evidence and write a very dry book. What I decided is that I wanted to summarize the evidence but then put that evidence in conversation with the real lived experience of people who had dealt with urban violence firsthand. And so what I tried to do in the book is to create something of a feedback loop between the academy and the community. And what that meant in practice is it meant me flying all over the country, sitting down with former gang members, street cops, mothers who had lost children, and saying: here's what the evidence is saying. Here's what the crime nerds are saying from Harvard, or Yale, or Northeastern, or wherever.

And then asking them: "does this sound like what you see? Is this consistent with your lived experience?" And I was surprised at how aligned they were. They really were seeing the same phenomenon from different perspectives. Violence reduction is an art and a science. It involves your heart and your mind. And if you are too clinical about it, you're going to miss things. And if you're too emotional about it, you are going to miss things.

The evidence needs to be grounded in the local realities. But you also can't do this work just based on hunches and good intentions, and sometimes that's what we see.

WATKINS: Well, I think you've managed to do that in the book, that it comes across very well.

ABT: Phew!

WATKINS: This art and science aspect as you put it, and really, at bottom, this urgency of combating this problem of "bleeding out." So, congratulations on the book. And thanks so much for coming to talk to us today.

ABT: Oh, it's been a pleasure. Thank you.

WATKINS: I've been speaking with Thomas Abt. He is a senior research fellow at the Harvard Kennedy School of Government, and the author of Bleeding Out: The Devastating Consequences of Urban Violence and a Bold New Plan for Peace in the Streets. For more information about this episode, visit our website: courtinnovation.org/newthinking. And if you enjoyed this episode, scroll back in the feed to find our conversation that Thomas referenced with Patrick Sharkey on the social costs of the kind of violence Thomas and I have been speaking about today.

Special thanks for this episode to Greg Berman. The show was produced and edited by me. You can find me on Twitter @didacticmatt. Technical support from the impassive Bill Harkins with engineering by Max Aharon. Our music is by Michael Aharon at quivernyc.com. Samiha Meah is our director of design. Emma Dayton is our VP of outreach. And our show's founder is Rob Wolf. This has been New Thinking from the Center for Court Innovation. I'm Matt Watkins. Thanks for listening.