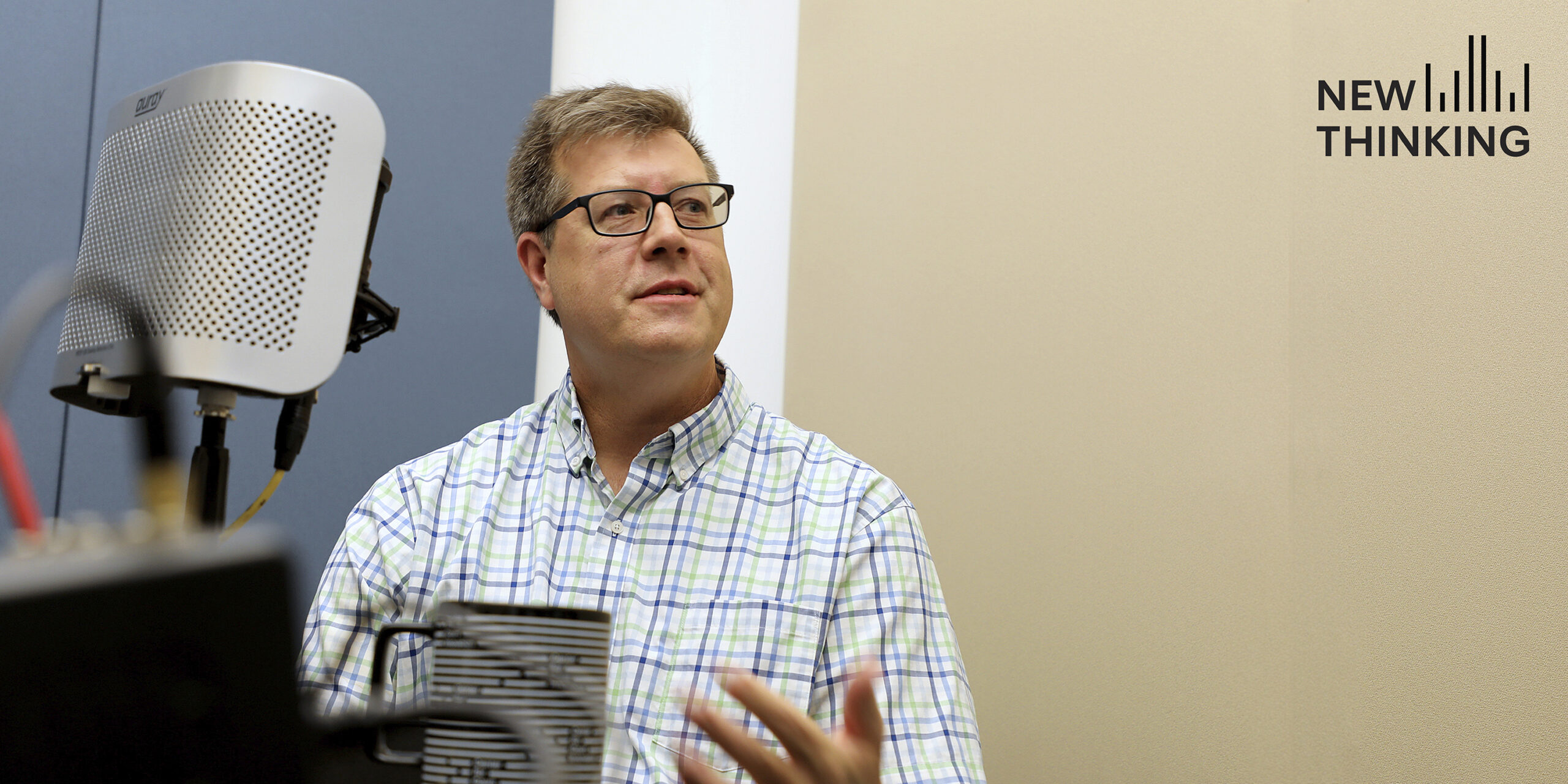 These are very substandard health systems and abusive and neglectful environments—and all of that has gotten dramatically worse during the pandemic.
COVID-19 has preyed upon pretty much every American inequality and weakness: from racism to the disdain for government. Soon, half a million people in this country will have died.

But now imagine the spread of the virus among people not even regarded as being part of the public in "public health." People confined inside a system designed to negate transparency, where health care is largely under the control of security forces.

This is the story of COVID-19 in prisons, jails, and immigration detention centers—places where even the partial lessons we've learned on the outside are often casually disregarded. As of February 2, 2021, more than 454,000 people incarcerated and staff have been infected with COVID-19; nearly 2,400 have died.
Dr. Homer Venters has been inspecting those facilities and their paper trails—about two dozen so far, from Chicago's massive Cook County Jail, to a Virginia ICE detention center. Often those visits are part of lawsuits to force compliance with baseline measures intended to stem the spread of the virus.

Venters is the former chief medical officer for New York City jails. He was a guest on New Thinking in 2019. His focus then was on "jail-attributable deaths," where incarceration itself was the primary cause of someone dying.

In a sense, as he has transitioned to a full-time role as a COVID-19 investigator, that is what Venters is still focused on, presenting himself at detention facilities across the country—PPE, and sometimes a court order, in hand.
 
---
The following is a transcript of the podcast:
Matt WATKINS: Welcome to New Thinking from the Center for Court Innovation. I'm Matt Watkins.

COVID-19 has preyed upon pretty much every American inequality and weakness: from racism to the disdain for government. Pretty soon, half a million people in this country will have died.

But now imagine the spread of the virus among people not even regarded as being part of the public in "public health"; people confined inside a system designed to negate transparency, where health care is largely under the control of security forces. 

This is the story of COVID in prisons, jails, and immigration detention centers. Places where even the partial lessons we've learned on the outside are often casually disregarded. 

Dr. Homer Venters has been inspecting those facilities, about two dozen so far, from Chicago's massive Cook County Jail, to a Virginia ICE detention center. Often those visits are part of lawsuits to force compliance with baseline COVID-safety measures.

Venters is the former chief medical officer for New York City jails. You might recall his interview on New Thinking in 2019. His focus then was on deaths behind bars where incarceration itself was the primary cause of someone dying.

In a sense, that's what Venters is still focused on. I started our interview by asking him how, as the virus spread, he went from running a small correctional health nonprofit, to a life on the road, presenting himself at detention facilities across the country—PPE, and sometimes a court order, in hand:

Homer VENTERS: As COVID evolved in January and February, I really started, with a lot of people, trying to get the word out about what a disaster this was going to be behind bars, about basic things people could do to prevent loss of life—including release of high-risk patients.

By February it was clear those things weren't happening and so, I think in March, I started to get a lot of requests for help in prisons, jails, ICE detention centers—to figure out the truth of what's happening and then report back on recommendations.

By April it was clear this was really an overwhelming need, and so I handed off the reins at the nonprofit to folks who were really skilled administrators and policy folks. Since then I've been full-time pretty much in this work.

What that means is often there's litigation, where a group like the American Civil Liberties Union or the Southern Poverty Law Center might want to retain an expert to go physically inspect and figure out the reality of what's happening with COVID: talk to people, review the policies and practices, and then report back to a court.

Sometimes the court wants someone to do an independent assessment, so some of the work I've done is on that. And some of it is in the role of monitoring—being appointed to oversee what's happening with the COVID response.

But the nuts and bolts of it are quite similar: I go to the facility, I both physically inspect it over a day or two or three, I talk to as many detained people as I can and staff, and there's a lot of legal wrangling that happens beforehand—either to keep me out, or to limit my abilities to do those things. 

But once I get there, I do as much as I can and go through the physical inspection, reviewing documents, like the medical records of people who have died, sick call records, things like that.

WATKINS: A lot of people have pointed this out, that COVID-19 has just exploited and exposed so many deep fault lines in American society: racism, inequality, access to healthcare. From your perspective, you must think that jails and prisons are fault lines within those fault lines, and that's really what's been exposed with the spread of COVID behind bars. 

VENTERS: When it comes to healthcare and rights—human rights, civil rights—I think that it wouldn't be a shocking statement to say that the conditions faced by people who are incarcerated are draconian and decades behind what we would expect. And often the truth of what people experience is very different, even 180 degrees different, from what the people who run the facility say is happening. 

And that can persist because for many years, for decades, these facilities and these systems have become so adept at either marginalizing or just flat out eliminating the voice of incarcerated people.
So that if you compare to community health, where over the last couple of decades we've worked to promote engagement to find out: what do our patients think about what we're doing? And how do they rate our services? And is it true when we said we wash our hands as physicians, did anybody ever see us wash our hands?

But in correctional settings, these voices of the people who are going through COVID—who are dying from COVID, getting sick from COVID—there's so many very nuanced and sophisticated tools that are used to silence them and to keep their voices hidden.

And because we don't have a national commitment to external, independent monitoring of these places, like most countries in the world do, it leaves, during an emergency like this, the people who are dying and getting sick, at incredible disadvantage, and it's obviously a disadvantage that's conferred along lines of race, and behavioral health, and socioeconomic status. 

These are very substandard health systems and abusive and neglectful environments, and all of that has gotten dramatically worse during the COVID outbreak and COVID pandemic.

WATKINS: You made the point in our last interview so well about incarceration settings being really paramilitary in nature, and with that there's just this great fear of transparency.

VENTERS: Yeah, and I'll say that as I go through and write my assessment of when I go to different places, there are some strengths that sometimes flow from that paramilitary structure. So, when an order is given to do something and there's institutional commitment to do it, there are places where I've seen—for instance, officers wearing masks is a great example where most of the places I go, people report that in the off hours, in the evening, and on the weekends, many of the correctional officers or security staff don't wear their masks, or they think it's a joke. 

But I have been a few places where it's clear there was a deep commitment to make a difference in that area. And so, officers were trained, and officers were told, "do this," and in relatively short order that got addressed. And so that is a characteristic of a paramilitary organization that can go do a lot of things quickly.

But also, one of the most fundamental features of this COVID response that the CDC talks about over and over and over, which is "we want to engage with people, we want to bring them along, we want to show them why and talk to them why these interventions are important." That really does run headlong into the nature of most correctional settings, which is: we're here to punish, and any kind of dissent or questioning is going to be viewed as a threat, a security threat, and will be punished. 

WATKINS: And could you talk a little bit about the issue of preexisting conditions? We know that COVID-19 attacks people far more aggressively, and potentially fatally, for those with pre-existing conditions.

We know that a lot of people coming into jails and prisons are coming into these settings with pretty serious pre-existing conditions—that's all prior to COVID. And we know in part from the work that you and your colleagues did on Rikers Island, that jails and prisons themselves are in some ways a primary pre-existing condition and can themselves lead to death.

VENTERS: The two areas of the health services where I always want to dig in with data, and also ask people about their personal experiences when I do a facility inspection: one is about sick call access, the other is chronic care. Because it's so commonplace that people receive inadequate care, even for the conditions that the facility knows they have.

So even for their diabetes or their hypertension or their asthma, they're not receiving anything close to a standard of care. And so, this then puts them really at a double risk, because there's obviously a baseline risk for having one of these chronic health problems. But then the CDC has been quite clear that when you have poorly controlled health problems, that's really an additional level of risk. 

WATKINS: And when you say "sick call access," could you explain exactly what that means? 

VENTERS: Basically, what this means is that if I wake up in the morning and I have pain somewhere in my body, or I have a health problem, I can either write down on a piece of paper or I can use an electronic kiosk and submit that to the health service.

The health service will review that and then the standard is within 24 hours, if it's during the week, sometimes up to 72 hours, they'll respond with a face-to-face encounter. And so, because COVID obviously runs through facilities very quickly, affects whole housing areas, one of the first bits of data that I started to look at in April was what was happening with sick call requests. 

And when I would talk to facility administrators, they would say, "of course, we have a policy, and of course we always follow this policy." I'm stunned that health service administrators will still say to me with a straight face: "we follow our policy 100 percent of the time."

But then when I dig in, and if I'm able to get a judge, or the attorneys are able to get the judge, to order for me to have access to the actual sick call records, some of the alarming things we found in the federal Bureau of Prisons cases in New York City was that they were actually throwing out these sick call requests. 

So, patients would make multiple requests—if they ended up being seen, it was often weeks later, even if they were reporting a COVID concern, but then there were those actual records, the actual thing that they wrote which was a problem, which is part of their medical record, was being thrown away.

So, talk about the literal definition of stifling or destroying the voice of people with COVID. They were calling out, using the methods that the facility had told them they were supposed to use, and then they wouldn't be seen. And then the records of what they said would literally be thrown away.

WATKINS: So that there's no paper trail.

VENTERS: There's no paper trail, and really what this comes down to is, so that there's no accountability for the delay in time or the lack of provision of care. When you talk to people in corrections and correctional health, they will throw a zillion numerators at you. They'll say, "we've done all these things, we saw 1,000 patients," or "we gave 2,000 pills," or "we did this many things."

But you rarely will get from them the denominator, which is how many were you supposed to have done? And this is a core, core difference between correctional health and community health.

In the community, if a hospital said, "Well, we got 15 patients to the cath lab in the appropriate time," CMS and the Joint Commission and insurance companies wouldn't say, "Okay, thanks for the information." They'd say, "Well, how many were supposed to get to the cath lab in one hour?" And if the denominator was 30 and the numerator was 15, that hospital would be in trouble. 

But in corrections, it's common to run into this problem. And so sick call for me is inherent in my COVID work because I need to know, or at least need to try and find out: how many people have been reporting COVID symptoms through sick call, and what's the response of the facility been.

Once an outbreak starts, it's common to find many people reporting symptoms of COVID, little to nothing happening, people being left in their housing areas while the virus just rips through that physical space and affects the people around them very quickly.

WATKINS: Let's talk a little bit concretely about these visits you've done. First off, what kind of reception are you getting from wardens and jail management and the staff?

VENTERS: I think it's very mixed. I think if there's a spectrum between from hostile to cooperative, and I've probably run into anywhere along the way. I think that it obviously depends a little bit on the context. In a setting where I'm the monitor, I'm a part of a monitoring team that the state is part of, I think there's a little more buy-in.

When it's really difficult litigation, and if the attorneys involved in the case are part of the inspection, then it can be pretty chippy. But I'll say that one thing that I do want to make sure to reflect is that every one of these places, the people who work there have done a lot of work.

And many of them are the people that you find today in some of these places are almost like the last staff standing, because so many staff have gotten sick—these places are often very short short-staffed. 

But it brings me back to this denominator, which is: what were they supposed to have done? One of the reasons that it's critically important for me to talk to detained people—I wouldn't do an inspection if I couldn't talk to the detained people, and that's actually put the kibosh on some of this—because I'm not interested in just getting a tour.

But one of the things that I learned quickly from detained people is the things that needed to have been done or could have been done, and it didn't happen. Or now, the things that were happening in June and July that have stopped happening because of this really deep COVID fatigue that has set into a lot of these systems.

WATKINS: You've said that you don't want to just be doing the guided tour, but obviously jail staff know that you're coming, and I'm wondering how you allow for the fact that they might be doing stuff just to impress the monitor?

VENTERS: That's almost always the case, but you know, the kinds of things—and I usually put this into the reports I write—the things that will happen in the week before is things will be cleaned that usually aren't cleaned, or new signs will be put up. I think in some of my reports, I talk about how detained people will tell me that paper towels and soap showed up that week.

So those types of things, I'll ask about when I talk to detained people, it's part of why it's important to talk to them. But the baseline issues that promote the spread of COVID, or the deficiencies in care for people that have COVID, those things really aren't fixed quickly.

So, a good example is: almost every place I go will say "yes, we have a policy that any workers, inmate workers they're screened every morning, just like the staff are." So we check them, we check their temperature, we ask them questions about COVID. 

Really, with only one or two exceptions in the places I've gone, that actually doesn't happen. So there'll be a stated policy, but if I talk to 20 or 30 people who have different jobs in the work crews and the kitchen, or running trays or whatever, and they say they've never been screened, they've never heard of this, and I talk to officers who don't know what that is, that's not something you can fix in preparation.

That particular problem really has promoted the spread of COVID—the fact that these places rely on prisoners or detained people to do a lot of work, they don't take care or attention to screening them and testing them for COVID, and that they have those people move around.

After the staff who are the primary vector, I would say that would really be a close number two, in terms of, when I look into a housing area and how a particular local outbreak started, this practice and this lack of attention to the safety of inmate workers, but also their role in infection control is really quite common as a core failing.

WATKINS: What are some of the other core deficiencies you're finding across some of these facilities?

VENTERS: Well, I think that detecting and responding to new cases appropriately is really at the heart of a lot of the preventable deaths, or the jail- or prison-attributable deaths, during COVID. There's first the question of: are you finding the new cases? And so that goes to testing, but it also goes to screening.

But then in most places, people who test positive are just going to have their temperature checked. If you talk to them, nobody's asking them about their symptoms. And so, you're not finding who's symptomatic. 

Then as people get worse and their symptoms become more severe, they often are just taken and put into a cell by themselves, and that's pretty much it. And so people who are symptomatic, even the ones the facility knows about, they may just get a quick check, people may not ever listen to their lungs, even people who say I'm having shortness of breath, they may not get a real clinical assessment at all during the 14 days they're in medical isolation, but certainly they're not being tracked on a regular basis.

Then what happens is people get sick in places that aren't set up to take care of them. And then by the time they deteriorate, and somebody figures out that they need a higher level of care, a lot of time has been wasted, they have gotten much, much more sick, and it's much more likely they will die.

One of the things I look into when I investigate the individual deaths, if I'm able to get access to this information, the medical records of people who have died, is to try and figure out: when were their symptoms first detected by the service, the health service? When were they actually first reporting that they had symptoms? And then as they got sicker, was the facility responding? 

This is particularly an issue in state prison systems where you may have dozens of prisons around a state, but in order to keep track of all the people who have COVID in all the different prisons, and keep track of which of them has symptoms, and symptoms that meet this threshold for bumping up the level of care, you need a pretty sophisticated approach that uses a standard tool and that also has good communication.

And that is almost never the case. So that people get very, very sick wherever they are, wherever they started out. By the time they get very sick, then the question is really not: are they're going to go to some regional medical unit, but then, is there a hospital bed for them nearby? Which there may not be because of the community outbreaks too.

WATKINS: How much are you finding at times a reluctance on the part of people who are detained to report their symptoms—whether out of a fear of some kind of retaliation or people who test positive can be placed into segregation which is effectively solitary, which is a terrible form of punishment, which again is going to make people reluctant to report symptoms.

VENTERS: If people see that they're not going to get meaningful care, and what they're going to get is essentially a punitive response, then it is a common concern and people will say we don't want to report our symptoms. The CDC, it had some vague language about making the medical isolation non-punitive—it fleshed that out a little bit over the summer— but still it's really far too weak.

What we need to do is say that this whole response we need to work to make it non-punitive—not just in medical isolation, but in quarantine units in other aspects of how we respond.

But if you don't have access to a phone in medical isolation, if you don't have access to reading material, and if nobody's going to come… If you've already heard from other people that went there, that they don't even come and check on you, then why would you report it?

I've been in places where in medical isolation, the place where people with COVID go, nobody checks on them over the weekend at all. Imagine if you're sick in one of those places, why would you want to be in that place instead of in a more congregate setting, where maybe you try and stay to yourself, but also there's other people to look out for you so that if you're dying, somebody will notice.

A lot of correctional administrators will raise this as a reason why they don't know about COVID, or COVID spreads very quickly. But I think that at the core, it still is reflecting that the facility hasn't come up with a response that's non-punitive, but also that people think is valuable.

I think people will put up with a lot if they think it's going to help their health. And I think that much of this is driven, not just by the kind of new punishment feeling that you get in medical isolation, but by what they hear from others, which is that they don't get any meaningful care anyways.

WATKINS: You've also been looking at immigration detention, ICE facilities, which I would imagine are a little bit like jails, where you have a lot of people churning in and out, often on short-term stays. Are there particular challenges or deficiencies you've found with the ICE facilities?

VENTERS: I think that there are some unique features to ICE. One just very clear one is language—so many of the people coming through immigration detention centers don't speak English. And so many of the staff who work with them don't speak Spanish, or any other language.

This really becomes much more acute or much more problematic during COVID. So, what you have is lots of people were being asked questions or being assessed or even being tested. So many people I've talked to who are in immigration detention, they'll say, "I don't even know what the result is because nobody talked to me about the test in the language I understand." So that's a real core issue.

The other thing I would point out about ICE and there's been some good movement, intervention by judges and ICE has been compelled to limit transfers. But the transfers between facilities—I think about the United States, it's like the continental United States is this huge pinball machine. And if you're in immigration detention you're just bouncing your way south most of the time.

And as that's happening, the virus is being moved around. And so, I think really the only true super-spreader event that I've investigated was Farmville, Virginia, where it's a facility that had put in new admission quarantine processes, it had no COVID in the house, in the building. 

And then, for I think pretty suspect reasons, ICE decided very quickly to transfer about 70 or 74 people from two facilities that had COVID issues, or three facilities, some in Arizona and some in Miami, decided to move those people over to the Farmville, Virginia, facility and then push aside or bypass the normal new admission process they had set up.

And so that facility was overrun with COVID in weeks, most of the people there got COVID, well over two thirds, and an older gentleman died. That I think is an extreme example, but this problem in immigration detention of moving people back and forth has really been an issue for the movement of the virus. 

WATKINS: When you're dealing with staff and management in these facilities—prisons, jails, ICE detention centers—do you get the sense that they understand that it is in everyone's interest for everyone in these facilities to get tested and to get access to care, and that containment, again, serves everyone's interest and the broader community?

VENTERS: I think that people, most of the health staff, particularly I interact with, who work in these facilities, understand the nature of the virus and how quickly it spread. Many of them, they've been living it, because they're caring for, or doing whatever their job is, as the virus runs like wildfire through their facility. And many of them have gotten sick and some died.

I think that the limitations are that in ICE, or in the Bureau of Prisons, or certainly in state prison systems and even jails, there's not really a commitment to having leadership who are experienced in health administration, who can think through how to quickly make these systems changes that include, leveraging political will to get access to tests.

Or I think a good example now is the delay in getting people who were in these congregate settings access to vaccines, and the lack of preparation for the vaccines once they arrive.

WATKINS: You mentioned the vaccine: I'm wondering as a health professional, what your feeling is right now, if we can talk about the national landscape, in terms of how much access is out there for people who are detained and how much they are being privileged—or not, for the most part—in terms of getting access, given the urgency of the conditions?

VENTERS: I think that most places are behind, and I think that everybody can understand that we have had weaknesses in both the federal response and also in state responses and local responses. But there's no definition you could use of a congregate setting that wouldn't also include jails and prisons.

And then we also, beyond the just congregate nature, we also have tons and tons of high-risk people—generally about half the people in these settings meet the CDC criteria for being high risk for death or serious illness from COVID.

So, then it really comes down to this lack of political will to make sure that people in these places are in, let's say Category 1B, and they'd get slotted down into the twos, or sometimes even in the threes in the state plans.

But what we needed was a strong federal leadership to say, "No, we're going to make a commitment to get this, to prioritize vaccine access for people who are behind bars and staff." And then also make sure to work with states to make sure that that happens.

So, we have states little by little trying to figure this out, but when I talk to detained people and the health staff, there's almost no work going on about engagement. These are places where the patients have really good reasons to distrust the health staff. Think about if the person who cleared you for solitary confinement, or the person who kind of turned a blind eye to you getting beat up by a CO, is now the person that's saying, "This is an important intervention, go ahead and take it."

There's really critical work to engage with incarcerated people on taking the vaccine and this really requires more credible messengers than the health staff. So other detained people, people from the community, people with this lived experience of detention or incarceration, we need a plan and you need to implement it now.

I mean, really we needed to do it a month or two ago, to try and figure out who can we partner with to get this message across? Because I fear that in many of these places, the uptake may be 30, 40, 50 percent, when really what we need is 85 percent, and we're just very behind. 

WATKINS: I want to talk about some of the recommendations that you're making with regards to improving care behind bars. But before we do that, given the congregate nature of jails and prisons—you couldn't really have a setting where people are more packed together—the number one solution right now has to be to release as many people as possible, whether that's through compassionate release or some other mechanism.

Here, I think, nationally the picture is not good. In fact, numbers in many places are going up right now.

VENTERS: Release is the first response and it really remains the primary response. I will say, it's important to say, in my opinion is not the only response, and it's not even the only response that saves lives. I've seen a lot of really important responses that have saved quite a few lives.

But release is critical, first because we're in this emergency phase of the pandemic where we want to save lives, we want to prevent people from dying. Finding the high-risk patients and getting them out and getting them into settings where they're less likely to die, which, definitely taking them out of a detention setting lowers their risk of death from COVID-19—that's really important. 

The other thing is, in order to follow these CDC guidelines, or basic infection control practices, you can't have a full house. You can't have a prison with a capacity for 1,200 that has 1,400 people, because then it makes it impossible for you to make any effort towards social distancing.

It makes it impossible for you to have a quarantine house every time. Certainly, it makes it impossible for you to have medical isolation, where you provide adequate services. And so the need to dramatically lower the census is about saving the lives of the people who are in there, but it's also about allowing the facility to do the job that we think they're supposed to do, and so it's critically important.

WATKINS: If we talk about longer-term solutions, is there a sense in which you feel like COVID has exposed just how bad the health inequities are behind bars, that it in fact does sort of show a path forward for making longer term, more positive changes. I mean, we've really seen now what the lack of access to care can do to people.

VENTERS: I think, and I hope so. I think that really, this is a gut check for the CDC and for state departments of health in particular, because those are two evidence-based, professional organizations, or sets of organizations, that think about health and health outcomes in a way that's scientific, and that grapples with racism, or is starting to at least.

And they also have been pulled into—and I would say unwillingly pulled into— what's happening with COVID behind bars. And so, I firmly believe that the CDC right now—and I mean, right now, like with the new administration—must create an office of correctional health that doesn't just push out a few guidelines about COVID-19, but really gets involved, in the short term, whether or not those guidelines are being followed and what tools to use.

But really in the medium term, within a year or two, also starts to look at other really critical health problems and health outcomes for people who are incarcerated, and get involved in the job of figuring out how prevalent are these problems and what things are making them worse and better?

A great example is, I mean, two great examples. One is traumatic brain injury, but the other is suicide. Suicide has been a leading, some years the leading, cause of death in county jails. And what we see from the CDC is a very big commitment to work with other organizations to reduce suicide risk and the prevalence of suicide in community settings.

But they really have boo to say about all of the people who are dying by suicide behind bars. And that's a shame on them, just like it is for traumatic brain injury, just like it is for all the other health problems where they've decided, and this is a decision, not to be involved in promoting or protecting—that's their mission—protecting the public health of people behind bars.

WATKINS: Well, it feels like the people behind bars are just not regarded as being part of that public, for reasons of racism and other. They're shoved into this outer ring of neglect. 

VENTERS: The CDC and the state departments of health around the country have decided for decades that it's okay for the people who make decisions about health quality and health transparency to be sheriffs and commissioners of correction. If they continue with that, on one side, and also wave their hands at the notion that we have to address racism in health matters, then that is really an ongoing and blatant hypocrisy.

My hope is that right now, as the CDC thinks about reconstituting itself, that they not simply think about getting back to the good old days, because they view this last four years as a bruising period. 

But they think about really digging into what I think is one of the most blatant and ongoing types of racism in health in our country. And they must do better, otherwise they really can't credibly say that they're addressing racism in health or equity or any of these other buzzwords that they have all over their websites and their reports. 

WATKINS: What would be the role, then, of people with lived experience of these correctional systems, in terms of the CDC meaningfully rethinking its response? 

VENTERS: You have to have people in these roles who have lived this experience, because one of the things that's really mind-numbing is that we still have this very deep divide between what people truly experience behind bars, when it comes to health and healthcare, and then what the facility administrators will say. 

The only way we fix that is by the CDC building, not just a network, but actually staff who have this lived experience. And so, I've always commended to them and to DOHs, groups like the FAMM Foundation or JustLeadershipUSA—groups that are led by people with this experience, but also who have been effective in health policy changes and advocacy.

Certainly, there are technical experts like myself who I think have a role to play, but really, it's figuring out how to listen to and respond to and follow the voices of people who are incarcerated, and the systems where they're held have been so effective at silencing or diminishing their voices that it has to start with those folks.

WATKINS: You're someone who's really dedicated your whole career to the intersection between medicine, public health, and human rights. I'm just wondering what you think COVID-19 has exposed about the urgency of us all understanding this relationship between human rights and medicine?

VENTERS: You know, it's hard because I don't have a good broad perspective…

WATKINS: It's probably tough to get perspective right now, you're in the thick of it right now.

VENTERS: People ask me COVID questions and I really don't have great answers for them! I have good answers for what's happening behind bars. But I think that, it's like what we were just talking about, which is that we have these evidence-based health structures, and we've all seen them in action.

And we've had a year of really people learning about what does the CDC do, and what's important for them to do, and why should we promote their independence and their ability to do their work. I think that the whole country has generally been educated very quickly on that.

But now we still have, because of the devastating and ongoing outbreaks behind bars, we have a whole area of this pandemic where the response really hasn't involved the same level of interest or expertise.

We just cannot proceed with saying or thinking that we have an equitable approach to healthcare or health quality, or that we're trying to make an effort to address racism in health, if we don't get these structures and these powers into these places.

Because the alternative is we just leave the health and healthcare of everybody who's incarcerated to law enforcement, which is basically the set of structures that are involved right now, with a few exceptions. My interest in there is partly to improve the quality of health, but really, it's to get these voices and these powers into the business of understanding the risks and benefits of incarceration itself.

The CDC was very quiet when it put out its recommendations about release, even though release, if you talk to any person, whatever their political stripe, who worked in a jail or prison, it was clear that release was essential for protecting high-risk people. And also being able to do the basics of what the CDC was going to say in their guidelines. 
But the fact that they were silent about release, I think tells a lot about their lack of willingness, or the fact that nobody's forced them to really be engaged with the risks and benefits of incarceration. Until and unless those public health structures in the community get involved in this, then I don't think we're going to be very effective at undoing mass incarceration.

Because it's only going to be the law enforcement and legal justice voices that are involved, and we'll allow all of these health organizations and health structures to keep going, saying that they're addressing racism in health by trying to get people better access to cath labs or hemodialysis or medicines, and those are important. But they'll be allowed to ignore this horrible festering world of racism in health because we haven't forced them into it.

WATKINS: Well, Homer, I want to thank you for coming back again on the show—I really appreciate that—and thank you for your work, and urge you to stay safe out there, which I'm sure you're doing. But thank you so much for coming back on. 

VENTERS: No, thanks a lot, Matt. And you stay safe and it's really a pleasure to join you again. Thank you.