A source of beauty and hope and an instrument of change, art holds a mirror up to our society, casting light on injustice while bringing a better world into view.
We incorporate art into our work to build community, encourage healing, and make justice a reality. Take a look at some artwork and murals—on sides of buildings, in meeting spaces, and in community gardens—that our teams have recently brought to life.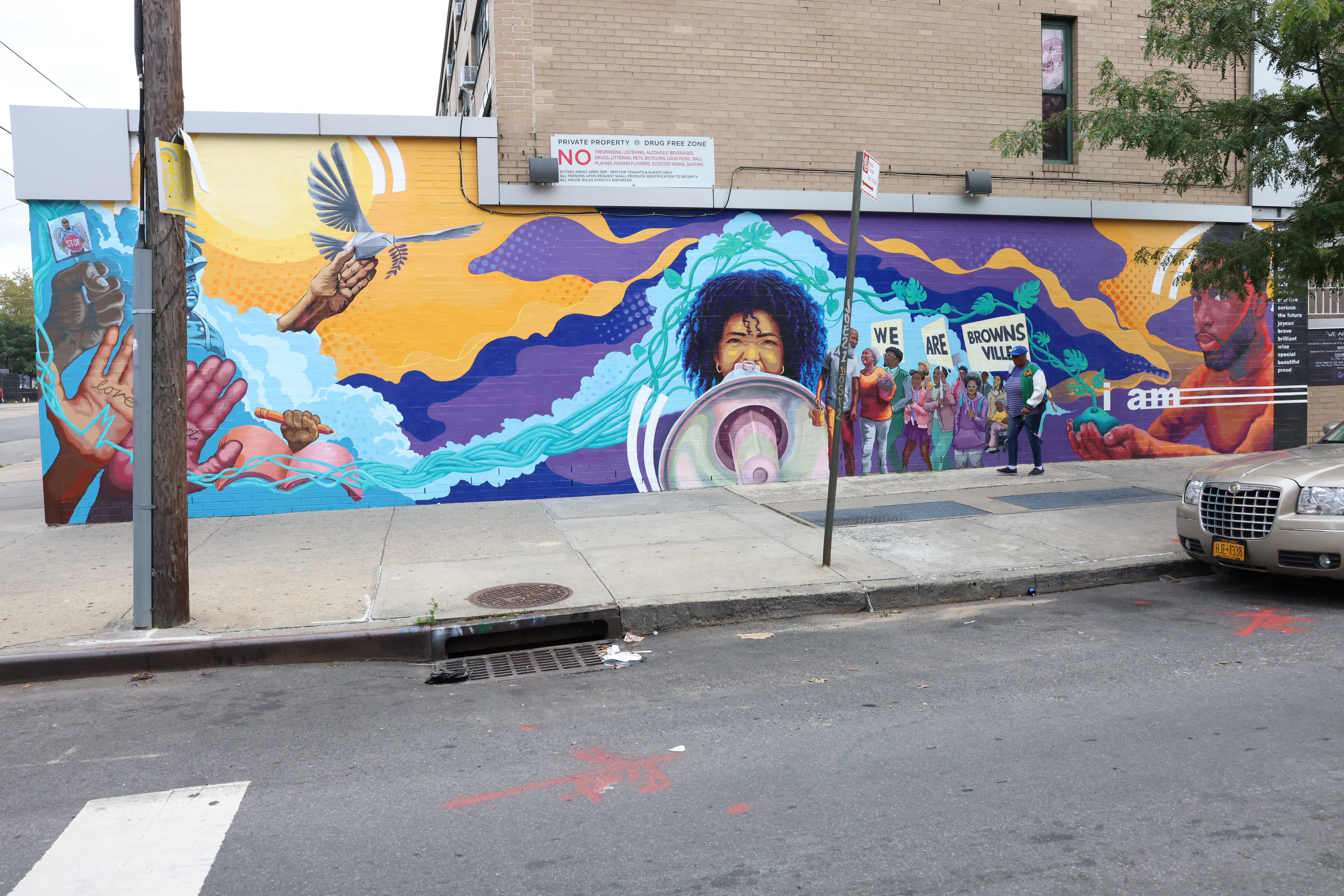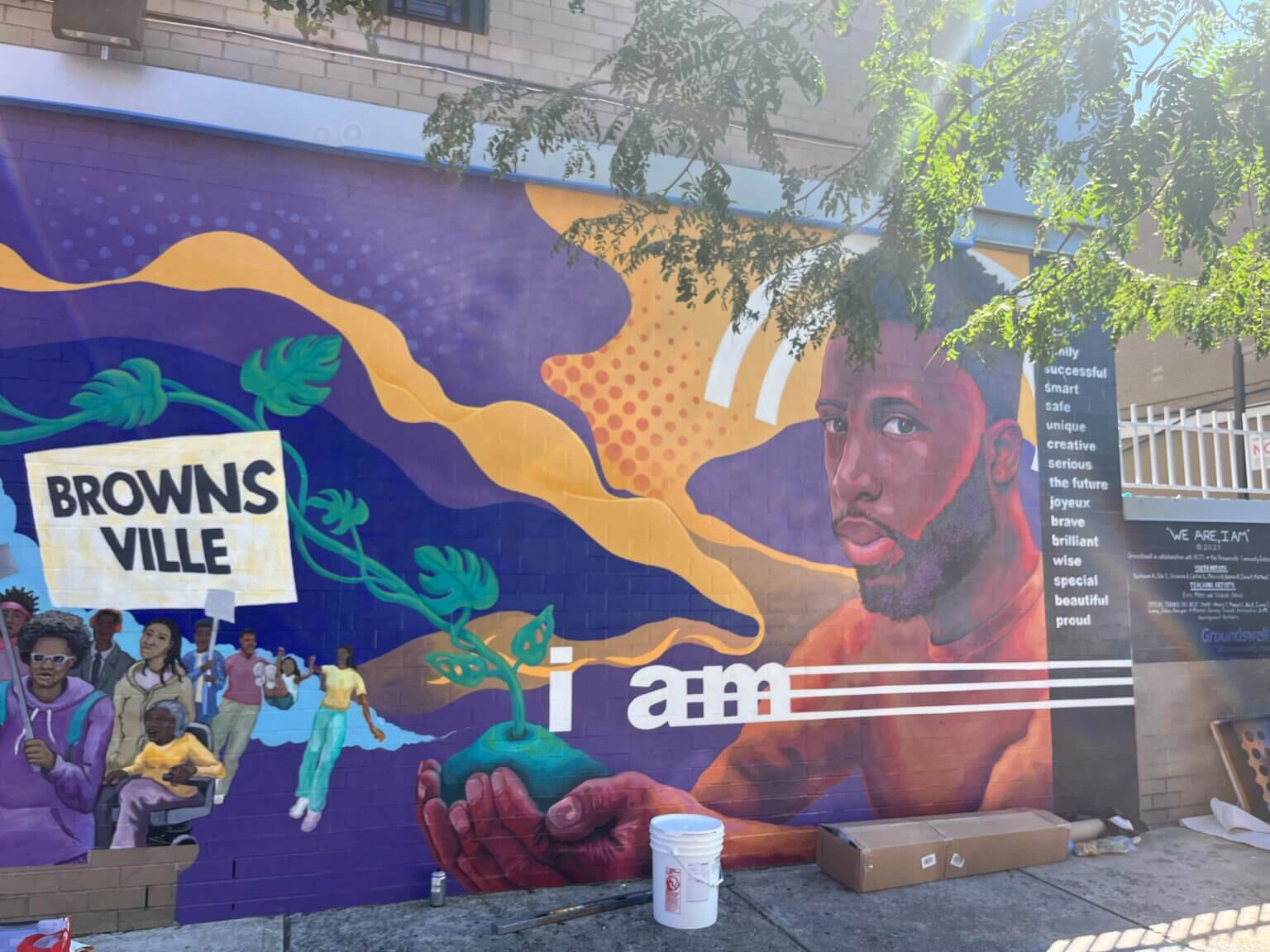 With the guidance of artists Eric Miles and Yolande Delius from Groundswell NYC, young people with our Brownsville Community Justice Center spent weeks exploring social justice issues that affect their communities and thinking through how art—especially public art—can function as an instrument of social change. Their hard work culminated in a new mural along the wall of Brownsville's Marcus Garvey Apartments. At its center, a young woman boldly looks out at us, speaking into a megaphone, while a group of people marches across the foreground carrying signs that read "We Are Brownsville." The mural stands as a powerful reminder not just of the talented young people who created it, but of the strength of the community that it's a part of.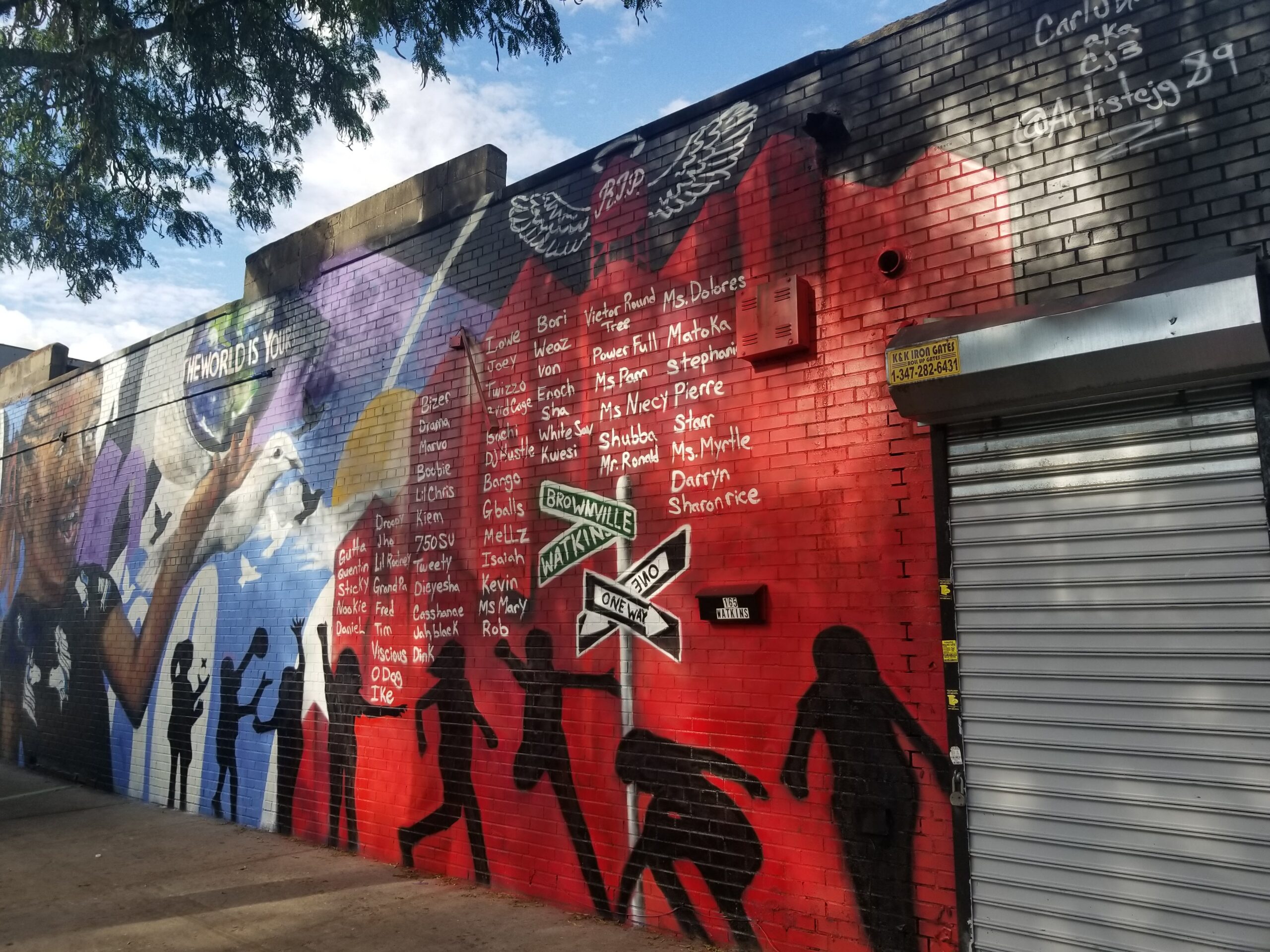 Another mural we helped create in Brownsville has a unique story behind it. Just before artists with the Brownsville Community Justice Center began to paint an empty wall on Watkins Avenue, they noticed it had been tagged with names—names that turned out to be those of residents who had passed away. To pay respect to the meaning the wall had and the people listed on it, the Brownsville team met with others in the community to make a full list of people who should be recognized. The result was a memorial that didn't erase, but instead enriched what the wall had meant to the community.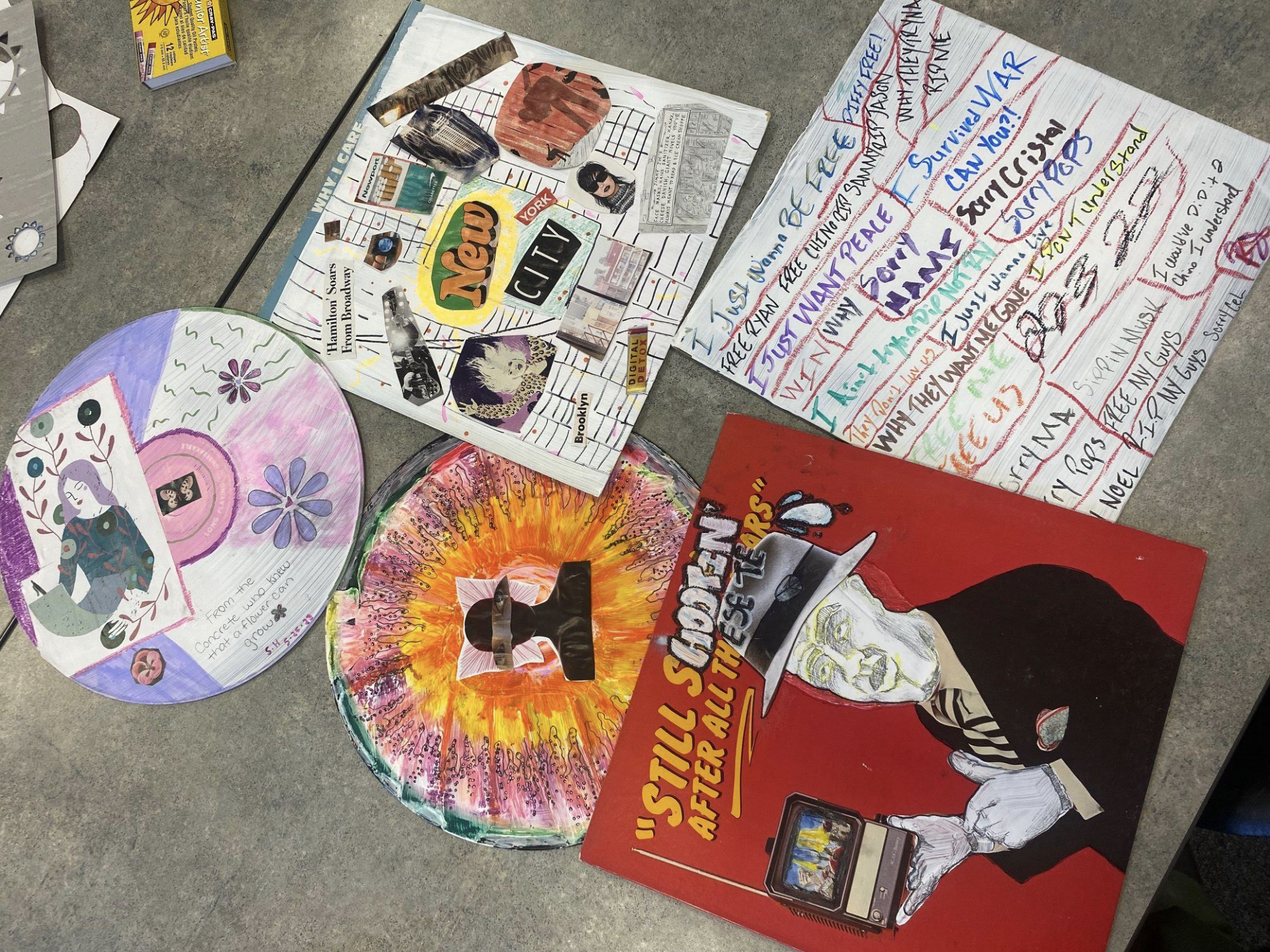 In partnership with our team at Midtown Community Court, Artistic Noise offers art workshops as an alternative to incarceration for young people who come into contact with the legal system, giving them a safe space to express themselves, grow, and process complex emotions and experiences through creative media. Their artwork gives voice to the unique challenges and stories—both personal and social—of youth in the system, with the potential to stimulate advocacy and positive change. Since its launch in 2001, Artistic Noise has held more than 5,000 art workshops for young people.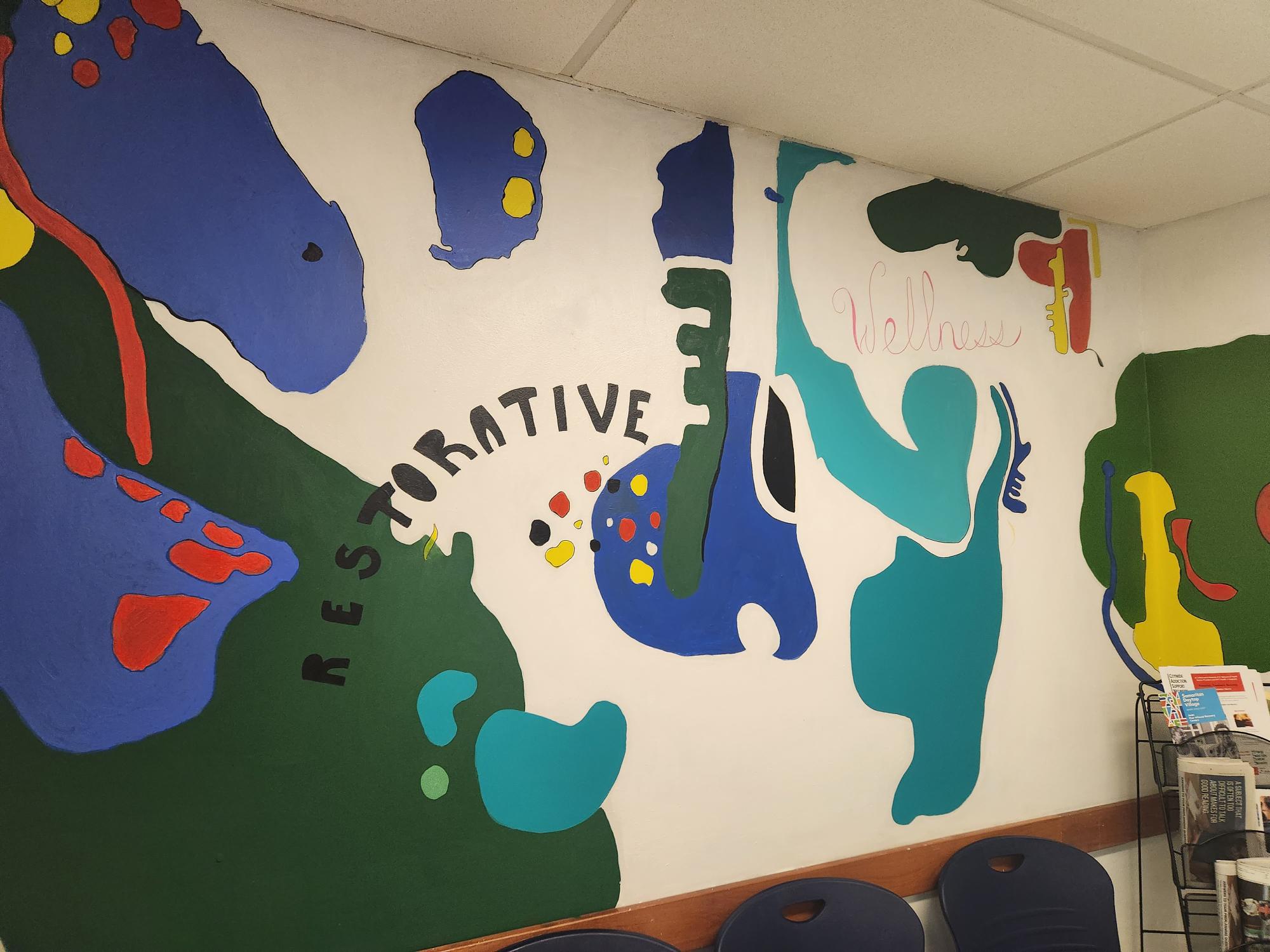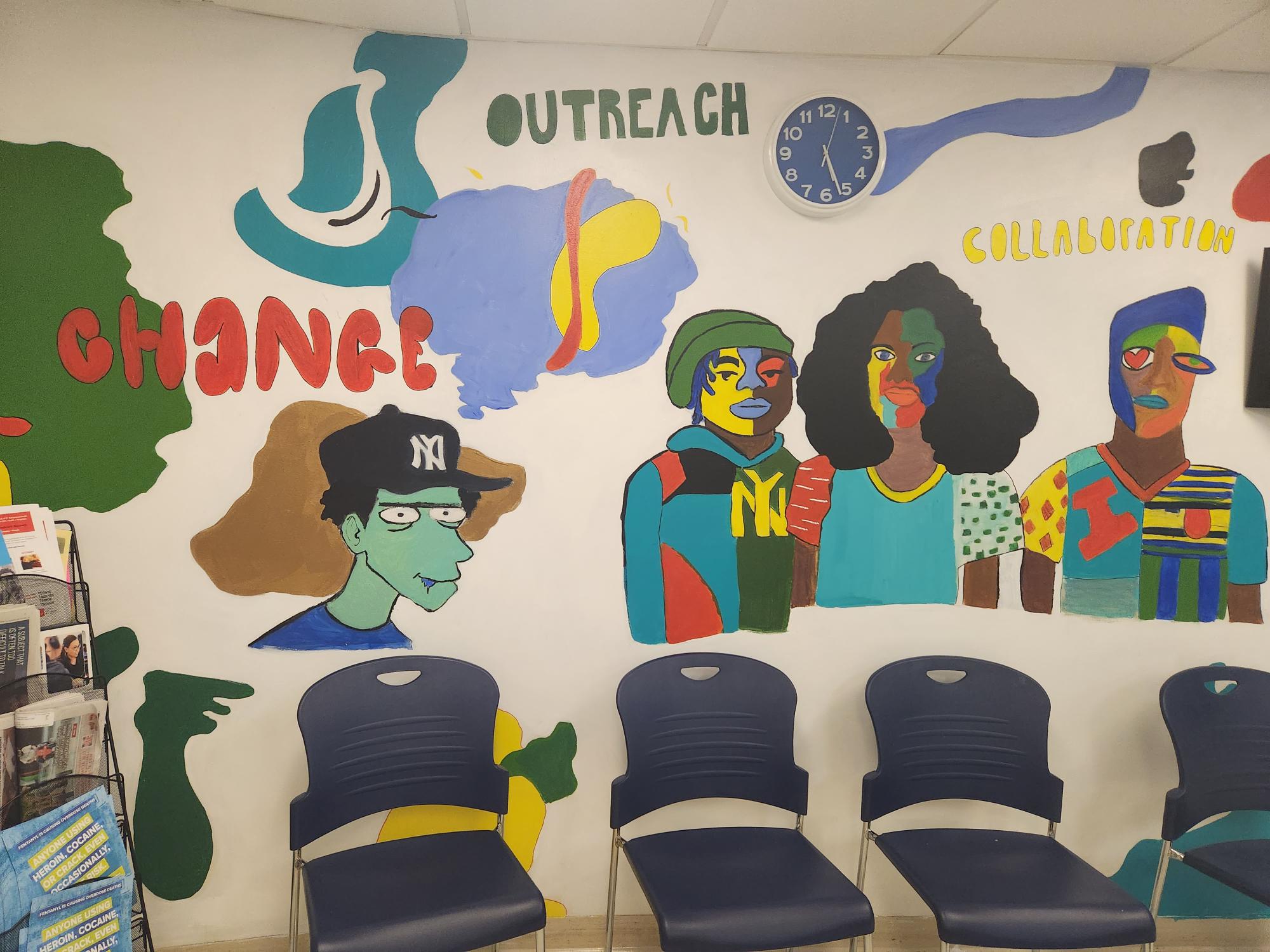 Artists from Artistic Noise also lent our Bronx Community Solutions staff a hand in bringing some color to their headquarters with flowing patches (and people) of blue, green, yellow, and red scattered among words that embody our team's mission of social justice: change, outreach, collaboration.
 
Young artists with our Queens Community Justice Center brightened up an empty lot next to a local community garden with a new mural on the pavement. A pair of hands cradling a bright yellow sunrise peeks out from the perimeter of the garden, emitting long, wavy orange rays of light with playful lines of blue and purple dancing in between them.
Under the leadership of a teaching artist from Groundswell NYC, staff and participants from Brooklyn Justice Initiatives put their heads and brushes together to create a new mural for the community office. With stunning imagery of learning, growth, and the breaking of chains, the piece gives visual expression to the program's mission of tearing down the obstacles that prevent people and communities from flourishing.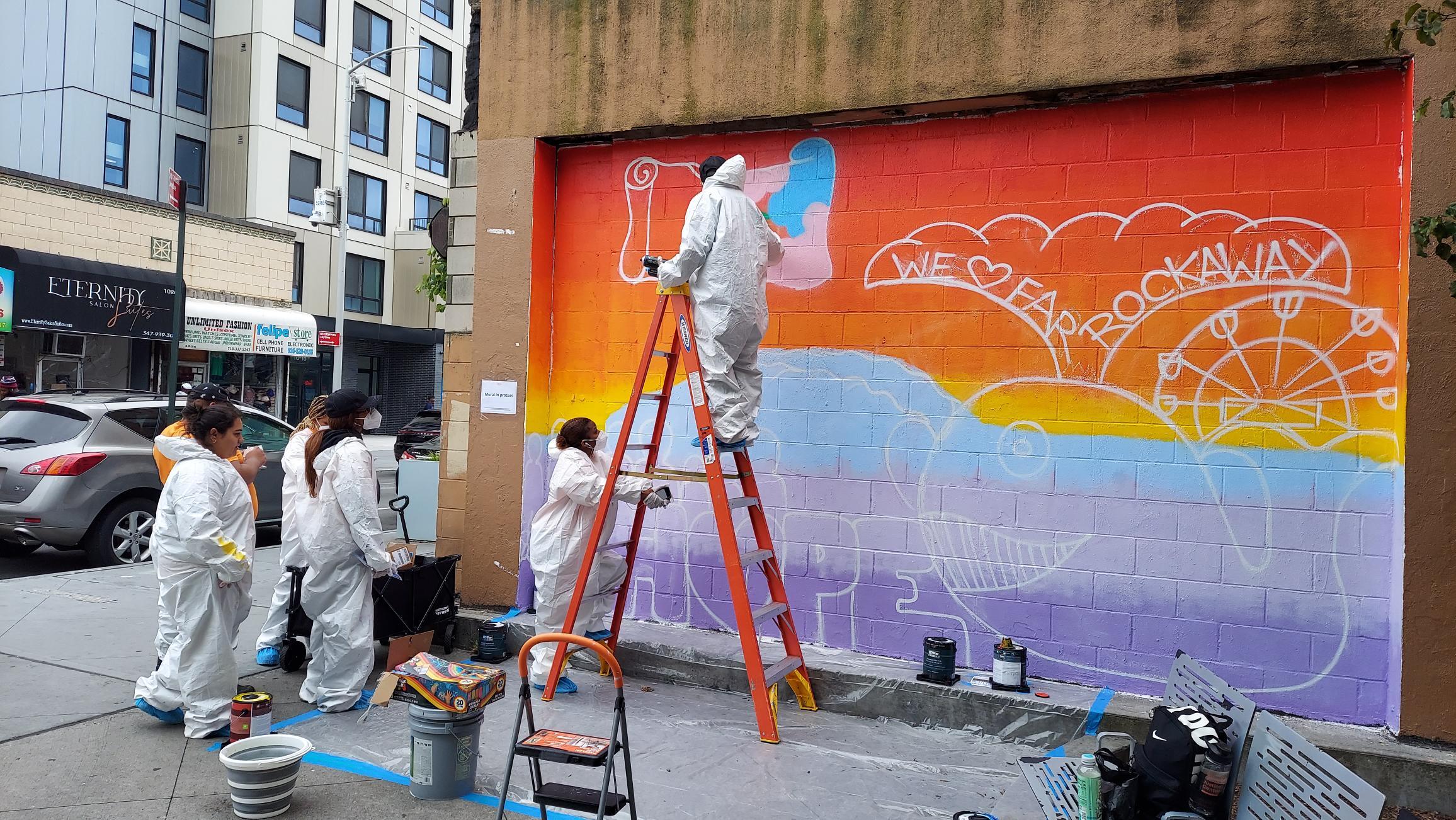 With its launch on the horizon, we put up a mural outside our newest location of the Queens Community Justice Center – The Rockaways, soon to open on November 17. The warm, bright colors of the mural, and its messages of hope and community, set the tone for residents stopping by the new center, which will be a hub for youth activities, community events, and opportunities for growth and fun.
In the Bronx's Patterson Houses, our Neighborhood Safety Initiatives team facilitated a participatory design project for residents to create new murals for the Houses' exterior, supported by Green Space Connections. Artist Joel Bergner—Chief Executive of the non-profit Artolution—met with community members to hear what they'd like to see on the new wall before taking the lead on the painting. The result was a collection of murals celebrating Patterson's residents, old and young, along with their dreams and aspirations for their community. The centerpiece of the work is a series of four portraits, each one a notable person from Patterson Houses: musician Prince Royce, boxing world champ Iran Barkley, basketball player Nate "Tiny" Archibald, and actor Luis Antonio Ramos. The Patterson Houses community welcomed Iran Barkley back to the houses for the murals' unveiling in August.