Child Witness Materials Project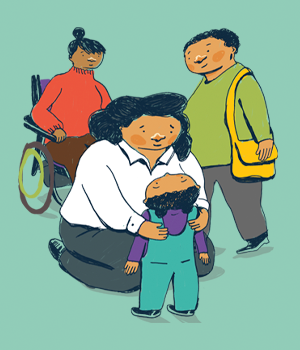 We've developed a first-of-its-kind collection of interactive and educational materials that inform and empower children as they navigate the justice system.
Designed to be trauma-informed and developmentally-appropriate, our illustrated booklets and graphic novels guide children through how the justice system works, what their rights are, the roles of the different practitioners they'll meet, and how they can cope with the difficult feelings they might have. For children who have to testify, there are also tips to help them prepare for going to court.

Funded by the U.S. Office for Victims of Crime, this package of interactive materials support children, teenagers, their caregivers, and the justice-system practitioners who work with them in criminal and civil cases in state, federal, and tribal court settings. The ultimate aim is to allow child victims and witnesses to feel both more informed and empowered.With input from national experts from a variety of disciplines, and specifically created for children in three different age groups (ages 2–6, 7–12, and 13–18), there are materials about the criminal legal system and the child welfare system. These materials are available in English, Spanish, Chinese (Simplified), Arabic, Vietnamese, and Haitian Creole.
View the General Child Witness Materials

→
Due to the unique needs and experiences of young survivors of human trafficking and Native American child victims and witnesses, there are also specialized materials for these populations, with additional translations of the trafficking materials into Spanish, Chinese (simplified), Vietnamese, African French, and Brazilian Portuguese. The trafficking materials are designed for ages 12-18 and portray young trafficking survivors interacting with the criminal legal system as a victim, witness, and defendant, while the Native kids' materials are available for ages 2-6, 7-12 and 13-18, with booklets about the criminal legal system and child welfare system for each age group.
If you are interested in learning more about this project, please contact us through our Expert Assistance team.
---
PRACTITIONER MATERIALS
This package of materials was specifically designed for practitioners working with child victims and witnesses. They were created with the input of subject matter experts and frontline practitioners from diverse professional roles who have expertise in supporting children who have experienced violence and victimization. These materials were funded by the U.S. Office for Victims of Crime (OVC) and are supplementary to OVC's Child Victims and Witnesses Support Materials.
The practitioner materials are comprised of several brief guides covering a range of topics, including working with children who have experienced trauma, strategies for effectively communicating with children and preparing them for court, and legal terms and processes explained in child-friendly language.
View all practitioner materials

→
---
PODCASTS & AUDIO
Child Witness Materials Podcast

→
Kathryn Ford, the Center's Director of Child Witness Initiatives, speaks with Geri Wisner, a prosecutor from Oklahoma, and Jennifer Thompson, a victim advocate and counselor from Georgia, about how they have been using the Office for Victims of Crime's Child Victims and Witnesses Support Materials to inform and empower children as they interact with the justice system.
Life After Trafficking with Audrey Morrissey

→
In this podcast episode, Melanie Thompson is joined by Audrey Morrissey, associate director of My Life, My Choice Boston, to speak on their experiences of transitioning once a case has closed and the potential challenges and feelings that youth may experience. They also discuss resources to help with this transition, strategies for navigating relationships within systems, and the importance of providing youth with consistent and stable relationships.
Life After Trafficking with Nikki Bell

→
Together, Nikki Bell, survivor activist and the founder of Living in Freedom Together, and Melanie Thompson talk about trust in the context of both the criminal legal and child welfare systems.  They examine some of the challenges around privacy and confidentiality and trusting those who work in the system while also outlining ways young people can become confident in their own voice and power. 
Life After Trafficking with Cristian Eduardo

→
Cristian Eduardo, survivor speaker and student, joins Melanie Thompson to discuss building community and creating opportunities for the future. Cristian brings his perspective on establishing relationships with supportive people, practical advice for young people on establishing boundaries and learning how to trust others, and thinking about future goals.
---
WEBINARS & VIDEO