We ask D.A.s to do a lot more than anybody else. Their actual oath is not to zealously defend their client, it's to do justice.
How much responsibility do prosecutors bear for over-incarceration? That's the question explored by John Pfaff, a professor of law at Fordham University and the author in 2017 of Locked In: The True Causes of Mass Incarceration and How to Achieve Real Reform. First among those "true causes" for Pfaff is the power of prosecutors, one he contends is very nearly unchecked. Thanks in part to Pfaff's work, the debate over prosecutors is now very much front-and-center, but what would real reform look like? How much can we realistically expect from the emerging breed of progressive prosecutors? The interview with Pfaff is the first in our podcast series on the power of prosecutors.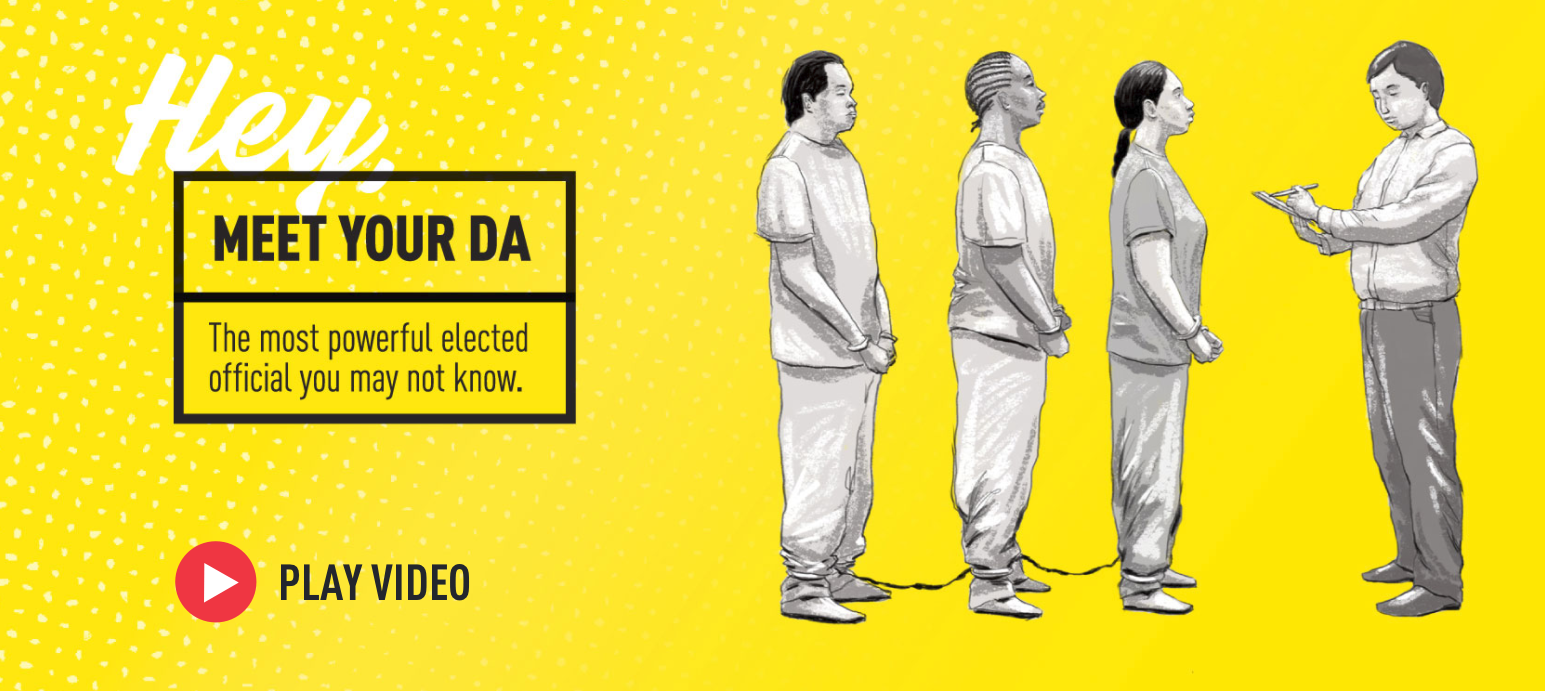 ---
The following is a transcript of the podcast:
MATTHEW WATKINS: Hi, I'm Matthew Watkins and you're listening to the New Thinking Podcast from the Center for Court Innovation.

How much responsibility do prosecutors bear for over-incarceration? That's the question explored by my guest today, John Pfaff. John is a professor of law at Fordham University and the author, in 2017, of Locked In: The True Causes of Mass Incarceration and How to Achieve Real Reform.

First among those true causes is the power of prosecutors, a power Faff contends is very nearly unchecked. Thanks in part to Pfaff's work, the debate over prosecutors is now very much front and center, but what would real reform look like? How much can we realistically expect from reformists DA's?

Today's discussion is the first in a planned series on the power of prosecutors and it's hard to think of anyone better to start us off than John Pfaff. John, thanks so much for joining me today.

PFAFF: Thank you so much.

WATKINS: I wanted to start with the title of your book. For me, I think "Locked In" has two meanings; one is that the U.S. is "locked in" to this mass incarceration model, but also your view that well-meaning criminal justice reformers are "locked in" to a mistaken series of assumptions about what's driving that model.

To start us off, could you talk a little about what you call the "standard story?"

PFAFF: The standard story is the term I use to refer to views on what causes prison growth, that aren't wrong. They're all legitimate concerns, but we emphasize them at the expense of what matters more. One thing we talk all the time about are long sentences, people sort of rotting away in prison for decades and decades. 

People spend far more time in prison here per admission than most other Western countries, but the median time in prison for a non-violent crime is about one year, and for violent crime is about four years. Murder, people are spending ten, twenty, fifteen years. But those sentences, those really long ones, are almost all entirely murder. 

What's really driven this is the rise in admissions, more and more people being sent to prison in the first place. And that's controlled almost entirely by the prosecutor. The data in my book, I look at it the 1990's and the 2000's. Which is this period when crime is falling but prison keeps going up. And so what we see is that there are fewer and fewer arrests being made over this time. Especially arrests if you exclude marijuana cases, which never go to prison. The number of arrests is dropping. The number of people being admitted to prison is going up. So fewer and fewer people are entering the system and more people going to prison. 

The only thing that really seems to change to explain that is the chance the arrest turns into a felony case. What's the chance that a prosecutor decides: "you know what, I've got this guy that's been arrested; I'm going to file felony charges against him." And a felony charge is a kind of charge that carries a prison sentence. So the chance of going to prison doesn't change, the amount of time spent in prison doesn't change, but the fact that you get charged in the first place, that's the big shift and that's entirely within almost the completely unreviewable discretion of prosecutors. They can charge, not charge, you can't appeal their decision not to charge, it's entirely their responsibility. And yet, we've kind of ignored them in the debate. We talk about long sentences, we try to change what the statutes say, but no one looks at prosecutors. 

The other standard story part is we talk a lot about the war on drugs. People going to prison for drugs. In fact most American's think that half of all people in prison are there for drugs. It's 15 percent and falling. 

Over half of all people in prison are there for violence. So if we really want to cut our prison populations, yes we can let people out for drugs, it's about 250,000 people, that's nothing. And many of them should not be there. But we're not going to get far unless we really pay attention to violence. Most American's remain, even self-identified liberals, remain strongly committed against changing how we punish people for violence. 

And the third part I look at is we talk all the time about private prisons. They hold about 8 percent of the people. Most states don't have any private prisons. There's no evidence that this private prisons matter. What really matters are the public sector unions, the guard unions that can fight really hard for their jobs. Private prisons make about 400 million dollars a year in profit. Wages and benefits to public sector prisons comes to about 25 billion dollars a year, 30 billion dollars. They have a lot more to fight for. 

WATKINS: If we just pick up the war on drugs thread for a second before we turn more directly to the prosecutor power and admissions question. A lot of what you wrote, and I don't think it's why you set out to write the book, but ended up countering a lot of Michelle Alexander's argument in her well known book, The New Jim Crow. That's a book that's been very influential. A lot of reformers, even, I think, some district attorneys will credit it with a kind of seeing the light moment on the racism and the inhumanity of the justice system. Which is a view I think that you share, but at the same time, was it difficult for you to end up publicly identified with this position as the person questioning Michelle Alexander in a sense?

PFAFF: I mean I didn't find it difficult. I think sometimes we get painted a little too diametrically opposite. I think you're right that ... I disagree with the emphasis she places on the war on drugs, but I think her overall view about the way race operates matters. I also disagree a little bit about how sort of centralized she views things as, she sort of views it as a top-down effort to control populations and our willingness to control back populations certainly plays a huge role in this. To me, I'm much more interested in trying to explore ... the way we show our system sort of cobbled together and we call this, we call it a criminal justice system but it's not. 

WATKINS: It's very hard to find a noun to describe this system of 3,000 counties,,,

PFAFF: Yeah, right. Even worse than that, right? Because it's 17,000 city police departments, it's 2,500 county DA offices, it's 50 state legislatures, it's 50 governors, it's parole boards, it's state and local county, and they're all assembled in this chaotic, incoherent kind of way. And many of these imperfections work race to play an incredibly powerful role in sort of a bottom up kind of way, rather than sort of top down. I think often times we're sort of examining the same issue from more complementary directions. 

And I will say in defense of The New Jim Crow that prison reform had to start with the drug offense. Some of these people say, "No, the prison, US prison population exploded to these heights," but it didn't explode. It grew steadily in this small amount every single year, but it grew relentlessly for nearly four decades. It starts growing in 1972, and it doesn't turn down until 2010. And you're not going to stop that just like slow, steady, relentless momentum on a dime. And you're not going to start it with the John Pfaff "let murderers out early" bill. 

You've got to start somewhere and somewhere to start was drugs. They are the most appealing case allows you to say, "Look this doesn't make sense." And look at how race is operating in a way they think will bring liberals and conservatives together to address it. Because they're already consider that maybe this is being done incorrectly. Perhaps she should have started off by saying; "Drugs is the biggest driver" because numerically it's just not. To say let's look at sort of the role drugs have played and what to do is I think is where you have to start there.

My concern is that we're now a good decade into reform and we're still just debating the low-level, non-violent drug offender and we're stuck in this rut. And we're only slowly beginning to address issues of punishing those who commit acts of violence differently. And the fact is from a public safety point of view, prison is not the way to stop violence. There are other things that ... it's not like I'm saying. "Hey, let's just have more violence and fewer prisoners" I'm saying, "We can have both fewer people in prison for violence and less violence in part by using the money we're not spending on prisons to fund things that work."

WATKINS: To turn directly then to prosecutors and these sort of 3,000 or so offices across the country. Could you explain a little bit the nature of the discretion that they have and the oversight over them, or lack of oversight as the case may be? And really how that differs from other actors in the criminal justice system.

PFAFF: Right, so to start with the United States is literally the lone country in the world that elects its prosecutors. No other country does this. There's no one above the prosecutor expect for the county electorate. So, take Brooklyn: Eric Gonzalez is the DA in Brooklyn. De Blasio, the Mayor, can't tell him what to do. Eric Schneiderman, the AG, he can't tell him what to do, he literally can only be told what to do by the voters of Kings County. 

So that's a tremendous amount of power and sort of frees accountability from sort of any other hierarchical structure. DA's are county officials, they are elected by the county. But prisons, in one of these situations that makes no sense when you think about it, are paid for by the state. So, if you're a DA and you're charged with a felony and you're sent to prison, you don't have to pay for that. budget. It has no fiscal impact on you at all and so of course you're going over use prison because you ignore the cost. 

And in fact to make it worse, probation and jail, sort of the lesser alternatives for punishment in prison. What we would charge a misdemeanor for those are paid for by the county. It's actually cheaper to be tougher on crime because the state ... you get to send them to the State Prison, but the state has no ability to tell you, the DA, to stop using their resources. There's just not oversight.

In fact one of the challenges I face is that I can't actually see what DA offices are doing. Empirical people in criminal justice often fight with each other over who has the worst data. I can usually win most of those debates by saying, "But I have no data at all, so none." There's no centralized data by any meaningful sort on prosecutors. And in fact my data on prosecutors that I was able to use to show how tough they've become over the '90s and 2000's actually came from the courts. 

The DA's don't gather data, but court systems do. So as soon as that case hits the felony court docket, then the court systems apparatus kicks in and so I can sort of track what DA's are doing based on what happens when they hit the court system.

WATKINS: How do we account for this lack of data? Is it by design if we want to attribute nefarious motive to it.

PFAFF: I'm not sure it's entirely by design. I think part of it is that DA's kind of fall in this strange gray area, right. And you got the police who are out there with the guns, and the badges, and the frontline on crime and we've gathered data on that since the early 1930's is when the uniform crime reports really started to kick into gear. Because they were ... crime is sort of central in our mind being a social problem. The police are the kind of people that are out there gathering these people always sort of want to have that crime and arrest data.

Court systems are often these big state level bureaucracies and they are sort of the intermediate between crime and prisons and that. You always sort of have a lot of data gathering there. Prosecutors are these sort of these county officials. And I think because there's so ... on the one hand local independent, on the other hand unlike the police, they're not sort of this frontline on crime. They play a huge role but are kind of like the second line. I think they are kind of falling through the cracks that way. 

I think also, you know, I say we need more data on what prosecutors do and then I'll just file questions, "Okay, what data should we gather?" And that's actually really hard. 

WATKINS: And that really matters, right? I mean what we count and how we count it?

PFAFF: Because people can form their behavior to the numbers that we gather. They will play to the statistics. One of the challenges we face is and people are increasingly I think sort of think about what this means, is we ask DA's to do a lot more than anybody else. Police have one job, prevent the crime and ... two jobs, and arrest the guy who actually does the crime. It's fairly easy to measure. How many crimes happen, how many arrests you make, we're basically done.

Prosecutors have to decide ... they're unique amongst lawyers, in that their job, their actual oath is not to zealously defend their client, it's to do justice. And they have to do a lot. Do you charge this person? Maybe even if he's completely, clearly guilty you don't. They're making all these decisions based on a whole host of factors that what we actually need to track, it's not easy. A lot of these offices are small and poor, and better funded than the public defenders, but they're still poor and their systems are antiquated and they're running our of paper. It's not going to be easy to get things up to where we them to be to really have good data.

WATKINS: And then speaking of another black box. How much do we know about what's going on in the plea bargaining process? Which is really how the criminal justice system functions now.

PFAFF: About 95% of all guilty verdicts come from a plea bargain. You often hear a state is 95% of all cases result in a plea. That's actually not true. If there's a guilty verdict 95% of those cases were by a plea. And yeah, that surely plays a big role because it allows DA offices to manage their caseloads better. 

I'm not sure it explains what happened in the '90s and 2000's because I'm not sure the rate of plea bargaining changed all that much. But it certainly gives them tremendous leverage and sort of ... again I think, removes the whole thing from public view. 

If you watch Law and Order my guess is that any season of Law and Order was responsible for about 80 percent of all trials in New York State. None of these cases end in these big dramatic trials in some beautiful court room, right? It's all someone signing a piece pf paper in some jail cell or some dingy DA's office. 

WATKINS: Right, and often with the threat of a much longer sentence if they turn down the deal hanging over their heads.

PFAFF: Right. And we have no idea what those threats look like. There's an example, a really great example, of how hidden these number are when the federal, when one of the mobbing groups for the federal trial attorneys was protesting against Congressional Reform efforts. 

Look, no one ever gets these really brutal mandatory minimums. Really only like five or seven. Some of these drug cases get these manadatories. We save these for the worst of the worst. And the data shows, this mandatory minimums imposed about like, make up a number, 5 percent of all drug cases. 

But then a couple of academics interview people and do more ethnographic studies where they find, not surprisingly, is that almost no one ever gets these mandatory minimums. Because they all plea to avoid them. 

So the ADA, the Assistant District Attorney, is going to say, "Look, if you don't take this ten year deal, we're going to nail you to this 50 year mandatory." They'll take ten, right? You take ten right away and then the stats show, look he didn't take that mandatory. Now to be fair, only defense have these generally insane mandatories for relatively lowish level offenses. The states have much more ... for all the problems states have they're more rational than the Feds are. But yeah, I think we have no idea how these longer sentences matter because we can't see how they're being used as course of threats during plea bargaining.

WATKINS: How do we then change the incentives for prosecutors? It strikes me that prosecutors, in some ways their role is to be the fox guarding the hen house. How do we get them to conceive of their job in this more reform friendly way that you're talking about?

PFAFF: Right. So, obviously the easiest thing I suppose to do in the short run is just to elect more reform-minded prosecutors. And we've seen that. Even in 2016, even in the states that voted for Trump, you saw reform-minded DA's win 16 or 17 elections. It wasn't 2,200 offices, but it was a lot. And they were in the cities and the cities handle a lot of the casing. That's a promising start. At the same time I think it highlights a growing divide in criminal justice. It's not getting enough attention these days. Which is a growing urban, non urban split. 

We talk about sort of the U.S. incarceration has declined. That's not really true. To start of about 60-70% of the drop is just California alone, and there's lessons for prosecutors there too. But once you move beyond California, almost all of the drop is in urban counties. Urban counties are seeing fewer and fewer people to prison. Rural counties are actually sending more and more people to prison. The smallest counties are still becoming increasingly aggressive. I think that's because they are electing DA's who are aggressive and they are electing DA's who are aggressive because the voters are aggressive. So this idea, "Hey, let's vote in reform-minded DA's." That works in increasingly blue, increasingly progressive cities. So reform-minded DA's are the way to start but it's not especially when you move outside of cities. 

I think the other thing we should think about also the final big idea I've become a big fan of are guidelines for prosecutors. In New Jersey, and New Jersey alone amongst us, once again another product about long running 20-year bitter battle in the court system. New Jersey prosecutors actually have guidelines for plea bargaining drug cases. They look sort of just like the sentencing guidelines that judges all across the country use. So here's the ... you know it's got one axis the severity of the offense the other axis has like the prior criminal history, and that gives like a range of sentences that the DA's are allowed to offer at plea bargaining. An effort to sort of constrain the discretion they used to have before they could sort of offer any plea high and low.

And again, when it comes to implementation you spend hours sort of talking about how it does and doesn't work in New Jersey, but it shows that you can do this. And I think we need to do it not just for plea bargaining but for sort of every step of the process. 

Adam Foss, who's a former prosecutor from Boston, has this TED talk about sort of one of his early experiences. He tells a story when he was a second year prosecutor, this kid comes in who stole a bunch of computers from somewhere nearby, Best Buy or something, and here he is just two years out of law school almost no oversight and he can kind of do anything he wants with this kid. What he decides to do is to basically not charge him but to walk him back to the Best Buy, sit down with the manager and work out some sort of plan. Like, you will give these computers back, you will do this for him and exchange for this, if you do all these things I won't charge you. On the fly, second year out of law school comes up with this. 

And then several years later he's at a party and some kid comes up to him and says, "You might not remember me, but I'm that kid and now I'm a management position at a bank, and if I had a criminal record I never could have gotten this. You basically saved my future by choosing to do this." One the one hand it's a very heartwarming story, a DA using his discretion to basically save someones career. It's fantastic. But it's also terrifying. 

DA's aren't trained to make the kinds of policy decisions we're asking them to make. We're saying, decide with this kid quickly what's the right thing to do from a public safety perspective. And that's a really hard thing for someone with time and training to do, much less someone without the training under intense time pressure. So I think we need to start developing much more vigorous sort of guidelines for every step. Do you charge, do you dismiss, do you divert, is this a felony, is this a misdemeanor? These are all decisions that have huge import and basically we just sort of tell DA's, trust your intuition and these cases you read in law school. And that's just not the right way to run something that's so impactful.

WATKINS: Yeah, I mean it seems to me that Foss is arguing for a much more holistic approach in a sense from a prosector. It's certainly a greatly expanded role. I recently read a paper advocating that prosecutors get much more involved in re-entry process and in preventing recidivism. But, what do we say to people who will counter, "That's just not the proper job, that's not the lane of a prosecutor."

PFAFF: And I guess my response would be, to just disagree with their initial proposition. Why is this not the lane of the prosector? The prosecutors job is to do justice and to advance public safety. Almost everyone's coming out of prison, so if you don't think about that when you send them to prison, you're not actually making things better. There's plenty of evidence coming out. 

There was a great paper written about two years ago by an economist that shows that every extra month spent in prison increases the risk for recidivism. He finds that the risk of reoffending basically wipes out all the gains you get from incapacitating them while they're in prison. So, you lock people up, and they come out. You've actually made it so that their ability to sort of conform is even weaker and then all the gains you get from locking them up are wiped out by the greater rates of re offending. How is it not the prosecutors responsibility to think about that?

This is what the job is, it's about managing public safety in an incredibly powerful kind of way. And if you don't have the skills and the training or the tools to do that job then the problem isn't with the job description, the problem is with sort of how we're setting them up and who we're bringing in to do the job.

WATKINS: Are you concerned talking about this new breed of reform-mined DA's? That maybe some people are placing out sized hopes in what they're going to be able to accomplish?

PFAFF: Yeah. We realize that DA's are only one part of the very complex system and they have a lot of discretion, but other people do resist them. I can't remember all the exact details but I know that in Chicago for example, Kim Foxx has been pushing ... the new reform DA elect in Chicago, Kim Foxx has been pushing hard for bail reform and to use bail less. But the judges are resisting that. Her ADA's are going in saying, "Less bail, no bail." But in front of they're judges are saying, "No, I still want to give bail". Because they have their own elective incentives that they're concerned about at the same time. 

I think we are sort of ignoring the amount of political pressure they're going to face. The amount of legislative and judicial pressure they're going to face. I think they can do a tremendous amount and I'm very excited about the opportunities that they bring. But I think we need to be careful not to put too much burden on them. 

WATKINS: And then just to return to what I think is the area most resistant to reform, which is this question of violence. Which is something you write, I think pretty movingly, about in your book. For a book that's mostly a data-driven argument, you make a pretty impassioned case that we need to not only reconceive how we think about dealing with violent offenses, but actually how we think about people who commit these violent offenses. Now, a lot of our work here at Center for Court Innovation, focuses on alternatives to incarceration from non-violent offenses. That's not the exclusive focus of our work but it's a good part of it. And that means working with prosecutors to expand their options, trying to get them to use those options. And I think some people here might say to your point about violence, "Look, we're making incremental change here, we can't force prosecutors to leap to a place that they're not prepared to go." Are those people wrong?

PFAFF: They're not wrong, but my concern is that at some point that incrementalism creates a rut you can't get out of. The number ... sort of the result that troubles me, and this came from a survey that published right just when my book came out, so my editors wouldn't let me destroy all the page counts to work it in. But Vox did a survey of about 3,000 people, asking them about criminal justice reform issues, and one question they asked was, "Do you think a majority of people in prison are there for drugs?" They broke it down my Liberal, Moderate, and Conservative, and a solid majority of all three said yes. So, ill informed. But that's fixable. 

The troubling question, the really troubling question for me was, "For someone who's been convicted of violence but poses little to no risk of re offending, are you willing to punish that person less now than we currently do?" 77 percent of conservatives, 65 percent of moderates, and 60 percent of liberals said no. We've told the story of the low-level, non-violent drug offender who fills up our prisons, who needs to be diverted. We've told that story so much that we convinced the public that we can really make huge, deep cuts just by targeting on the easy-to-address population. And so yes, there's something to be said about getting those people out of prison. We need alternatives for them. But we keep emphasizing that we're not going to get further. And the politics of it definitely change for prosecutors. Unless we figure out some way to push them they will never embrace that kind of change. Because it is the violent case that is going to be the one that blows up on them. 

If someone's convicted of a low-level weed case you bail them out, he commits murder on bail, it's easy for you to say, "Yeah, that's awful, but it's a low-level weed case. How could you expect us to see this coming?" The person's an arsonist and have bail for him and he comes out and inevitable murder. That's a case that's gonna hurt. And so if the DA's can avoid this, they will. At a recent town hall, Eric Gonzalez said, "I'm willing to embrace a comprehensive bail reform, but I need you to promise me that when that one case inevitably goes south on us, you'll stand by me. They're not going to kick me off for that one really bad failure."

And so, yes we need to get focused on these low-level cases, but we're not ... there's like a discontinuous jump up to violence and we're not going to incrementally work our way up to violence. We really need the violent ... we have to some point say, okay, we're shifting from this to that. And this required different rhetoric, a different politics, a different kind of pressure, different kinds of approaches, not necessarily because the ones that work in non-violent crimes can't work on violent crimes, but just because we have to approach them in a different kind of way because of the politics of violence. And so it's good to focus on that but I think I don't buy incremental story that's going to get is to serious violence. It's going to take some sort of qualitative political rhetorical shift to make the violent crime story, where we can really do a lot of work. 

WATKINS: John, I want to thank you very much for joining me today. 

PFAFF: Thank you.

WATKINS: I've been talking with John Pfaff. John is a Professor of Law at Fordham University. And the author of last year's Locked In: The True Causes of Mass Incarceration and How to Achieve Real Reform. This has been another episode of The New Thinking Podcast from The Center of Court Innovation. Technical support has been provided by Bill Harkins. Our theme music is by Michael Aharon at quivernyc.com. Please consider leaving us a review in Apple Podcasts. It does help new listener discover the show. I'm Matthew Watkins. Thanks for listening.