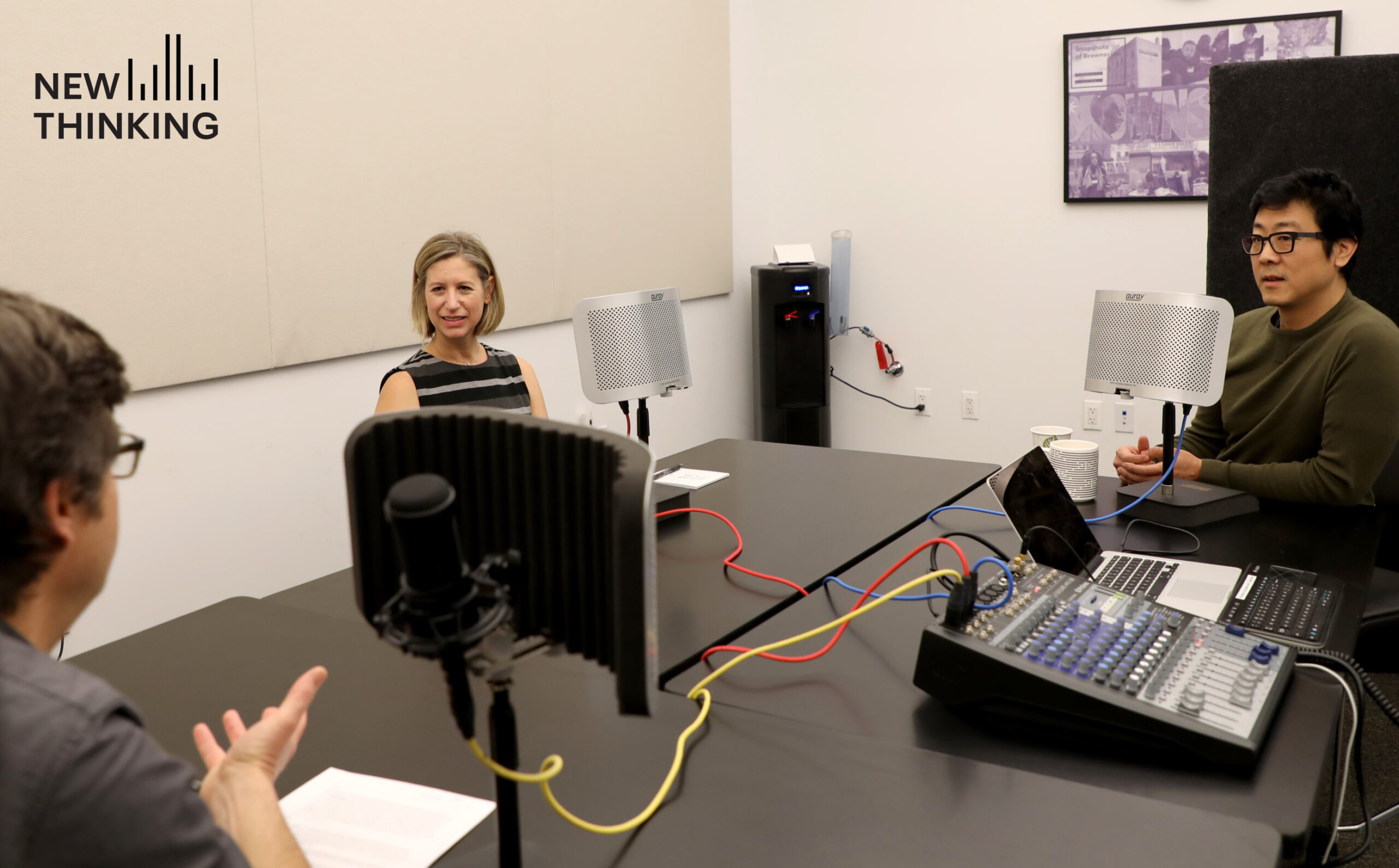 The more you do trauma work, the more you open your eyes up to the pervasiveness of violence, oppression, racism, and that is such a driver for the decision-making and the actions that people take.
A major focus of our work is designing "alternatives to incarceration," programs that prosecutors and judges can make use of instead of jail or prison. Treatment or therapy is one of those alternatives you hear a lot about—using the moment when someone is caught up in the justice system to try and solve some of the problems that may have gotten them there.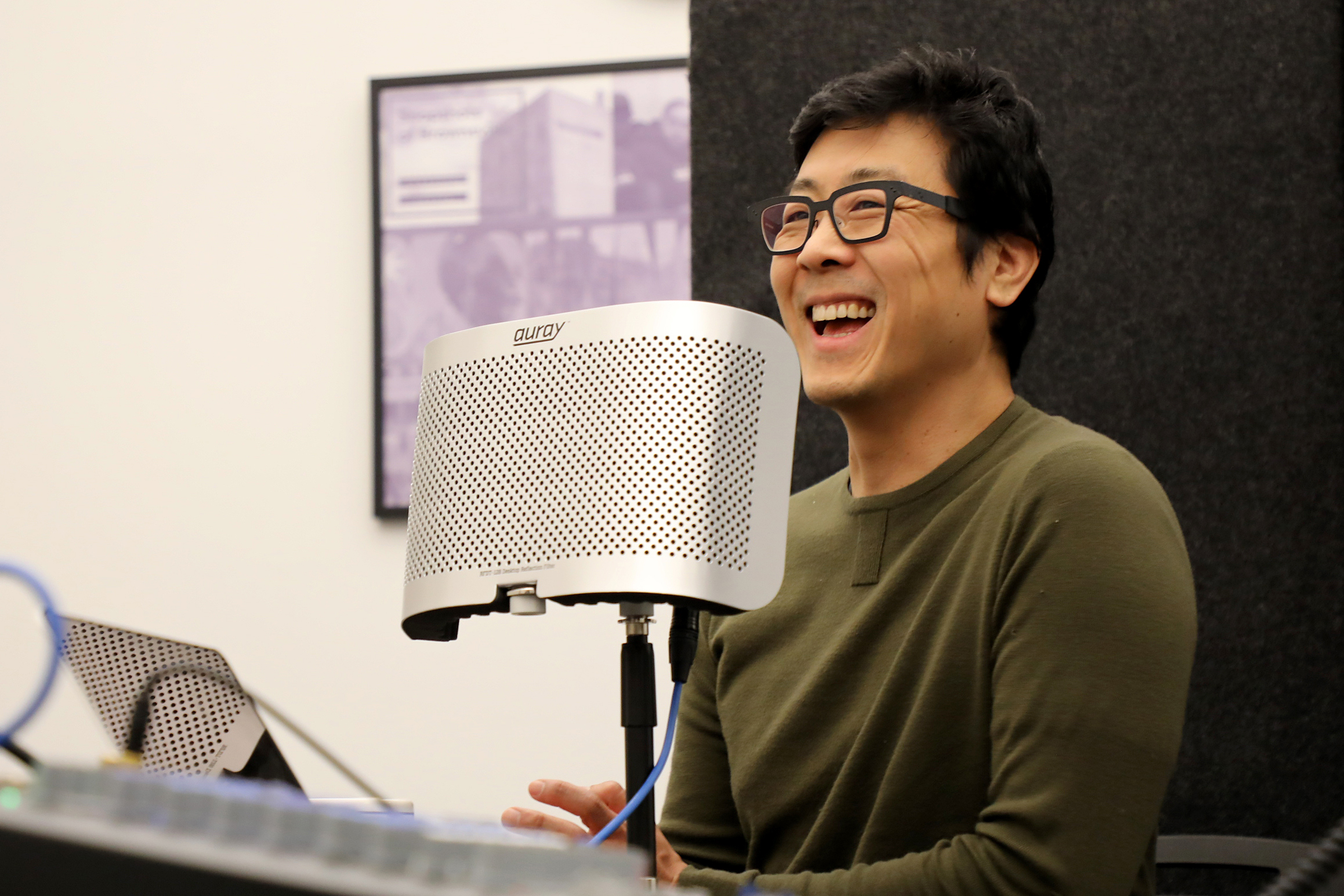 But we don't hear much about what that treatment looks like, how effective it is, and what the challenges are to conducting it inside the coercive context of the criminal justice system. To cast light on these questions, New Thinking host Matt Watkins sat down with two people dedicated to promoting healing for the justice-involved who come at the work from very different directions.
Dr. Jacob Ham is a clinical psychologist, and the director of the Center for Child Trauma and Resilience at the Icahn School of Medicine at New York City's Mount Sinai. He sees himself as primarily a practitioner—"the work is just so vibrant and uncertain when you're in the muck of it." Ham says among the people caught up in the justice system that he works with, there is an "apocalypse of trauma"; not just discrete incidents of violence, but life-histories of deprivation and neglect. For any treatment to be effective, Ham believes, it has to start by addressing these histories.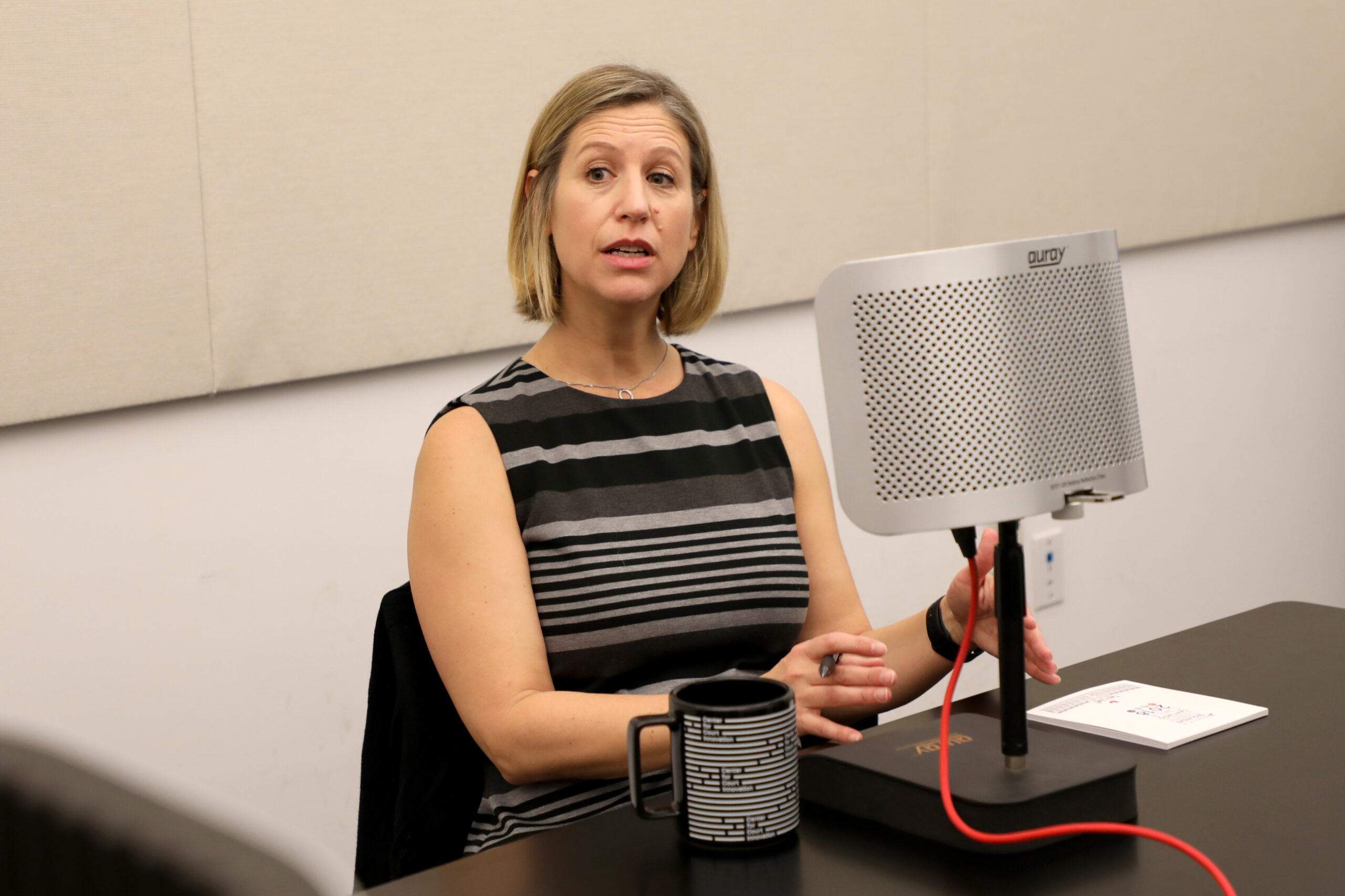 Complementing Ham's ground-level perspective, Dr. Deborah Koetzle works with criminal justice agencies across the country, designing and evaluating programs intended to reduce recidivism and help participants rebuild lives outside of the justice system. Koetzle is an associate professor at John Jay College of Criminal Justice, and the co-author of What Works (and Doesn't) in Reducing Recidivism. Koetzle explains the components of what is called "cognitive behavioral therapy," a common form of treatment for the justice-involved. She says that while treatment programs and the emerging recognition of the importance of trauma are making a difference, there is still a long way to go: "as a field, as a discipline, as a practice, we need to do better."
Resources and References
---
The following is a transcript of the podcast:
Matt WATKINS: Welcome to New Thinking from the Center for Court Innovation. I'm Matt Watkins. A major focus of our work here is designing what are called "alternatives to incarceration." Those are programs that prosecutors and judges can make use of, instead of defaulting to jail or prison. One of those alternatives you hear a lot about is treatment or therapy—using the moment when someone is caught up in the justice system to try and solve some of the problems that may have gotten them there.

But we don't hear much about what that treatment looks like, how effective it is, and what the challenges are to conducting it in what is frankly the coercive context of the criminal justice system. So to cast some light on these questions, from I hope a range of angles, I have two guests in studio today.

Dr. Deborah Koetzle is an associate professor at John Jay College of Criminal Justice, and the co-author of an important book in this field, called What Works (and Doesn't) in Reducing Recidivism. And Dr. Jacob Ham is a clinical psychologist, assistant professor of psychiatry, and the director of the Center for Child Trauma and Resilience at the Icahn School of Medicine at New York City's Mount Sinai. Deborah, Jacob, thanks so much to both of you guys for joining me today.

JACOB HAM: Thank you.

DEBORAH KOETZLE: Thank you.

WATKINS: Jacob, you're here in part because of the work you've done with young people in our justice programs and to talk about what's called "trauma-informed therapy," and that's a concept that I hope we're going to get into a little bit more. But you've also told me that you're uncomfortable being turned to as some kind of expert, and so I just wonder if you could talk a little bit about that reticence. It also seems like it's a reticence that informs the kind of work that you do in this field, in fact.

HAM: I feel like I need to give a qualifier before I say anything declarative, because at heart, I think that I am as close to the work as possible. I do still do a lot of clinical work, and to be honest with you, I'm more an artist and a monastic than a scientist. So the heart is in really the work itself. But at the same time, I can get away with learning stuff and sounding like I've metabolized what I've learned, but I always put it aside whenever I'm actually doing the work.

I'm constantly struggling with feeling like I don't know anything because the work is just so vibrant and uncertain when you're in the muck of it, but then when you pull out and you see what other people know, then I'm like, "Wait a minute, I actually do know something." That's the tension that I'm constantly living with, I think.

WATKINS: If we could tentatively plant a flag right now, what would you say you do know of that something?

HAM: Oh, the trauma-informed way's the way to go. And I don't know what that fully means, because I'm still learning. But, when you realize the impact of fear and horror on the way that the body operates and on the way that the mind operates, and the way that we as human beings adapt to the world, in terms of survival, it makes a lot of sense of what happens with behavior, and gives us a lot of hope for how to help people recover from that.

WATKINS: Well, there's so much to follow up on and we're going to do that, but I'll give Debi a chance as well to introduce herself, and I guess talk about your role in this world of advocating for treatment instead of incarceration, or treatment sometimes as part of incarceration. I'm curious to get a sense more of what motivates you to do this work, and certainly in talking to you beforehand and seeing some of your other work, it feels like there's a real sense of urgency for you.

KOETZLE: Yeah, I think that would be true and I just want to echo Jacob's point: I think I also often feel like I know nothing, and I think part of that is that we as a field and as a discipline, have such a long way to go.

Having said that, when I was in graduate school, when I was doing my master's degree, I had the opportunity to do an internship at a medium security prison in Indiana, and it was great. I got to meet the people that were living in prison, learn their stories, hear about what they were expecting when they went home, and then I continued working with the program. I would go back once a month and do a short talk on recognizing signs of child abuse and what to expect when you get home.

And then I got to graduate school. I got to the University of Cincinnati, where I did my Ph.D work and started learning about what the research said works in terms of reducing recidivism, in terms of helping people be successful when they return home from prison or when they're on supervision in the community. And I realized that nothing that we had been doing was empirically supported, and it was just kind of this slap to the face because I know all the people that were working with that program were really invested and committed and believed in what they were doing.

And so I think that really shapes my orientation. My interest all centers around the notion of helping people to be successful. And recognizing that a lot of that is on how we make decisions, the types of interventions that we provide and so forth. And so I think that that kind of lesson then instilled in me this need or interest in wanting to translate the research into practice.

WATKINS: And then so, concretely today, this effort to translate the research into practice, what does that look like for you?

KOETZLE: Yeah, so in a couple of different ways. One, I still am an active researcher. I do a lot of evaluations. I'm currently working, for example, with New York City probation department, evaluating a specialized unit for the supervision of 16- to 24-year-olds, which is a unique population that tends to have pretty high rates of recidivism.

And so I engage in activities like those, but then I also provide a lot of technical support and assistance to programs, and so I'm working with a jurisdiction in Iowa, for example, where we've created a 10-year strategic plan for them to move that jurisdiction towards evidence-based practice, and so thinking about the nature of assessment, when assessment occurs, getting people out of pretrial detention into the community, and so a whole host of types of activities.

WATKINS: Jacob, if it's possible, could you take us into the room a little bit, into the kinds of conversations that you have with young people when you're speaking with young people who've been involved with the justice system?

HAM: Yeah, I'm actually really glad that we're paired together, because you come from what the evidence is showing us and guiding that, and I come from like, "Okay, I'm in front of a kid. What's working? What applies, and what is no one talking about?"

And I remember specifically, one time when I was learning trauma-focused cognitive behavioral therapy and I was doing a trauma narrative for the first time with a woman who had been raped when she was 12-years-old, and the manual gives you guidelines about what you're supposed to do. But no one tells you what it feels like the first time that she describes the event. And the chills that go down your spine, and how repulsive it is, like the way that your body reacts to it and the way that her body's reacting to it and the terror that just comes into the room.

And that, to me, feels like the most important thing that we're overlooking in our evidence-based strategies. It's the actual experience of doing the work, of being in front of the most evil and horrible things that we can do to each other, and how do we bear seeing that without losing our minds ourselves, becoming traumatized ourselves, and holding onto hope and humanity and things like that?

So a lot of my focus is on being glad that people like you can make sense of the big picture, while I stay as close to the work as possible. And the other thing that happens to me is that I have to metabolize my own traumas, and how it shapes when I want to do more work or when I want to avoid the person.

When I said that the trauma-informed approach is so important, the essential thing that I think is absolutely important for anyone to understand, as we're actually reforming the criminal justice system, is that there's actually a trauma state of mind, and it's like fear-based risk-averse thinking.

That's the way that they talk about it in other fields, but it has a huge impact on whether we overestimate risk, whether we pathologize another person, whether we take away their humanity, whether we just want to say, "Whatever, I don't care. This is too much. Let's just put them all in prison, be done with it." That energy is a trauma state of mind, and I spend all my time figuring out how to stay in the other state of mind.

Other people call it various things, but I think the thing that makes sense to me is like, the best self versus the stressed self, and just cultivating the capacity to stay in that state, even if my stressed self keeps rising up at the same time.

WATKINS: Why is the trauma approach so particularly important when we're talking about people involved in the justice system?

HAM: Geez, this is a huge one, and I don't have the statistics in front of me.

WATKINS: I don't need statistics. I mean, just your experience.

HAM: Everyone's been… It's an apocalypse of trauma. The more you do trauma work, the more you open your eyes up to the pervasiveness of violence, oppression, racism, all the things that deprive people of the basic human needs that we generally take for granted, and that is such a driver for the kind of decision-making and the actions that people take. If we're going to do trauma work, we have to start to come to terms with how we are still a divided country that oppresses one another.

WATKINS: And Debi, I'm just wondering what your reaction is to this idea of, "There are things that we can't capture so well in data"—which I'm sure is not a new thought to you, but how that informs the kind of empirical work that takes place in this field.

KOETZLE: Yeah, absolutely, and I think in some ways, this goes back to my earlier comment that I also feel like we have a lot to learn. Our best approaches reduce recidivism 35-40 percent, and that's significant and that's huge and that's meaningful…

WATKINS: That's a lot of lives.

KOETZLE: It's a lot of lives and it's a lot of communities and people being impacted, but it's only 35-40 percent and some of our models like drug courts, which I've done a lot of work on, they're held as a huge success, and we get on average about a 10-15 percent reduction in recidivism. And so I think as a field, as a discipline, as a practice, we need to do better, and I suspect that part of that is, to Jacob's point, about thinking a little bit more about this role of trauma. The criminal justice system, I suspect, for many people induces trauma. I've been in a lot of prisons and I'm there as a guest and I'm free to leave when I want to leave, and yet it's still always a little bit discombobulating.

WATKINS: People end up there because of trauma or trauma symptoms get criminalized and then they're re-traumatized.

KOETZLE: Absolutely, and I think we also forget about the role of the people working in the system, which I think is so incredibly important. I've interviewed a lot of individuals. I don't do therapy, but I've sat down and I've talked to people about their experiences in treatment and prison and so forth, and I've heard stories that stick with you.

I've looked at case files and even just sometimes reading the narratives and you read about things that no one should have to experience. And then you talk to staff who aren't equipped to deal with these situations, and maybe in some cases, aren't oriented towards a trauma-informed approach, that they're much more authoritative in their approach. They're much more punitive—"You deserve to be here," type of attitude.

I think all of that combines to hold us back a little bit in terms of what we can do, and so I think the role of trauma should not be underestimated. I think though, the danger sometimes is that we forget that trauma is one piece of it, and that we need to focus on trauma but we still need to focus on criminogenic needs. We need to focus on good decision-making, on making sure that we're serving the right people with the right types of services and so forth, that it's not just trauma. Although I certainly think it's an important piece.

HAM: Yeah, I think of a trauma-informed approach as increasing our batting average by another 15-20 percent or something like that.

KOETZLE: Exactly, which would be amazing.

HAM: Exactly.

WATKINS: Right. These small, incremental victories that we need to just keep adding up. Well, it sounded, Debi, like you were beginning without saying the name, to describe what's called "cognitive behavioral therapy," which is another major school of thought here, of a kind of treatment that can be used outside the criminal justice system, but is often used within the system as well. Jacob has talked a little bit about his trauma work. Do you want to, then, explain just the main components of cognitive behavioral therapy or CBT?

KOETZLE: A good program really ultimately is going to help someone identify those situations, those places, those people, those things that are likely to lead them to trouble again. And so a good cognitive behavioral program then really has two components, and part of that is focusing on the thinking: helping people to identify their thoughts that might lead them to trouble, or start to kind of lead them down this path that then ultimately gets them into trouble.

So we would call that "risky thinking" or "criminal thinking," or some people will talk about "thinking errors," for example, where we start to justify and rationalize our behavior. A good program is going to use exercises to help people identify those types of risky thoughts and how they relate to behaviors and the consequences of those behaviors, and if we can get people to start identifying those thoughts, then we can start replacing those thoughts. So that's one piece of it. That's the cognitive piece of it, is recognizing that link between thoughts, behaviors, and consequences.

WATKINS: And that's a kind of strategy that can be implemented—I don't know if saying "out of the box" is too crass—but it can be implemented by someone who's not necessarily a deeply-qualified clinical psychologist?

KOETZLE: That's right.

WATKINS: It can be a social worker. I mean, it can be a probation officer…

KOETZLE: Absolutely, absolutely. I think the important thing is that we train people on these techniques, and so, when someone comes in for a visit, rather than do sort of a standard, "Do you still have a job? Have you moved? Any problems? You're good to go, I'll see you next time," really ask, "What's going on in your life? Have you had any struggles? Is there anything you're worried about?" Identify if there are any crisis points, and then perhaps in that situation, do some cognitive restructuring.

The other piece of a good cognitive behavioral program though, then, is skill-building. There are a lot of different skills—coping skills, social skills and so forth—that go into that and so the behavioral piece of this program is starting to use skill-building to not only teach people to recognize situations to avoid, but provide them skills for managing those situations, and doing so in a very action-oriented manner, and so again, it's not enough to sit around a table and simply talk about, "What are you going to do the next time someone offers you drugs?"

But actually, let's talk about concrete skills that you can use, practice them, role play them, practice them again, get feedback on them, so they start over time to become a more automatic type of response or behavior, because it's hard to do these things.

WATKINS: Jacob, you're nodding your head a lot over there listening to Debi. I'm wondering, do you see this cognitive behavioral approach as something that could be a complement to the more trauma-informed work? Although, often we're just doing the cognitive behavioral work in the system, and maybe not doing the trauma-informed stuff, I suspect.

HAM: Right. I think that's where I want to nudge CBT somewhat… Okay, full disclosure: I've been trained in CBT and I use a lot of CBT in my practice, but I use it in an artful way, where it's not through a sequence of prescribed steps. I use the methods as they arise, like when there are automatic thoughts that need to be challenged, or skill-building. I do a lot of skill-building in the room.

But I was part of a research study where we taught people how to negotiate relationship ruptures, and this is very much along with the line of a trauma-informed approach, because what I've learned is that when you are in a stressed-out state of mind, you can't think rationally. You can't think through consequences and you don't care. I have a man in my practice who's an incredibly, highly successful surgeon. His daughter was killed by a drunk driver, and he said, "If that guy ever comes out and I see him, I'm gonna kill him."

And he knows the consequences. This is a guy with ... He should have a good brain that can think things through, but the emotional drive that is underneath that, is the thing that CBT says, it kind of tries to make people reason out their emotions, when the emotions are a weird thing that I still have no control over, but I think the work is in some kind of relational holding.

I do CBT, but I would do it only if the relationship is right, and I would be tracking whether or not the person is in their "best self" state of mind or in their "stressed self" state of mind, as well.

WATKINS: And then, does the fact that the CBT is being administered, say, by a probation officer, the fact it's all taking place within the context of the criminal justice system, does that becomes another source of stress, potentially?

KOETZLE: Of course. When I think about trauma-informed care and listening to what Jacob is saying, for me, this sort of falls into this issue of responsivity. So we're talking about the type of model to use—the cognitive behavioral approach to treatment. But the reality is, when we talk about effective interventions with those in the justice system, it's much more than just the treatment group. And we often don't have the luxury of one-on-one treatments, simply because of the numbers and the cost.

And so part of that is saying that cognitive behavioral interventions and behavioral interventions tend to have the greatest effect, that across the board, statistically speaking, people tend to be most responsive, most successful in that type of model.

But the other piece of responsivity says, "there is the individual," and that we need to be aware of that, and so if someone is having active trauma, they're having hallucinations, they're having flashbacks, and you could speak more than I can about that…

HAM: Yeah, even the most subtle things are that, you can tell that a person's starting to get into that, because they start glaring at you. They start to assume the worst of you, that they can't trust you, and then you can't do anything. You can't talk to them. They're not listening, or anything you say will be heard as an attack or a criticism.

KOETZLE: Sure, and so responsivity says we need to be mindful of that.

HAM: Exactly.

KOETZLE: And so, it might be that someone's at a point, we can't put them into a CBT group and expect them to be successful at this point, because we need to deal with some other issues, and get them to a point where they can be successful. That's going to vary across the individuals that we're working with. Some might need some pre-treatment. They might need some ongoing individual therapy, some ongoing trauma-informed care.

Others might not, but this model, the Risk-Need-Responsivity model, says, "Use cognitive behavioral interventions, but be mindful of these differences." And that when we do that—I don't think we do a good job of that—but when we do that, we should see improvements in effectiveness, and that's where I think these two approaches really come together nicely.

HAM: I have an anecdote from a non-secure facility in Florida, where I was doing evaluation work and some consulting. And I was in the room with 10 young men, and they had a behavioral token system that they liked, actually. They found that it gave them clear guidelines about what's rewarded and what's not, but they told me that the thing that really makes them lose their cool and lose points, is when the lunch lady gives them half a scoop of food. And these are like, growing boys, and she clearly has favorites.

It's so subtle, but these are the things that really drive them crazy. Or whenever there's one of the officers who would come into work and you could tell that they had a bad night, and they were in a bad mood and they were going to abuse the reward system to lash out at the boys and punish them for every little infraction when they're just being boys.

So the techniques are good, but then it's teaching people how to do the techniques in a careful way that's full of care as well. I think that we overlook that in the way that we're doing implementation, and so I go to the opposite extreme of spending 80 percent of my time teaching how to clear your own heart of trauma and avoidance, and then the techniques are much easier to learn if you can track your own trauma reactivity.

KOETZLE: And I would say there is some good news on this front, and I've been to many facilities where you have similar types of personalities. So definitely there are system issues, but we can talk about core correctional practices: using reinforcement and understanding the value of reinforcement and being consistent in the use of reinforcement; using disapproval when appropriate, but using it in an effective way that's not about shaming or punishing, but really about accountability and then ultimately about behavioral change; having collaborative relationships, building therapeutic alliances, and that that shouldn't just be specific to the group facilitator or the therapist, but it's everyone working in the facility or in the probation office or in the prison.

And so there is work being done in this area. I just think implementation is tough, and it just takes a really long time, but I think there's an awareness of that.

HAM: Even at that facility I was in in Florida, I was there when McDonald's raised their minimum wage to like $15 an hour, and they lost a bunch of staff.

WATKINS: Right? That just seems like, what keeps occurring to me in listening to this conversation, how are we going to get to a criminal justice world where you have people with the kind of training and the sensitivity of, say, a Jacob over here, administering this treatment? That just seems like such an immense challenge.

KOETZLE: Absolutely. I think this is really where it's important that programs, that agencies, that policymakers value having people working with our youth, with adults, that have these types of qualities. So when we go out and look at programs, and maybe do an assessment of the quality of the program, one of the things that we ask about is, "How do you decide who to hire? And is it that you're hiring people that are going to show up to work every day on time and they get along with others, or are you hiring people that really have a belief in change and understand the need to be firm but fair, and have empathy and so forth?" And we want programs to be hiring people with those types of characteristics, not just, "They're going to show up on time."

WATKINS: And are they receptive to that?

KOETZLE: They are.

WATKINS: I mean, in general, do you have the sense that people in this more practical-minded, if we can call it that, sort of criminal justice agency world, are receptive to, say, Jacob's message, if I can call it a message? And the importance of trauma: is that something you feel like people are increasingly focusing on, or is there still skepticism?

KOETZLE: I think there's an increasing focus. I'm not sure that we always talk about it as trauma. I think that trauma in the criminal justice world has somewhat been associated with women and girls in particular, and kind of, "We have our trauma-informed group. We're checking that box."

WATKINS: Right, because the numbers, to use numbers, show that women in particular, almost every single woman involved in the criminal justice system has just terrible histories of trauma behind them, and victimization.

KOETZLE: Yeah, but what I, and Jacob, I'm guessing, would agree with, is that it's really about the approach and how we work with people, and that should be true across the board, not just for this one specific group, but again, from start to finish.

HAM: And I would say that, my eyes are really starting to look at the profound impact of neglect more than discrete, violent abuse or rape or any of the other things that people usually think about when they think of trauma. That's what I work with the most, and we don't look at it enough. The reason why I'm thinking about that is that I was trying to think of an answer to your question about what we do, and a colleague of mine, Bessel van der Kolk, once said that the reason why our criminal justice system in the US is so broken is because there's a huge divide.

We have to put a name to the fact that it's mostly black and brown people in the jails, in the prison system, and we don't think of them as family. There's an othering that's happening right now. It's another place to put them. It's a "them." Whereas he was saying that he comes from a Nordic country, I forget which one, and he says, "They're family. The people in prison are family. They're your neighbor or whatever, so you treat them with more kindness. You want to help them."

We don't have that sense to us. We want to just get them out of sight. I think it starts there, and if you have that right intention in your heart, then the policies will work. We'll invest more money in it. We'll do the things that we're learning from evidence-based practice with more care. But we can't overlook that right intention.

KOETZLE: We don't talk about who's in prison. We don't talk about what that experience is, about the challenges for the family members that are left at home, about the challenges when people come home, about the victimization that occurs, either overt or just by the nature of being there. We just literally sort of lock them up and forget about them.

And I think that if people start to think about more about the fact that these are people, and they are people that are coming back to our communities and that you may engage with in one way or the other... I mean, I don't know what that interaction is, but you will interact with these people. Then maybe there is more push for changing how we do things, because right now, people don't care.

WATKINS: A question, I guess, for both of you, I think, and it's to do, again, with this question of doing treatment and working with people in the context of this coercive criminal justice system. Certainly policymakers, the focus for them is the numbers of, "Is recidivism going down?" But to what extent is getting someone to a place where they're not re-offending, is that the same thing as healing them? Is that the same thing as making stronger, more resilient people, or are those two really different goals?

KOETZLE: So the Risk-Need-Responsivity model, I think, often gets knocked a little bit for its focus on recidivism, and I think evaluation research sometimes gets knocked for its focus on recidivism. I don't see them as necessarily being mutually exclusive.

I think that good, sound programs that are providing skill-building, that are working at bringing families back together, that are providing training around education and employment, and helping people learn the skills to get and maintain jobs, that are helping to connect them to stable housing and so forth, I think all of that collectively comes together, to both help improve outcomes like recidivism or perhaps drug use, but also then should help to improve lives.

HAM: And I would add that, along with all of that—which I definitely think is super important and we under-appreciate how deprived people are once they come out, with very little opportunity to have basic needs met—I think that I won't feel happy until the person feels like they can love, feel like they deserve to be loved again, and that they have a purpose in life.

I was at the Make It Happen program that the Center for Court Innovation runs in Crown Heights, Brooklyn and these young men, they're loyal for the rest of their lives to this program. And it's not because of the interventions that we created for them, which are pretty good, I would imagine that they're really good, but it's the guys who run the program.

WATKINS: Yeah, they're amazing people.

HAM: Yeah, the young men are like, "They want me to do something? I'll do it. They want me to run through a wall? I'll do it." They're like father-figures to them, because they take care of them in the small ways that no one else has ever done.

And I was talking to this group that has devoted themselves to becoming champions, to help other young men, and some of them said, "Yeah, I'll admit it. I came here because I had nothing else to do over the summer and I wanted some money." But then when they realized that their voice now has power, and they learned something. They were telling me that a cop came and taught them about how to interact with a cop.

And it was such useful information that they started to, as they're walking down the street, they would just talk to random guys who were doing things that cops would find suspicious, and say, "You gotta stop doing that because cops will think you're selling drugs, if you're just playing dice in the alley."

And they felt so emboldened and empowered, and they do the work now because they finally have a purpose and a way to help and give back to their community. And that's what excites them, and I think that's what helps us all stay grounded in the face of despair and horror.

WATKINS: So I guess, after I've been sitting here listening to the two of you talk and learning so much, and as you're talking to each other, can I ask if you have reflections at this point, upon how much you think the different places that you're coming from... I think you have different means, but the ends are the same, which is trying to keep people out of the justice system and help people heal themselves. Do you think that there's room for complementarity between these approaches?

HAM: Oh, absolutely. Absolutely. They're not in contrast at all. It's just a different focus on a different facet of the same thing.

KOETZLE: Yeah. I would totally agree. I think they are meant to fit together.

HAM: Yeah, exactly.

WATKINS: All right. Well, I want to thank you so much, both of you, for being here today. Thank you.

HAM: Thank you.

KOETZLE: Thank you.

WATKINS: I've been speaking with Deborah Koetzle. She is an associate professor at John Jay College of Criminal Justice, and Jacob Ham, the director of the Center for Child Trauma and Resilience at New York City's Mount Sinai. For more information on this episode and all of our episodes, including some suggestions for further reading, visit our website, that's at courtinnovation.org/newthinking.

A very special thank you today for conceiving of this episode, and then nurturing it into existence, to my colleague and number one friend of the pod, Julian Adler. Technical support today provided by the sanguine Bill Harkins. Our theme music is by Michael Aharon at quivernyc.com. Our director of design is Samiha Meah. And our show's founder is Rob Wolf. This has been New Thinking, from the Center for Court Innovation. I'm Matt Watkins. Thanks for listening.